His knees won't carry him up and down the hill he ran as a child. Now Carl Bourgeois, 71, has an ATV. Now he can drive this slice of backcountry in the middle of the neighborhood on Colorado Springs' west side.
"Let me show you the territory," he says to a couple of guests. They take a seat for the winding ascent through the woods. The soft-spoken Bourgeois cracks a joke that makes all but him chuckle: "Watch out for the alligators."
It's not alligators he wants people to see from his property off Walnut Street and Mesa Road. It's the beauty. The brush clears for a panorama of Pikes Peak and the foothills, Garden of the Gods and the city that Bourgeois has seen sprawl since his 1950s youth.
"Eventually maybe these will be pathways," he says during the drive. "Maybe biking or running or jogging."
A health retreat of sorts could be good, he says. Maybe the property can serve as a quaint conference center, he says. Maybe some kind of community gathering place.
"Maybe we can take advantage of the music and arts my mother was so involved with," Bourgeois says. "Maybe we can incorporate that here."
He's still contemplating the future of the 10 acres around 944 N. Walnut St., the house that neighbors came to associate with blight and ruin in recent years.
Before Bourgeois bought it in 2016, the historic house was condemned. It was collapsing in an overgrown yard populated by critters and transients, bordered by a century-old cobblestone wall.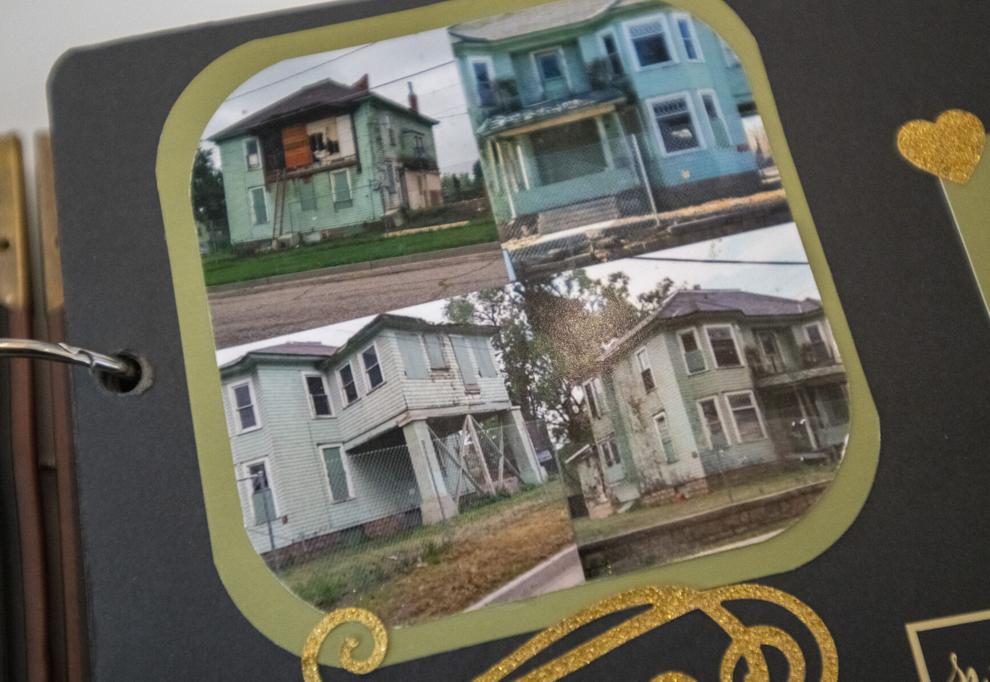 Now the house appears to be the pride of the neighborhood, like it was in the colonizing days of Gen. William Jackson Palmer's city. Bourgeois has brought the two-story Victorian back to life.
He's returned the green to the yard that was once an apple orchard. He's completed the sunny interior with marble and leather. He's decorated with South African art and pictures and articles chronicling his kin.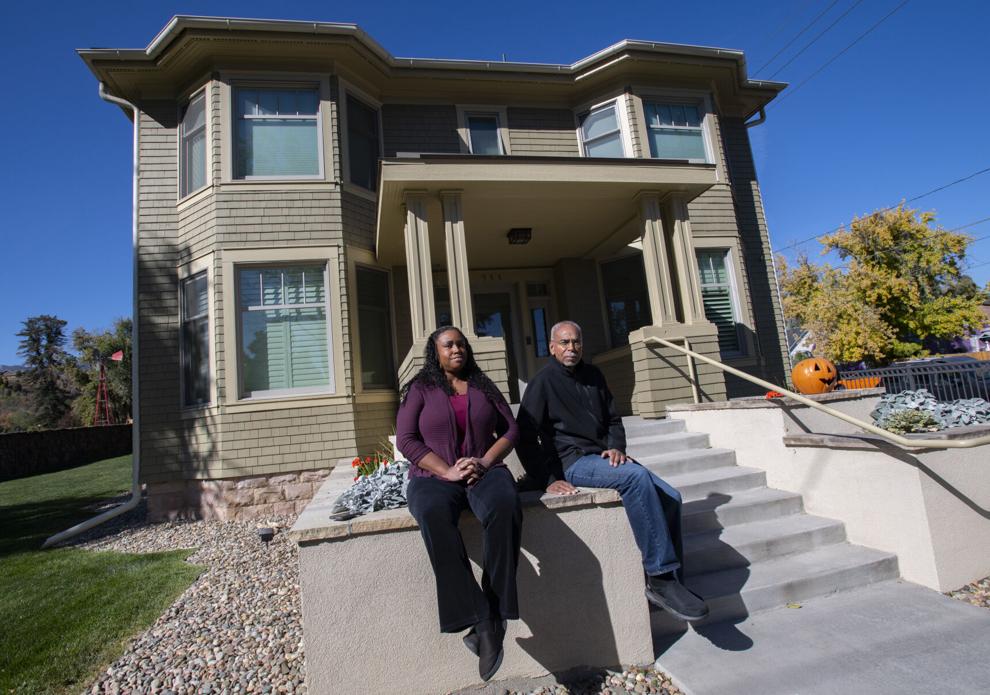 Bourgeois' grandfather, Kimbal D. Stroud, settled in this neighborhood in the early 1900s, patriarch of one of the city's first Black families. Stroud's youngest child was Bourgeois' mother, Bobby. Carl would be born in the same little house. And like the generation before him, he and his siblings would work at the neighboring country estate of the pioneer Hagermans — the regal property surrounded by cobblestone.
"Now he's come back to it," says Bourgeois' sister, April Nelson. "It's almost like a big, huge circle of history."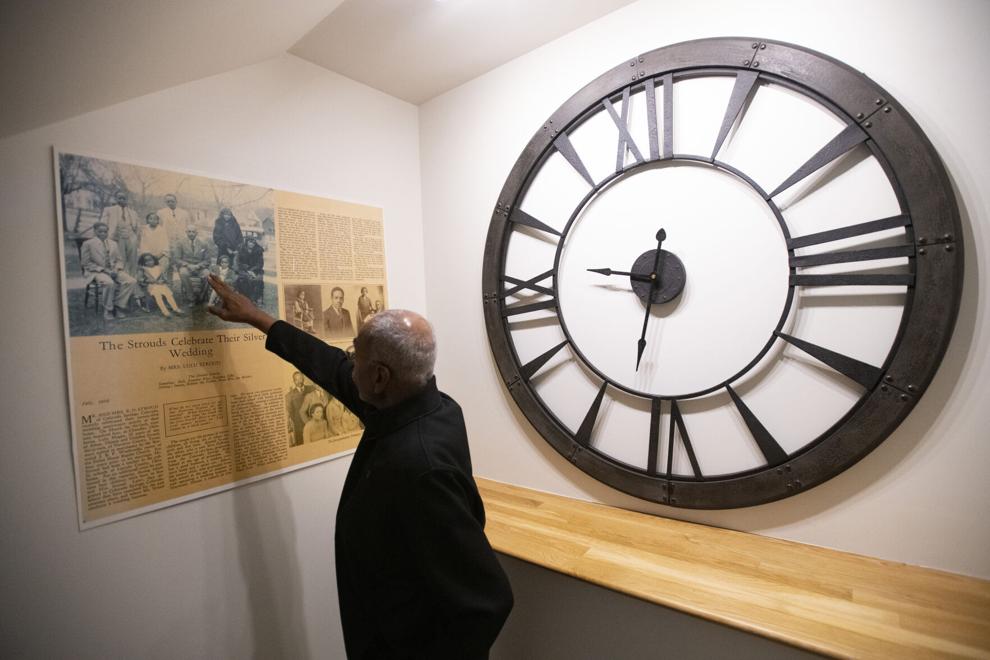 Having made his name as the developer behind the revitalization of Denver's Five Points neighborhood, Bourgeois has returned home for perhaps his life's last significant job. And this one is most personal.
"I can see the irony," he says from atop the hill.
He can see the big house he now owns that was home to the rich white family. And he can see the little house that was home to a poor Black family. It was home to a single mother with 11 kids.
"The boys had one room, the girls had one room and I think my mother slept downstairs. It was really tight, and we were really poor," Bourgeois says. "The kids used to make fun of us. They said we lived around alligators."
•••
Kimbal D. Stroud was the son of a woman from Ghana forced into American slavery. He was born five years after the Emancipation Proclamation and sought a brighter future.
He grew to be well-versed in law, art and history. He grew to be a respected teacher and preacher. But Jim Crow threatened his career when Oklahoma entered statehood in 1907, thus becoming subject to segregation laws. He left for an emerging Western city said to be overseen by a fair and kind general.
Stroud brought his family to the Springs in 1910. Palmer died the previous year.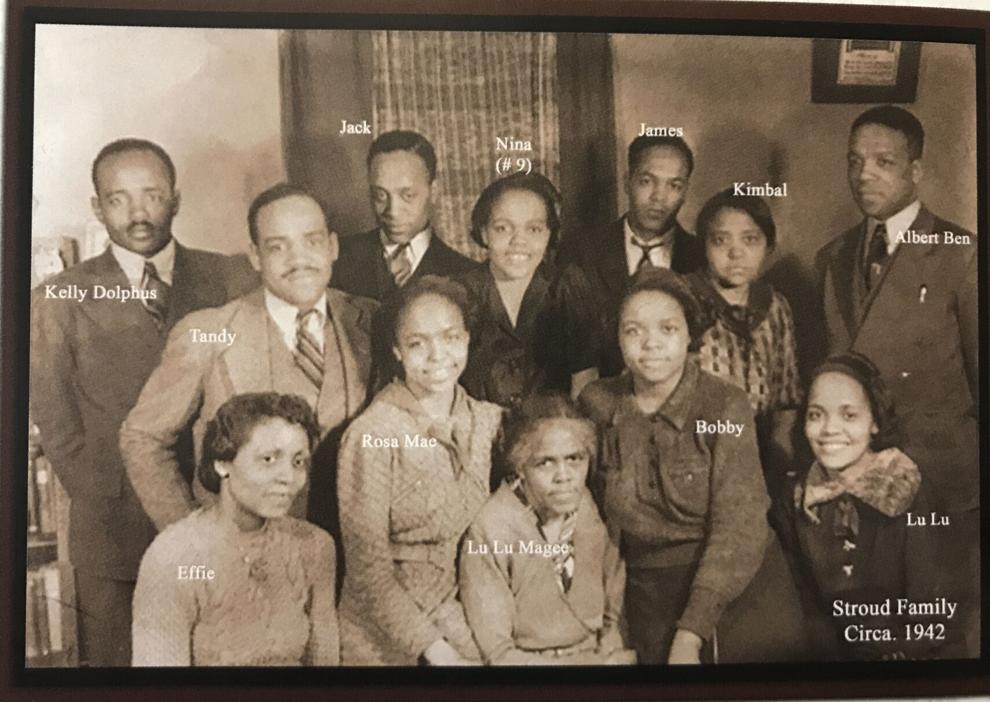 "That's when it became a really rough city for Black folks trying to achieve anything," Bourgeois says.
Stroud's dreams became covered in dust and soot. He shoveled coal during the railroad boom.
"He worked 14-hour days seven days a week to try to feed the family," Bourgeois says. "And, of course, all his kids had jobs."
They had chores at the Hagermans. But they had ambitions beyond the neighborhood, fueled by their father's insistence on education. So began a legacy honored by Colorado College's Stroud Scholars program and a family line that continues today: academics, creatives, government officials and business executives.
The success followed hardship. Bourgeois recalls hushed memories from his mother, a student at the Fine Arts Center. She remembered the animal noises of classmates. Remembered how they shuffled across the room away from her.
Bourgeois has his own memories of school through the '60s. "I don't like to open those doors," he says.
It seems he's kept them closed along the way, along a career that came with award ceremonies and close-ups in newspapers and magazines. In the photos, he's hardly smiling.
"When you're bullied a lot, you begin to wear a face like you're tough or angry or something, so people leave you alone," he says. "The problem is, you can't get rid of that face."
•••
Bobby Stroud worked hard to keep the utilities running in the house while keeping the kids focused on school, inspiring like her father before her.
"There was so much stress on her," Bourgeois says. "Maybe that's why she died at 47."
At 21, Bourgeois was left with four siblings, ages 4 through 10. He recalls aunts and uncles recommending orphanages.
It was a side of the family that made him sour. It seemed to him their ambitions, their successes, could come at the cost of care and camaraderie. "We were all so interested in what we were trying to achieve," Bourgeois says.
But no, he would keep the kids together.
"He continued my mother's efforts," says Nelson, the sister who would go on to college like the other siblings under Bourgeois' watch.
He did have one source of comfort at the time.
"My mother became like a surrogate mother to Carl," says Cheryl Nicholson, a lifelong friend from one of the Springs' other early Black families. "My mother always told him, 'Carl, you're going places.'"
•••
Carl Bourgeois moved the family to Denver in 1974. He rose quickly, ever the fast learner. He got into banking, believing the variety of knowledge and skills from the field would serve him later.
It also opened his eyes to a certain kind of discrimination. "I saw discrepancies in how traditional African American and Hispanic properties were valued," he says.
He came to see Five Points as a prime victim. He was struck by the history, that 1920s era when the neighborhood was the Harlem of the West, the streets lined with clubs that hosted some of the greatest Black musicians of the day. This was where minorities were confined at a time the Ku Klux Klan held high ranks in state government.
In the '60s, with the advent of fair housing policies, business owners and wealthier residents of Five Points moved away. Properties were abandoned and crime took root.
"By the time I got there, it was in that downward spiral," Bourgeois says. "But I was still really impressed there were so many remnants of Black business people, and I wanted to be one."
He bought his first dilapidated building in 1983. Next came sweat equity: He was seen picking up trash, scrubbing graffiti, sweeping sidewalks and hammering walls. He'd consider it a victory when people put out cigarettes in his trash cans.
That first building would be home to the company Bourgeois started in 1989. Civil Technology Inc. would go on to high-profile jobs at Denver International Airport, Denver Justice Center and Union Station. Some profits from those deals would go toward Bourgeois' passion project. He'd fix other buildings and fill them with minority nonprofits and civic groups.
Bourgeois was becoming known for his humility and tenacity. One observer was Wellington Webb, the mover and shaker who would become Denver's first Black mayor in 1991.
Bourgeois "wasn't the most boisterous person at a community meeting," Webb says, offering an understatement. "It's kind of like that scene in the movie. 'Ten Commandments,' I think it was. The emperor of Egypt asks, 'What have you been doing?' And he says, 'I've been building you a city.'"
To generate outsider interest and honor the neighborhood's past, Bourgeois held jazz festivals. One attendee was Hugh Masakela, the legendary South African trumpeter. Other attendees were aunts Bourgeois invited. Aunts, he says, who weren't around after his mother's death.
"We treated them like queens," Bourgeois says. "I guess I felt like if there was any revenge, the best revenge was success."
•••
Bourgeois spent more than three decades around Five Points, restoring buildings, attracting tenants. Eventually, other developers came with their apartments and townhouses.
Today, the neighborhood resembles more of a white, bougie hangout than the scene of the past — revived, but not exactly reborn. Critics see gentrification.
Bourgeois sees a thriving economy, but at the expense of high rents and mortgages. He sees old-timers who have been "squeezed out," unable to afford one of Denver's most expensive neighborhoods. He sees history forgotten.
Bourgeois says he has regrets. "Of course," he says. "I might be villainized. I understand."
The way Webb sees it, today's Five Points is due to market trends and social movements beyond Bourgeois' control.
"He saved from the wrecking ball a lot of that old-time Black history in Denver," Webb says. "Unlike some of the new developers of the day that don't care about that history, he's a lot more thoughtful in his development."
Back in the Springs, Bourgeois sees a chance to make things right where it all began for him.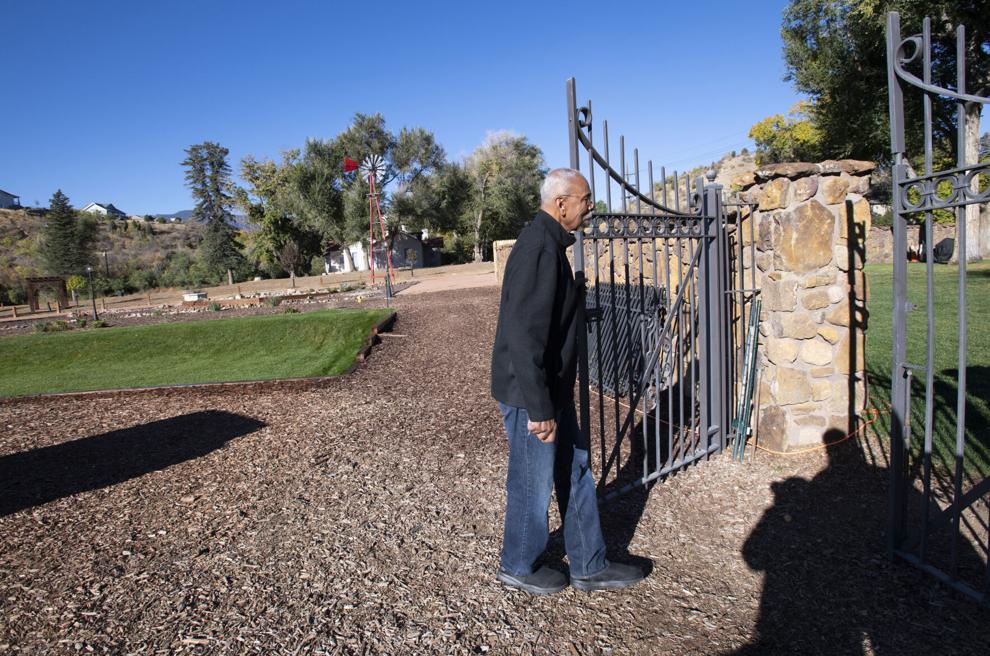 To assure west-side neighbors of the old estate's transformation, he's hosted them for parties complete with entertainment and food. Last summer's invitation explained the vision for a place "promoting education, health and Colorado history."
Bourgeois invited childhood friends, too. They included Nicholson.
"We were laughing, we were crying," she says. "We all saw each other as little kids, walking around that (cobblestone) wall."
•••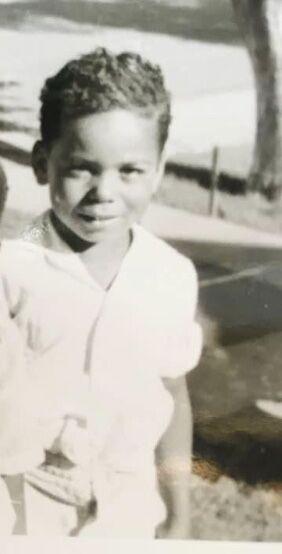 Bourgeois finds himself reflecting more than ever these days. Back home, he's opening doors long kept closed.
A memory comes now that makes him weep.
He was maybe 11 at the time. Out delivering papers with his brother. They heard a screen door.
Out dashed a Doberman pinscher that barked and snarled at the trembling boys.
"We're thinking we're gonna die," Bourgeois says. "We're just holding each other."
Then the dog trotted back. A trained dog, Bourgeois came to realize. He remembers seeing the white man at that screen door.
"That's the thing about it," Bourgeois says, wiping tears. "How could an adult do that to kids?"
There are more memories. Memories of a dark place and time.
"I was never coming back to Colorado Springs," he says. "I guess I should be retired. But I heard this knock, knock, knock."
He opened the door.
"I think he's reclaiming that youth," Nicholson says. "I think he's reclaiming what his mother went through."
Atop the hill at the end of his ATV drive, Bourgeois stays awhile to take in the view. It's a complicated view, tangled with reminders of childhood joy and sorrow.
But whatever the place was below, it's different now. The old property is whatever Bourgeois wants it to be.
"Tranquil," he says.