ROCKY FORD • Vincent Gearhart had two beautiful daughters, so beautiful that he had to capture them in photographs. That's why he got into photography.
The plains might seem timeless, and it's true, not much has changed in north La Junta, as they call those unincorporated fields north of the river where Gearhart was born and raised and stayed like his daddy before him. Still, a lot happened over the years.
Two decades of work on the railroad. A divorce. A remarriage. The flood of 1999, the worst in 34 years that irreparably damaged his home and washed away those beautiful photos. And, before then, an unspeakable tragedy.
But Gearhart's interest remained. Only the subject changed.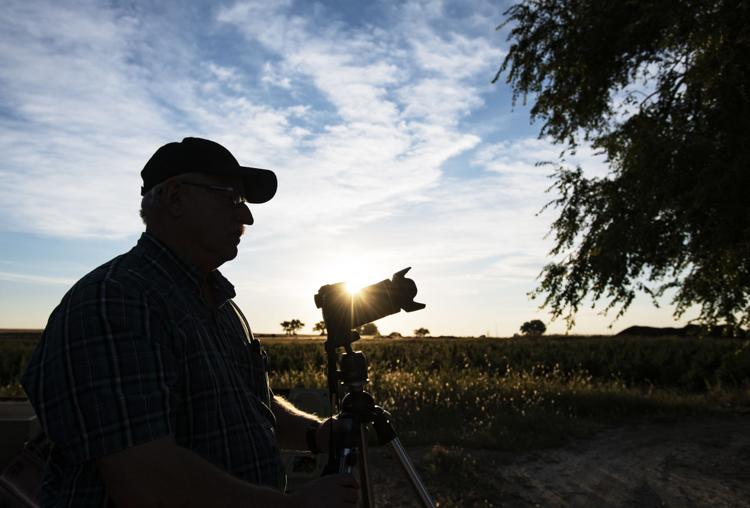 Now he's on his way to a place that cannot be seen along U.S. 50. The driver, his buddy Lex Nichols, pulls off, crossing the tracks and parking before the tall shrubs.
They take their tripods from the trunk and hoist them over their shoulders, their Cannons strapped around their necks as they embark on another mission for Colorado Abandoned. That's the name of the website, Instagram and Facebook they manage, posting the broken, rusted, leaning and lost relics of their native countryside.
Some days they'll head out before dawn, roaming with the tumbleweeds through these southeast counties and towns forgotten by dwellers of Colorado's booming metros beyond.
They dare not pass a collapsing barn or shed, for fear it won't be there the next time.
"The more we do it, the more we're finding that we're collecting history. This is gonna be gone eventually," Gearhart says. "It's about taking something that's totally ugly, nasty, horrible, and making a piece of art out of it."
A few weeks ago, during one 300-plus-mile excursion, they were rewarded with old Chevys tangled in weeds. Another time, they stopped in Delhi, entering a darkened convenience store that was no more, where in the back it seemed a family made a home — a Christmas tree still standing, adorned with tinsel and a star. Another time, a man checking on his chickens agreed to show his property.
"There was this tricycle that had just been sitting there out in the open for who knows how long," Gearhart recalls. "It looked like a little kid just got up and left it."
Today, they're sticking close to Nichols' home in Rocky Ford. "Pray for Rocky Ford," request signs posted by the roads, overlooked by the stacks of the old sugar factory, the industry that left with the others over the years.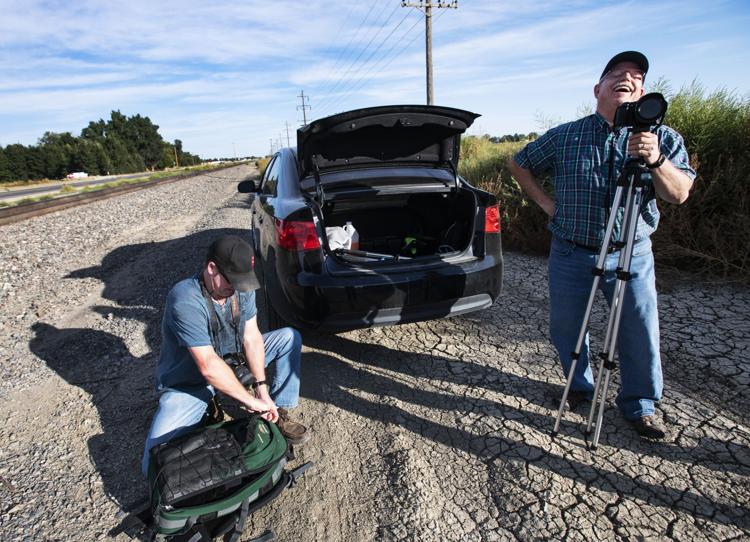 They crunch through the shrubs, careful of snakes as they hop over a dried ditch, crossing the field splashed orange by the setting sun. They arrive at twisting trees covering the crumbling walls of red brick.
"This house, it's a beautiful house," Nichols says, "but nobody knows it's here."
They clamber through the spaces where screens might have once wrapped around the porch. The wood floor splinters and bounces under their feet. The decaying ceiling sags. The cushion of a sofa is here, a high-heeled shoe there, the bones of a buzzard up the rickety stairs. The evening glow trickles through the cracks in the walls, illuminating the space — heaven for the photographers, perfect.
"Not everything is perfect," Nichols says. "If it was, it would lose its magic."
They prop their tripods, adjust the settings on their cameras, and off they go to their shadowy, dusty corners.
A beautiful house, Nichols says, not unlike his childhood home. "Well, this is a little bit nicer than anything I grew up in," he says. "But it's an old farmhouse. It brings up memories of my youth."
It went fast, as youth does for anyone who has a baby at 18. He's now a husband of 24 years, a father of two beautiful daughters. But it doesn't seem so long ago he was shearing sheep for his dad, washing dishes at the café at night, never leaving to live with his mom in another state because Rocky Ford was where he belonged, despite there being no money.
"What was a luxury to us was so much different," he says. "Being able to buy a pack of cigarettes or $2 of gas."
There was also the Kodak camera his mom bought him. That inspired a passion and a shattered dream. Rather than travel the globe with his camera, Nichols ended up teaching skills at the local junior college. Gearhart sat in on those night classes.
"Part of it," Gearhart says, "was trying to find a way to deal with stuff."
Beyond photography, the two connected on a deeper level — failed relationships and loves gone too soon.
Nichols lost a child at 6 months. And Gearhart had lost his 15-year-old girl, a brain tumor taking her like the flood would take those captured memories, those photos washed away.
"Whatever it is, deal with it, move on, something like that," Gearhart utters under his breath. "I don't know."
Now they're at the last destination of the day, the cobblestone and wood remains of a homestead. Nearby an old man sits in his pickup, swigging beer and swatting flies.
Corroded tractors rest here, wagons there, old Coke bottles in the grasses, jumbled and creeping over a tricycle. Gearhart eyes it briefly.
Then he turns his attention to the former home, the cracking, thatched roof. "I love that," he says. "It's so … rough."
He bends down to take pictures, his sleeves lifting to reveal a fresh tattoo. A cartoonish wizard juggles symbols: Yin and Yang, the Hindu Om, the Egyptian Ankh, the signs for peace and money.
"You ever heard of Mr. Natural?" Gearhart asks. "Anyway, Mr. Natural is the guy, a sage or whatever. And people ask him, 'What does it all mean?' And he says, 'It don't mean (expletive). It don't mean (expletive).' You're here, you're gone, and that's the way it is."
And that's the way it is out here on the plains, timeless only for the pictures that make everything last a little longer, if only they could.