The aerial ladder resting against the side of William J. Hybl Sports Medicine and Performance Center is an unfriendly sight to those with a fear of heights.
Colorado Springs Fire Department Capt. Dan Lynch stands on top of the fire truck parked in front of the building on the University of Colorado at Colorado Springs campus. His hands rest on either side of the ladder, his head tipped back to gaze toward the top, where the last rung will deposit him on the roof.
Today, Lynch will strap on his air pack and climb the ladder for the first time since he tore his ACL during firefighting training in June.
"I'm more nervous coming down — it's more challenging on my ACL," Lynch said. "I owe everything to the folks here. It feels 100 times stronger."
The folks here include Patrick Leahy, the Centura Health Physicians Group physical therapist who works at Hybl. He's been guiding Lynch through twice weekly physical therapy sessions for four months. He remains on the sidewalk, his eyes trained on Lynch, as he slowly ascends and descends and gives Leahy a thumbs up.
"No pain," Lynch called out. "Perfect."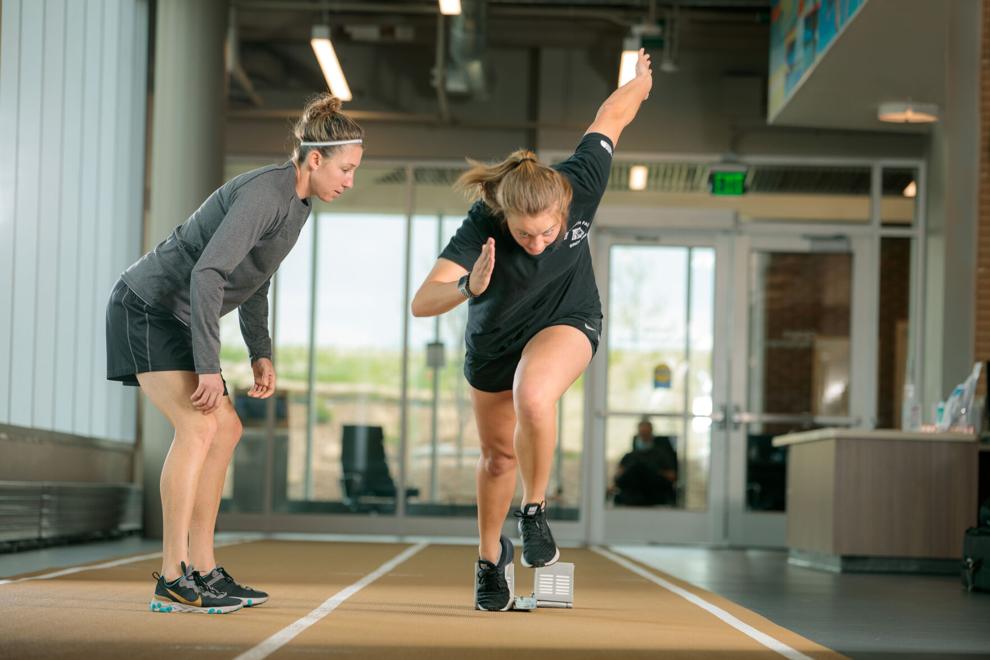 The UCCS-owned Hybl, which opened in mid-2020, is partly rented by Centura Health. The building, funded as part of the City for Champions project in 2013, was intended to attract users from around the country. But you don't have to be an elite athlete or public servant — or a student — to use Hybl's services.
"The common misconception is people think you have to be a UCCS student," said Alison Regal, Hybl's sports performance specialist lead, "but it's open to the public."
There are three parts to the center: sports performance, sports medicine and academics, which allows UCCS students to spend time shadowing clinicians and doctors as they interact with patients.
The sports performance wing features testing and assessment, training and group fitness, such as cross-training and TRX (total resistance exercises), which uses suspension straps in body-weight exercises to develop strength, balance and flexibility.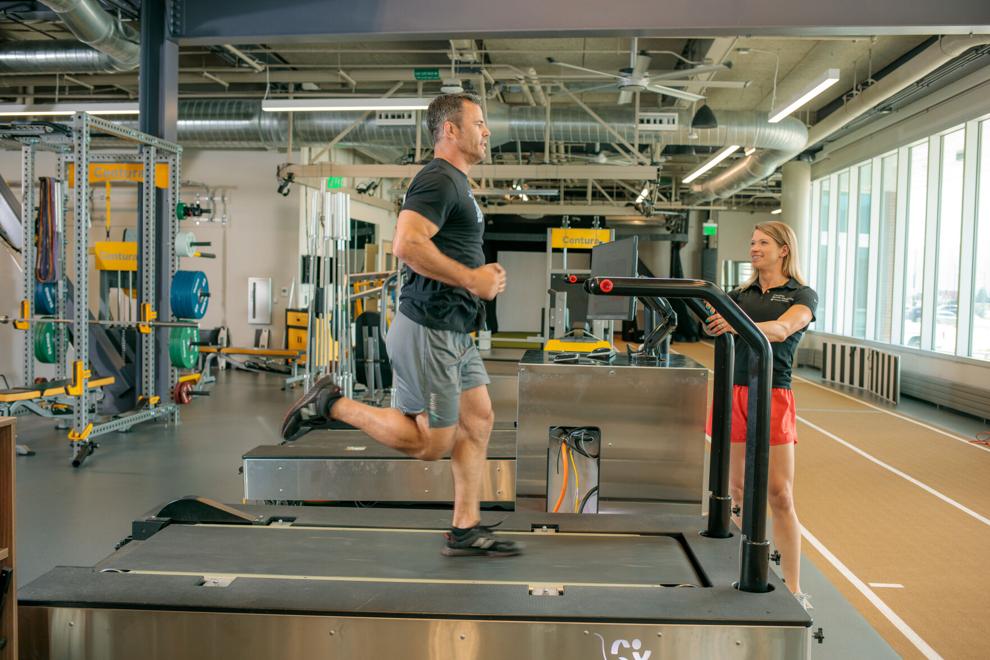 On most nights of the week, the space is filled with kids ages 9-18, including high school students and members of Pride Soccer Club, who are training for their preferred sport. Adults can participate in year-round programs for running or strength and conditioning programs for sports or activities such as mountain biking and hiking.
For those wanting assessments, the center offers a number of diagnostic tools, including a specialized treadmill that measures a runner's impact and any asymmetry in their running style. Video feedback and exercises to improve form also are provided for $150 an hour.
DARI offers a way to check joint vulnerability. After performing lunges, squats and other body movements on a large green pad surrounded by cameras, a report spits out weak spots in your body, such as knees and shoulders.
Golfers also can receive a DARI screening, then head to the golf simulator, where software pops out metrics, such as ball and club swing speeds, which can be used when working with a professional.
Assessment and one month of training is $50, and $75 for three months. Go online to hyblcenter.org to make appointments or register for programs.
Other tools at the center can help people improve performance or heal from injuries. A treadmill that inflates with air lessens body weight and helps those with lower body injuries train. An altitude chamber filled with treadmills, bikes and stair steppers is also available for $20 per session.
"People think they have to go to Pueblo to train low or Woodland Park to train high, but we can set the chamber to run at sea level or 16,000 feet," Regal said.
For the past few months, Lynch has worked with his therapist within the Centura Sports Medicine branch, which also is available to the public. You don't need a referral to make an appointment, and insurance usually covers the majority of the visit, said sports medicine physician Dr. Lindsey Szymaszek. Services include evaluation of pain or an injury, X-rays and treatments, goals and recommendations.
"Sports medicine is misleading," Szymaszek said. "Most injuries and pain are not surgical — there's a way to treat injuries that doesn't require surgery. That's the goal of sports medicine."
Szymaszek's department sees a lot of high school athletes, as well as collegiate athletes from UCCS and Colorado College, who are rehabbing an injury. As far as the general population, the majority of clients have had a mountain biking accident, though Szymaszek predicts she'll treat mostly skiing accidents over the next few months.
A return to performance program covers the gap between insurance-covered physical therapy appointments, which might be limited in number, and the return to a sport, work or job. People can pay out of pocket or use their health savings account. The program tends to attract those with ACL injuries, Regal said.
While Hybl is open to anybody, it's important to remember it's not a regular gym.
"We're not a Gold's Gym," Regal said. "You have to sign up for a program or be part of a team or make an appointment. If you want to get assessed, like you think you're running weird, we can set that up."
Contact the writer: 636-0270