Michael Bennet says his favorite movie is "Butch Cassidy and the Sundance Kid," the 1969 revisionist Western starring Paul Newman and Robert Redford as the legendary outlaws who, in one scene, jump off a cliff to escape a posse chasing them.
Bennet will know in weeks whether his White House ambitions echo the iconic scene and allow him to keep his campaign going.
By the time New Hampshire's Democratic primary votes are counted on the night of Feb. 11, Bennet's leap of faith — keeping his campaign going on a shoestring as higher-polling and better-funded candidates drop out — will have triumphed or Colorado's senior senator will face the reality that even the most well-intentioned underdogs usually don't come out on top.
Since early December, Bennet has focused on Iowa and New Hampshire's respective first-in-the-nation caucus and primary, declaring that he'll have to do well in one of those states if his campaign is to continue.
"In those states, people are just beginning to make up their minds," he said in a recent interview. "I really believe that the issues that I've run on are the ones that are most consistent with Democrats in Iowa and Democrats and independents in New Hampshire."
After those two states vote, the primary moves to Nevada for a caucus on Feb. 22 and to South Carolina for a primary on Feb. 29. Then it's Colorado's turn to help pick the nominee on March 3 — Super Tuesday — along with 14 other states and territories. If things go according to Bennet's plan, his surprise finishes in the first contests will have propelled him into the upper ranks, bringing the attention and money his campaign seeks.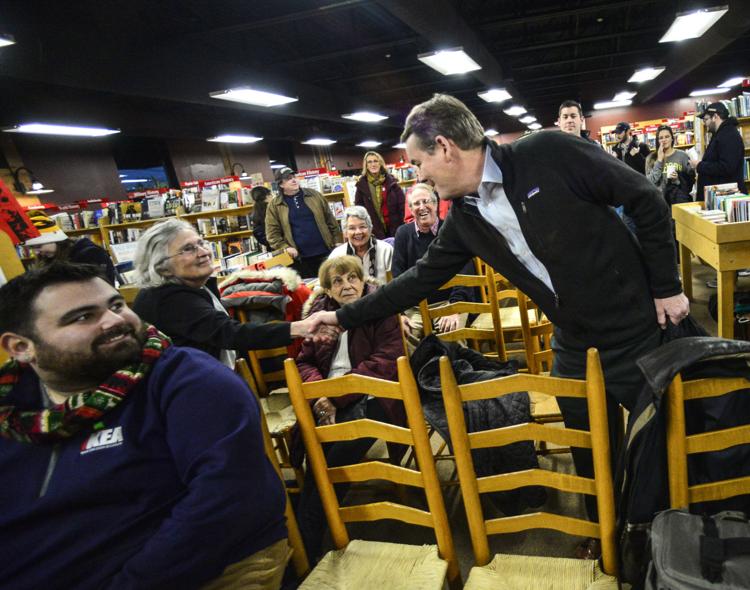 Sensing momentum
Bennet has been focusing most on New Hampshire for the past month, after pledging to hold 50 town halls there before the state' primary and launching a fundraising drive to support television and digital ads aimed at putting him in front of the state's voters.
Bennet said in Manchester, N.H., earlier this month that he's sensing momentum at "town hall after town hall."
"I think that's real, and I really think there's a real possibility that we can end up in the top three here," he told supporters.
Through the second week of January, Bennet's campaign held 31 New Hampshire town halls. And after bringing in what his campaign says is more than $400,000 toward a $700,000 goal, Bennet aired a week of TV ads describing himself as "the opposite of Donald Trump" and launched a series of longer digital ads introducing himself to voters.
In the TV ads, in a story that's become a campaign trail staple, Bennet talks about the time his second grade class was "asked to line up in order of whose family had been here the shortest period of time and whose family had been here the longest." Bennet's father's family arrived on the Mayflower and his mother, a Polish Jew who survived the Holocaust, emigrated to the United States with her refugee parents after the Second World War.
"And that's meant something to me from the time I was very young, and now it particularly means something to me when we have Donald Trump in the White House, the most anti-immigrant, anti-refugee president that we have ever had," Bennet says in the video.
Observers say Bennet must be angling to be someone's vice presidential pick, or become a cabinet appointment under whichever Democrat unseats Donald Trump. Bennet and his closest advisers dismiss such speculation.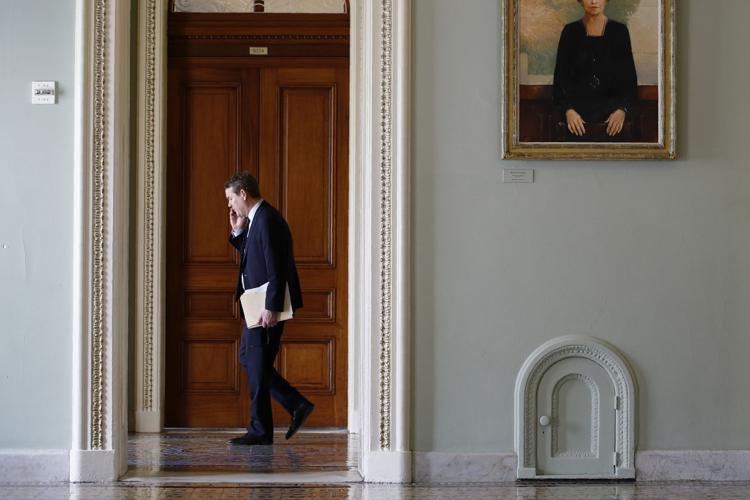 Staying on message
In the year since his presidential campaign started, Bennet's core message hasn't changed.
Jan. 24 will mark one year since Bennet took to the Senate floor to castigate Republican Senator Ted Cruz for the Texan's "crocodile tears" during the government shutdown. The video went viral, becoming the second-most watched video in C-SPAN history. The anniversary of the event Bennet followers refer to as simply "the speech" will also mark 10 days until the Iowa caucus and 18 days until the New Hampshire primary.
Bennett called Tump not the cause but "a symptom of our problems," saying, "We have to do everything we can to defeat Donald Trump, and at the back end, we've got to come out being able to govern again. "
Bennet has been sounding the alarm against Democrats tying themselves too firmly to positions that risk turning off crucial swing voters, including big-ticket proposals such as Medicare for All that he argues will only distract the country from solving problems that have solutions within reach.
"We need to do more than offer empty promises that further disillusion the American people," he said.
His approach follows that of former presidential candidates Gary Hart and the late John McCain, two senators who toppled expectations by winning the New Hampshire primary after their campaigns had been written off.
McCain ran a 2008 GOP primary campaign that bears some similarity to Bennet's, holding town halls across New Hampshire, where voters heard the Arizonan's "straight talk" answers to their questions.
Hart, the Democrat who held the same Colorado Senate seat occupied by Bennet for two terms in the 1970s and 1980s, endorsed Bennet in New Hampshire last summer, blessing his successor as heir to the insurgent, come-from-behind strategy that vaulted Hart into contention in 1984.
History shows that January front-runners often stumble on the way to the Democratic presidential nomination once the voting starts, the record is less encouraging for dark-horse hopefuls who consistently register as far back in the pack as Bennet has for the past year.
Eight months into his presidential run — his campaign launch in early May was delayed about a month until he received a clean bill of health following treatment for a surprise diagnosis of prostate cancer — Bennet's standing in the polls hasn't improved from the 1% support he scored in the first primary poll to include his name, the Des Moines Register/CNN survey of likely Iowa caucus-goers released on March 9.
In poll after poll, nationally and in early primary states, Bennet has hovered between 0% and 1%, even as more than a dozen the numbers for better-polling candidates moved around since April, when FiveThirtyEight began tracking a rolling average of Democratic primary polls.
Bennet has stayed in the low to mid-10ths of a percent for most of the year, landing at 0.2% in FiveThirtyEight's Jan. 8 average. He isn't doing any better in Iowa or New Hampshire.
But Bennet and his campaign aren't dwelling on those numbers. Instead, they cite the unusually high numbers of early-state voters who say they haven't firmly committed to a candidate.
According to a December NPR/PBS/Marist poll, 76% of Democratic and Democratic-leaning independent voters haven't made up their minds which candidate they'll support for president.
It's "kind of an irony," Bennet said at a recent New Hampshire town hall, that the primary appears to be as open as it is, with no clear front-runner. Joe Biden and Bernie Sanders sit atop most polls, though Elizabeth Warren and Pete Buttigieg have led in some state surveys and the top candidates' war chests could keep the contest unsettled for months, election observers say.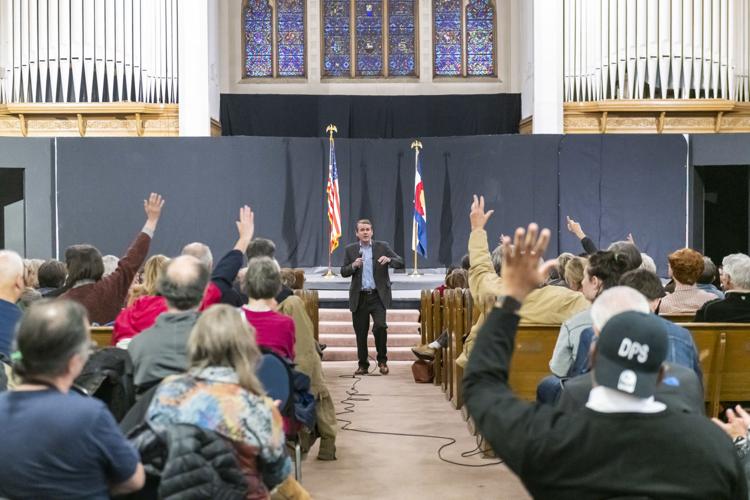 Attracting traditional attention
A few weeks after the Des Moines Register editorial board described Bennet as the Democratic candidate who could "pound some truth" into the campaign, a New Hampshire Union Leader editorial mentioned Bennet in a plea for the national media to drop its "obsession with 'front-runners' and the horse race aspect of the selection process, caring little for issues."
In December, Vicki Kennedy, widow of former Massachusetts Senator Ted Kennedy, introduced Bennet to a group of Boston-area high school students at the Kennedy Institute for the United States Senate as "one of our nation's inspirational leaders … cut from the same public service cloth" as her late husband.
After a decade of Republicans attacking what Bennet calls "small-d democratic institutions" and "completely immobiliz(ing) Washington," Bennet said, "the American people responded to that, in part, by sending a reality TV star to Washington to blow things up. ... I say, 'Congratulations, you've achieved your objective. Now what do we do?'"