"In the Heights"
Cast: Anthony Ramos ("Hamilton"), Corey Hawkins ("Straight Outta Compton"), singer/song writer Leslie Grace, Melissa Barrera ("Vida"), Stephanie Beatriz ("Brooklyn Nine-Nine"), Jimmy Smits ("NYPD Blue")
Airs: The film premieres in theaters and on HBO Max on Friday.
The premise: Bodega owner Usnavi (Anthony Ramos) lives in the Washington Heights neighborhood of New York City. A kind man and hard worker, he saves every penny and dreams of moving back to the country of his birth, the Dominican Republic. Meanwhile, his friends are facing their own life-altering challenges.
The film is based on the musical stage play of the same name, with music and lyrics by Lin-Manuel Miranda ("Hamilton"). Jon M. Chu ("Crazy Rich Asians") directed.
Highs New York City is one of the most unusual and diverse cities in the world. I've visited it several times and whenever I walk its streets I always hear music and smell food, which I love. It might be a city, but its residents make it a living, breathing place.
This is the exact feeling I had while watching "In the Heights," which does a brilliant job of bringing the Washington Heights neighborhood to life through several interconnected plot lines that form a wonderfully cohesive and engaging story.
"In the Heights" is narrated by Usnavi. Throughout the film, the uniquely named store owner describes the recent history of the neighborhood through multiple perspectives.
Vanessa (Melissa Barrera) works at a beauty salon but wants to move downtown and dreams of becoming a fashion designer.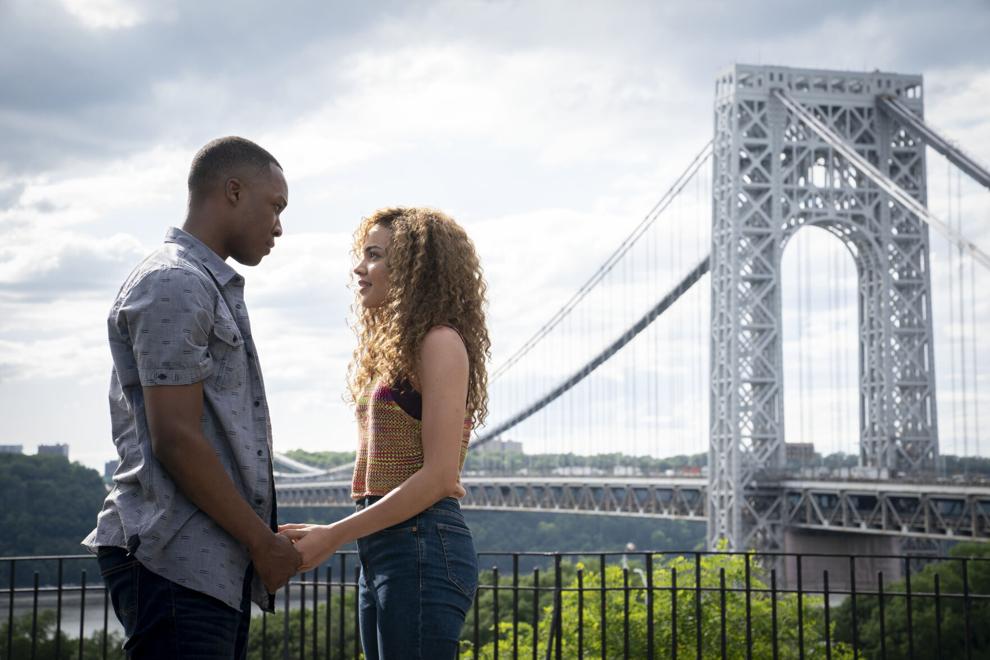 Benny (Corey Hawkins) is a dispatcher for a small cab company. He's worried about losing his job because the company he works for is based in the neighborhood and may become a victim of gentrification. Nina (Leslie Grace) is super smart and home for the summer after completing her freshman year at Stanford. She's done the tight-knit neighborhood proud but is conflicted by the financial burden her college education puts on her father. Nina has also struggled at school, facing class and racial discrimination.
These four characters face issues a lot of people in their early 20s deal with. They're trying to find their place in the world while also hoping to figure out what they want and who they want to become. It's a common problem, exacerbated by the group being either immigrants, minorities or both.
While the characters in "In the Heights" face an uphill climb, there's no pity party here. This film exudes strength, determination, a positive spirit and a sense of hope for the future that's hard to find in most movies.
Helping to spin this inspiring tale is a stellar soundtrack with songs from Lin-Manuel Miranda. The Tony winner's range is impressive, with a film full of terrific tunes that will make you want to dance, tap your feet and even bring a tear to your eyes.
Lows: Miranda's fingerprints are all over this film and due to the success of "Hamilton," comparisons between the two are sure to be made. While both films are set in The Big Apple, the time periods are hundreds of years apart. That said, "In the Heights" clearly has an East Coast vibe and a New York style. If you have no interest in the city or the film's sense of local history, it may be hard to relate.
Miranda has a distinctive songwriting style. He likes to mix rhythms and is a master at clever rhyme schemes. If you liked "Hamilton," which was actually written by Miranda after this musical, you'll certainly enjoy "In the Heights." But if Miranda's Broadway hit about the former secretary of the Treasury wasn't your cup of tea, this new film likely won't be either.
Grade:(A): The story of "In the Heights," which was mostly filmed on location, is certainly unique to its ZIP code, but its overall message is one that is universal. Full of love and joy, this film, which at times can feel like a modern-day "West Side Story," is a fantastic experience.
Gazette TV critic Terry Terrones is a member of the Television Critics Association and the Critics Choice Association. You can follow him on Twitter at @terryterrones