Dustin Gray had already served three years in the Army when 19 Al Qaeda terrorists hijacked four airplanes, flying two into the twin towers of the World Trade Center in New York, one into the Pentagon outside Washington D.C. with the fourth crashing in a field in Shanksville, Penn.
Nearly 3,000 people died on Sept. 11, 2001 and America responded quickly by sending troops into Afghanistan the following month to destroy Al Qaeda, oust the Taliban and kill Osama bin Laden.
The Afghanistan war has claimed the lives of more than 2,300 American troops, including about 100 from Fort Carson. The last Fort Carson soldier killed in Afghanistan was Sgt. Maj. James "Ryan" Sartor, 40, a Green Beret who died in a firefight with insurgents on July 13, 2019, in Faryab Province.
Gray was in upstate New York stationed at Fort Drum during the 9/11 attacks and said he lost a lot of friends in the first few years of America's longest war.
Osama bin Laden died in a firefight with special operations troops in May 2011, but nearly 20 years after 9/11, Al Qaeda and the Taliban are still in Afghanistan. The Pentagon plans to pull the last American troops from the mountainous nation by the end of the month.
But as the small remaining contingent of U.S. forces withdraw, Taliban insurgents have moved in, capturing and controlling more than 65% of the country, according to Reuters news agency.
"I kind of feel like this pullout is a slap in the face to friends I've lost," Gray said. "What the hell did they die for? Leaving and handing the country right back to the Taliban, are you kidding me?"
This is a common feeling for many who served in the past two decades.
Gray served in central Afghanistan's Maidan Wardak Province from 2007 to 2008, part of a two-man team assigned to an infantry company to run a radio network.
On Thanksgiving, many of the soldiers got together and smoked cigars. That was a good day.
But the compound was undermanned, with only a single infantry company to police the entire province, Gray said.
Mortars and rocket attacks were nearly a daily occurrence, and a roadside bomb killed two soldiers during Gray's deployment.
"I hope that the Afghanistan people can pull through this and get rid of the Taliban. I really do," Gray said. "But I think the Taliban will take over the whole country."
Gray, 40, was medically discharged from the Army in 2013 after suffering knee problems while stationed at Fort Carson.
The former sergeant said he has post-traumatic stress disorder, a traumatic brain injury and has contemplated suicide.
He makes frequent visits to the Veteran Affairs clinic in Colorado Springs for a variety of therapies.
A Marine's experience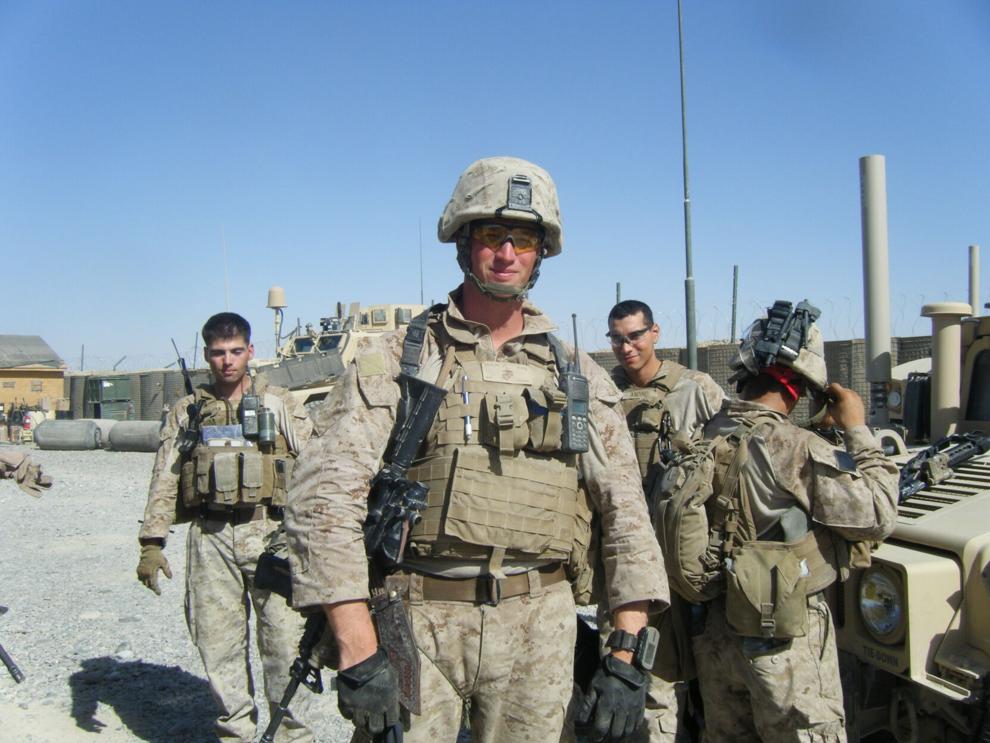 Marine Josh Hosler said serving in Afghanistan in 2010 was life-altering.
Hosler was an infantry assistant platoon leader in Helmand Province where poppies are grown to produce opium.
Once the poppies were harvested and sold, "that's when things popped off," the corporal said. "We were hoping for combat and then we got it. It was a huge wakeup call for a lot of us. That was the first day we lost anybody and unfortunately it wasn't the last.
"One of our bases was getting attacked and a Cobra and Black Hawk (helicopters) came in to provide security. They started getting small arms fire. We saw the Cobra get shot down by a rocket-propelled grenade. We lost the two pilots."
During his tour, Hosler had plenty of ups and downs.
He remembers getting close to the Afghanistan Army troops stationed at his base. But Hosler said he never could trust them.
"A lot of the Afghani Army as we knew it were part of the Taliban or at least working with them," Hosler said. "A lot of them got arrested because they were the ones laying improvised explosive devises that we found."
He has also witnessed horrible treatment of Afghani women, he said.
"The cultural differences, the tribal systems, there is so much turmoil and cultural differences there," Hosler said. "They don't want democracy. It is a tribal system."
One element of support was the Mujahideen, who Hosler described as extremely helpful. The Mujahideen, guerrilla-type militants, helped repel Soviet forces from Afghanistan in the 1980s. They also assisted Hosler and the U.S. military during his deployment in 2010. 
"They are bad asses," Hosler said. "But they will probably get slaughtered by the Taliban."
Hosler said residents there seemed to appreciate the stability the Marines brought.
The Marines provided security during elections in 2010, transporting 27 Afghani election board members around in a beat-up dump truck.
"That was very humbling and life-altering," Hosler said. "Seeing women in their 70s and 80s holding their finger where it was dyed from ink from the first time they ever voted in their life. Seeing them weeping was extremely moving."
Some of the election officials had to flee Afghanistan after the Taliban sought to retaliate against the electoral process and their family members were "tortured and butchered," Hosler said.
His Marines also provided security for what Hosler called "bag-men," who were paying off warlords so Marines wouldn't be attacked.
Hosler is glad American troops are now largely out of Afghanistan, but he is upset with how its ending.
"It's just the way we are pulling out," he said. "It is another Vietnam.
"There is no hand-off. Telling people when we're leaving and to hand it disrespectfully back without a proper transition, is criminal."
The 41-year-old Hosler served from 2007 until 2011.
Removing roadside bombs
Hosler met a like-minded veteran, Anthony Archer, while they were both working for Colorado Springs Republican U.S. Rep. Doug Lamborn.
The combat veterans kept seeing the same problems at Veterans Affairs, with military personnel not getting the help they needed.
With more and more of their brothers and sisters in arms dying by suicide, Hosler and Archer decided they needed to act.
"We're still paying for wars in Iraq and Afghanistan with the blood of our veterans," Hosler said. "I've made it my life's mission now to help veterans."
Hosler and Archer launched the non-profit Veteran Sheepdogs of America earlier this year to support veterans and work to hold Veterans Affairs and elected representatives accountable.
The 53-year-old Archer has seen plenty of overseas deployments, including the 1989-1990 Invasion of Panama, the 1991 Gulf War, three tours in Iraq since 9/11 and a 2009-2010 deployment to Afghanistan.
Archer was part of Fort Carson's 900-soldier 4th Engineer Battalion that patrolled roads in mostly southern Afghanistan, finding and removing roadside bombs.
"We definitely brought a needed element into that part of the country that was not there before we got there," Archer said. "We were the first major route clearance in" the region. "It was multi-national, British, Canadians, Bulgarians, Danish, Marines … a real NATO effort."
The battalion lost soldiers to improvised explosive devices.
"It was tough being on patrol and getting a call that I needed to go to Kandahar because we lost guys on another route clearance," Archer said. "Unfortunately, we lost 11 guys while we were there."
Archer retired as a command sergeant major in 2011, the same year bin Laden was killed. But four years later with troops still in Afghanistan, Archer's youngest son, a soldier, deployed there for a year.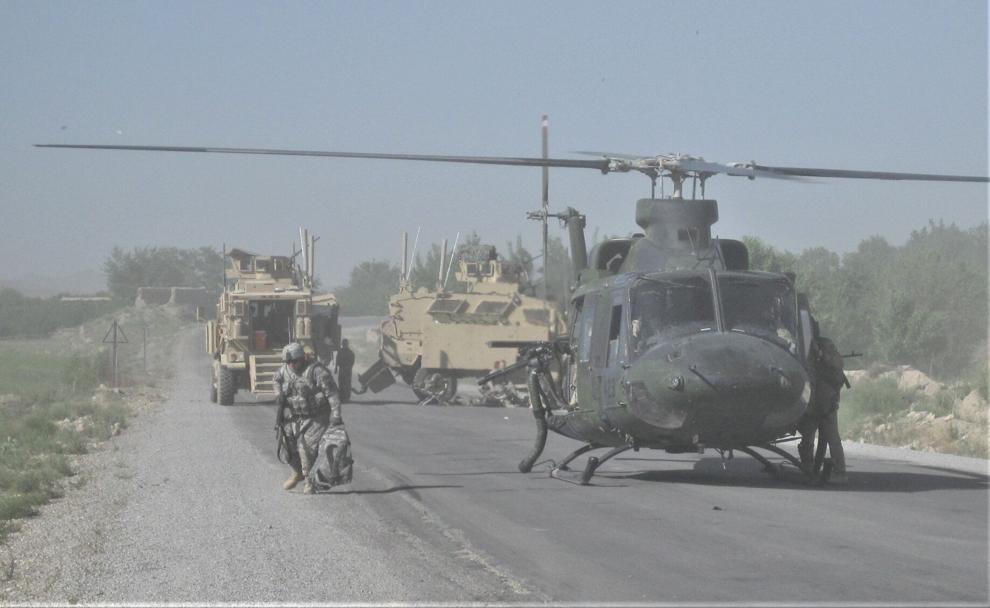 Archer said he doesn't understand why America had troops in Afghanistan for nearly 20 years.
"We went in, did our job and should have come home," Archer said. "It made no sense we were there that long.
"I now know how the Vietnam veterans felt."
He isn't surprised to see that the Taliban continue to capture more and more of Afghanistan.
"Look at the history of that part of the world," Archer said. "It is not a cohesive nation state like we think of it. It is very fragmented. They don't, in my opinion, think of themselves as Afghans, they think of themselves as whatever tribe they are in. When you don't have people that think of themselves as part of that nation, it is going to fail."