Carl Chinn begins most days in the hollow hours before dawn, over coffee and an unfinished catalog of carnage.
The 59-year-old former building engineer and grandfather of 16 started compiling a database of "deadly force incidents" on faith-based properties in the U.S. almost two decades ago, after he came face to face with a gunman, and was taken hostage, during an assault at Focus on the Family. Keeping his dark archive current, and using what he's learned to improve church safety in Colorado Springs and other cities nationwide, is now a full-time job.
Before Sept. 15, 1963, when a racially motivated bombing killed four young black girls at the 16th Street Baptist Church in Birmingham, Ala., there never had been a mass murder — four or more lives lost in a single attack — at a house of worship in the United States.
The murder of 11 people at Pittsburgh's Tree of Life synagogue Oct. 27 was the 15th mass killing on the nation's hallowed ground.
"It's very difficult to predict when one of these is going to occur, but every time one of these incidents happens we can learn something from it," said Chinn, who since 1999 has identified and analyzed more than 1,700 such crimes, including more than 800 that involved a violent death. "The more we learn about what led up to the event — the weapons, the methods, triggers or motives — the more we can apply that to current security exercises."
Chinn is an advocate for well-trained armed security in places of worship; he's seen it save lives. He also said he knows such measures are only part of the answer, and that they're not right for every community, congregation or person of faith.
"I've had people walk out of my seminars," said Chinn, who founded the nonprofit Faith Based Security Network in 2016 to share what he's learned and help connect faith groups and law enforcement on local levels. "Most of the time, the people who walk out say it's just too much, and 'I can't take this.'"
At a recent talk in New Jersey, Chinn said one attendee who left early did so because "she was a Democrat, and said she didn't like what she was hearing."
He maintains the issue is bigger than partisan politics, though.
"The three of us that teach this have a conservative bent, there's no question about that, but this is not a political issue," he said. "It's not just about guns, it's about practical readiness."
For others in the faith community, however, it is about guns.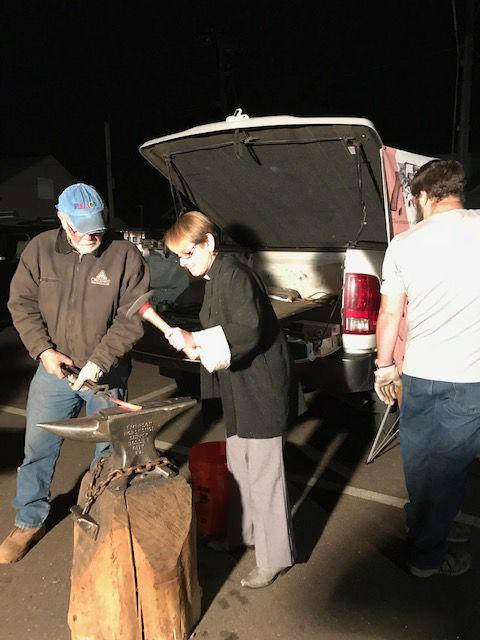 "A church is where we come to feel safe. It's a refuge, a sanctuary. I don't want to have to look at an armed guard when I come for service. What does that say, to us and about us?" said the Rev. Nori Rost, of All Souls Unitarian Universalist Church, whose roughly 150 members voted this year against hiring armed security.
"We shouldn't have to worry about armed guards, but you're forced to choose, each one of us, because we live in an unsafe nation with gun laws that don't make sense."
In a country where it seems no public gathering place is immune from the threat of armed assault, the burden on faith leaders — to provide security and preserve sanctity — is a complex, and heavy, one.
"For me as a minister, I feel a great responsibility because I really advocated for not having an armed guard," Rost said. "And you know, what would I feel like if we had an intruder?"
Doing 'everything they can'
At Unity Spiritual Center on the city's west side, church leaders made the decision to hire a full-time armed guard after a gunman killed 26 and wounded 20 at First Baptist Church in Sutherland Springs, Texas, last November.
What felt like a necessary decision was not an easy one, said pastor Ahriana Platten.
"A church is where you go when your heart is broken … when you've lost a beloved … when you're asking the richer, deeper important questions about your life's purpose and why you're here and what you're doing," said Platten, who grew up in a military family of gun proponents but, as a mother and minister, says she is a firm supporter of stricter laws.
"You're in a different mindset when you're at church than you are at Walmart. You're assuming you are in a holy place."
Those same dynamics can make houses of worship more vulnerable, however.
"In my opinion, church is one of the places where people are the least prepared for violence," Platten said. "It's where you come to let your guard down, not put it up."
Unity's congregation of about 200 represents an "interfaith community" whose members embrace an open and inclusive theology that Platten said can, and has, made it a target for hate. Several years ago, employees arrived to find a mysterious package hanging from the mailbox. It turned out to be a prank — a gift-wrapped Quran — but the incident nonetheless resonated deeply.
"When you have these kinds of experiences, you really begin to see how vulnerable you are as a community," Platten said.
Having an armed guard means the church can keep its focus on its "good works."
"In today's world, I want to do everything I can to make sure the people that attend our services and activities are safe. It's my responsibility as a parent and also my responsibility as a pastor … and I'm not professionally trained to take anybody down, whether they have a gun or not," she said. "Having armed security allows us to continue to keep the doors open and be welcoming."
'Some quit the church'
Before he became a sentinel of the once-unfathomable, Carl Chinn was a witness.
First in May 1996, when he was one of four hostages taken by an armed man at Focus on the Family. Eleven years later, on Dec. 9, 2007, he was an armed member of the volunteer security team at New Life Church when at-large killer Matthew John Murray launched an assault with smoke bombs and a modified AR-15-style rifle that killed two teenage sisters and injured five others. One of Chinn's partners on that security team, Jeanne Assam, shot and wounded Murray, who then took his life.
"New Life is still the only incident where a killer who had already killed was stopped by an intentional volunteer team at a church," Chinn said.
Even so, the team's response drew criticism from the community and from within the congregation, he said.
"We had some people who couldn't believe we had the audacity to carry a firearm in church. We even had some people quit the church," he said. "There are some people who are so opposed to it they see no reason a gun should ever be used, period."
Chinn points out that his presentations also make it clear a gun isn't necessary, citing the heroism of James Shaw Jr., the unarmed man who tackled and disarmed a gunman at a Tennessee Waffle House in April, ending a shooting spree that had claimed four lives.
"I can give you many, many examples of people who have stopped a killer with nothing in their hands and only determination and protection in their heart," Chinn said. "While I still believe a firearm in the hands of a responsible defender is the best defense against a firearm in the hands of a killer, it's not what's in the hands that will kill people or save people."
A firearm in the hands of a responsible defender is no guarantee, though.
Among the 12 casualties of the Nov. 7 mass shooting at a country-western bar in Thousand Oaks, Calif, was a Sgt. Ron Helus, a 29-year-veteran of the Ventura County Police Department.
'Guardian ministry'
In "open carry" Colorado, where it's legal in many places to advertise one's ethos on one's hip (or, more covertly, with a permit), individual callings can sometimes collide with pastoral mandates.
Chinn recalled one local church security director and former corrections officer who told him he was planning to resign from the role because his pastor had forbidden team members from carrying firearms.
"I said, 'You, as one of the most credentialed people who could be leading the team, are quitting because you can't carry a gun?'" Chinn said. "The reason you do this is to protect people and you do what you do at the pleasure of your ministry leader. If they want you to do it without a firearm, you need to find a way to do it without a firearm."
At the city's largest church, New Life, professional law enforcement and trained members of the volunteer security team are the only people allowed to carry weapons on campus.
At Pikes Peak Christian Church, an "emerging megachurch" in the Security-Widefield area, the 1,300 members are protected by a "guardian ministry" of trained volunteers who patrol the campus during services.
Chinn encourages larger congregations to work with local law enforcement, to arrange for visible police presence, and marked vehicles, during peak times.
Such precautions are not practical, or possible, however, at many of the roughly 365,000 congregations in the United States, the overwhelming majority of which have fewer than 100 people attending services on any given week.
When the Rev. Harley Ihm addresses his flock of 100 or so at Central Christian Church in Old Colorado City, he knows the unseen forces at work aren't just spiritual in nature. Several members of his flock carry concealed firearms.
"With us being a smaller church, we're more low-key, but we've had probably three guys who have concealed carry and are trained. Nobody ever really knows they're carrying but they always are," Ihm said. "They're keeping an eye out and I know if something happens, they'll be able to handle it."
'What would we do?'
A proposal to hire armed security at All Souls Unitarian Universalist Church was "overwhelmingly defeated" by the congregation in May, the Rev. Rost said.
"We voted against it, but all the churches who chose to do that, I fully support," she said. "It is a decision that every congregation should make. They should talk about, if they haven't already: What would we do if there's an emergency — a fire, a heart attack in the third pew, an armed attacker?"
To that end, the church developed — and continues to hone — its "crisis response policy," which includes security measures such as controlling access, safe rooms with solid doors and exits to the outside, and, soon, video training for the congregation on what to do should a violent intruder gain access.
Vigilance is everyone's responsibility these days, Rost said.
"If you see someone who looks suspicious, just kind of monitor them," she said. "Be vigilant. Be alert … but I don't ever want to make a decision based in fear."
As is written in Hebrews 13:2, "Do not neglect to show hospitality to strangers, for thereby some have entertained angels unawares."
Problem is, those strangers can be impossible to distinguish from the ones who entertain devils.
As Rost was delivering her closing words at a Sunday service early this month, a white man wearing a winter coat walked in and sat four rows from the front.
"I'm like, 'Service is ending, and he has a jacket on?'' said Rost, who finished her sermon and took her usual seat, turning so she could face the congregation and keep an eye on the stranger.
"I was just unnerved. In my mind, I had a scenario of, if he pulled out a gun this is how I would rush him," Rost said. "Just turned out he had the wrong time for the service, but I had to think about all that."