Great Harvest Bread Co. has baked its last loaf of honey whole wheat, harvest white and  cinnamon chip bread in Colorado Springs — not to mention its last cookies, muffins, cinnamon rolls, lemon bars, sticky buns and other tasty treats.
The Springs' lone Great Harvest Bread Co. closed in early September at the north-side Union Town Center shopping center, northwest of Union Boulevard and Research Parkway. The franchise of the Montana-based bakery and cafe had been open in the Springs for about a quarter century.
Husband-and-wife owners Mark Jewell and Ainley Doyle-Jewell, who've run the Great Harvest Bread franchise in the Springs for the last 16 years after it had been operated by other owners, had sought to sell the business for nearly four years.
Ainley's health was a major reason the couple sought to sell, Mark said. She suffers from a genetically bad spine — a slowly worsening condition that makes it painful to perform a physically demanding job that requires standing much of the day, as well as lifting and carrying items, he said.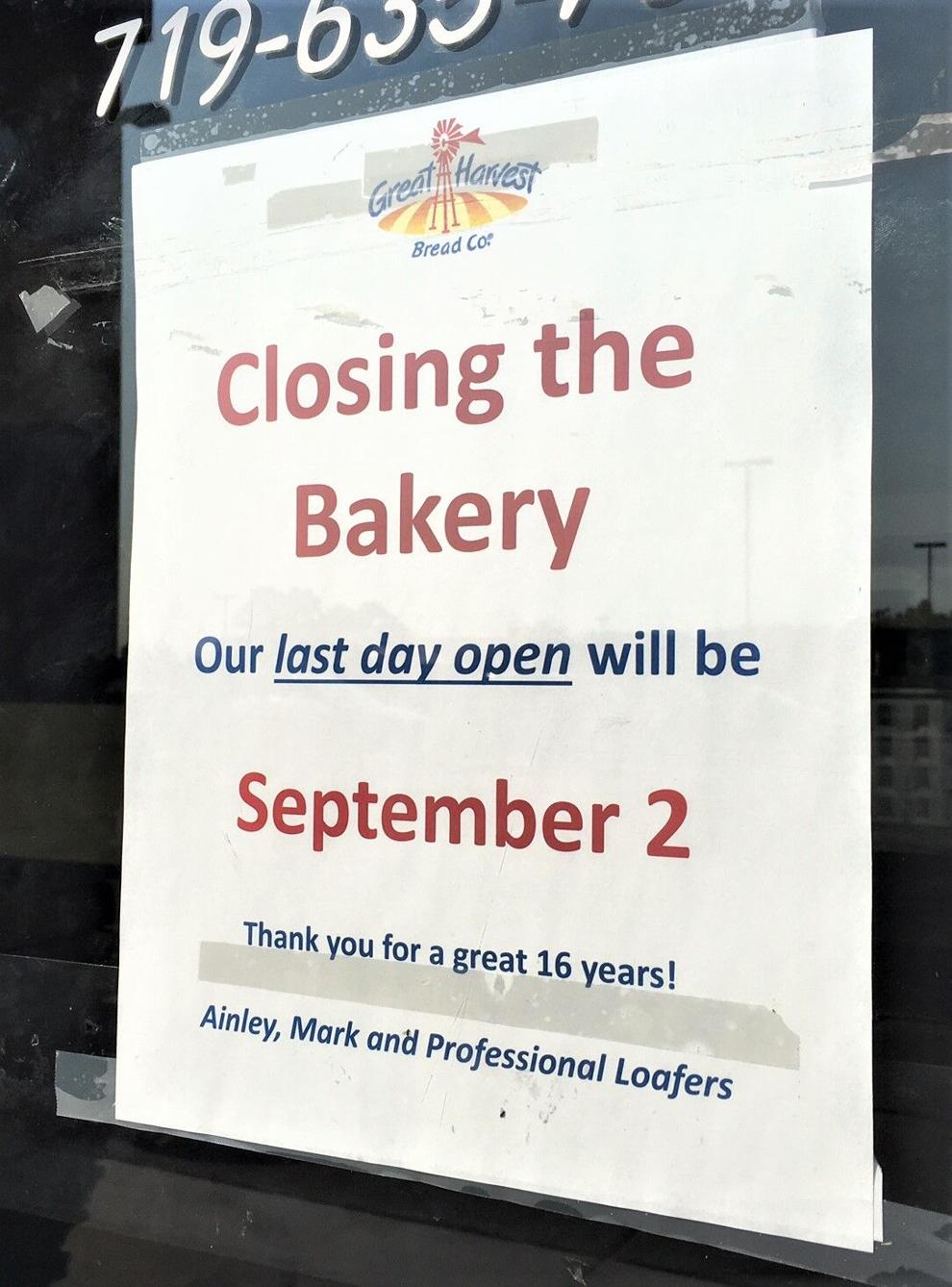 At the same time, the lease on their Union Town Center storefront was up for renewal, and Ainley and Mark would have needed to commit to another five years in the shopping center at a cost of possibly $500,000 in rent over that span, Mark said.
The couple had a deal with a prospective buyer early in 2020, before the onset of the COVID-19 pandemic, Mark said. The buyer backed out, however, and they weren't able to find another one, he said.
As a result, the couple closed Great Harvest on Sept. 2.
"We're in a good position," Mark said. "We don't owe anybody any money. Certainly, we would prefer to sell it. We had always thought, 'we knew we would be done,' but we thought someone would continue with it. But the market's kind of telling us that's not the case."
Though the pandemic caused an initial disruption, sales rebounded "very nicely" and business had been good, Mark said.
"The business was strong but no one would seem to be interested in it," he said. 
Great Harvest Bread was founded in 1976 in Great Falls, Mont., according to its website.
Today, there are more than 200 Great Harvest franchises in the United States that serve baked goods, breakfast items, sandwiches and salads; seven stores operate in the Denver area, Boulder, Fort Collins and Grand Junction, the Great Harvest website shows. 
Great Harvest says it allows its locations to operate as so-called freedom franchises; local owners have greater flexibility to run their outlets and are encouraged to pursue a streak of individuality.
Mark said he and Ainley were required to pay a royalty to Great Harvest's parent company, protect proprietary information such as recipes and processes, grind Great Harvest-approved wheat on site and share recipes if they came up with them on their own.
Otherwise, Mark said, they could set their own hours, prices and menu, modify recipes and buy their own equipment and supplies, among other freedoms.
"We could do anything and everything else we wanted to, which was nice for us," Mark said.
Mark and Ainley also had operated Great Harvest locations along Garden of the Gods Road in northwest Colorado Springs and along Voyager Parkway on the north side. Both opened around 2008 or 2009, Mark said.
But the Waldo Canyon fire in 2012, which destroyed nearly 350 northwest-side homes, led to a big drop in business for the Garden of the Gods location, Mark said. He and Ainley closed it in August 2014.
That same year, they opened in the Union Town Center. That location, however, effectively cannibalized sales from the Voyager store, which was closed in 2015, Mark said.
Regardless of location, Great Harvest Bread had a loyal following, he said. While most customers came from a 3- to 5-mile radius, he said, others from Pueblo or Buena Vista made a special point of stopping by if they were visiting Colorado Springs.
As Great Harvest operators, Mark said he and Ainley set out to do two things: bake phenomenal bread and make a busy customer's visit to the store their best stop of the day.
"Because of that," he said, "we had people that are like, they don't want to go anywhere else, no one's going to treat me like they do. And the bread's not as good, why would I go anywhere else?... Our feedback when we were closing, people kind of told us, yeah, those are two things why they were there."
The couple also enjoyed relationships with their employees; one had worked for Great Harvest for 14 years, another for eight years and several for five to six years.
"Those are kind of rich relationships, too" Mark said. "It's important to us, just as it was with our customer relationships."
Mark, 65, said he's considering retirement, but also might do part-time process and problem-solving consulting work as a contractor for a New Jersey firm.
Ainley, 54, has a background in chain supply management and might consider seeking an office job in the industry that wouldn't be as physically taxing, he said.
"We're sad it's closed, too," Mark said. "We always thought we'd be able to turn it over to someone else. Other than that, we're in a fairly good spot. We feel bad that people say, 'where can I go?' And there's not a good answer to that. There's not many people that do what we do."