The owners of Dutch Heritage Gardens in Larkspur, a greenhouse complex that sells flowers and ornamental plants to major retailers, have found a lucrative side business — hemp, a close cousin of the cannabis plant.
Aaron and Rozalia Van Wingerden started Royale Botanicals in 2017 to grow hemp plants to make cuttings that are sold to farmers, but this month the company began selling its own CBD-infused products online. The products contain cannabidiol, which comes from the hemp plant and has become a popular natural remedy for ailments ranging from arthritis to insomnia.
Dutch Heritage Gardens and Royale Botanicals use the same greenhouses, staff and equipment to grow flowers and ornamental plants as well as hemp clones, which are genetically identical plants made from cuttings.
While Dutch Heritage Gardens generates about 85% of the revenue from the two businesses, Aaron believes the hemp side of the business will grow to eventually equal the flower and plant business, and perhaps exceed it.
"Hemp is only 15% of our business, but I would like to see Royal Botanicals rise to the level of Dutch Heritage Gardens. I would have no problem if it surpasses the other side of the business," Aaron said. "Hemp still has a stigma in people's mind but I believe a breakthrough is right around the corner for this industry in which you will see different CBD formulas created to treat different medical conditions."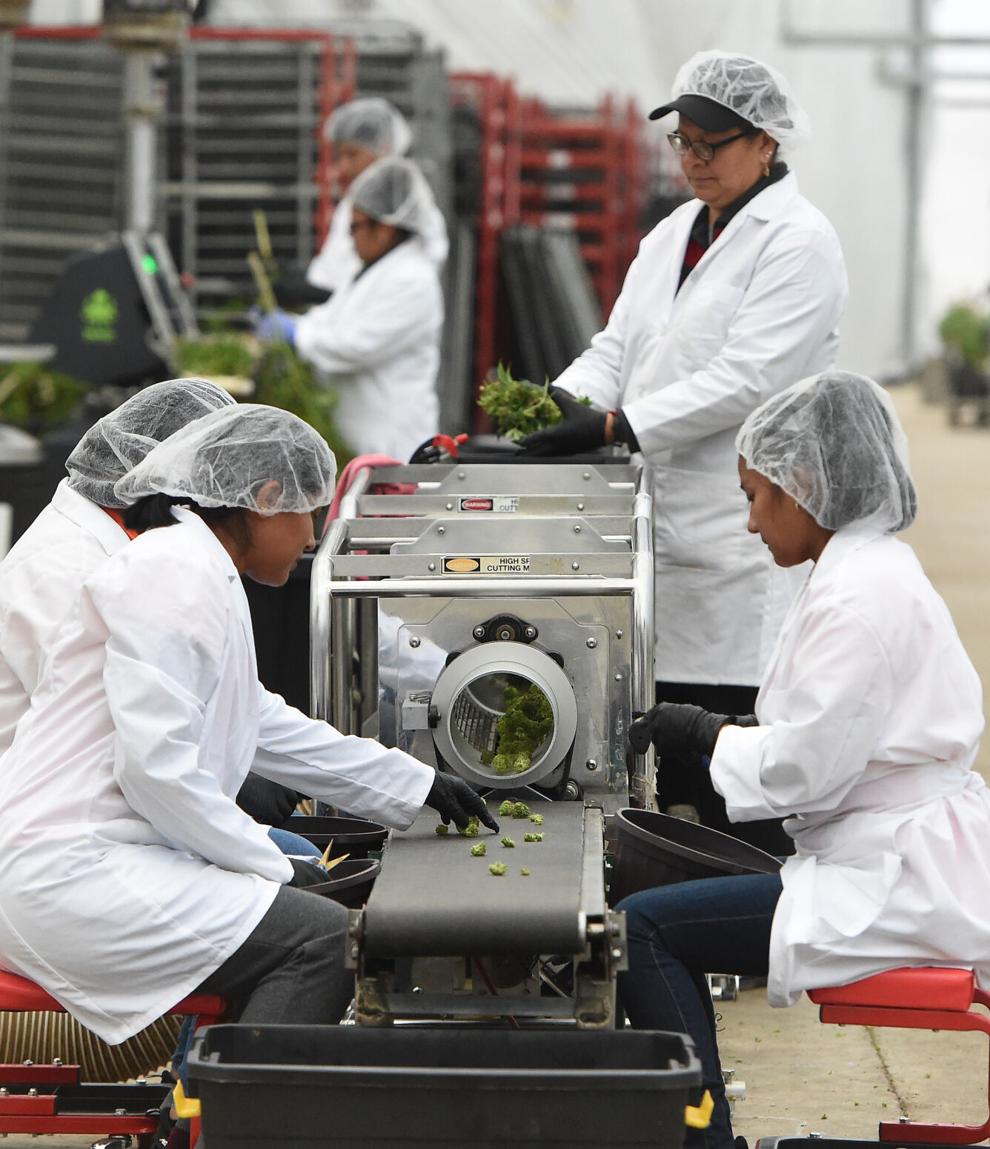 Aaron has been involved in the greenhouse industry since his father, Arie Van Wingerden, paid him $3 an hour in the early 1990s when he was 12 to sweep floors in the family's Pennsylvania greenhouse.
The family moved to Colorado in the mid-1990s after selling the Pennsylvania operation when Arie planned to retire. Instead, Arie bought land in Calhan for another greenhouse complex, where Aaron and his 11 siblings worked after school. At 15, Aaron already had moved into management.
Most of Van Wingerden's uncles, aunts and cousins also are in the greenhouse business, a legacy of Aaron's grandfather, who grew vegetables and potted crops to sell at farmer's markets in Holland before he immigrated to the U.S. in 1948.
Aaron eventually became general manager of Rocky Mountain Growers, a conglomerate Arie started with a Denver company.
After a disagreement with his father over the direction of the business and a three-year move to Ohio, Aaron returned to take over the Colorado operation that had failed under a new owner.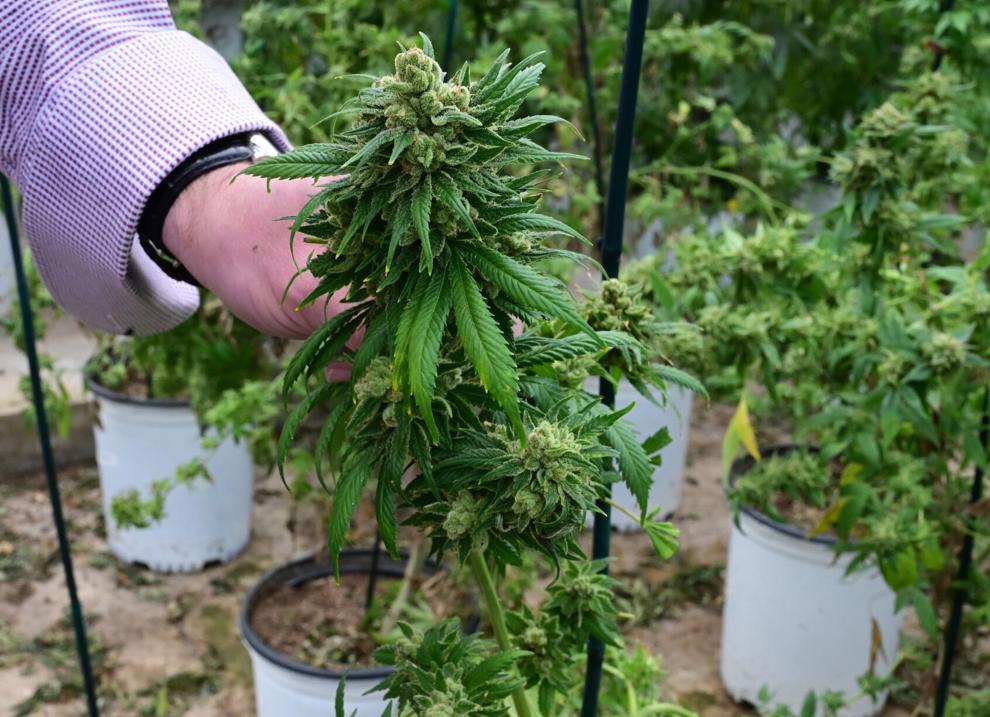 He and Rozalia bought the then-vacant 3-acre complex in Larkspur 15 years ago and turned it into Dutch Heritage Gardens.
Their business plan called for selling self-contained gardens in large rectangular pots. Their target customers were couples who were too busy with careers and kids to start a garden and would buy ready-made mature collections of colorful plants grown by the company.
"The business I had worked for in Ohio sold to big-box retailers like Walmart, Home Depot and Lowes. They dictated what to grow and what pot to put it in since the stores were getting a cut of the profits on the pot," Aaron said.
"We didn't want to sell to that part of the market, so we decided to sell to grocery stores instead," he said. "Our container gardens were a natural fit in the front of the store."
Rozalia designed a pot that made the container gardens look upscale, and the couple grew 50 to 100 of the gardens that Aaron put in the back of his van to show to grocery store managers.
After spending three days trying to sell to individual managers, Aaron got a call from a buyer for King Soopers who handled floral purchasing. After seeing the container gardens, he ordered thousands from Dutch Heritage Gardens.
The company's 3-acre complex has expanded to 16 acres with more than 700,000 square feet of greenhouse space, but King Soopers remains the company's biggest customer.
Dutch Heritage Gardens sells 12 million to 15 million flowers and ornamental plants during its peak season and another 900,000 or so seasonal offerings that include tulip and other bulbs, chrysanthemums and poinsettias.
Colorado voters approved a state Constitutional amendment that legalized recreational marijuana and hemp production in 2012, prompting Aaron and Rozalia to move into cannabis production two years later, when recreational sales were first allowed.
They formed a company called SunCanna and became licensed marijuana growers with a greenhouse in Pueblo and sold their crop to Colorado dispensaries.
But after three years, Aaron wanted out of the recreational marijuana industry.
"I decided the business was not for me. Legalization brought a lot of undesirable characters who wanted to cash in on the green gold rush," Aaron said.
The amendment, he said, "made a lot of closet growers into legitimate business people overnight. They had been growing in their parents' home, their dorm room or in a business property without telling the landlord. I found it difficult to find true professional (growers), so I sold my company."
He switched to growing hemp, made from a different variety of the cannabis sativa that won't get you high. 
To be classified as hemp, it must have no more than 0.3% of THC, the main psychoactive ingredient in pot. That close relationship led to hemp production being curtailed by a tax on cannabis in 1937 and then banned in 1970 under the federal Controlled Substances Act.
"We had an opportunity to sell hemp starts (a cutting from a genetically controlled plant in Aaron's greenhouse) to a farmer who was finding it difficult to find a source for hemp starts," Aaron said.
"He had a 100-acre field and that meant he was growing about 400,000 plants. No one else could produce that much, so that meant he had to buy from 10 different suppliers and potentially end up with 10 different varieties that were ready for harvest at different times."
Aaron saw an opportunity to bring his horticultural expertise to an industry that needed "science, data, legitimacy and transparency," while at the same same time bringing the scale and experience of Dutch Heritage Gardens to the new industry.
The couple started Royale Botanicals — a name Rozalia came up with to sound like an upscale brand and not a pot company —to sell the cuttings, which are used to produce CBD and the flower of the hemp plant, which can be smoked.
Royale Botanicals produces many varieties of hemp cuttings to be grown nationwide, since the plant must be tailored to the climate where it is being grown.
Each variety requires a different amount of sunlight during the day to mature and be ready for harvest at the right time. If it matures too soon, the plant will be too small and have little value; if it matures too late, it will be harvested in cold weather and be worthless.
The hemp business stayed relatively small until Congress legalized hemp in the 2014 farm bill that allowed the cultivation of hemp for research purposes and within state agricultural pilot programs.
But it was the passage of another farm bill in late 2018, which took hemp from a Schedule 1 controlled substance to an agricultural commodity, that was seen as a game-changer for the fledgling industry.
"Everybody got into the hemp farming business thinking they were going to make a million dollars," Aaron said. "We went from growing 50,000 plants in 2017 to 3 million in 2019 and we could have easily sold 10 million. Everybody and his mom wanted to plant hemp. At harvest time, they didn't understand that you have to harvest, dry and cure it to make it ready for sale. If you don't, the crop will spoil or degrade."
About 85% of new hemp farmers failed when a huge amount of hemp hit the market in 2019, sending prices for hemp biomass — the stalks, seeds, and leaves left over after the flower is removed — plunging to 50 cents a pound from $15 in 10 weeks. As a result, the acreage planted nationwide with hemp fell by 80% this year.
Aaron expects the industry to stabilize once the glut of hemp is over.
"We made good money in 2019 and we were able to ride the wave (of the market) and we have Dutch Heritage Gardens as the major part of our business" to provide stability, Aaron said.
"I expect to see a correction and (hemp) prices will go back up," he said. "Companies that are in it (the industry) for the long haul will see a more stable market. This is a new, immature industry that is only 4-years-old."
Royale Botanicals is expanding into making its own CBD products because Aaron sees another opportunity — products on the market now aren't potent enough to provide the benefit customers want.
He said most CBD products are similar to taking one-eighth of an Advil pill — not very effective. Most CBD tinctures have just 10 mg of CBD and the most potent have 25 mg, he said; Royale Botanicals' products start at 50 mg of CBD.
Aaron has high hopes for the company's CBDproducts, believing they eventually will sell as well as the cuttings that now generate most of Royale Botanicals' revenue — especially if King Soopers' parent, Kroger, starts selling them.
For that to happen, CBD products will have to move into the mainstream and that won't come until they get the blessing of the U.S. Food and Drug Administration, he said.
"Dutch Heritage Gardens is my passion and heritage — I love growing flowers and will never stop," Aaron said. "I'm (also) passionate about CBD — I know it helps. I take it to sleep and my mom takes it for aches and pains. We are excited to bring our products to market under the Royale Botanicals name and hope that people will give them a whirl."