With a pharmacy in every grocery store, and Walgreens and CVS locations dotting the local landscape, you might think things are tough these days for small, independent pharmacies.
And you'd be right — but maybe not for the reason you might assume. The competition, local independent pharmacists say, is not their biggest issue.
"People think that that's our primary problem, but it's actually not," Hope Mullally, who with husband Sean owns The Medicine Shoppe on Medical Center Point. "We're able to compete based on service, I believe. Our service is superior."
The key struggle independent pharmacists face, she says, is with the complex system of reimbursement for pharmacies, a system that can find a pharmacist being reimbursed below the cost of a drug it dispenses.
It's a system ruled by pharmacy benefit managers, or PBMs, which are seen as the middlemen between insurers, drug manufacturers and pharmacies. They're contracted by health plans, employers and government entities to manage prescription drug benefits; among other things, they determine what drugs will be covered under a plan, negotiate with drug manufacturers and process and pay prescription drug claims.
Although PBMs have been around since the 1960s, it was in the early 2000s that they "entered their prime," the Colorado Health Institute states. That's when Congress turned to PBMs instead of the Centers for Medicare & Medicaid Services to negotiate drug prices with manufacturers for Medicare enrollees.
According to the Pharmaceutical Care Management Association, which represents PBMs, pharmacy benefit managers "reduce prescription drug costs and improve convenience and safety for consumers, employers, unions, and government programs."
The National Community Pharmacists Association, which represents community, or independent pharmacists, has a different view. "PBMs have done more to enrich themselves over the past 25 years than they have done to bring down drug costs," the group says.
Colorado, like most states, does not have regulatory oversight or reporting requirements for PBMs, the Colorado Health Institute notes. Three PBMs — Express Scripts, CVS Caremark and OptumRX — control up to 85 percent of the U.S. market.
Independent pharmacies say they're getting squeezed out of business by these behemoths. However, the number of community pharmacies has been "holding pretty steady" for several years, says Kurt Proctor, NCPA's senior vice president of strategic initiatives. The estimated number of independent community pharmacies, according to the NCPA, is 21,909, down slightly from last year.
In Colorado, the number of independent pharmacies increased in the past several years, according to a Quest Analytics analysis of NCPDP (National Council for Prescription Drug Programs) data — from 136 in 2010 to 155 at the start of this year.
In Colorado, there are four independently owned Medicine Shoppes (Medicine Shoppe is not a chain but a franchise) and a handful of other independent pharmacies. The latest to go: Village Pharmacy on the east side of Colorado Springs, which closed at the start of November with the retirement of owner Bob Shelton; a sign on the door says prescriptions have been transferred to the CVS Pharmacy at North Academy Boulevard and North Carefree Circle, which recently opened across the street from a Walgreens.
"They call us a dying breed," says Irene Medina, lead pharmacist at Compass Pharmacy, about a mile and a half from the Walgreens and CVS.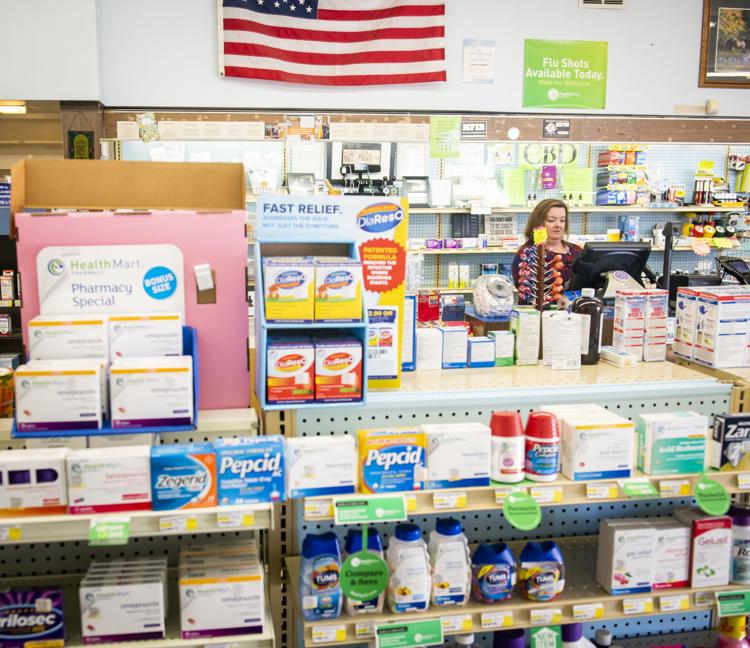 A focus on PBMs
Compass Pharmacy, which opened to the public in mid-November, has a complicated history. It was preceded by Eastside Pharmacy, which Medina started in 1998. Eastside Pharmacy changed locations several times, most recently to Maizeland Road, just off North Academy.
Then Eastside was approached by Rocky Mountain Health Care Service's PACE program to be an exclusive drug provider to that senior care program, Medina says. Eastside moved to the program's building on East Pikes Peak Avenue — but with a name change to Compass to mark the new beginning, says Medina's son, Carlo.
But after two years, the Medinas say, Rocky Mountain PACE scrapped the deal. So they moved Compass back to Eastside's former home, where Irene Medina had continued to pay the rent, and it is operating as a general pharmacy. Carlo and his sister, Carina, now own Compass, with their mom looking to retire down the road.
Former Eastside customers are welcoming the opening of Compass Pharmacy's doors, Carlo Medina says. But there are challenges.
"It's a tough world out there," he says. He points, for example, to the opioid crisis, which makes security a constant worry with addicts determined to get the drugs one way or another. "We do the best we can," he says, "to secure ourselves, secure our business, secure our employees."
Irene Medina acknowledges the wealth of competition. "We do not have deep pockets to advertise the way the chains do," she says.
But the biggest problem, she says, is the PBMs. "They kind of have us over a barrel," she says.
The PCMA, the PBMs' lobbying group, said in an emailed statement that PBMs "aren't hired to enrich drugstores, but instead to save money for employers, unions and government programs." On its website, it argues pharmacists have "significant bargaining clout" through the use of entities called pharmacy services administrative organizations.
But critics accuse PBMs of unfair business practices, conflicts of interest and a lack of transparency — practices that have seen some states acting to rein in PBMs. And practices that Mullally argues don't just impact pharmacists' bottom lines but patients' health.
"The PBMs can get away with practices that would not be tolerated in any other industry," she says. "They can do this because they have so much power and are essentially unregulated. They determine how much our pharmacy gets paid, and there is no way for us to 'negotiate' with them to get paid fairly. If we do not accept what they pay us, they just refuse to allow us to fill any prescriptions for any patients with an insurance company that uses the PBM to process claims."
Complaints concerning transparency often center on "spread pricing," the difference between what the PBM pays the pharmacy for a drug and what it charges insurers. Critics say the PBMs are getting rich on those markups, which typically are not disclosed.
"It should be available publicly and known to all what is the pharmacy getting paid, what the markup that the PBM is charging to the insurance company, what is the difference between the two prices," Mullally says.
Another source of income for PBMs: rebates negotiated with drug manufacturers. Critics question how much of those savings are passed on to patients — and what role those rebates have in determining formularies. "I've seen a lot of times where the drug that is best for the patient, they don't want to pay for that one because they're not getting as large of a rebate," Mullally says.
The PCMA says the rebates are one tool in reducing costs, along with promoting generics and other actions. "Typically, PBMs pass along 90 percent or more of these savings to plans, which use them to cut premiums, out-of-pocket costs and other expenses," the PCMA states on its website. "Many health purchasers require PBMs to pass through 100 percent of rebates."
One tool used by PBMs that is particularly irksome to pharmacists: DIR (direct and indirect renumeration) fees. Those fees, says Proctor of the NCPA, are complex and "tough to explain," but they're leveled on pharmacies by PBMs that work with Medicare Part D plans. The fees are tied, at least in part, to performance standards mandated by the PBMs.
"The fees themselves are an issue," Proctor says, but the biggest problem, he says, is that they are retroactive. "So when I am filling a prescription and see the reimbursement rate, in the back of my head I know I'm also losing money three or four months from now through a DIR fee that the PBM is going to claw back from me. These are not small amounts of money."
The fact that the major PBMs operate their own mail-order pharmacies is a source of the conflict-of-interest complaints. "They set the copays for the patient to get mail order," Mullally says. "They set the system up this way to steer business to their own pharmacies. How is that not a conflict of interest?"
The PCMA points to a 2005 report by the Federal Trade Commission that found PBM-owned mail-order pharmacies offer lower prices on prescription drugs than retail pharmacies and are effective at capitalizing on opportunities to dispense generics.
"Mail-service pharmacies are popular with patients because they are less expensive and can be more convenient than brick-and-mortar drugstores," the PCMA stated in its email. "With mail-service pharmacies, patients can get private counseling over the phone from trained clinicians seven days a week, 24-hours a day."
But patients using mail-order pharmacies are still looking to local pharmacists for information.
"If you knew how many people we get who call because they were forced into a mail-order pharmacy and have questions but can't get ahold of anybody," says Shannon Bethel, who owns Ivywild Pharmacy with husband Scott.
CVS Health's in-house pharmacy benefit manager, CVS Caremark, has drawn special scrutiny. It has been accused of reimbursing CVS pharmacies at significantly higher rates than others. CVS opened its first stand-alone stores in Colorado Springs this year; it already had a presence in local Target stores.
But CVS — which on Wednesday closed its $69 billion purchase of Aetna, the nation's third-largest health insurer — has denied improprieties or attempts to squeeze out smaller pharmacies.
"CVS Caremark considers independently-owned pharmacies to be important partners in creating the networks we offer our pharmacy benefit management (PBM) clients to ensure their members have convenient access to their medications," CVS says on its website. "Independent pharmacies account for about 40 percent of our network of more than 68,000 pharmacies across the country. … We reimburse the pharmacies in our network fairly and, overall, independent pharmacies are reimbursed today at a higher rate than larger regional and national chains."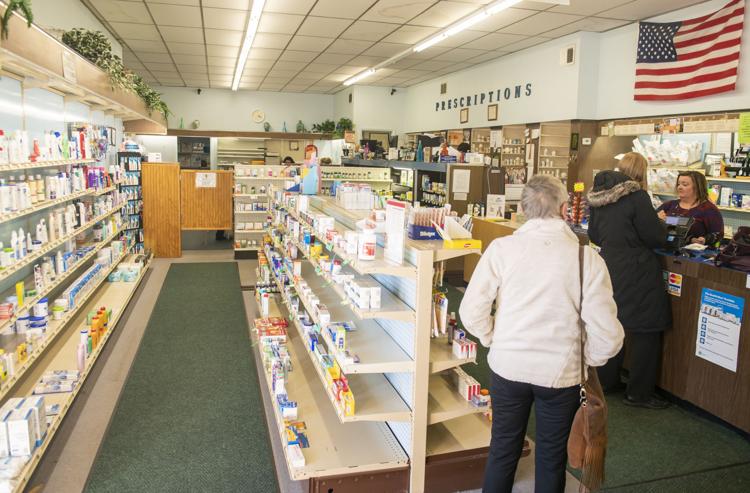 Survival tactics
So with the wealth of chain pharmacies out there, is there still a need for the community pharmacist?
"People do still value small businesses, not just pharmacies," Mullally says. "They do value the connection they make. They do appreciate being treated like a human being instead of a number."
A community pharmacist who gets to know you, who knows your health history, can be critical to helping you maintain that health, Proctor says. "Some people need a pharmacy; some people need a pharmacist."
At Compass, customers are assigned to certain pharmacy techs to ensure consistency of care. "A client can rest easy that the same person who filled their prescriptions last month filled them this month," Carlo Medina says. "My employees definitely know their clients."
To stay in business, many pharmacies are working to diversify their revenues rather than depend solely on the filling of prescriptions, Proctor says. "Some are getting into different niches. Maybe it's a weight loss niche or a diabetes care specialist, things where they can attract a certain population. The pharmacist is very much an underutilized health care professional."
Special packaging and delivery services are other ways independent pharmacies can differentiate themselves from the chains, he says. Ivywild Pharmacy offers both.
"We're trying to provide services that you don't get at Walgreens or CVS," Bethel says. That applies to products as well, from unique, old-time remedies such as volcanic oil to something new: CBD oil.
She and Scott bought Ivywild Pharmacy, on South Nevada Avenue, in 2013; there has been a pharmacy at that corner for a century, she says. She welcomes the connection she has made with customers but laments the challenges that continue to mount.
"We scrimped and saved to put a down payment on this place, to buy it and make a living and make a family legacy," she says. But now she finds herself getting up in the morning and questioning their decision to buy the pharmacy.
"It's getting harder and harder."