The stars have never aligned in any semblance of order for 19-year-old Hunter Chandler.
His rough upbringing in New Orleans included frequent beatings by his biological parents while he was tied to a chair. Before Chandler hit double digits in age, his mom took off, and his dad died of brain cancer.
That left him in foster care, then adoption by a family, where he ran away and became homeless, returned and was sent to military school, landed in a psychiatric hospital and was kicked out of his adoptive home at 18.
"It made me feel like people were constantly against me instead of trying to help me," he said.
Chandler now is living on the street in Colorado Springs, sometimes staying at The Place homeless shelter for teens.
He's on a waiting list for housing and among a sizable contingent of El Paso County kids who were in foster care and now don't have a place to call home.
"I wasn't really given the correct opportunities and lifestyles I needed to progress," Chandler said.
The problem hasn't gone unnoticed.
Pending state legislation would expand the reach and depth of programs to help older youths who leave the system return, or who don't want to leave the system stay.
And emergency pandemic assistance for older teens is available until Sept. 30.
"Foster care is an amazing support to families in general, but at times, it doesn't always work," said Shawna Kemppainen, executive director of The Place. "Often, youth get to 18, and they don't really have a solid footing on what their future is going to be like, where they're going, how they're supposed to support themselves."
From foster care to homeless
Adolescents with dependency and neglect cases can remain in foster care until they're 21, said Jessica Hardwicke, children, youth and family services assessment manager for the support and services unit of El Paso County Department of Human Services.
Juvenile offenders with delinquency cases by law must exit the system when they reach 18, she said, although court decisions can alter that.
Since 2018, around 200 teens in Colorado emancipate each year at 18, according to the Colorado Department of Human Services.
Across the United States, more than 430,000 children are in foster care, with 25,000 aging out of the system every year, said Sharen Ford, director of foster care and adoption at Focus on the Family, which works with families nationwide.
"That's a lot, and every single one needs mentoring, caring adults in their lives, and opportunities for affordable housing and jobs where they can make mistakes and grow," Ford said. "These are kids, and they're learning a new piece of responsibility — and it's our responsibility as a community to teach them."
Some teens, like Chandler, are tossed out of their residences, and some run away as minors.
While many think they're ready to break free from the system, they're often not prepared for the real world.
Nearly one-third of the 600 youths that The Place assists each year through its shelter, street outreach and housing program were in foster care, Kemppainen said.
Statewide, between 2015 and 2018, a steady 36% of homeless youths ages 21 and under had been in foster care prior to being homeless, according to El Paso County Department of Human Services. 
Proposed House Bill 21-1094 would create a new, statewide Foster Youth In Transition Program, designed to reduce homelessness among foster youth by allowing teens who left the system after age 16 to return and — until age 21 — receive help with housing, casework, life-skills training, mental health care, economic assistance and treatment for sexual and substance abuse.
Colorado Senate Health and Human Services Committee members are scheduled to discuss the bill Monday.
The legislation would continue services that have been provided through funding from the federal COVID Relief Act, which requires states to allow older youth to re-enter foster care during the pandemic. It's set to expire Sept. 30.
Should Colorado lawmakers pass the bill, DHS estimates 350 youths would be served in the first year and 557 annually in subsequent years, at a cost of $713,000 from the state's general fund, on top of federal and county funding.
"It's really important we don't consider 18 a magic number in these kids' lives," Kemppainen said. "Having permanent, long-term supports to housing and health care and other assistance would have a huge impact."
Most teens in foster care have faced "pretty severe struggles" and are dealing with past trauma, she said, including abuse and conflict that happened while they were in foster care.
"They need a lot of support still, from 18-22, to successfully transition in that critical time in their life," Kemppainen said. "If we don't do that, they're going to fall into homelessness, and then it's more difficult for them to get their feet under them."
Helping older children mature
El Paso is one of 34 counties statewide that receive federal funding to provide the existing John H. Chafee Foster Care Independence Program for teens who age out of the system.
The proposed legislation would extend such aid to all 64 counties in Colorado under a unified program with expanded services.
El Paso County's Chafee program currently also covers Kiowa, Elbert, Teller and Cheyenne counties — because those counties don't have their own programs.
The goal always has been to help older current and former foster kids achieve self-sufficiency in adulthood, Hardwicke said.
"We assess their independent living skills and do a roadmap to independent success with goals, to determine what they're going to work on," she said.
Under the Chafee program, grants help pay for assistance with obtaining GEDs, building resumes, finding employment, learning budgeting, obtaining housing, receiving emotional support and other benefits. They also can sign up for Medicaid and food stamps as an adult.
Participants can sign up for independent living instead of group or home living, Hardwicke said, and receive a living stipend — instead of DHS paying a foster home for placement.
El Paso County DHS has 118 youths as of last week in the program, Hardwicke said, with a three-year average of 110 youths per year.
Of the current 118 youths, 23 re-entered DHS care after exiting the system, she said. Seven of the 23 have experienced homelessness, Hardwicke said.
May is recognized as National Foster Care Month nationwide, noted El Paso County DHS spokeswoman Kristina Iodice.
Helping older children mature and move on with their lives is viewed as "a very important component of child protection, of keeping people safe and helping make families stronger," she said. "We know children do better in their own families, but when their safety is in danger, foster families provide a critical and safe place."
Colorado was awarded a total of $4.3 million in federal COVID relief money to help older teens, which DHS distributed to counties through supplemental grants, said Madlynn Ruble, spokeswoman for the Colorado Department of Human Services.
El Paso County received $175,700, the most of any county statewide.
While some states have given youths the money directly, Ruble said Colorado chose to allocate funding to local programs to meet specific needs — such as paying rent, utilities, car insurance or other transportation to avoid eviction, lights out and no transportation.
Denver County received the state's second-highest allocation, $114,400, and the third-largest was $79,700 to Adams County.
It's too soon to tell how many youths have been assisted with the funding, as counties just received award letters last month, Ruble said.
'I envision my future'
Being a foster care kid carries a tangible stigma that often leads to belittling comments at school and in social circles, said 19-year-old Anlli.
"I would hear comments or feel 'less than' because I didn't have what other kids had or I wasn't able to do what other kids did," she said. "It's about how it makes you feel."
Anlli, who asked that her last name not be use because two of her five younger siblings are in foster care, doesn't think she would have graduated from high school or even thought about college if she hadn't stayed in foster care after she turned 18.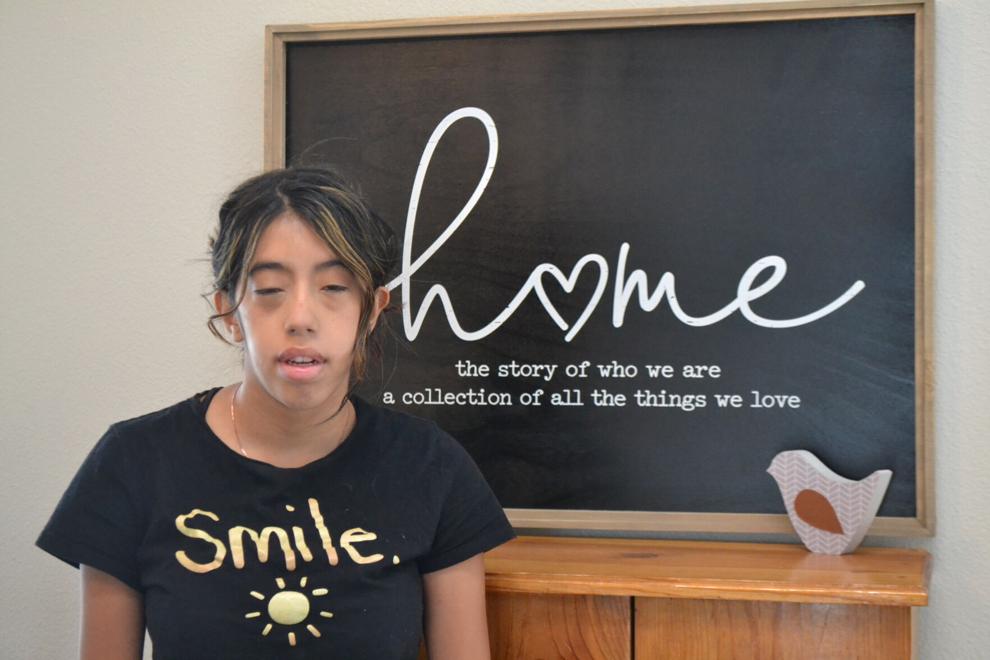 "I do think about where I would be today without foster care — it would not have been good," she said.
Anlli described herself as "borderline alcoholic," while living with her biological parents and doing other things she shouldn't have been doing.
She also was helping her older sister, 20-year-old Olidia, take care of their younger siblings, so she cut school.
After coming to live with Jamie Kopinski's family, which provides a foster home through Kids Crossing, Anlli worked hard on credit recovery by attending night school to catch up and graduate from high school on time.
Olidia said she thought she wouldn't live long enough to see her 18th birthday.
"I honestly didn't see a future," she said.
Now, Olidia thinks she has "a good shot at a great future," since she's worked hard to graduate from high school and enter cosmetology school.
"I envision my future being stable mentally and physically and being able to grow even more," she said.
Anlli attends Pikes Peak Community College and dreams of becoming a lawyer. She's been practicing by advocating for her younger siblings at child-protection hearings.
"Foster care means you can have consistency and have someone you can trust be there for you," Anlli said. "It feels like a real family."
Kopinski, a foster mom for four years to 15 kids, was inspired by a woman who was a mentor in her life to make a difference in the lives of others.
"She was such a positive influence and somebody I could talk to," Kopinski said. "I try to emulate some of her qualities — like the kindness that was shown to me."
The current DHS transitional program teaches older teens job preparedness and life skills, Kopinski said.
"What there is not is people to care," she said, which is why she's allowed Anlli and Olidia to stay in her home as young adults.
"Foster care gave me a second opportunity to become something," Olidia said.
At any given time, more than 100,000 children are available for adoption, Focus on the Family's Ford said.
Anyone interested in being a foster parent can find out how on El Paso County's website, www.elpasoco.com/fostercare.