Steve Sabol was the subject of a fascinating article in Sports Illustrated in November 1965.
That issue, which featured Muhammad Ali on the cover of the weekly magazine, told the story of how Sabol, a Colorado College running back via Philadelphia marketed himself as "The Tot from Possum Trot," a fictional town in Mississippi, "The Prince of Pigskin Pageantry" and "Sudden Death Sabol."
He was college football's greatest living advertisement for himself. Years later, Deion Sanders mastered the art of self-marketing, but he was second rate compared to Sabol.
Stephen Douglas Sabol, the son of NFL Films pioneer and founder Ed Sabol, was elected posthumously to the Pro Football Hall of Fame in January 2020. COVID restrictions postponed induction ceremonies until this summer. On Aug. 7, Sabol will be recognized with 18 other greats and pioneers of the game during the 2020/2021 classes ceremony in Canton, Ohio.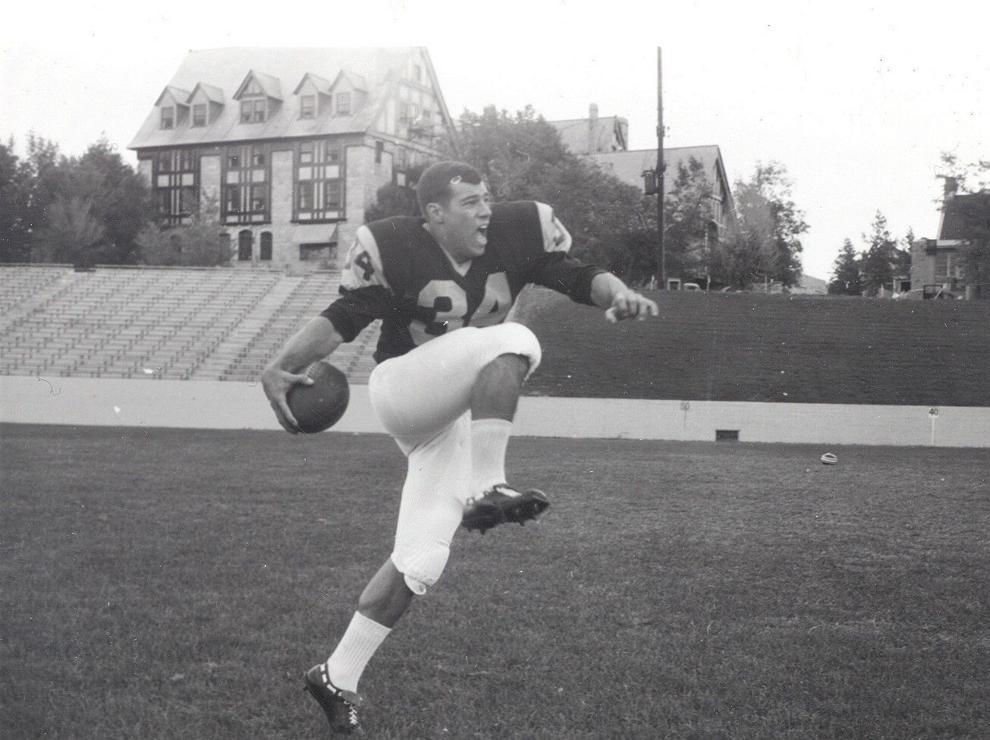 Sabol joins his father, who was enshrined in the Pro Football Hall of Fame in 2011, as the third father/son duo in Canton. They join Art and Dan Rooney, owners of the Steelers, and Tim and Wellington Mara, owners of the Giants.
The Sabols never played or coached a down in the NFL and never owned a team. But you can't tell the history of the league without sharing NFL Films' role.
When Steve Sabol died in September 2012 at 69 from complications associated with brain cancer, a part of Americana died as well. His dedication to preserving football through images — unmatched by any other artist — will live on like da Vinci's "Mona Lisa" and Michelangelo's "David."
"The business decision to create NFL Films and lead the league into the television space pretty much created sports television," NFL Films' Ken Rodgers, the senior coordinating producer of "Hard Knocks" — a show created by Sabol 20 years ago — told the Associated Press last week. "But then the creative style also invented what sports television is creatively today."
Sabol arrived at Colorado College in the late summer of 1960, bright-eyed and full of wondrous ideas. By the time he left six years later, he had elevated himself to a storied and iconic football player.
A running back, Sabol had fond memories of his days at the school. He was inducted into its hall of fame in 2001. Former Tigers coach Jerry Carle was his presenter. Sabol's final season on the gridiron at Colorado College was 1965.
"The experience at Colorado College was terrific," Sabol told The Gazette in 2004. "What a great place.
"We had tremendous diversity on the football team. We had a lot of junior college transfers, which was odd for those days. The guy in the locker next to me was married and had six children. It was a very motley crew. There are so many great stories about the players who were there."
As a player, Sabol — who also threw the shot put for the track team — was good, but certainly not as great as the legend he created. A hard runner — an all-Rocky Mountain Athletic Conference 210-pound fullback for the Tigers following his junior year when he gained 350 yards — he was his own press agency who seemed to enjoy perpetuating the myth that he was better than legendary Jim Brown, then the game's greatest running back. He also punted for the Tigers, averaging 39.5 yards and was named co-captain his senior year.
With his own money, Sabol paid for newspaper advertisements, postcards, brochures, T-shirts, lapel buttons and pencils, on which were written "The Prince of Pigskin Pageantry now at the Pinnacle of his Power."
"I still have one of his postcards,'" the late Carle told The Gazette in 2004. "He tried to work into real life what he imagined. He had a great sense of humor and he was not afraid to put his humor to good use."
One of Sabol's press releases, sent to newspapers in Colorado Springs and Denver, read: "The Possum Trot Chamber of Commerce extends its wishes for a successful season to its favorite son — Sudden Death Sabol."
"Now, who could ignore anyone from a place called Possum Trot?" Sabol said.
Sabol knew that he needed a nickname with pizzazz. Something that would strike fear into opposing players and get fans talking.
"I wanted something really lethal," Sabol told a Sports Illustrated reporter in 1965.
Sabol once took out an ad in the Colorado College football program which read "Coach Jerry Carle wishes Sudden Death Sabol a successful season."
Carle, whom Sabol described as "Bear Bryant like," was not amused.
"About the last thing he'd do was wish me a successful season," Sabol said. "But a lot of people took it seriously. I thought it was pretty funny."
Following his senior season with the Tigers, he made up a picture of himself signing with the Cleveland Browns for $375,000.
Sabol, who also referred to himself as the "Caucasian Cassius Clay," liked getting in the minds of opposing teams. He posted a sign near the visitor's locker room at Washburn Field meant to frighten low-altitude opponents. It read "Washburn Stadium, altitude 7,989 feet." A plaque in the locker room explained that Morris Washburn, whom Washburn Field is named for, "had his lungs explode due to a lack of oxygen during a soccer match with Denver University in 1901."
Sabol, who drove a flashy maroon convertible around Colorado Springs, once missed an entire season with hepatitis.
A legend exists that when he scored the final touchdown of his Colorado College career he just kept running right through the end zone and off campus.
Sabol was in his sophomore football season at Colorado College in the fall of 1962 when he got a call from his father telling him that he had bid $3,000 for the rights to film the 1962 NFL Championship Game at Yankee Stadium. Sabol planned on going home to Philadelphia for Christmas break, so he informed his dad he'd be happy to help.
"My dad told me this was just a dress rehearsal," Sabol said. "We went back to the championship game each of the next five years."
As NFL Films gained momentum, Sabol quickly became the face of the company. He went on to win 35 Emmy awards for writing, directing, producing and cinematography of NFL Films.
Sabol credited former NFL commissioner Pete Rozelle with the inspiration behind the success of NFL Films.
Sabol was always detail oriented and full of energy. He was well spoken, but simple to understand. He got excited over a great tackle or one-handed catch. He understood football games are not won or lost because of one play.
Sabol originally planned on a college in the east — Harvard was his first choice — but his mother showed him a brochure of Colorado College and he did some research.
"I found out that Hall of Famer Dutch Clark went there and I was impressed," Sabol said. "I figured, 'Hell, I'll give it a shot.'"
When he wasn't studying art or promoting himself, Sabol spent a lot of time at CC learning plays from Carle.
"He was so creative and so inventive," Sabol said of Carle. "He gave me a tremendous technical background for football.
"A lot of the stuff that we do on NFL Films first appeared on the field at Colorado College."
Sabol occasionally returned to Colorado Springs. In 1997, he was Frank Flood's — an assistant under Carle — presenter when the coach was inducted into the Colorado College Hall of Fame. Flood and Carle were guests of Sabol's at Super Bowls.
Colorado College ended its football program following the 2008 season.
"It's like having a family member die," Sabol told The Gazette in 2008. "It's hurtful. It's shameful. It's outrageous. You're talking about a program that goes back 140 years."
Actually, the program started in 1882.
"Just to have it torched like this," Sabol said. "There should be a special circle in hell reserved for the people who made this decision, and you can quote me on that."
The opposite of hell, for Sabol, must have been a football stadium. In one of his last statements, released by NFL Films shortly before he died, Sabol said, "So they talk about heaven, and I don't know what is waiting for me up there. But I can tell you this: Nothing will happen up there that can duplicate my life down here. That life cannot be better than the one I've lived down here, the football life. It's been perfect."
The Tot from Possum Trot. Sudden Death Sabol. A Colorado College legend and a football icon. Steve Sabol will forever live in film and football lore.