WOODLAND PARK — An urgency like never before is at hand for evangelical Christians, who must fight against what they believe is "ungodliness" pervading public policymaking relating to gay marriage, abortion, government-mandated COVID vaccines, transgenderism and critical race theory, speakers at this weekend's Truth & Liberty Conference told attendees.
"I believe we are at a tipping point, and God has promised he will heal our land," said Andrew Wommack, president of Truth & Liberty Coalition and founder of Andrew Wommack Ministries and Charis Bible College.
"God wants us to be involved in the affairs of government," said U.S. Rep. Lauren Boebert, a Republican from the Colorado's 3rd Congressional District and a keynote speaker.
"There are some things that are unjust that are taking place that God wants to make right," she said. "He's going to use his church, his children to infiltrate these people. … They just don't know they are being deceived."
Held Friday and Saturday at Wommack's 493-acre Sanctuary campus in Woodland Park, the conference drew 1,100 in-person attendees and about 2,500 online viewers each day, according to organizers.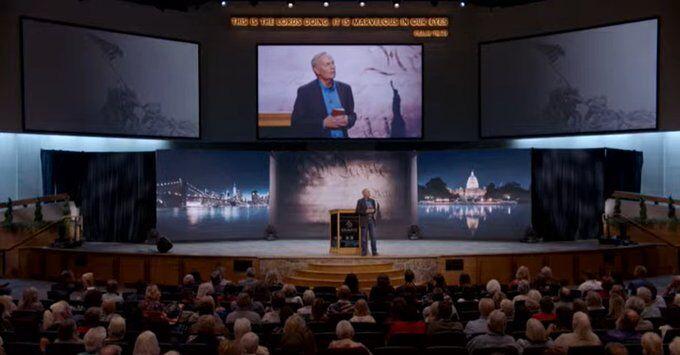 The purpose of the annual event is to educate and motivate participants to advance conservative platforms from the school board level to national offices.
"It's time we take what we know about the word of God and run with it," said Boebert, who has become controversial for her outspoken conservative stances. "We don't need to sit back and ask God, 'Why is Nancy Pelosi being so mean today?' We need to take the word of God and the promises he provides for us and go forward."
Boebert said she's working on presenting articles of impeachment on President Joe Biden and wants to remove Pelosi, a Democrat from California, from her position as U.S. House Speaker, saying they aren't doing their jobs properly.
Winning her Congressional seat last year without any political experience has been "a spiritual battle" from the beginning, Boebert said, but she's confident conservatives will prevail in the 2022 and 2024 elections.
"I have a lot of hope for our nation because I've read the end of the book," she said pointing to her Bible, "and we win."
Wommack said he's neither a Republican nor a Democrat, but his morals and values most closely align with conservative political views.
The faith vote in 2020 closely resembled 2016, according to exit polls. The Associated Press VoteCast survey shows 60% of Protestants, half of Catholics, 72% of Mormons and 57% of "other" religious voters cast ballots for former President Donald Trump in 2020.
Several conference presenters said they believe an "awakening" is afoot among conservative Christians, to fight against liberalism, return the United States to its roots based on Christian principles, and protect religious liberties and personal freedoms.
"We are doing things to change the political landscape nationwide as well as in Colorado," Wommack said. "We're not going public with it because we don't want the enemy to know what we're doing."
Church for All Nations, which has two locations in Colorado Springs, has formed a Cultural Impact Team, an idea from the Family Research Council, a nationwide activist and lobbying organization founded in 1981 by Focus of the Family creator James Dobson.
Pastor Mark Cowart said churches nationwide are adopting the concept, in which members oppose "legislative threats, government and cultural infringement on our rights of conscience, freedom of speech, and freedom of religion," according to its mission statement.
"It's about seeing change and a shift back to the culture of God," Cowart said.
Pastor Duane Sheriff of Victory Life Church in Durant, Okla., which has 13 locations, including one in Woodland Park, said small "life groups" at his campuses are designed to "change culture" and impact politics in schools and local governments.
"They are the strength of our church and campuses," he said.
Another "counter-cultural" movement, City Elders, also is spreading in Oklahoma. The concept brings together conservative religious leaders with like-minded municipal and county officials, and business and nonprofit representatives to recruit potential candidates and address issues of concern, said Pastor Jesse Leon Rodgers, who leads Tulsa-based Gateway Ministries.
"A local church in Claremore, Okla., said we don't appreciate the stand City Council is taking on these issues, they identified three candidates; all three won posts," he said. "They're running another three in the next election cycle, and a pastor is going to run for mayor.
"I think the church is having to redefine itself, to go back to its foundations."
Pastors must be courageous enough to speak out from the pulpit, said evangelist Mario Murillo of California.
"Take a stand on abortion, on marriage, on critical race theory, on transgenderism — do it now, calculate the cost, find out the most controversial convictions of your soul and preach them next Sunday," he said. "Offend everyone possible in your church who can be offended, let them leave, and begin the rebuilding process as quickly as possible. Do not back down, hold your ground."
Truth & Liberty Coalition is "growing exponentially," said Wommack, an evangelical Bible teacher with multimedia outlets.
Contributions have never been better, said Richard Harris, executive director of Truth & Liberty Coalition and pastor of Grace and Faith Bible Church of Woodland Park.
"The fiscal year that's just finishing up is one of the best fiscal years ever for the ministry," he said.
As a 501(c)4, the nonprofit can engage in political campaign activities, but financial donations are not tax deductible.
"Many people say we shouldn't preach about politics; when we talk about freedom from the pulpit, we are not talking politics, we are preaching the gospel," Harris said.
"One of the biggest problems in the church today is many people think that revival is just a good meeting," he said. "It's not revival unless change takes place at that meeting and the church goes out and changes the culture.
"We are out of time. We must rebuild the United States of America, we must rebuild this constitutional republic under God."