Editor's note: This is part 3 of The Gazette's 4-part "Shattered Lives" series on domestic violence in El Paso County.
Three years ago this month, Geoff was just starting El Paso County's Domestic Violence Court program after a 65-day stay in jail for violating terms of a permanent protection order.
He was facing three to five years in prison for the charge — his second that year and one of 15 domestic violence allegations he'd battled in as many years — when someone approached him about the program. It was a "get out of jail free" card that also offered the chance to clear the charge if he was successful. Thinking back to wishing his son a happy Thanksgiving from jail, Geoff said his answer was a no-brainer.
"This is make or break right here," he remembers thinking. "I was about to lose everything I have — my family, my son."
Today, Geoff says he is rehabilitated. He co-owns his own contracting business. He has a great relationship with his 14-year-old son. And, perhaps most importantly, he hasn't reoffended; records show he has not had another criminal charge since entering the program in 2015.
"I wouldn't be where I am today without this program," Geoff said. "It saved me." The Gazette agreed not to use his full name at his request.
County Judge Doug Miles has overseen the specialty court since its inception six years ago. He calls it "extremely intense monitoring" for repeat offenders who can't seem to end the cycle of violence or comply with the terms of their probation.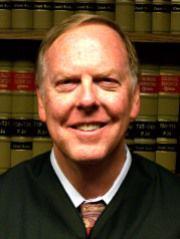 "It's sort of a last chance to succeed," if they've failed all of the other regular channels, Miles said. Because if they also fail domestic violence court, they go to jail or prison, he said.
Breaking the cycle
The program moves offenders through several phases of rehabilitation based on the results of a 14-point risk assessment, which ranks a person's threat level, likelihood to reoffend and determines the type of treatment they need.
The program looks a little different for each participant, but it generally includes specific domestic violence education classes, weekly appearances in court and random drug screening.
Geoff was low risk, despite his lengthy rap sheet. Fifteen times he'd been accused of domestic violence related crimes, though more than half of them were ultimately dismissed. Four different women would file eight times for protection orders against him, three of which were granted.
"Domestic violence is a cycle, and I cycled through the court," Geoff admits.
Court records show Geoff was never accused of hurting any of the women and none of them said he threatened violence against him, but they still feared him. They said he called, texted and emailed incessantly wanting to talk to them after their breakups. He drove by their house or followed them in his car. Some of the women said he broke into their house, and one said he left a shrine to the relationship on their bed. Others claimed he spit on their car.
"I'm constantly looking over my shoulder and checking my locks cause I fear him being around," one of the women wrote in a petition for protection that would be denied.
The first protection order to stick came from Geoff's ex-wife after their 2012 divorce. She said she caught him lurking outside of her bedroom window. His next girlfriend accused him of breaking into her garage and driving by her home. The girlfriend after that said he hacked into her Facebook, was in her backyard and broke into her house to call her from her house phone.
Then came the protection order violations, four of them in 2015. He would be convicted twice, leading him first to jail and then to the program.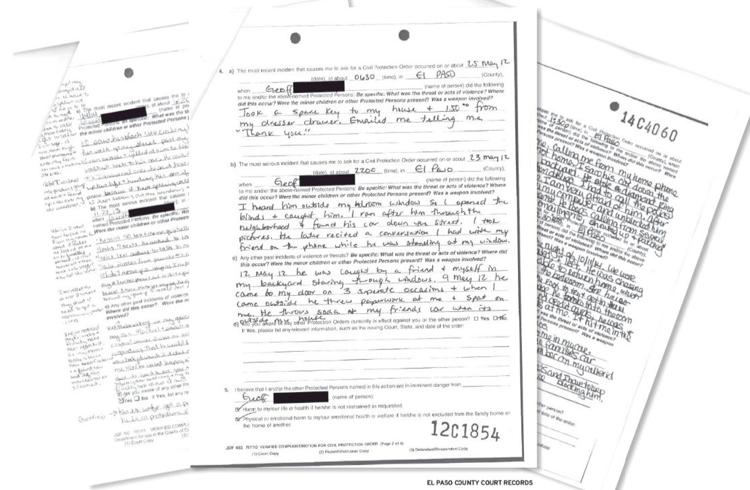 "I'm concerned that he can't handle how to properly end our relationship and what he may do to me," the last woman wrote in her first, failed protection order complaint. Her second request was granted, though the woman eventually dropped it after Geoff completed the court program.
Geoff said the woman was right; he didn't know how to have a healthy breakup.
When he first entered the program, he remembers feeling angry, bitter, jealous and suspicious all the time in his relationships. He didn't know how to de-escalate a fight, how to resolve issues or even how to trust, a vice he said came after his ex-wife cheated on him.
"It was my fault for getting too quick into relationships without being in a good place in my own mind," Geoff said. "Nothing I did was physical, but it's still domestic violence. It's still against the law."
That mindset is actually the guiding principal of the Domestic Violence Offender Management Board, which sets and reviews standards for the court-ordered treatment program: "domestic violence is a crime and not the result of a response to a failing relationship."
Some of the other key concepts include:
There is no one stereotype of people who commit acts of domestic violence. Offenders run the gamut of race, ethnicity, sexual orientation, gender identity, mental health condition, financial status, cultural background and religious belief.
All domestic violence behavior is the sole responsibility of the offender.
And one of the most important concepts: offenders are capable of change.
Rehabilitation
The purpose of treatment is simple — to prevent future abuse by challenging destructive core beliefs and teaching positive, nonviolent behavioral skills. How that is achieved, though, varies.
Colorado previously had a one-size-fits-all approach — if you completed the 36-week course, you graduated. But Jesse Hansen with the Office of Domestic Violence and Sex Offender Management said it became clear that offenders knew how to "b-s their way through treatment." They knew their end date and did just enough to reach it.
Now, regular assessments determine if participants are really meeting core competencies or if treatment should be extended, Hansen said.
Miles said he's seen the difference in the program's success, locally. His data show about 50 percent of El Paso County participants graduate, meaning they tick all the boxes in their treatment and have no new offenses.
"I wasn't terribly happy with 50 percent until somebody pointed out that when you start with 100 percent failure, increasing to 50 percent is not bad," Miles said, explaining that all participants come into the program with some kind of domestic violence conviction or multiple. "It's not bad, but I'd like it to be better."
For the half that doesn't graduate, it's not even always that they remain abusive. "We see very, very low domestic violence reoffense," Miles said, though it does happen.
Instead, he said participants most often struggle with substance abuse and trauma. That's what Geoff said he witnessed too.
He was able to complete the program in 11 months, but said many of his friends were there two years or more. He recalls only two participants reoffending; the others who regressed either didn't come to class, didn't show up to court or were caught using drugs or alcohol.
"The system is not set up for them to fail, but they want you to be accountable," Geoff said. "I watched guys regress out of the program and go to jail for like, 10 to 12 years. You have to have the mindset to succeed. For me, it was a mindset that something in my lifestyle had to change. I didn't want to step one foot back in (the Criminal Justice Center), not even for one hour."
The state's domestic violence board said low-level offenders like Geoff are the most likely to succeed.
Their 2016 Standards for Treatment with Court Ordered Domestic Violence Offenders report, prepared by Hansen, showed that low-level offenders graduate about 91 percent of the time, as opposed to moderate risk offenders with an 80 percent success rate and high-risk offenders at 46 percent.
The board is scheduled to continue to evaluate the program through at least 2022 and suggest tweaks to make the program more successful.
"There are no other states that are doing this," Hansen said. "What's becoming more and more apparent is, not only does treatment work, but which interventions work for each population."
Taking responsibility
Right now, participation in the domestic violence program is voluntary, but Miles said there is talk of making it mandatory for some offenses. As someone who has gone through it, Geoff says he does wish the program would have been offered to him sooner.
After his first protection order violation, he was ordered to complete a domestic violence class as part of his probation, but he said it didn't have the impact the court program did. The second time around, he said he learned how to de-escalate, how to problem solve, and how to express his emotions safely.
"I learned a lot about how the brain works in that program," Geoff said, advocating that the classes should be mandatory for any person in a relationship.
But he especially found group therapy helpful.
"It was an outlet for guys who have been told our whole lives, 'don't wear your emotions on your sleeve,' 'don't show emotion at all,'" he said, puffing his chest out in a mock macho manner. "In reality, we have very real emotions and we have to have an outlet for that."
(While domestic violence does impact both men and women, the majority of offenders do tend to be men. Miles said he's had four women offenders in the program's history.)
Graduating didn't save Geoff's previous relationships, though Miles said some offenders do return home, but he believes it's helped him in his relationships since. There have been two, neither longer than a couple months, but they ended amicably, not with a protection order.
The program, he said, made him more accountable in all aspects of his life, so much so that's it's hard to relive his past and imagine the place he was once in.
"I went in saying, 'she did this, this and this to me,' and I came out saying, 'I'm responsible for this or I'm responsible for that,'" Geoff said. "They were right, I can't control anybody else; people are going to do what they want to do. I can only control myself and my reaction.
Contact the writer at 719-636-0362 or find her on Twitter: @njKaitlinDurbin.