I know the Powers corridor of Colorado Springs is where the people are, but there are a handful of restaurants I wish were more centrally located. Colorado's Rib and Chop House is among them.
This unassuming, lively steakhouse anchors a strip mall that belies the quality of food and attentive service we enjoyed. The concept of upscale and strip mall in the same sentence is not one I usually embrace, but I did here.
As the name suggests, the menu is geared toward carnivores, although plenty of other options are available. But when in Rome, or at least on the east side of Colorado Springs, we went with the ribs and steak.
Tables are covered with butcher paper and include crayons. The servers, however, were the only ones I saw making use of them when writing their names to introduce themselves. Our server explained the staff was told to write upside down, but he declined; he prefers showing off his artistic signature. We liked his sense of rebellion. We also appreciated his knowledge of the menu, sense of humor and attentiveness — except when it came to delivering the check.
Considering how busy the restaurant was, the noise level was not a distraction. Neither was there a delay in food being served or water glasses kept full. In fact, our entrees arrived while we were still enjoying our salads. I like better pacing, but when I saw my steak I was ready to move on. The 6-ounce filet ($21.95) was served on an extremely hot plate and before the server walked away I was asked to cut into it to ensure it was cooked to my liking. I was thrilled to note it was cooked to medium rare perfection: beautiful red center boasting a seared cracked-pepper exterior.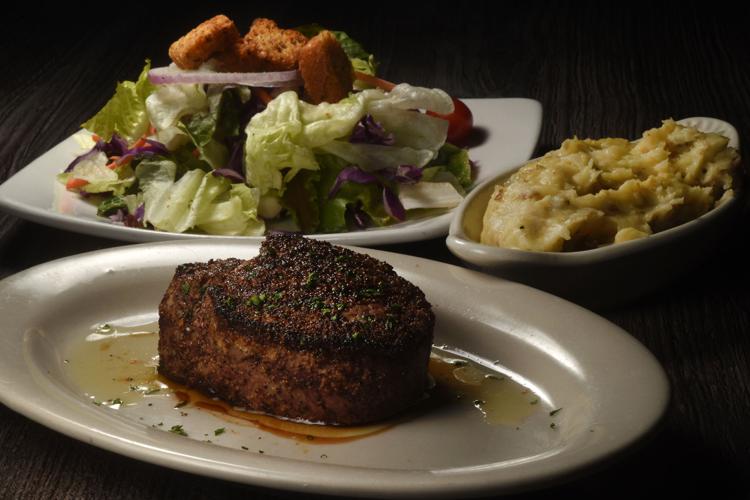 This hand-cut tenderloin was juicy and cut more easily than some types of paper. The intimidating, heavy serrated knife was more for show than utility. Each entrée includes a choice of two sides; we selected house salads and I opted for the house-made garlic mashed potatoes. The latter were creamy with just the amount of garlic so as not to overwhelm the spuds or the steak. The filet is also available in a 10-ounce portion ($32.95).
I'm often hesitant to believe menu claims of something being award-winning or the best, so it was with some trepidation we settled on the "best pork ribs in the West made famous by the Rib and Chop House." Here's a situation where it doesn't matter much whether these are, indeed, the best or even famous because they are exceptionally good.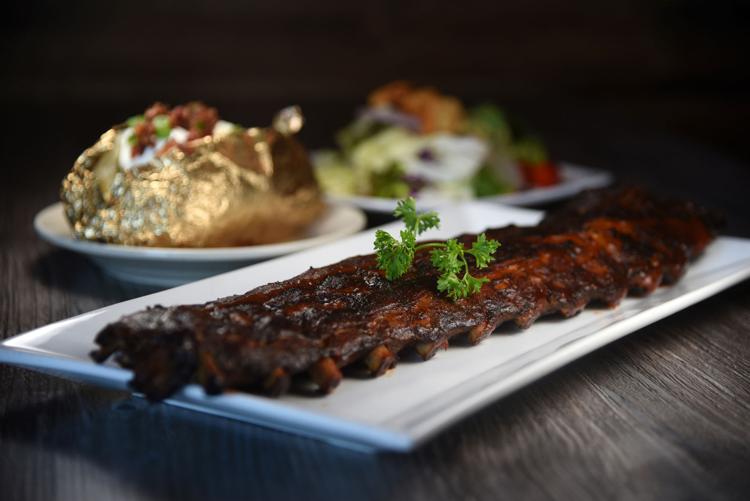 The Fulton Street ribs ($15.95) are a pound of pork that's marinated for 24 hours, then slow cooked before being finished on the grill. There are house barbecue sauces on the table as condiments. The barely discernible glaze provides plenty of flavor to the fall-off-the-bone meat. A huge, gold-foil wrapped baked potato makes for impressive plating and more than enough food. A whole rack of ribs, 1.5 pounds ($23.95), is another option.
The menu includes several sandwiches including po'boys, plus hamburgers, pasta, seafood, lamb chops, chicken and more. Soups are homemade, as are salad dressings and desserts. Our server said the satin pie ($5.95) is the most popular; many people, he said, often call it "satan pie." That makes sense given its level of decadence: peanut butter and cream cheese whipped together with melted chocolate in a graham cracker crust. Try to save room for dessert.
This is a happening place, so reservations are recommended.
Restaurant: Colorado's Rib and Chophouse
Address: 5935 Dublin Blvd., Suite 190
Contact: 597-2510; ribandchophouse.com
Restaurant character: Lively, family-friendly chophouse
Rating total: 4.5 of 5 forks
Food: 4.25 of 5 forks
Ambiance: 4 of 5 forks
Service: 4.5 of 5 forks
Hours: 11 a.m. to 10 p.m. daily
Entrees: $9.95 to $39.95
Alcohol: Yes
Credit cards: Yes
Vegan options: Yes
Outdoor dining: Yes
Gluten-free options: Yes
Wi-Fi: Yes
Facebook: Yes
What's online as of Oct. 30:
• No votes on Foursquare
• 4.5 of 5 stars based on 15reviews on TripAdvisor
• 3.3 of 5 rating based on 22 votes on Zomato
• 3.5 of 5 stars based on 120 reviews on Yelp
No rating by El Paso County Public Health.