More than half of Colorado remains in the grip of drought classified as severe to exceptional, and the state would need more snow than this winter's predicted El Niño is likely to deliver to provide much relief, scientists say.
"Drought is embedded and holding in the Four Corners, mostly over New Mexico and Colorado," said Royce Fontenot, senior service hydrologist with the National Weather Service in Albuquerque. "It's really had an impact on water supply, and we're seeing record-low stream flows."
Almost 82 percent of the Intermountain West is in drought, with 8.64 percent in exceptional drought, according to the U.S. Drought Monitor. Colorado is a bit worse. About 83 percent is in drought and 13.35 percent of the state, mostly in the southwest corner, is in exceptional drought.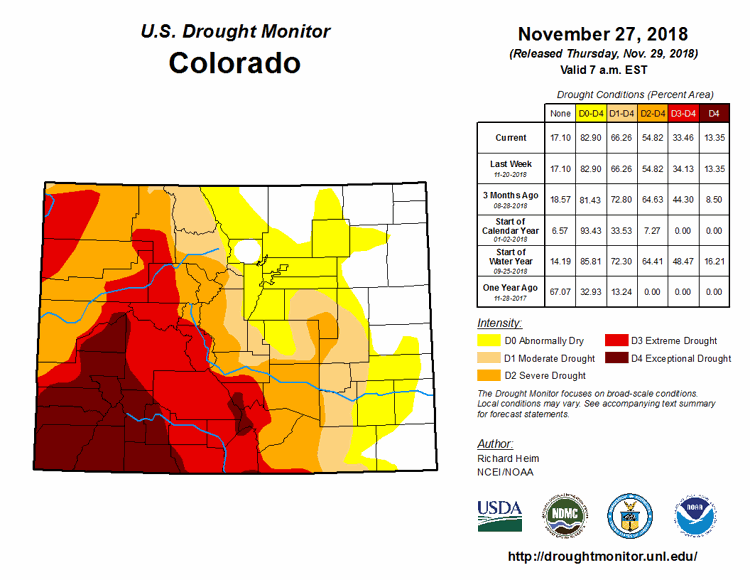 Stream flows in the southwest portion of the state also are much below normal, according to data from the U.S. Geological Survey. Thirteen streamflow stations between Mesa and Archuleta counties were reported as much below normal compared with historic levels, three as below normal and five as normal.
The dearth of water is obvious in Blue Mesa Reservoir, the largest reservoir in Colorado. Driving along U.S. 50, water level lines of years past are etched into the dry reservoir walls. The data paints an even more startling picture: the reservoir is at 43 percent of its average capacity recorded between 1985 and 2016. That measurement puts its November water volume in below the 10th percentile of historic levels.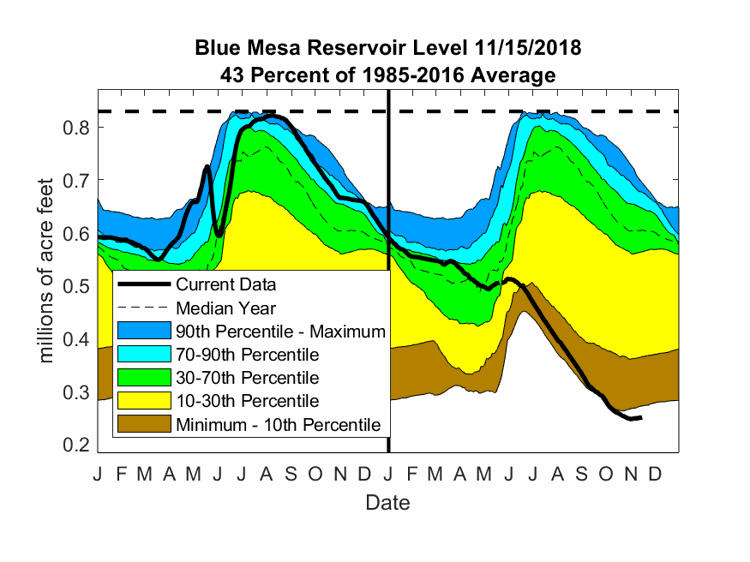 Downstream, Lake Powell made headlines this year when it dropped to less than half full. This year was the second driest year on record for the major reservoir in Arizona, lagging just behind 2002.
Although eastern Colorado received "great" precipitation events toward the end of the summer and the beginning of the fall, it was not enough to satiate the parched soils, said Fontenot.
"The streams just didn't get what they need," he said.
To fully lift the Four Corners out of the drought by June, the region would need to receive 173 percent of normal precipitation, NOAA models show.
Early-season snow raised the snowpack in parts of Colorado to more than 200 percent of normal. Snow has continued to periodically fall, but so has the percent of median snowpack.
As of Nov. 29, the state sat at 117 percent of median snowpack. The northern and eastern part of the state recorded between 125 percent and 151 percent of median, while the San Miguel, Dolores, Animas and San Juan river basins reported 70 percent of median.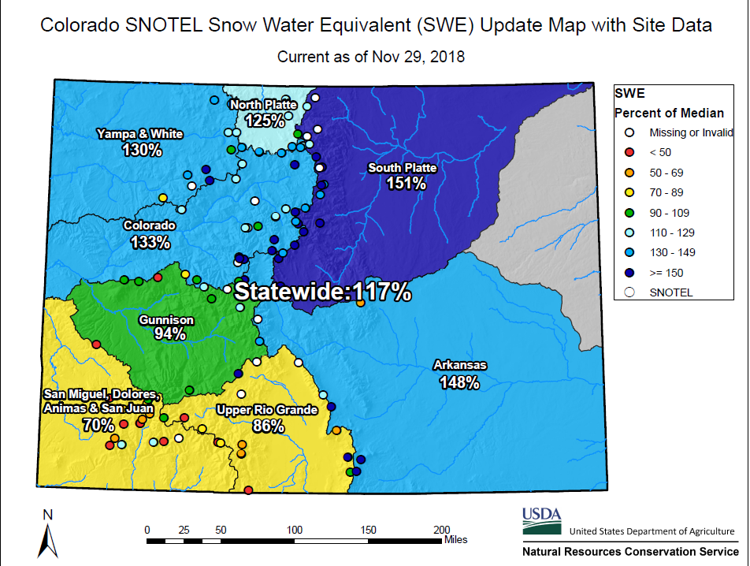 "We entered winter a bit early" Fontenot said. "In Wolf Creek, they had an early October snow event that allowed them to be the first resort to open. The Front Range is doing really well compared to what they should be. But the San Miguel, Dolores and San Juan region are now running below normal."
He continued, "It was a dry November there, and we're starting to see that impact."
El Niño events, which typically deliver above-average moisture to Colorado and the Southwest in the winter, play a "critical role" in helping to relieve or eliminate drought in the Southwest, said Mike Halpert, deputy director of NOAA's Climate Prediction Center.
NOAA forecast an 80 percent chance of such a weak El Niño to form this winter, and a 55 percent to 60 percent chance of it persisting through the spring. Halpert and Fontenot expected the atmospheric conditions to have developed by now, though he is confident that it will form prior to or at the start of winter.
But, for complete drought relief, a weak El Niño just won't cut it, Halpert said.
"Given our predictions, we anticipate drought to persist on the Western Slope, and persist but improve in the Four Corners region," Halpert said.
The winter of 2015 to 2016 produced one of the strongest El Niño events on record. Between Oct. 1, 2015, and Aug. 12, 2016, every basin in the state was above 90 percent precipitation of normal, according to data from the Natural Resources Conservation Service.
Halpert said NOAA "certainly does not see something developing" that is of the same scale.
Policymakers hope to alleviate water shortage pressures on Western states with drought contingency plan agreements that were tentatively reached among states in the Colorado River Basin in October, the Grand Junction Sentinel reported.
The contracts aim to protect water levels in Lake Powell to ensure that the four Upper Basin states can continue to meet their water obligations to the three Lower Basin states, as prescribed in the landmark 1922 Colorado River Compact.
Until then, the drought figures are a good reminder for Western water customers about the reality of an increasingly drier, hotter climate.
"It's the new normal here, and we have to get used to these trends and cycles where the water situation is more iffy year to year," Steve Berry, spokesman for Colorado Springs Utilities.
Systemwide, Utilities' reservoirs are at 74 percent capacity compared with 87 percent capacity this time last year.
"The snow hasn't helped us much yet in terms of storage capacity, but that's normal for this time of year," Berry said. "We can make a better call in late February, early March."
At that time, Colorado typically has received much of its snow for the winter. Utilities will then discuss the anticipated capacity of its reservoirs as well as potential water restrictions, if necessary.
"We don't foresee water restrictions for 2019, but things can change rapidly here," Berry said.
"We really just have to get through this winter, and hopefully we get some good snowmelt."
Regardless of the size of this year's snowpack, Berry urged customers to think about maintaining lawns and landscaping in the winter so as to reduce water consumption in the spring.
Twitter: @lizmforster Phone: 636-0193