A nationwide inflation rate of 7.9% in 2022, coupled with federal interest rate hikes, housing prices, trade problems and "geopolitical uncertainty," is making Colorado's revenue picture a little shaky, according to state economists.
And that appeared to make members of the Legislature's Joint Budget Committee concerned about whether there will be enough to cover even the basics when they start writing the state budget in November.
The Legislative Council staff forecast anticipates General Fund revenues to be $17.95 billion in Fiscal Year 2022-2023 and $18.06 billion in FY 2023-2024 — a $521 million increase for FY 2022-2023 and a $655 million increase for FY 2023-2024, as compared with the earlier June revenue forecast. The forecast anticipates General Fund revenues to be $18.25 billion for FY 2024-2025.
The Office of State Planning and Budgeting (OSPB) anticipates that General Fund revenue will be $16.4 billion for FY 2022-2023, which OSPB revised downward by $130.8 million relative to its June estimate. For FY 2023-2024, OSPB projects General Fund revenue will be close to $16.7 billion, which OSPB revised downward by $551.1 million relative to its June estimate. For FY 2023-2024, OSPB estimates that General Fund revenue will be $17.7 billion.
It's common for the two forecasts to differ.
The September forecast is the last one the JBC members will receive before they start to craft the 2023-24 state budget, a process that will begin just after the November elections. Revenue forecasts are issued quarterly; the next one is expected around December 20.
The biggest concern Thursday: inflation. Colorado's rate is expected to be at 8.2% or even 8.3% for 2022, depending on whose forecast you read.
That rate means higher state costs for items such as school finance and Medicaid, to the tune of about $380 million, according to Greg Sobetski, chief economist for Legislative Council.
Sobetski's presentation included a look ahead to the 2023-24 state budget, and the news appeared to alarm at least a couple of the budget writers.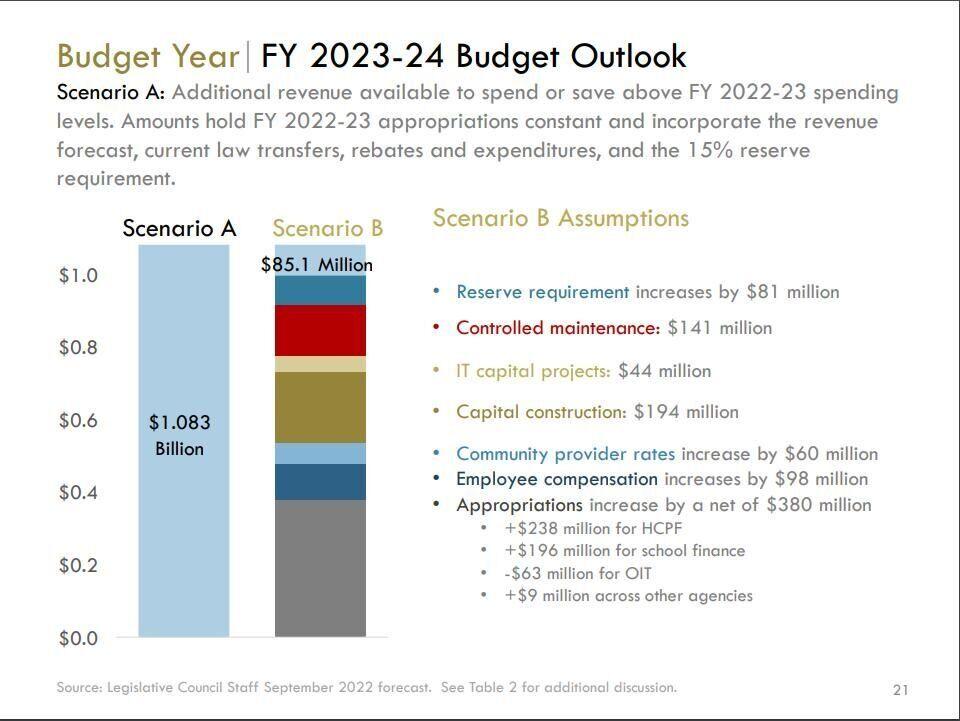 JBC Vice Chair Sen. Chris Hansen, D-Denver, expressed concerned about the prospects for covering obligations such as capital construction and state employee raises. He noted during Thursday's presentation that 2022 inflation, expected at 8.2%, is putting the state "in the red before we even start the race."
The Legislature won't have $85 million to spend on new programs, he said. "It's negative" after putting in the inflation rate, he said. 
The forecast estimated there will be just over $1 billion in additional revenue in 2023-24, but almost all of that will be taken by increased costs for existing obligations. Topping that: $238 million more for the Department of Health Care Policy and Financing, which pays for Medicaid; $196 million more for school finance and $194 million more for capital construction. Another $81 million will be required to keep the state's rainy day fund, known as the statutory reserve, at 15%.
Hansen also noted that state employees got a 3% raise in 2022-23, but with inflation, it's really a net salary decrease of around 6%, he added.
"This is an emergency," Hansen said, referring to the overall budget picture.
Other dark clouds looming in the forecast: Sobetski said he is "pessimistic" about corporate income tax revenue; and the forecast showed a recession, while not impacting TABOR refunds, could constrain revenue available for the budget.
The OSPB presentation also was somewhat pessimistic, noting that "despite the strong underlying economic fundamentals, expectations for future reductions in labor and consumer demand limit revenue growth."
Those signs are already showing up: OSPB revised its revenue forecast downward from June, a reflection of lower income and sales tax revenue. For the budget year that concluded June 30, that was almost $500 million less than in June; for 2022-23, it's lower by $138.8 million and for 2023-24 — the budget year JBC members will begin working on in November — it's almost $600 million less than was forecast in June. 
Total revenue is expected to fall by 6.1% for 2023, the OSPB forecast said, but is expected to rebound the following year.
Despite the downturn in state revenue, TABOR refunds will continue, although at lower amounts, an estimate that Legislative Council economists also noted.
The TABOR refunds for 2021-22, which included the recent $750/$1,500 refund sent to taxpayers in August, total about $3.7 billion. The August refund took $2.7 billion of that; the rest will be sent out next year through senior and veteran property tax refunds, a temporary reduction in the state income tax rate and a six-tiered state sales tax refund mechanism. 
TABOR refunds are on a one-year lag, paid out a year after they are accrued.
The refunds projected for the following year, however, will be down by half, at about $1.9 billion. Most of that will be refunded through the six-tiered sales tax refund, which is applied to income tax filings.
What that means: The average refund next April will be about $255, not including the August TABOR checks; in 2024, the average will be $405 but in out-years, the refunds will drop to just over $100 per taxpayer.
OSPB also raised concerns about lower income tax revenues, both for individual and corporate income and most notably in fiscal year 2024. 
But they were less pessimistic about the prospects for the 2023-24 budget and what will be available. 
Hansen noted the budget forecasts don't take into account the impacts of Propositions 121 and 123 on the November ballot. The former asks voters to approve a reduction in the state income tax; the latter taps the TABOR surplus to pay for affordable housing initiatives.
Hansen estimated that the two combined will result in a $1 billion impact, and Proposition 123 in particular could "swamp" what' available in the TABOR surplus. 
Even a mild recession would wipe out those TABOR surpluses, he estimated.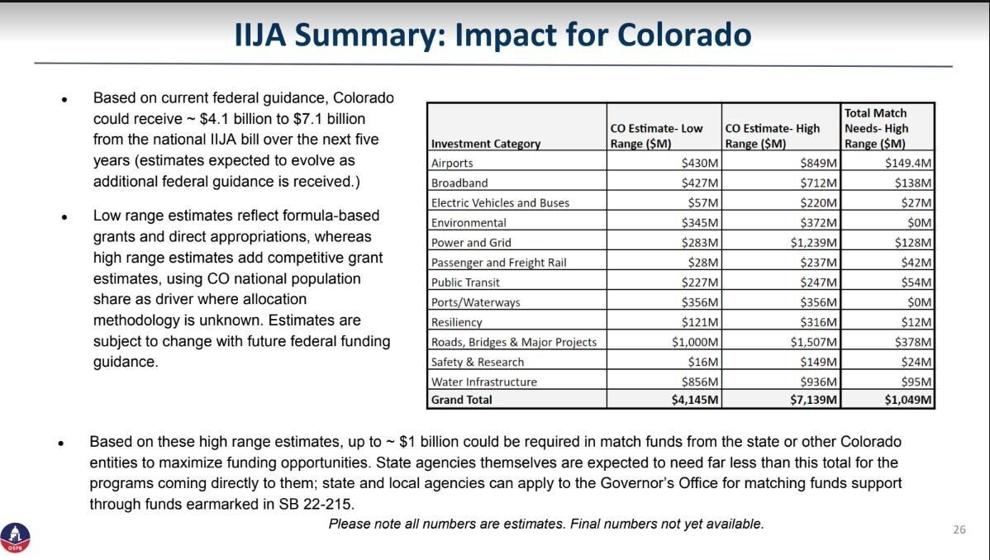 The OSPB forecast also took a look at federal funds Colorado has or will receive from the American Rescue Plan Act and the Infrastructure Investment and Jobs Act. The IIJA money could total $7.1 billion over the next five years at the high end, the OSPB forecast estimated, depending on how federal guidance shakes out.
All the ARPA money has now been received and appropriated through legislation passed in the last two sessions.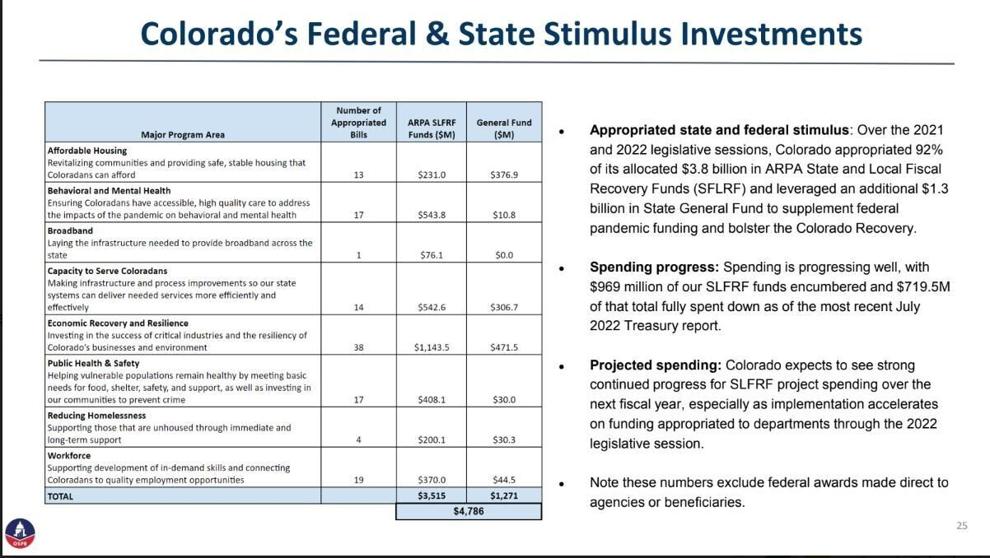 "Where are we going to find another billion dollars?" Hansen asked. That's the state match required for those IIJA dollars; lawmakers passed legislation in the most recent session to start the match, but it was only about $81 million, he said.
Larson replied that the time frame for those dollars coming to Colorado depends on those matching funds. While federal agencies are looking for commitments, the state could make pledges. "Will we need more? Yes ... in order to fully maximize" the federal investment, she explained.