You'd think it would feel lonely on top of the world.
Or that it might feel scary to wake up in the middle of the night in the middle of a dark forest. It must be weird being alone in that tower high above most mountains and far away from everyone you know. Tiring, maybe, to walk up and down those 143 steps over and over.
Wouldn't it get boring to spend most of your day just looking around? Looking for smoke coming through the trees or a small flame in the grass? Wouldn't you go a little crazy waiting for something bad to happen? Or for something cool to happen? Wouldn't you worry about missing something? Or worry about how much the tower's walls shake when it's windy?
Nope. Not for Ashley Farinacci-Silfies. When friends and strangers ask if she gets lonely or scared or bored up here, she shakes her head with a smile. Because she sees it differently. Because to be drawn to the life of a fire lookout, you have to see things differently.
She sees this — her job as the newest fire lookout at Devil's Head — as a dream come true. When she heard about the opportunity, she thought to herself, "I'll do anything for this."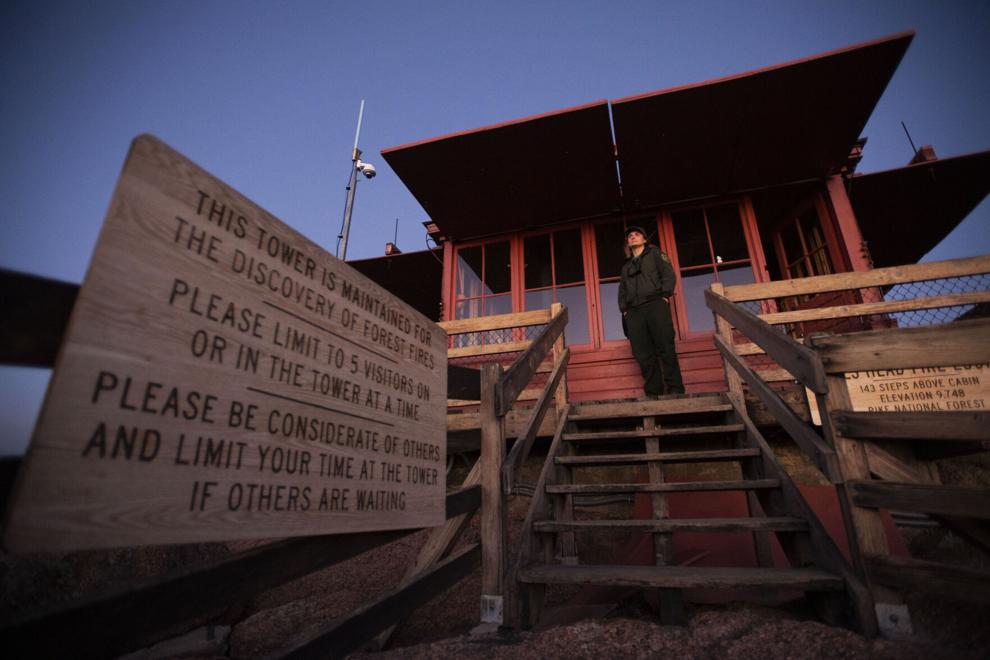 She's suited for it. She's an outdoorsy introvert and an early bird. Growing up near Cleveland, a career path wasn't always clear. But she knew she loved being outside, catching frogs or splashing in the creek. She's now a rare kind of 27-year-old who would rather go to bed at 7:30 p.m. than stay up late watching Netflix. She'd rather be up when the sun's up, getting to savor everything under the sun here at Pike National Forest. When it's dark, she says, there's nothing fun to do.
And Farinacci-Silfies is just fine on her own. And she's even more alone these days, as the ever-popular Devil's Head is closed to the public for repairs. Usually the tower, situated north of Pikes Peak in Douglas County, sees between 500 and 2,000 visitors a day. She's been telling herself to enjoy the quiet.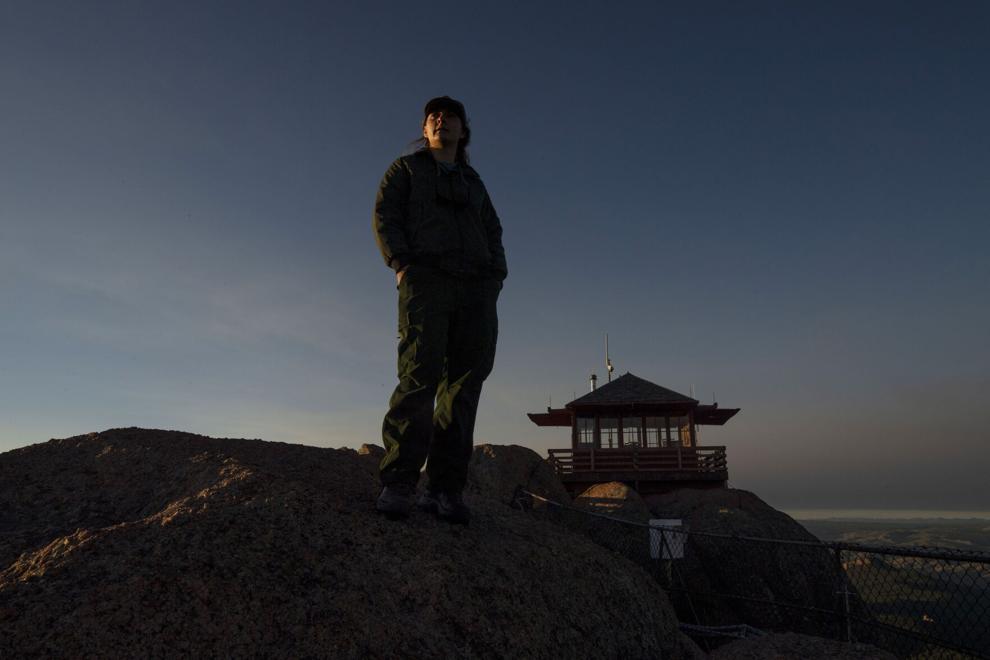 "It'll never be this peaceful again," she said.
She never feels lonely. That's thanks to her cats, Fjord and Fiona, and visits from her husband, an engineer who has accepted their relationship means having two homes: a cabin in the forest and an apartment in downtown Denver.
Without pets or visits or texts, she finds plenty to keep busy during the six months of Colorado's peak fire season.
Consider all there is to see. From the tower at nearly 10,000 feet, there's a panoramic view of hundreds of miles of mountains and clouds and trees and rocks.
Farinacci-Silfies is overcome by the beauty. And it's up to her to look after it.
Her task is a big one: to spot a fire before it spreads. So it's good that she's good with her eyes.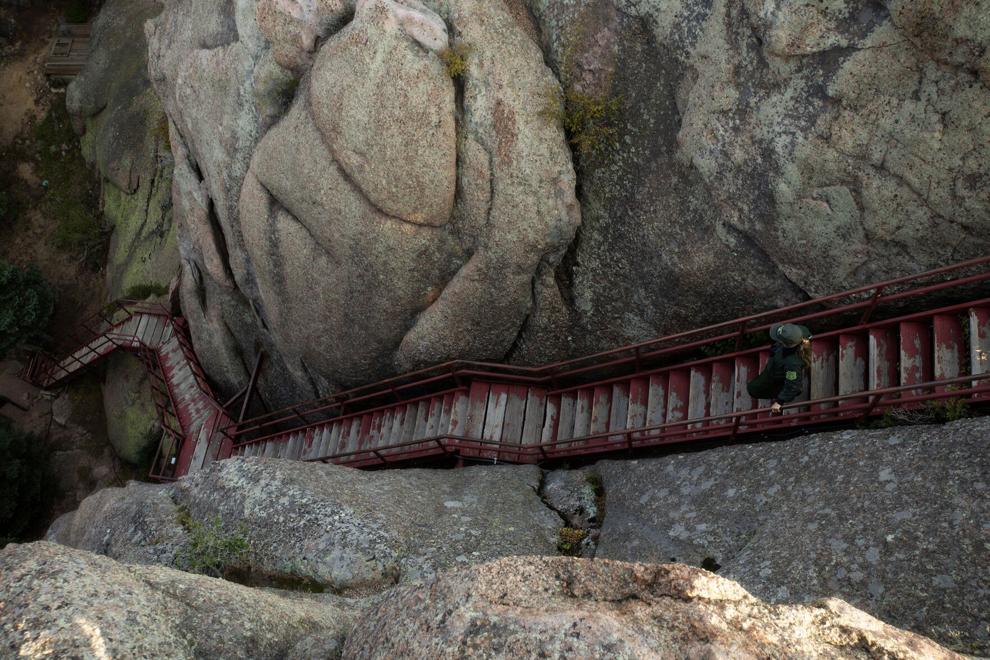 "You see that orange light?" she says casually, picking up her binoculars. "That's a fire."
She says it's a campfire, illegal and worth calling in. But not worth worrying about.
She's at the ready for the real thing. She has spotted a handful of fires in her two seasons here.
When she sees a threatening spark, she determines the fire's location using what's called an Osborne firefinder, an old-school measurement tool that helps her narrow down where the flames are headed. Reading the Osborne, she helps direct responders.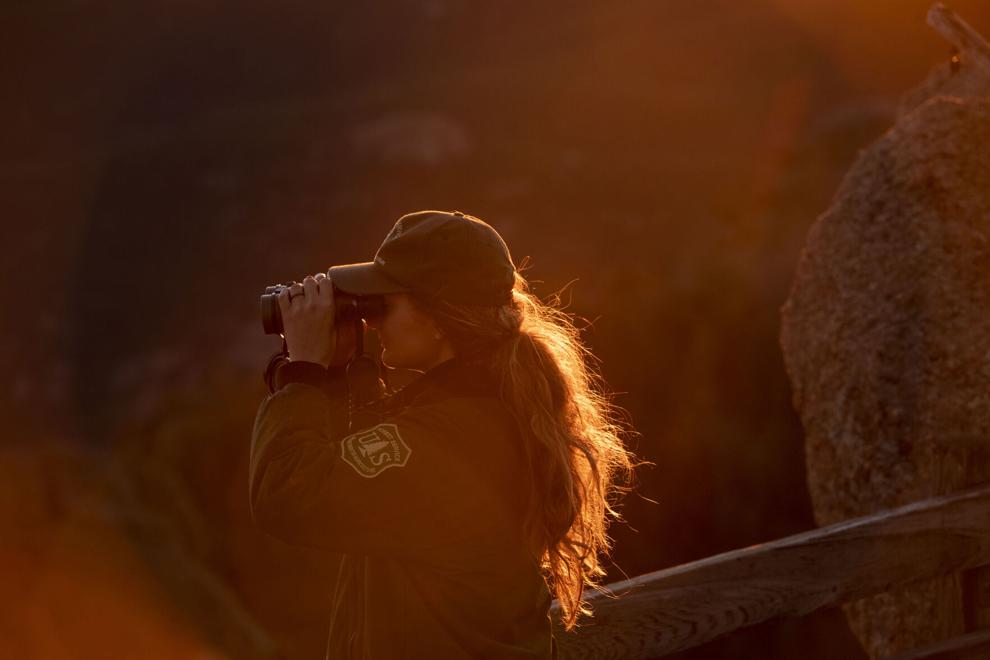 She has a one-of-a-kind vantage point, which is why those on the other side of the radio depend on what she sees.
The firefinder was invented in 1911 but is still one of the only tools Farinacci-Silfies needs. You can tell it's important by its prominent place in the middle of the bare-bones tower.
There's not much room in this 15-by-15-foot "glass house on rocks," as Farinacci-Silfies tends to describe her workplace. There are some chairs, a fireplace and a desk. There are Smokey the Bear stickers and a box of tea bags and bacon grease stains on the window. That's what you get from a fire lookout who likes to cook and doesn't settle for cans of soup.
One curious piece of furniture is a sign of how serious things can get. Next to the firefinder is a stool with glass containers on the bottom of each leg, separating the stool from the floor. It's set up that way as protection from a lightning strike. That's where Farinacci-Silfies goes when a storm starts and where she stays, possibly for hours, without touching anything while she watches the sky light up through the windows.
"So how it works is this," she says. "You sit on this stool and pray."
Scary? Again, not for her.
This kind of gentle correcting has been part of the gig for Farinacci-Silfies.
Some assume the fire lookout job to be antiquated, as so many humans in the role have been replaced by technology.
Some assume whoever's in the tower would be a mountain man. Maybe they're still picturing a bearded guy named Billy Ellis, who retired at 87 after 35 years as the Devil's Head lookout.
But here she is, as the last of her kind on the Front Range. She sports long blond hair and a goofy laugh and proudly wears the U.S. Forest Service uniform. She says she'll keep this job until they kick her out.
She brings a new face to Devil's Head and a new enthusiasm when it comes to showing it. Her introverted ways melt away as soon as she gets to tell stories about the forest or offer peeks into what her job is like.
She does that on Instagram, where she's written, "I am buzzing with knowledge that needs to go in someone else's brain."
She recently hopped on a TikTok trend started by Taylor Swift where the musician battled the assumption that "country girls can't go pop" by honoring her genre-bending idol Shania Twain.
Farinacci-Silfies's version called attention to stereotypical words she's heard plenty of times since taking over the fire lookout position: "This isn't a job for a young woman."
Her Shania Twain is not a celebrity name. It's Helen Dowe, the second woman to serve as a fire lookout in the country and the first female lookout to staff Devil's Head. That was about 100 years ago.
So Farinacci-Silfies is carrying the torch more than blazing the trail.
It's hard work, yes. The dangers are real, whether it's storms at the tower or mountain lions on the trail. The sacrifice can be great.
Through her eyes, it's worth it. Because she gets to see the wonder of it all and the details. The bumblebees basking in the sun. The jagged rocks appearing to soften as the light gets brighter. The sunrise continuing to shine in new ways.
Most mornings, Farinacci-Silfes takes a selfie with the stunning backdrop to send to her mom or husband.
Looking at the photo on her phone, she sees how the golden light hits her face. She sees the stunning backdrop. She sees many reasons to smile.