Colorado led the nation during the economic recovery after the 2008 Great Recession, but representatives from business groups said Tuesday that it won't be repeated, given $1.8 billion in new regulations, fees and taxes.
"We emerged stronger, created jobs faster because we fostered a strong business climate," and it made Colorado the envy of the nation, said Kristin Strohm of the Common Sense Institute, who was joined by leaders from the state's largest chambers of commerce: Kelly Brough of Metro Denver, Loren Furman from the Colorado Chamber of Commerce and Rachel Beck from the Colorado Springs Chamber.
But Colorado has been overrun by an onslaught of taxes and fees in the last three years, Strohm said, making slim the chances of a similar economic recovery.
Strohm said a new U.S. News & World Report ranking had Colorado at 41st in business opportunity, Colorado's fiscal stability at 45th and its overall ranking also was downgraded.
However, the latter downgrading was from third to fourth overall; the ranking said Colorado had the "fourth-highest amount of venture capital investment, and the eighth-highest business creation rate." The state is still in the top 10 in the best states for business, according to U.S. News.
The picture of 2021 isn't pretty, "and the company we're keeping on these lists isn't great. We've gone from the best in the nation to among the worst," Strohm said. Taxable sales are down $9 billion, 150,000 jobs are gone, and small-business revenue is down 30%.
Among the biggest concerns is the state's insolvent Unemployment Insurance Trust Fund. To shore up the fund, it will take $500 million per year in taxes, a Common Sense Institute report released Monday said, not including federal loans the state took out to pay unemployment claims. To restore it to pre-pandemic solvency, employer taxes are projected to grow at 22%, she said.
"The law requires taxes to be increased on businesses to replenish the fund," Strohm said.
It's not the only problem for business. Cumulative cost of new taxes and fees will be $1.8 billion per year within the next three to five years, not including the cost of upcoming legislation and new regulations.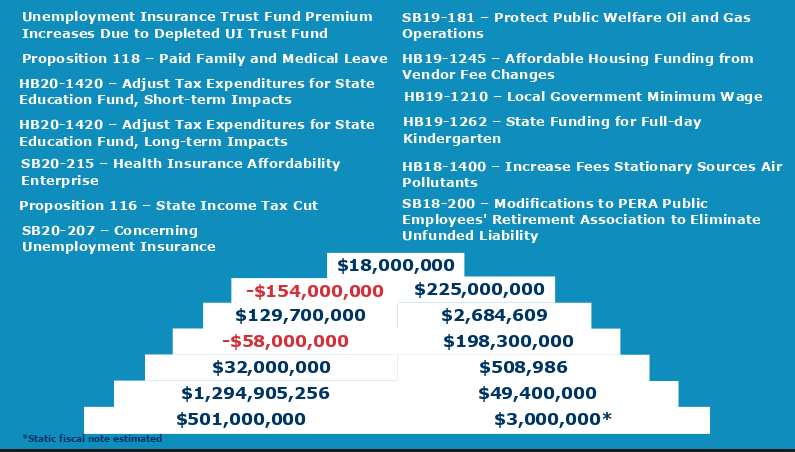 Strohm highlighted the bills passed by lawmakers in recent years that have contributed to those higher costs, and the ones ahead that they fear.
Tony Gagliardi, state director for the National Federation of Independent Business, explained that new regulations have a disproportionate impact on small businesses.
"It's apparent when you walk down today's Main Street," he said, where he sees shuttered businesses and entire strip malls vacant. That's not just lost businesses, it's lost sales tax, he said.
The UI Trust Fund is also a huge concern. "I cannot tell you what an impact that will be on the small business community," Gagliardi said. The last time the trust fund went negative and the state had to borrow from the feds, small businesses were seeing 200% and 300% increases in their UI bills.
"We implore the Legislature to realize what you're doing before you do it," Gagliardi said.
There are bills ahead that worry business leaders, according to Dave Davia of Rocky Mountain Mechanical Contractors.
He pointed to the POWR Act, Senate Bill 176, an anti-discrimination bill; House Bill 1071 on ranked choice voting, because it uses business filing fees paid to the Secretary of State's Office; and the ban on plastics contained in House Bill 1162.
"Each individual bill on its face does not necessarily have an impact," Davia said, "but the totality of them can be significant."
Davia said that what is needed now is legislation aimed at increasing Colorado from near-dead last to number one without adding costs and bureaucracy that would prohibit a road to recovery.