What's the worst day in a state trooper's life? Josh Lewis knows.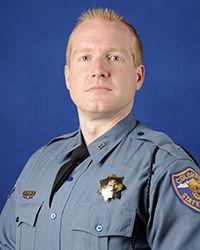 Before a hushed audience of hundreds last week, Lewis recalled how it started with a call to an Interstate 25 accident scene. Before he could get out of his car, he was asked to go to a nearby hospital.
There, Lewis found that an injured mother and two pre-teen children had been stabilized. But an 8-year-old boy had died, ejected on impact because he wasn't wearing a seat belt.
"Me, with only two or three years" of experience, he said, was asked to talk to the mother, who was inquiring about her children.
"Everyone in that room looked at me to tell her what was going on," he said.
The mother was barely stabilized enough to be coherent, and Lewis had to tell her that she had rolled her vehicle, and her son had been killed.
Her reaction was what you would expect, he said, sadly. "I stepped back to allow the nurses to comfort her."
Moments later, another nurse tugged on his sleeve, asking him to tell the grandmother what was going on. So for the second time that day, he had to break the news that a beloved child had been killed.
"That was a bad day," Lewis said.
The mom wasn't on her phone, and she wasn't a bad person, he said. She was reaching for a drink and momentarily took her eyes off the road, started to swerve and overcorrected, and the car rolled, ejecting her son, the trooper said.
Two small faults, being distracted and not buckling in her son, changed the family's lives forever.
"I don't want any more bad days," said Lewis — now a State Patrol spokesman — at the annual summit by the Colorado Department of Transportation, this year focused on safety. "That's why we're here. No more bad days."
Traffic deaths have increased by about 30% in Colorado over the past three years, Gov. Jared Polis told the audience. An executive order he issued in August is intended to reduce vehicle-wildlife collisions, which occur about 4,000 times a year in Colorado.
That results in about $80 million in damage, not to mention the harm to animals, a statement from Polis' office said.
The state also must "continue to spread awareness and change the culture around distracted or drunk driving," Polis added. "The goal is zero traffic deaths. There is no number that is acceptable."
For every $2 million spent on safety, a life is saved, and 60 fewer people are injured, he said.
Recent outreach has shown Coloradans are concerned about traffic safety, said CDOT Executive Director Shoshana Lew. The department's "Whole System, Whole Safety" initiative (also the theme of Thursday's summit) redoubles the department's goal to improve safety and reduce crashes by 2,500 by next year and by 7,500 by 2022, she said.
One strategy would add 6-inch reflective striping, from 114 miles now to 9,000 miles by June 2022. It's a simple strategy but can save lives, Lew said.
CDOT also is investing in new cable guardrails and rumble stripes, items that "change driver experience and focus on driving safely."
And the department is encouraging driver education to emphasize the human factors of driving earlier on, and it's working with motor carriers to improve education on the challenges of driving in Colorado's mountains.
CDOT has been holding outreach meetings throughout the state over the past five months, Lew said. Among concerns they have heard:
• Rural areas want to see more shoulders, not only for safety, but also for bicycles and farm traffic.
•  Rural residents also want more passing lanes on the state's two-lane highways and more wildlife crossings.
• Urban residents are more concerned about heavy traffic and distracted driving.
The summit concluded with workshops on "self-powered mobility safety" (bicycle and pedestrian safety), strategies to improve driver behavior and how to keep the roadways safer.