This is the latest in a series profiling Pikes Peak region bands.
When the Wayne Wilkinson Trio performs, one thing is certain: These jazz musicians really enjoy playing together. And they couple that joy with skill.
The trio — composed of Wayne Wilkinson on guitar, Todd Williams on drums and Andy Burtschi on bass — formed in 2012 in Colorado Springs and plays "straight ahead" and traditional jazz, American songbook standards and Wilkinson originals.
"That's when we started playing exclusively as a trio. That's when I moved back from Washington, D.C. I wanted to start a group playing originals," said Wilkinson, whose four-decade career playing jazz guitar has taken him to the White House, Carnegie Hall and major jazz festivals with premier Air Force jazz ensembles the Airmen of Note in Washington, D.C., and the Falconaires in Colorado Springs.
He's performed at the London and Tel Aviv jazz festivals, and his 2016 solo CD "It's a Lark" received a Grammy nomination.
"But I'd just as soon play with Todd and Andy," he said. "I'd rather play with these guys than anybody. In jazz, you don't always have the opportunity to play with a familiar group. And I'd put Todd and Andy up with anybody. The enjoyment level is very high for us. We play for the art — that comes first — but also for the satisfaction of playing."
Playing with fellow Colorado Springs Conservatory music teachers Williams and Burtschi is "just fun and playing good music," Wilkinson said. "Everybody gets along great. There's no drama."
All three musicians are invigorated by the talent at the conservatory.
"We get students who are pumped to play jazz," Wilkinson said.
Williams added, "So many of the kids go on to music careers."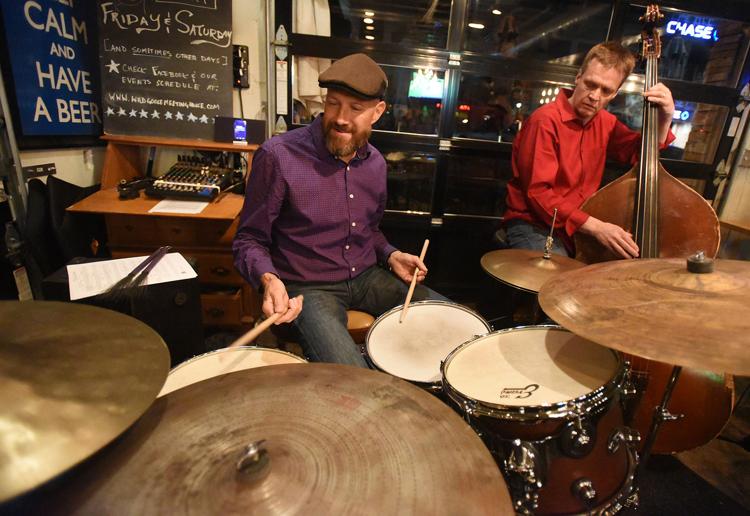 The Pikes Peak region jazz scene has become more robust since the Wayne Wilkinson Trio began performing in 2012.
"In town, there's definitely more interest than when I moved here. The jazz culture in Colorado Springs has grown, especially with the new jazz radio station, 93.5 FM," Burtschi said.
Playing jazz as a trio with no vocals is not the easiest, he said. But the Wayne Wilkinson Trio has a niche in the Springs and at jazz festivals, including those in Vail and Crested Butte.
"We play a mixture of jazz standards, songs from the Great American Songbook and cover tunes from Paul McCartney and Glen Campbell to Sting," Wilkinson said.
The trio has standing local gigs at Motif Jazz Cafe on the first Saturday of the month and at Wild Goose on the second Saturday, as well as at the Colorado Springs Conservatory's monthly jazz night. In warmer months, the band performs Wednesdays on the patio at Mackenzie's Chop House and in a summer series of free concerts in Monument Valley Park. They also perform at the annual Colorado Jazz Party at the Antlers hotel and have a gig booked April 5 during Earl Klugh's Weekend of Jazz at The Broadmoor 2019.
"I've played in cover bands where people come out to dance all night. Experiencing jazz live is where it comes alive for people. You can see the interplay of how it works," Williams said.
"We play a lot of originals," Burtschi said.
Burtschi and Williams create their own arrangements to go with Wilkinson's originals. Their sound just gels.
"Wayne is a prolific songwriter. He's the guy who just shows up with a new song that we learn at a gig," Williams said.
"We're all friends. We just love playing together," Burtschi said. "Wayne is a world class, wonderful musician. To me it's a blessing and privilege to play together. I can't help but say that. I'm basically a fan with a really good seat."
The group averages 60 to 75 performances yearly. They recorded their first album together in January, a mix of originals and "songs that feature everybody."
"It's definitely overdue," said Wilkinson, who's recorded several solo albums and collaborations over the decades.
Burtschi, who moved to Colorado Springs about 10 years ago from Illinois, complements his "day job" as a physical therapist with teaching at the Conservatory. He said his favorite part of performing with the Trio is "the unspoken communication that happens when you play with this group, when you're all working together and it's all one sound."
Williams, a Colorado Springs native and Mitchell High School graduate, likened performing jazz with the trio to a "conversation without words."
"There's just not many things in life where you have that," he said.
Contact the writer: 476-1602