When it comes to spicy foods, the lines between mild, medium and hot are easily blurred. Whether this is good or bad, of course, depends on your palate. Thus, I was certain the midlevel would be just right at Nom Nom Thai.
Wrong.
It's good to ask about spice heat levels before indulging in potentially piquant foods, but the best gauge will always be your taste buds. This only works if you're familiar with the restaurant and know if the chef is heavy handed with chiles and other ingredients that boost the taste temperature.
We were Nom Nom newbies. Now we know.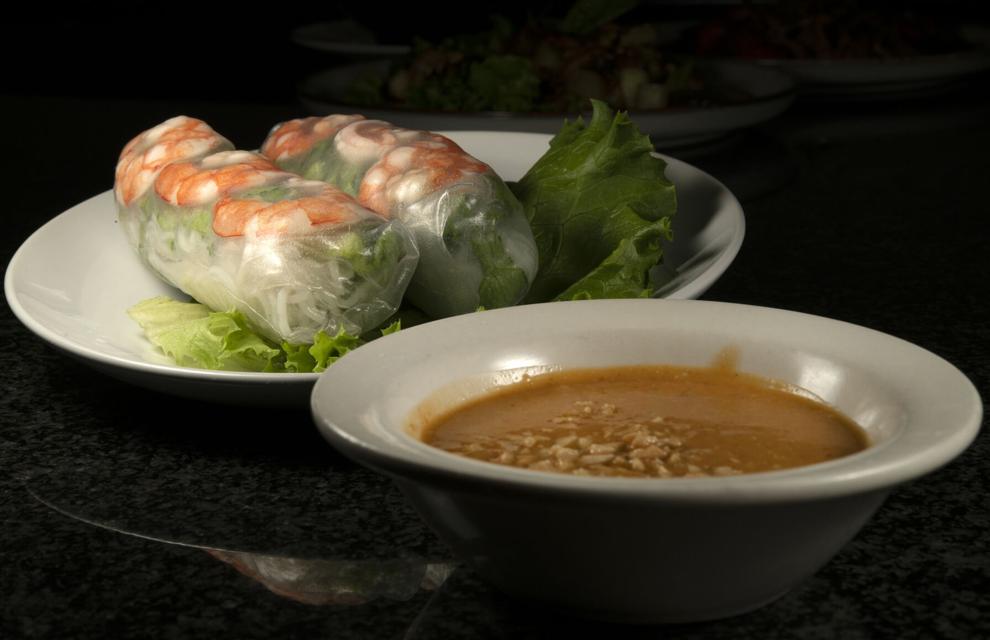 The spring rolls ($6 for two) ordered as appetizers were not just visually appealing but refreshing. The transparent rice paper wrappers bulge with plump shrimp, shredded lettuce, thin strands of rice noodles, cucumber strips and herbs. The accompanying peanut sauce is creamy and savory. I could eat it by the spoonful — and did.
The winter weather with remnants of snow led our server to suggest the curry laksa noodles ($14.50). He said the hot soup on a cold day would be just the thing.
Hot indeed. Yes, it was fiery but not so much as to detract from the rich coconut milk broth full of shrimp, egg noodles, green onions and small squares of tofu. This is a large, hearty bowl of orange-colored soup (likely due to the combination of ginger and chile sauce) with a piece of bok choy. There is no variation of spice level for this entree.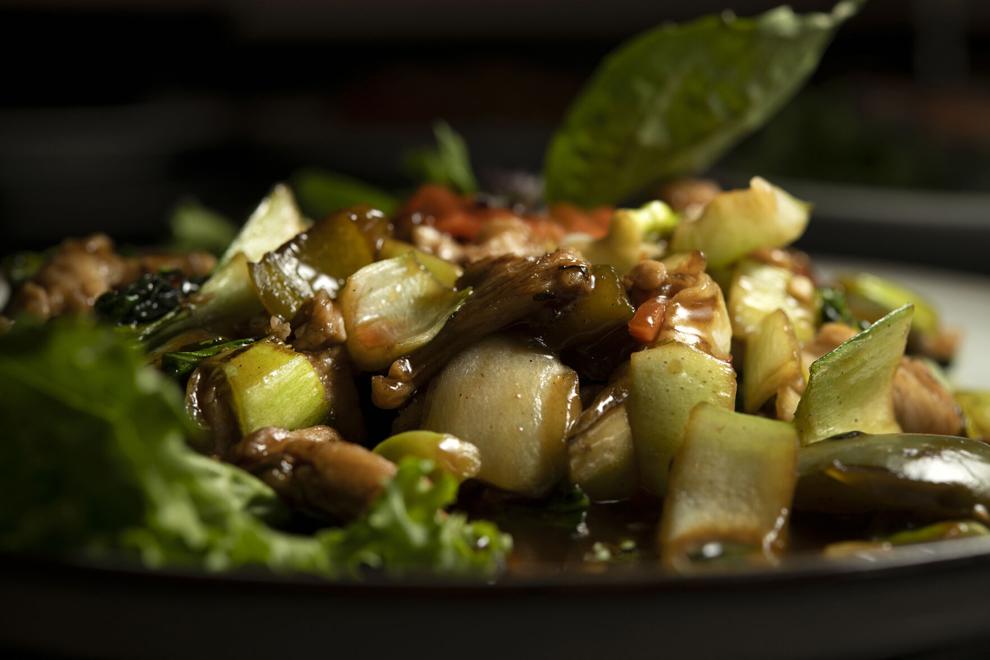 Kra Prow, aka Thai basil chicken, ($13.50) is among my favorite Thai dishes. The basil's licorice-like flavor is savory and distinctly spicy compared to other varieties. It's mixed with sliced carrots, pieces of red bell pepper, chopped bok choy and thin cuts of chicken in a brown sauce. When asked what spice level we'd like, we hesitated a bit before opting for mild. We were grateful for the large mound of rice to help offset the spice because this was hotter than the medium cashew stir fry ($13.50; plus $1 upcharge for beef).
The beef stir fry is a medley of sliced zucchini, green and red peppers, onions and plenty of cashews. This was slightly sweet, but in a cloying way, which is offset by peppery heat. Again, the side of white rice was much appreciated.
Despite the perspiration-inducing dishes requiring multiple glasses of water (which really only provides imaginary relief), I enjoyed these dishes and would ask for lime wedges next time to help mitigate the spiciness.
Prices on the in-house menu have been taped over with new amounts. The carryout and online menus still have old prices, so be aware of the potential increases. Most changes are in the $1 to $2 range. Given the economy, such upswings are not unexpected. Several dishes have upcharges for beef and shrimp.
Nom Nom Thai staff is friendly and the space is comfortable. Wimpy or not, I know on my next visit that mild, perhaps even extra mild, is the level for me.
Nom Nom Thai
Description: Thai cuisine for dining in or carryout.
Location: 3303 N. Academy Blvd.
Contact: 1-719-573-7004; nomnomthaico.com
Prices: $6.50 to $21.99
Hours: 11 a.m.-3 p.m.; 4-9 p.m. Monday through Thursday; 11 a.m.-9 p.m. Friday, Saturday and Sunday.
Details: Credit cards accepted. Beer, wine and sake. Wi-Fi.
Favorite dishes: Spring rolls, curry laksa noodles.
Other: Gluten-free and vegan options available.