You've likely heard the question, hypothetically: If you could save anything in your house in a fire, what would it be?
A few years back, that was reality for the McIntosh family. And they knew exactly what they wanted to save.
In the summer of 2013, the Black Forest fire came within half a mile of Deborah McIntosh's house, where she and her late husband raised their family. The house was filled with 30 years of memories.
McIntosh asked her sons what to take out of the house, just in case.
"All they cared about was saving the village," she said.
That's when she realized how much her Christmas village, made up of hand-painted houses and buildings and sparkling lights, mattered to them.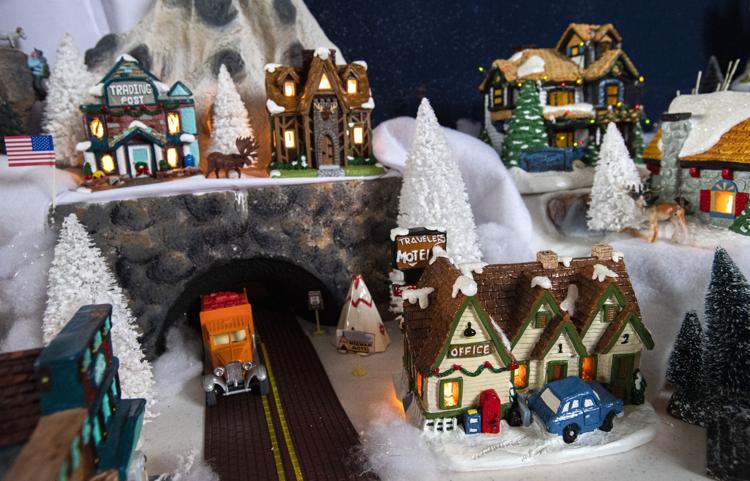 The family borrowed a trailer and made sure each piece of the village was safe. The fire didn't touch her house, but McIntosh later bought her own trailer, she said, "because I knew how important it was to them."
Building a village
The village started as a small thing.
McIntosh grew up in New York City, in a "very, very poor" family. She was always fond of those storybook Christmas village sets but never had the money to buy one.
Then one Christmas, she opened four white houses from her husband, Glenn. She could paint them however she wanted.
"That's what started the evil plan," McIntosh said.
While her husband and young sons watched football games — one brother always rooted for the Broncos and the other for the Dolphins — in the living room, she wanted to be around. So mom sat around a table behind the couch and painted. Each piece took about 10 hours.
As she finished them, Glenn surprised her with more. One Christmas morning, she opened 60.
When Glenn died of colon cancer in 2006, McIntosh kept the village going.
A personal touch
By now, her Christmas village has everything. As she put the pieces, complete with electricity, up in her garage this winter, she counted more than 300 hand-painted buildings. Each is there for a reason.
One of her sons bowls a 300-game, so there's a bowling alley. There's a golf course for a golfer friend. Flamingos in front of a pink house for a friend who loves flamingos. A sign reading Route 66, because McIntosh and a friend drove half of the highway one year. They stayed the night in a wigwam motel, which also has a place in the village. There are lined roads, benches and stops signs, trees, cars parked in parking lots, semi trucks, a wine shop, lighthouses and boats and three doughnut shops, one for each police station. There are castles for Cinderella and the cast of "Game of Thrones" and a movie theater lit up with rainbow lights. There's a carousel and a train that runs with a click of a button. In a football stadium, the Broncos are always playing the Dolphins.
There's more.
"Hey," McIntosh says, "do you know about my three cemeteries?"
One cemetery is for pets. The other two are dedicated to friends and family members. One's next to a haunted house, because the McIntosh family also loves to celebrate Halloween.
"It all kind of means something to me," McIntosh said. "You gotta make it personal."
She's not kidding. Turn over any building and you'll find a handwritten name marking who it's for.
There's a whole neighborhood called the McIntosh Estate, including houses for her sons and other close family members. That's where you'll find the village's only two houses that look the same — one is pink and one is blue. They're for her two grandkids.
'Did I miss it?'
You could look at all the details for hours. And people do.
Each December, McIntosh invites friends and neighbors over to look at the village and share mulled wine and snacks. This will be her second year showcasing her work at her house in the Banning Lewis Ranch development. She moved there in 2017.
"I do it because it's appreciated," McIntosh said. "The years I don't put it up, I get a phone call, 'Did I miss it?'"
While visitors tour the miniature town, McIntosh is sure to share stories behind each touch of paint. She prints out a scavenger hunt, too, for those up for the challenge of finding the "Despicable Me" house or the raccoons in the trash.
"And here's the best story of all," McIntosh, who is 67, offers. "When the Lord takes me, I told my boys this is big enough for them to split it up."
Their response?
"No way," Jerred McIntosh, one of her sons, says. He and his brother, Josh, say they'd rather keep it all together and maybe switch houses each year. However it works, the village will stay together.
After all, it's become a sort-of pop-up scrapbook for the family. And McIntosh intends to keep adding pages.
"I need to stop because I'm running out of room, but I keep finding stuff," she said. "It's so hard to say no."
Nothing will likely beat McIntosh's favorite house in the village. It's her husband's house. Outside are two little boys building a snowman, one wearing Dolphins colors and one wearing Broncos colors.
"That's why this whole thing started," she said.