Like peanut butter and jelly or spaghetti and meatballs, the pairing of James Africano and The Warehouse Restaurant was a match made in culinary heaven.
But those nuptials weren't part of Africano's master plan. Becoming a chef and restaurant owner came about through sheer happenstance.
It all started in 1991, when he was a sophomore at Air Academy High School and new to Colorado Springs, having just moved with his family from Tucson, Ariz.
"I needed a job in high school and took a position as a dishwasher at Embassy Suites. I worked there for two years," he said. "I moved up to working the omelet station for Sunday brunch, then became the lunch cook and a dinner cook. I found that I really liked cooking."
After graduating from high school, his family moved to Maui, Hawaii, where Africano found a job at the luxury Grand Wailea Maui resort.
"It was the fanciest place I had ever seen," he said. "The first day I got my whites (chef jacket), I was walking down a hall when some guests stopped me and asked, 'Are you a chef?' That's when I had an epiphany: 'Oh my gosh, this could be a career.' Or at least something I could do until I figured out what I wanted to do."
At Grand Wailea, he trained with European chefs. "These men, old-style European chefs, were so talented. I still have the greatest respect for all those chefs — and others like Jacques Pepin and Wolfgang Puck."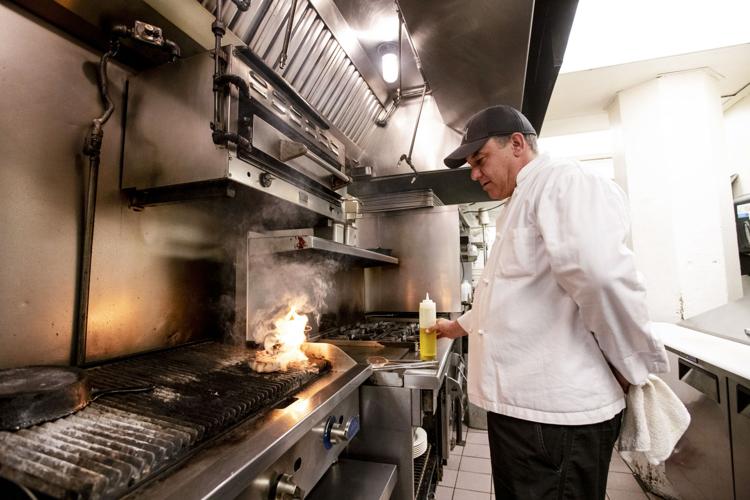 He left Hawaii in 1995 for a position at Embassy Suites in Colorado Springs, which brought him closer to his girlfriend, Shaundy Hubert.
"I had met Shaundy when I first worked at Embassy Suites," he said. "I was 17, and she was 16. She worked summers there waitressing and doing room service."
She attended the University of Colorado at Colorado Springs and earned a degree in organizational management. She and Africano married in 1998. By then, Africano had bounced around in positions at Embassy Suites, Villa at Palmer Lake, Phantom Canyon and Pelicans. During these early days of kitchen work, he saw the rougher side of the business.
"It was a crazy time," he said. "Chefs drinking on the line, using cocaine the first thing in the morning and having a glass of orange juice for breakfast, then ready to go to work."
He said he wasn't even tempted to take that career misstep.
"I was brought up Catholic. I was scared to death of my dad, priest and God. My grandfather was an alcoholic, and because of that my dad didn't drink or smoke. Drinking and drugs wasn't our lifestyle at home."
When Pelicans closed, he was 23, unemployed, with a baby on the way. Then he was introduced to Raphael Sassower, owner of The Warehouse Restaurant and Palmer Lake Brewing Co.
"When I got an interview for the executive chef position at the eatery, I had no idea how the interview would end, and not even a thought of the long-term significance this conversation would have in my life," Africano said. "A few days later, Raphi called and offered me the job. Excitedly, I accepted, and the story began."
Sassower was excited, too. "Having hired six CIA (Culinary Institute of America) graduates before him, some who lasted only a few weeks, some only days, it was a worthwhile gamble to hire a completely unknown but eager, smart and hard-working chef," he said.
Sassower recalled telling him, "Between the two of us, we could grow the restaurant together so long as we trusted each other and worked together as a team. He was enthusiastic — a quick learner and a committed chef, eventually winning awards and proving himself in the community."
The restaurant became one of the premier event spaces in Colorado Springs. Locals took notice, often voting it "best of" for dining, happy hour and gathering place. The eatery also collected awards for its food at popular culinary competitions such as the Chefs' Gala, Celebrity Chef's Auction and the American Culinary Federation's annual Chef's Showcase.
"Over the better part of a decade, Raphi and I continued to grow the business and its reputation for great service, food and atmosphere," Africano said. "I learned so much about the restaurant business from Raphi. He was a great mentor, and I have such great respect for him."
Then in 2007, Africano got an offer he couldn't refuse: the executive chef position at Vermejo Park Ranch, near Raton, N.M., a guest ranch owned by Ted Turner.
"Telling Raphi I was leaving was the hardest conversation I've ever had," he said.
The plush ranch operated from April 15 through Nov. 20. During the off-season, Africano stayed busy preparing for the upcoming season, primarily hiring 50 to 60 employees for seven months on the remote property.
"It was such a cool place to live, like living in a national park," he said. "There was a lot of freedom — about the only place you might see someone driving around with a six-pack and a loaded rifle and no one would think that's weird. Such an incredible place."
Fast-forward to 2015.
"I get a phone call from fellow chef and longtime friend Brent Beavers," Africano said. "'The Warehouse has closed.' Those words echoed with me for the next few days until I got the nerve up to call Raphi, to find out what had happened to the restaurant."
Over the course of their conversation, Africano asked if he could take over The Warehouse.
"I thought a dream had come true," Sassower said. "He wasn't ready in 2007 to take it over, but in 2015 he was."
After about a month of fundraising and negotiations on the purchase and lease, they reached agreement. And three months later, Africano reopened The Warehouse Restaurant.
"Since October of 2015, I have been operating the Warehouse with the help of my wife, Shaundy. And in December of 2018, we bought out our final partner and are now sole proprietors," he said. "It has been an amazing journey since that interview nearly 20 years ago. Never would I have guessed then how that conversation would lead to the place I am now."
Testimonials:
Raphael Sassower: "I cannot imagine a more perfect chef-owner than James. His creativity is far-reaching, his work ethic has not changed over the years, and his past successes have not overshadowed his realization that you are only as good as what you are serving today. In the divide between chef and owner, he fulfills both roles beautifully, never compromising either role and proving himself in a business known for a high percentage of failures. James is the consummate restaurateur, maintaining high quality at fair prices, reaching across customer tastes and incorporating the latest trends without becoming faddish."
Brent Beavers, training chef at AspenPointe Cafe: "I have had the pleasure of knowing James for more than 20 years. We met as young chefs back when we both had long hair and people called us the wonder twins. Over the years, I have had some truly amazing food from him and worked on many projects together. He taught me many lessons as I learned to be a chef and business owner. I consider James to be a great chef, close friend, a man of the highest caliber and a major thread in the culinary fabric of our city.
Christine Adrian Miller, pastry chef: "James has always been a great cook. He is wonderful at letting great ingredients speak for themselves."
Linda Africano, James' mom: "James' interest in cooking began with backyard barbecues at his grandfather Africano's in the summer when we visited St. Louis, Mo. Grandpa would grill, and they would sit and chat. His grandpa made it OK for men to cook. At 16, when he started his cooking career, his father and I were a bit surprised that he wanted to be a chef. But we supported him, especially because at 16, he had a career direction. Cooking has been a way for him to express his artistic side, and he has a knack for knowing what flavors complement each other. He strives to give his guests at The Warehouse a delicious and enjoyable dining experience. I am very proud of him."