Kelly Belknap and Matilda Sandström accepted an invitation to speak to a graduate business class at Colorado State University last fall.
"Which was kind of funny for me, because I didn't go to college," says Sandström, 24. And it was "definitely weird" for her husband. Belknap had gone to the Fort Collins university but left with his bachelor's degree in psychology only a few years earlier.
So the couple stood nervously before students, some of whom were older than them.
But none had started a company with very little ($7,000 and an Instagram). None had seen substantial growth and national acclaim in months (Forbes, Travel Channel, ABC) while also feeding tens of thousands of hungry Americans. So Belknap and Sandström were there to tell them how.
It's all thanks to a stylish, lightweight backpack. And, yes, a noble cause.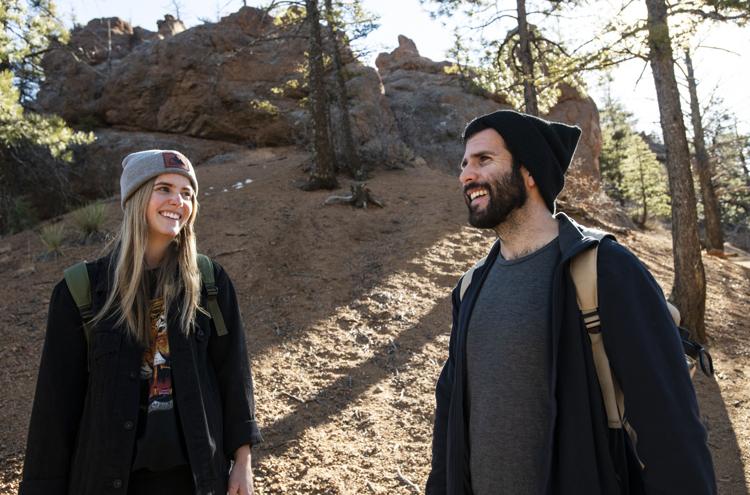 Growing up in Monument, Belknap recalls weekends volunteering at the Marian House, the local Catholic soup kitchen. "Just the feeling of people coming together to help people in need," recalls the soft-spoken 27-year-old, whose thick, dark beard belies his age. "It was just a great feeling."
Flash forward to 2014. On his way home from college, he stopped at a coffee shop. There he met Sandström, whose Swedish accent and sweet smile intrigued him.
She had recently moved to Colorado from her small village. Both from traveling families, they struck up a conversation about cultures and places they'd been.
"You know those conversations that feel like they're, like, 10 minutes," says Sandström, "but they're actually like two hours?"
They married six months later. Soon wanderlust led them to Naples, Fla., where he worked in real estate, she in a Banana Republic.
The jobs didn't thrill them. Traveling did. That's what they saved their money for, hardly ever going out or spending on anything that could be spent on plane tickets back to Sandström's home.
And if they were going that far, they figured, why not trot to other regions? "Basically, we see a plane ticket, and we're like, 'Let's just get them and worry about the rest later,'" Sandström says.
They've lost track of the number of countries — 30-something, they say.
Along the way, they got to thinking they could use better packs. Something more convenient for the plane and for touring cities and trails.
But what they found was out of their price range. Heck, maybe they could make their own.
That just-do-it attitude toward traveling? "Kind of the same mindset of starting a business," Belknap says. "Do it now, and figure out the rest later."
With $3,000 from their savings and $4,000 from Belknap's parents, Adventurist Backpack Co. launched. It came with a bigger idea, inspired by the people the couple met on the streets during their travels. Belknap and Sandström would fill their packs with food and hand it out.
Now, through a partnership with Feeding America, they provide 25 meals to food banks around the country for every $65 pack sold.
In interviews, they proudly present themselves as millennials, and this is what millennials want: "We want to support brands that do something good. We want to actually solve basic problems," Belknap says. "We think it's a company's responsibility in a capitalist society to, you know, help."
Those interviews have mostly been about how these young digital natives capitalized with zero business background. They took to social media, connecting with "influencers," who were happy to take a pack in exchange for a good word to their millions of followers. Free advertising.
And this is what the couple has learned: "Everyone wants to be a part of doing something good," Belknap says.
The factory-made packs from China are shipped to the "warehouse" that is his parents' basement. From their apartment in downtown Denver, he and Sandström wake at 5:30 a.m., starting at the gym and working into the evening — calling and emailing current and prospective retailers, managing orders, scheduling promotional events, reaching out to media.
Belknap doesn't share finances. ("All I know is business owners usually say, 'We're a private company, we don't disclose that information.' I don't know what I'm supposed to say!") But Forbes last September reported the company made $50,000 with no debt in less than a year. In 2019, the couple wants to double that, providing 100,000 meals.
The growth and the work with it "makes us a bit anxious," Belknap says. Can they keep traveling?
They'll try, anyway. Figure out the rest later.