Colorado's jail populations have fallen by as much as 46% statewide since March, when the COVID-19 pandemic brought on an urgent need to reduce jail populations to slow the spread of the disease.
In a new report, the American Civil Liberties Union of Colorado said it wants measures taken by counties to keep jail numbers down during the pandemic to become permanent practices.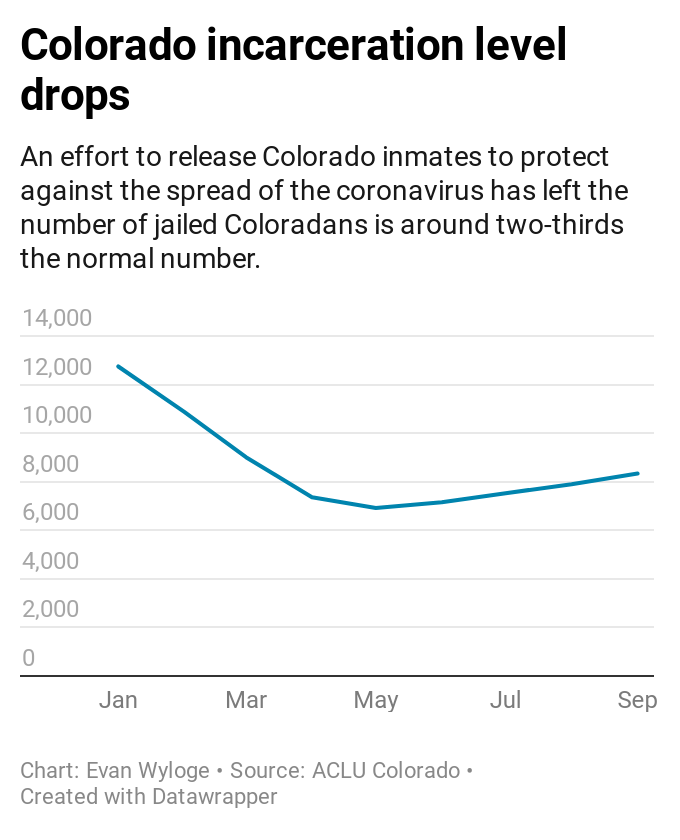 The ACLU report found Colorado's jails are at about 47% capacity on average, compared to 81% before the pandemic.
The report credits sheriffs with taking the lead on developing practices to reduce inmate numbers. The sheriffs took to heart guidance from Gov. Jared Polis issued in March, the report says.
Polis had asked local governments to limit jail populations by releasing people who were in jail for low-level offenses, crimes directly associated with poverty and addiction and missing court dates.
"The safe depopulation of Colorado's jails was the result of an unprecedented collaboration by sheriffs, public defenders, prosecutors, probation and parole officers, pretrial services and judges across the state with the goal of protecting public health and public safety by lowering jail populations and reserving jail beds only for people who pose a risk to others," the report stated.
The report also credits increased use of personal recognizance bonds and fewer incarcerations for noncriminal offenses.
If Colorado maintained the 46% drop in jail numbers seen at the height of depopulation, the change would save at least $210 million in tax dollars per year, according to the report.
"I think that we can learn from the practices that we put in place during the pandemic time period of March until today and put those in place for the long run," said Denise Maes, the public policy director for the ACLU of Colorado. "Because we should always have a low jail population, and not rely on jail to the extent that we have in the past."
The report includes endorsements from sheriffs from both red and blue counties for implementing long-term changes. Mesa County Sheriff Matt Lewis said the county has been considering asking voters for funding to build a bigger jail; the inmate population had exceeded 600 before the pandemic.
"Frankly, I didn't want to build a larger jail in the first place. I don't want to be a community that incarcerates 700 people," Lewis said in the report. "We can keep working together to help people who aren't a threat to others stay out of jail and manage them in the community."
State Sen. Pete Lee, a Democrat from El Paso County, said he plans to bring legislation to codify practices by sheriffs' offices to lower jail populations going forward.
Lee commended sheriffs "for their creativity, one, in recognizing the problem, but creatively coming up with solutions which protect public safety but also protect the staff and inmates who are in the county jails. Those things just don't happen without people being thoughtful and considerate about it."
In the 2019-20 legislative sessions, Lee prioritized measures for pretrial release reform to move away from reliance on cash bail. He said reducing jail populations is linked to bail reform, but he would bring the issues as separate bills.
"What we're trying to do is help institutionalize some of the barriers that some of the jails have adopted to people coming into jail in the first place," Lee said, "As opposed to trying to figure out how to get them out once they've been processed in."
The ACLU's report briefly touches on data suggesting white offenders seemed to be granted release more frequently than people of color. According to the report, Black people made up 13% of Colorado's jail population in January and 15% in July, while numbers of Latinx people in jail has increased from 22% to 31%.
Maes said she believes the disparities have roots in patterns of harsher charges faced by people of color than white people for similar or the same offenses.
"They would not be the individuals that get the presumption of release or the presumption of personal recognizance bond or the presumption of a summons over arrest," she said. "It certainly points in that direction."