Amazon's new distribution center that's set to open near the Colorado Springs Airport next month is a study in automation — so much so that that robotics is part of the center's name.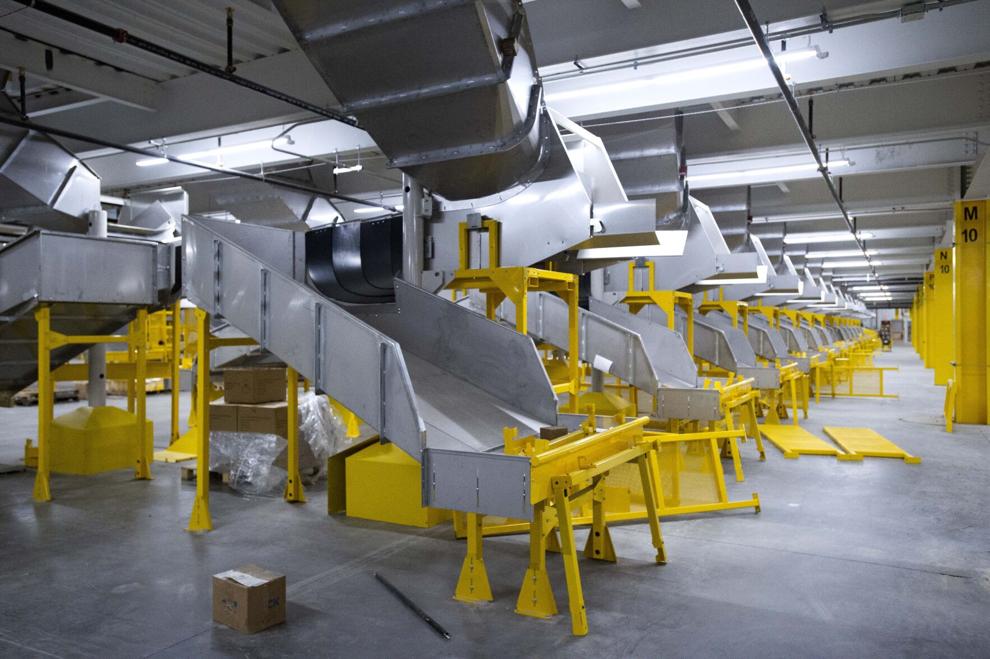 The Amazon Robotics Fulfillment Center will be filled with more than 6,000 robots to fetch, transport and deliver merchandise to the center's more than 2,500 employees to  packaging and shipment to customers. Amazon uses more than 300,000 robots worldwide to reduce workload on employees and speed products to customers.
"This is the newest prototype design for an Amazon Robotics Fulfillment Center and includes groundbreaking new technology, using several thousand of robots," said Nick McKeen, who became general manager of the firm's Colorado Springs center in April after spending the last five years at Amazon fulfillment facilities in Ohio. "It is all designed around how we can fulfill the customer's order the quickest."
The 3.5 million-square-foot building in the Colorado Springs Airport's Peak Innovation Park is one of the largest warehouses in North America, though Amazon is building six others across the nation that are about the same size and use similar technology. All are designed to deliver merchandise to customers in as little as two hours. About 15%, or 26, of Amazon's fulfillment centers use the same robot technology that has been installed at the Colorado Springs center.
Amazon announced Wednesday it plans to begin hiring more than 2,500 workers for the fulfillment center on Monday through its website. The jobs start at more than $15.80 an hour, up to $1,000 in signing bonuses and include health care and other benefits as well as in-house training opportunities for other jobs at Amazon or elsewhere. The center is expected to open in mid- to late July in two phases, first receiving merchandise from vendors and other Amazon facilities by truck. A week later it will start filling and shipping out customer orders.
The center, southeast of Powers Boulevard and Milton E. Proby Parkway, will handle more than 20 million separate items up to 2 feet long, wide or high and weighing 50 pounds or less that range from small electronics and books to toys and other small items. Amazon operates another fulfillment center in Thornton for the same type of items that serves northern Colorado and another center in Aurora for larger items such as televisions, furniture and camping gear that serves the entire state and beyond.
The entire five-story warehouse is designed around pods, 8-foot metal storage racks containing hundreds of plastic bins filled with merchandise. The Colorado Springs warehouse will have more than 100,000 pods that are moved in and out of storage by 300-pound robots that look like giant robot vacuums, which can move up to 1,500 pounds of merchandise at a time and can pivot and lift the storage racks. The center even has a bank of 24 big-screen monitors to keep track of the robots to make sure they aren't malfunctioning or have objects blocking their paths.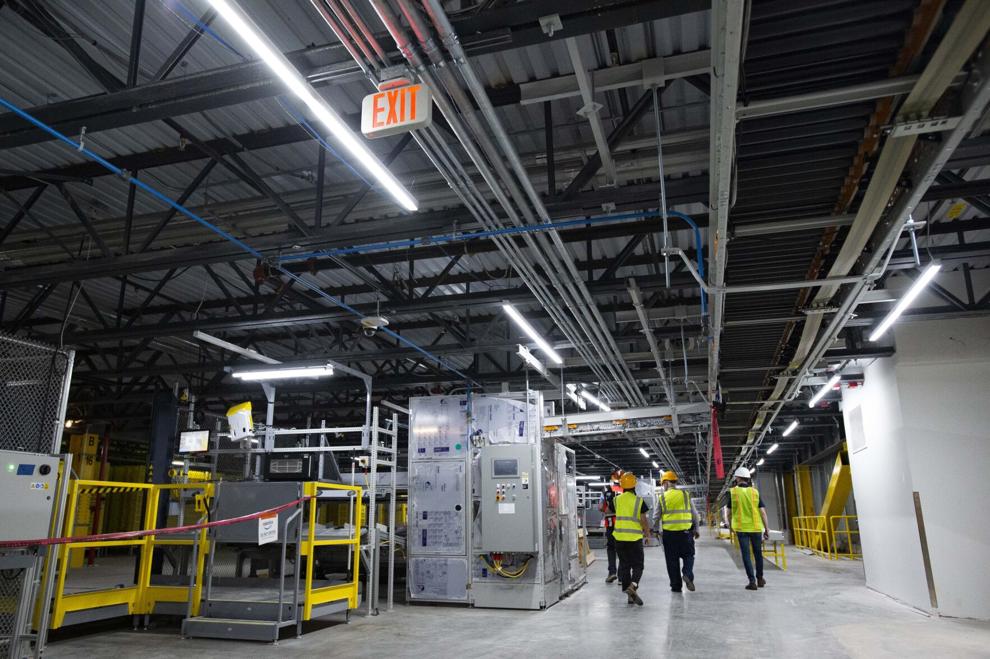 Merchandise will arrive at the fulfillment center  to be placed placed into yellow bins for a trip on the center's 15-mile network of conveyor belts and stored. Each floor covers 640,000 square feet — the size of 12 football fields — and will contain tens of thousands of pods that hold the bins of merchandise. The top floor will contain only merchandise for inventory storage and will be operated by robots with no workers needed.
Amazon's order fulfillment operation is computerized and thus every item is scanned as it arrives, so when a customer orders merchandise Amazon's computer system determines how the company can deliver it to the customer the fastest. The system determines the closest fulfillment center and then finds the shortest route in the center from where it is stored to the nearest "picker" — an employee who removes it from a pod and puts it into a plastic bin that is sent on a conveyor belt to the next step.
The automated system is designed to keep pickers stationary — eliminating 10-20 miles of walking employees would need to do if robots did not bring the pod to them. A lap around each floor of the center is about 1 mile long.
To prevent injuries, picker work stations minimize the amount of bending, twisting and reaching needed to accomplish the job. The system is planned to allow the center to fill nearly 1 million orders daily, meaning each Amazon employee is handling about 400 packages a day.
The conveyor system includes scanners that make sure the right merchandise is being sent to the right customer and then sends the bin to a packing station. Amazon's computer system recommends an envelope or box size for the entire order and a worker puts it all into the container, and a machine measures the amount of tape needed to seal the container and dispenses it for the worker to apply. The box or envelope then goes back on the conveyor belt and through a machine that applies a shipping label.
While the package travels on the conveyor belt, it is weighed to make sure its contents match the order and another scanner reads the label to determine how the package should be shipped. The packages then go down one of more than 400 large metal slides into semi-trucks that will take them either to a sorting center for out-of-town delivery or a delivery station for local customers. In either case, the package won't travel far — a delivery station opened in 2019 just south of the fulfillment center (and two more are under construction or in the planning stages) and a sorting center is under construction just south of the delivery station.
Workers at the sorting center take customer packages arriving from the fulfillment center and sort them by destination to be loaded onto other semi-trucks bound for delivery stations in other cities — the Colorado Springs fulfillment center will fill orders for customers in southern Colorado and parts of adjacent states. At the delivery stations, packages are loaded into vans that deliver them to customer homes or Amazon lockers at convenience stores, Whole Foods markets, GNC stores and other locations.
Amazon did not provide information on when the sorting center will open or how many people it will employ, though a story in the Jacksonville (Fla.) Daily Record said a similar-sized facility planned there would employ 200 people. Construction began on the sorting center in February and planning documents filed with the city of Colorado Springs indicate that construction was expected to take about a year.
The company also has not confirmed plans for either of the two additional delivery stations — one in a former Sam's Club warehouse at 715 S. Academy Blvd. that is being remodeled and a second that will be built on the site of the former Western Forge tool manufacturing plant off Garden of the Gods Road after the plant is demolished. Each Amazon delivery station employs more than 150 people.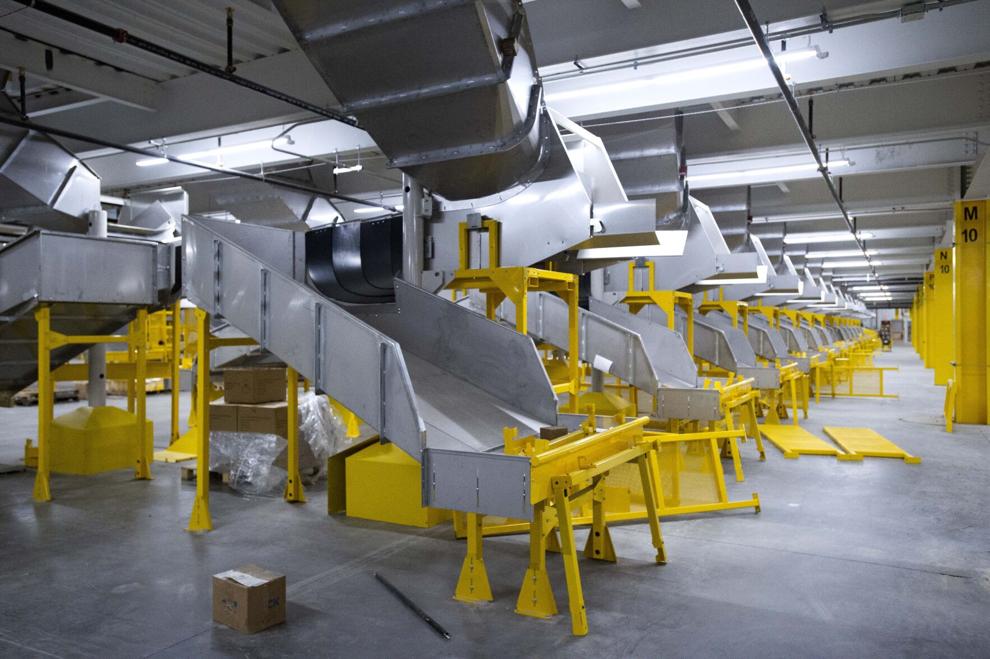 The Colorado Springs center includes scanners at the entrance that determine employees' body temperature, a career center where workers can take advantage of training for higher-paying jobs in transportation, information technology or other fields within and outside or Amazon, a 7,000-square-foot main break room with many dining choices plus four smaller rooms on each floor where employees can take breaks. Scanning systems installed throughout the building also are designed to notify employees when they are too close together for social distancing.