Downtown Colorado Springs is booming with new construction, and Amazon has just inked a deal to build a huge distribution plant at the airport, but downtown and the airport area are considered "distressed" enough to qualify for a new federal program that gives tax breaks to those who invest in such "opportunity zones."
Large parts of southeast Colorado Springs, with one of the fastest-growing poverty rates in the country, was not deemed a good candidate for such tax breaks. That's because the areas selected to become opportunity zones had to meet the federal definition for economically distressed (poverty rate of at least 20 percent and median family income not more than 80 percent of the metro area's median) but also be ripe for private-sector investment.
A 259-room Marriott hotel about to start construction in downtown Colorado Springs will be the first local project to benefit from the 1½-year-old federal program.
Colorado Springs has eight opportunity zones where investors can delay paying federal income taxes on capital gains from investments thanks to legislation signed into law in late 2017 by President Donald Trump. The eight-story hotel that will carry two Marriott brands and open in 2021 is among several projects underway, or being considered, in the local zones. Several other projects in Colorado are being financed by funds based in Colorado Springs that specialize in such investments.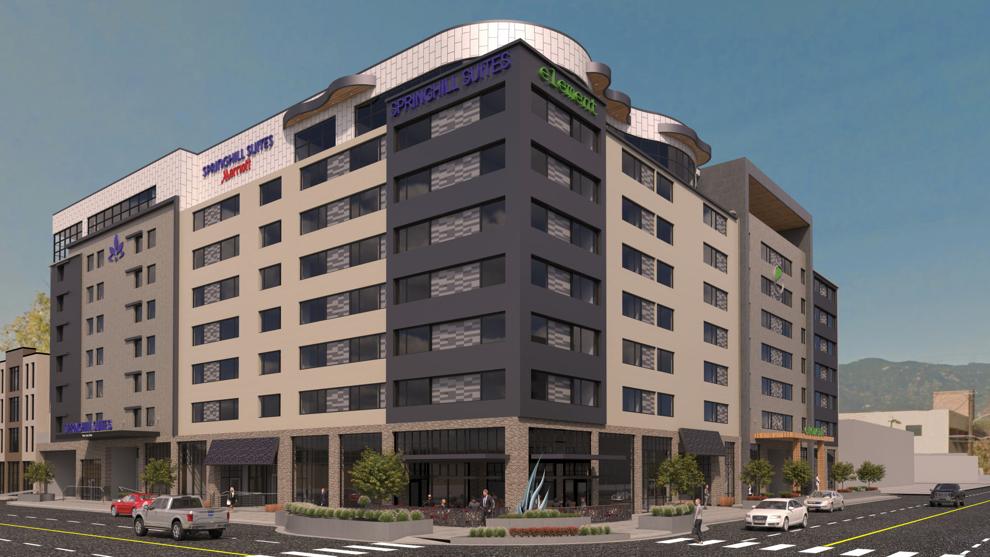 The eight local zones include the Colorado Springs Airport and the adjacent Cimarron Hills neighborhood, a large part of Nevada Avenue north of Fillmore Street, the downtown area and Hillside neighborhood, The Citadel mall and surrounding area, an area northeast of South Academy and Fountain boulevards and a narrow strip of land east of Interstate 25 between Circle Drive and Mesa Ridge Parkway.
Of more than 50 census tracts that qualified in the Colorado Springs area, 20 were proposed by local officials, and the eight were selected by the Colorado Office of Economic Development and approved by then-Gov. John Hickenlooper and the U.S. Treasury Department.
Each of the zones had to be within U.S. Census Bureau tracts considered to be economically distressed but also have enough population and growth potential to attract investment, said Jana Persky, Colorado's opportunity zone program manager. While more than 500 census tracts statewide met distressed criteria, the legislation allowed governors in each state to designate only 25% of them as opportunity zones — 126 statewide, she said.
John Foss, president of The Corundum Group, which invests in opportunity zone projects, points out that much of the investment has been in "accidental" zones that aren't all that distressed, such as downtown and the airport area. While those tracts qualify as distressed under federal rules, development is thriving in both areas. Downtown, apartments and hotels are under construction or just completed. And online sales giant Amazon is building a delivery station in the airport's business park. Fortress Investment Group, which owns and is leasing the airport property to Amazon, didn't respond to questions about whether the station project is being financed as an opportunity zone investment.
Chelsea Gaylord, the city's economic development project manager, said local officials had hoped to include more areas along Academy Boulevard and in southeast Colorado Springs that are much more clearly "distressed" than downtown and the airport. But she said the eight zones include a "good representation of diverse opportunities" in the Springs area. She said any project in an opportunity zone should meet three criteria: that it be suitable for private capital, leverage local resources and address a community need.
"The goal is bump low-performing (census) tracts into higher-performing tracts," Tammy Fields, chief economic development officer for the Colorado Springs Chamber & EDC, said during a workshop on opportunity zones hosted by local accounting firm Stockman Kast Ryan + Co. "Opportunity zones will make a good deal better, but they won't make a bad deal good. One of the challenges is identifying sustainable projects that make sense. Affordable housing is the low-hanging fruit here — we will see a lot more of that (in these zones) over time."
Foss said Corundum Group, his Colorado Springs wealth management firm, has invested in three funds that finance zone projects, including the downtown hotel and a multifamily housing project in Colorado Springs that has yet to be announced. A larger fund is investing in multiple opportunity zone projects nationwide.
The program allows investors in opportunity zone projects — which can include residential and commercial real estate as well as operating businesses — to delay paying federal income tax on investment profits until 2026. If they don't cash out of the projects for 10 years, the increased value of the property or business is exempt from capital gains tax. To get the maximum tax benefit from zone projects, the investments must be made this year. The IRS is still finalizing detailed rules for the program.
"There are a lot of major funding companies rushing into this space — it is the new gold rush," said Jim DiBiase, a partner in the downtown hotel project and a director with Olive Real Estate Group. "The after-tax returns (of projects in opportunity zones) are about 50 percent higher than those outside an opportunity zone. There is a lot of money coalescing around this program; there is more money than deals because there aren't enough shovel-ready projects available" in opportunity zones.
Several speakers at the opportunity zone workshop emphasized that any project in an opportunity zone needs to make economic and financial sense to realize the zone's advantages. The tax benefits available in the zone can increase profits for investors, but a project has to make a profit for investors to realize the bulk of those benefits.
"Opportunity zone benefits are the cherry on top of the investment. The deal has to make economic sense to begin with," said Jared Usery, a senior tax consultant for Stockman Kast Ryan + Co.
David Steigerwald, managing partner for local law firm Sparks-Willson, called opportunity zones "another tool" for investors and developers, who should first determine whether the significant compliance costs are "worth the effort" of making an investment in a zone project. Opportunity zone tax benefits can be combined with other economic development incentives such as federal foreign trade zones, state enterprise zones and local urban renewal areas.
Developers likely will need to "layer on" other incentives on top of the tax benefits in opportunity zones to make projects work financially because of the "nature of the areas" in the zones and a booming local economy making development projects more expensive, DiBiase said. The Marriott project is also in an urban renewal area and in El Paso County's enterprise zone, which carry local and state tax breaks.
The downtown Marriott project didn't start out as an opportunity zone project; DiBiase and partners started planning the project in 2016, long before the tax legislation that established the zones was enacted. The partners shifted to funding the project through the zone about a year ago. They combined a fund for such investments with a construction loan to finance the entire cost of the hotel.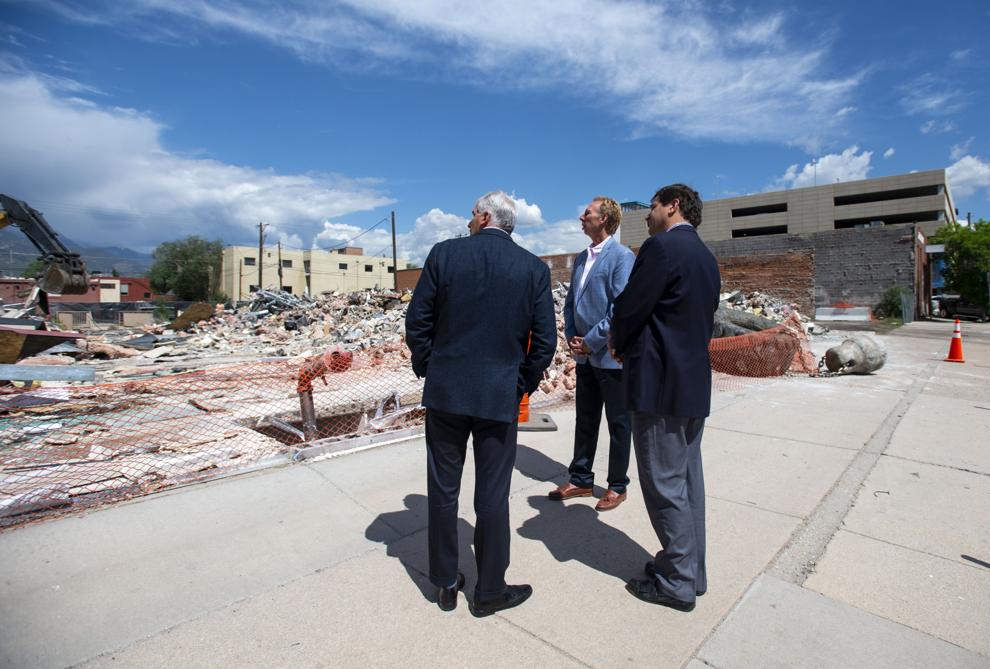 Demolition began last month on the hotel site, which previously housed the Al De Mark auto repair shop, a vacant lot and two small office buildings. A formal groundbreaking is planned June 17. The hotel will operate under Marriott's Elements and SpringHill Suites brands and include an underground parking garage, ground-floor and rooftop restaurants, a bar, a fitness center, an indoor swimming pool and an outdoor courtyard.
DiBiase's partners include Kevin Engelhardt of Hotel Operations Services in Monument, Springs general contractor Vince Colarelli and Hotel Equities, an Atlanta-area company that will operate the hotel. The investors include the Corundum fund, one other major investor DiBiase declined to identify and 12 individuals from Colorado Springs and elsewhere.
"We believe this project will have tremendous community benefit, which is what opportunity zones are supposed to create. We are taking a blighted area and creating more than 200 jobs and a multimillion-dollar payroll," DiBiase said. "We will be bringing in a lot of economic benefit from outside the community."
Other local opportunity zone projects include:
• A $60 million, 75,000-square-foot data center in the 65-acre T-5@Colorado Data Center business park on Janitell Road southeast of Interstate 25 and Circle Drive is planned to begin construction this fall and be completed in about a year, said Colarelli, who also is a partner in the T-5@Colorado project. The data center, which houses computer servers that store massive amounts of data or operate websites, will be leased to multiple tenants, he said.
"The opportunity zone was helpful for encouraging investors to back the project. It would happen without it, but it has enhanced interest in the project," Colarelli said.
• The Kinship Landing boutique hotel project at 421 S. Tejon St. in downtown Colorado Springs that will include 82 beds in 27 private rooms, seven suites and six shared dorms. Construction began in January and is expected to be completed sometime next year, said Bobby Mikulas, a partner in Kinship Landing. The four partners have started a fund for investors who can gain zone tax benefits by investing in the project.
"We didn't set out to be an opportunity zone project, but once we purchased the land and learned it was in a zone, we wanted to provide that resource to our investors," Mikulas said. "We think the hotel will be an asset for people who live or visit here. The hotel is designed to be a place where locals and visitors can come together over outdoor recreation."
• The multifamily housing project in Colorado Springs to be financed by the Corundum fund. No details are available on the size, location or cost since plans have not yet been submitted for city approval.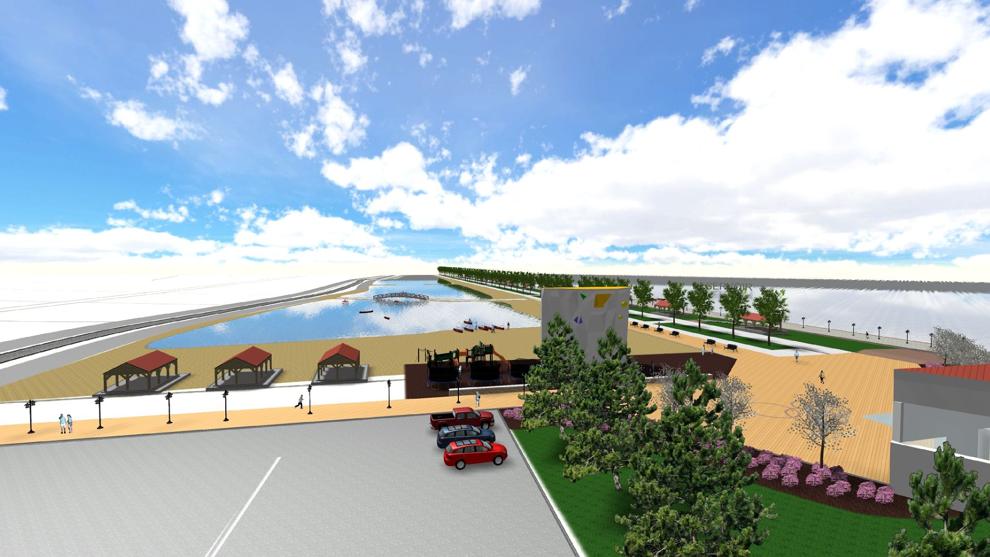 Elsewhere, an opportunity fund based in Colorado Springs plans to spend $30 million building a 300-acre reservoir in the northeastern Colorado city of Sterling to provide 5,000 acre-feet of water for municipal, recreational, industrial and agricultural uses. OPZ Funds plans to finish its "due diligence" investigation of the project by year's end. Construction would be completed within 30 months, said Gordon Beckhart, the fund's manager.
OPZ Funds also is considering building a
60,000-square-foot office-warehouse complex in one of the eight local zones, likely in southeast Colorado Springs, to house small distribution contracting and manufacturing tenants. Beckhart said he hopes to raise $5 million to $8 million for the project by the end of the year and complete construction in late 2020.
Colorado Springs Pioneer Community Investment Fund was started in 2017 by Christopher Cipoletti and Chris Franz as a private equity investment fund to acquire advanced manufacturing and other similar types of businesses in the Colorado Springs area. The fund can make opportunity zone investments, but its March purchase of Integrity Welding & Fabrication was not structured as a zone investment. Franz said the fund is looking at another acquisition that would be an opportunity zone investment.
Other projects in Colorado opportunity zones include the 250-acre JAG Logistics Center business park near Denver International Airport, where a 1 million-square-foot facility is under construction; an apartment complex in Lakewood; and the 164-acre Colorado Outdoors Project business park for outdoor recreation businesses in Montrose.
Nationwide, big names like Goldman Sachs, Brookfield Asset Management and others have jumped into the opportunity zone game, but few projects have been started in the nation's more than 8,700 zones. For example, Amazon said it wouldn't seek such tax breaks for its now-abandoned plans to build a second quarters in Long Island City, N.Y.