In one of Dawn Corbelli's last memories from their "life before," she and her 15-year-old daughter, Veronica, are heading out to buy Valentine's Day cards, as the sun sets sharply in the west.
Veronica is behind the wheel of the family's Honda Civic, because she's got her permit and wants the practice. As they roll toward what then was a stop sign at the intersection of Bradley Road and Powers Boulevard in Colorado Springs, Greg Corbelli drives by on his way home from work.
Veronica flashes her dad the hand symbol for "I love you" from behind the closed car window — a fist, with forefinger, pinkie and thumb raised.
He signs "I love you" right back.
Weeks later, from her bed in the rehab unit at Memorial Hospital Central, Veronica would use the same gesture to let her parents know she was still there, locked inside a shattered body that had defied the odds and survived.
Survival, though, was only the beginning.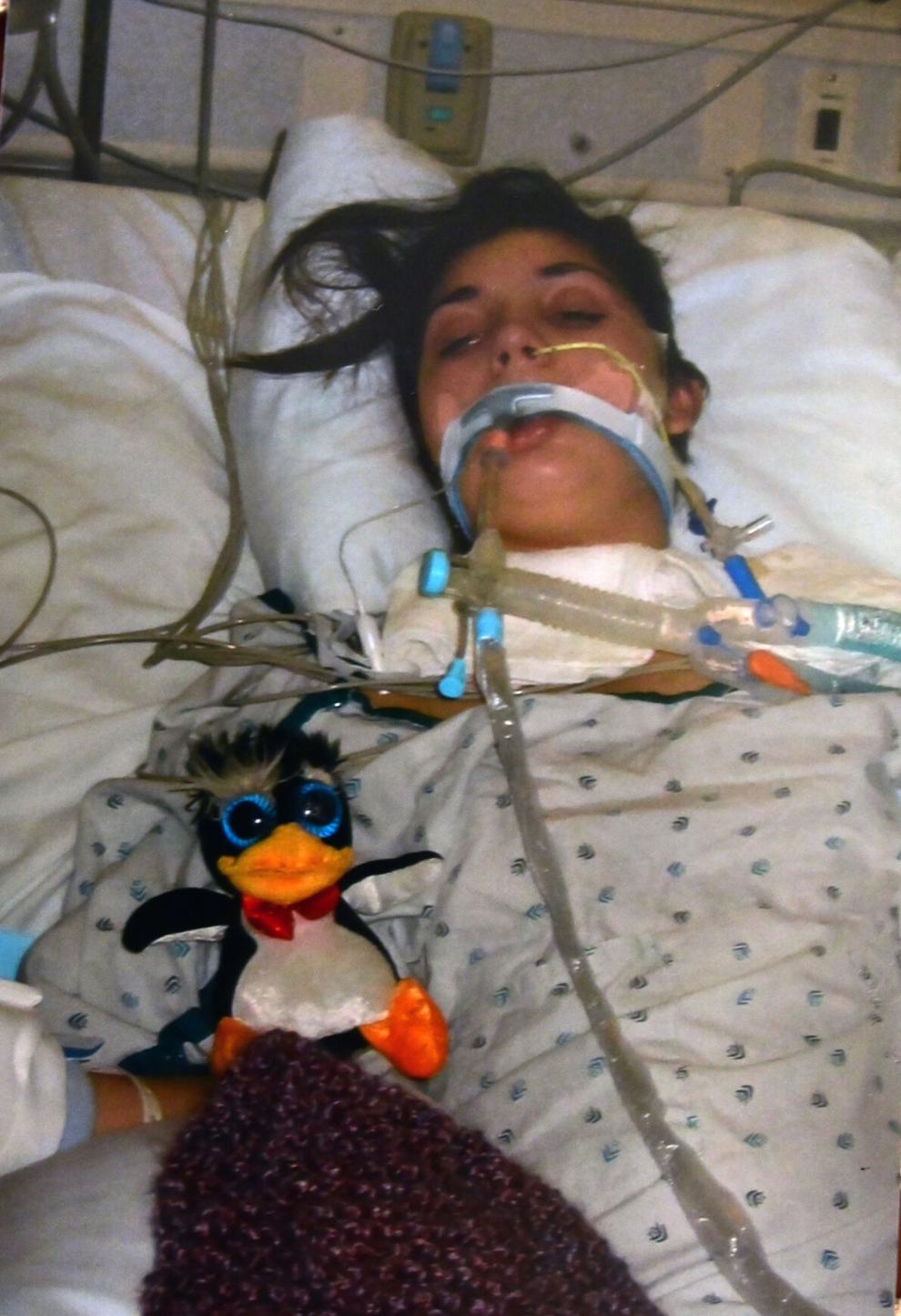 "Life is very lonely after a traumatic brain injury. You lose all your friends because your behavior is very different and life becomes very scary and isolating," Dawn said. "I know it probably sounds strange to hear, but I'm grateful I got in the accident with Veronica. At least we could go through it together."
It's said that trauma can either rip a family apart, or bring it closer together. The truth, however, is rarely so analog.
"They are quite a family to go through what they did, in the circumstances with both of them being hurt — which is rare for my field," said rehabilitation neuropsychologist Dr. Michael Nunley. "You rarely have family members coming in at the same time, and that just added an extra layer to a situation that already was a horrible one for any parents."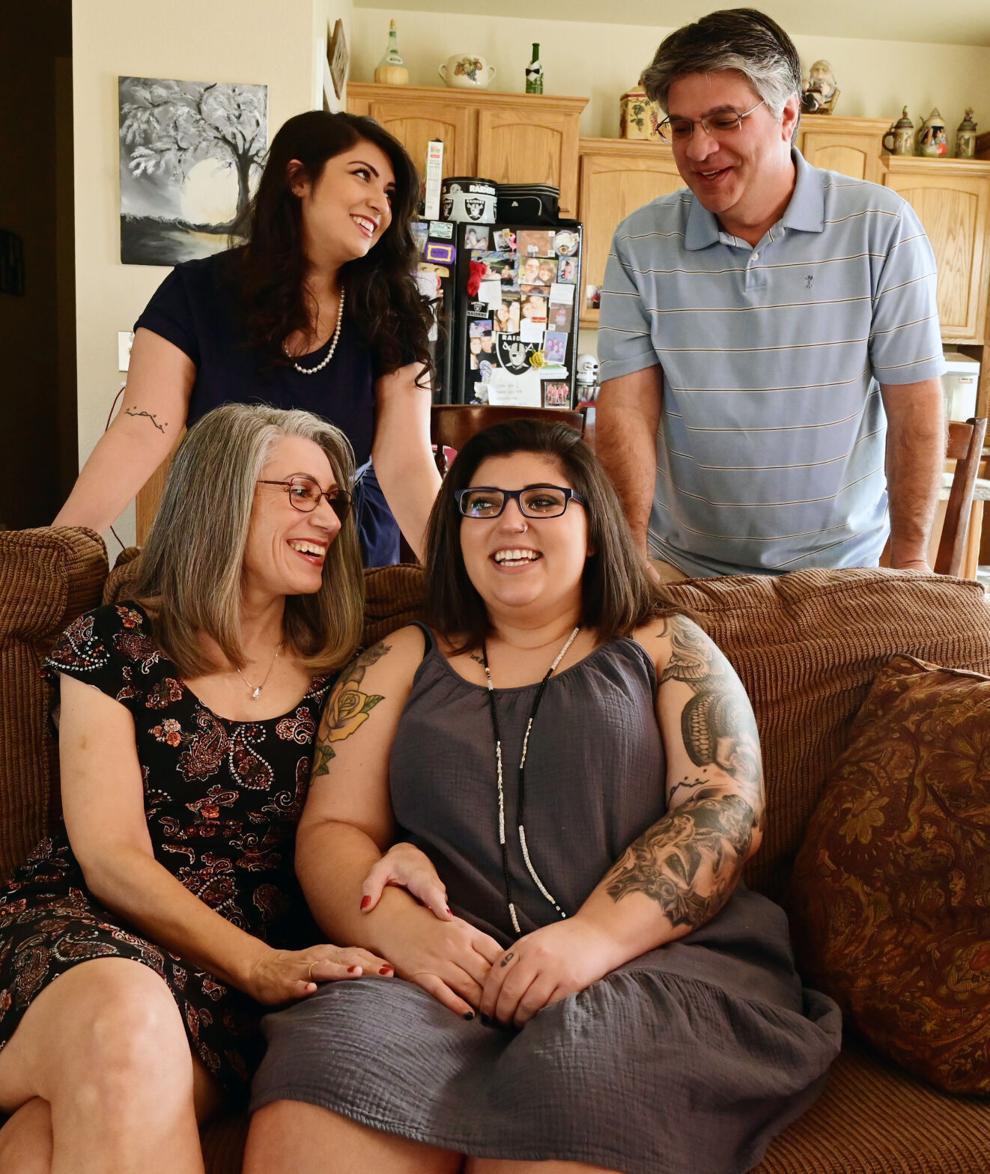 The Corbellis are not the family, or people, they were before the accident. Accepting that difficult new reality is one reason why they made it, said Dawn.
"You have to change your expectations about everything, about yourself, your family, your child. I think that's been the hardest part for all of us … and one of the greatest blessings," she said.
The day of the wreck, Dawn remembers squinting against the glare of the sun as cars whizzed by and Veronica waited to turn left onto Powers Blvd., across two lanes of traffic. The truck that T-boned them was going 60 mph, according to the accident report, which found Veronica to be at fault. The impact catapulted the Honda more than 130 feet, crushing the driver's side and pinning Veronica against the steering wheel.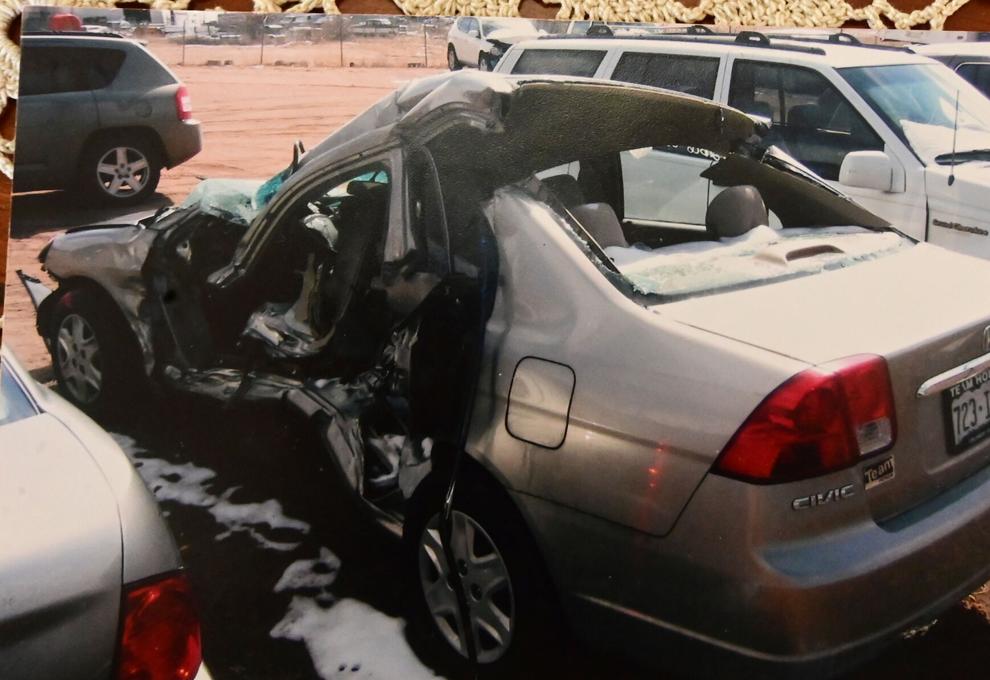 "We didn't see them. They didn't see us. There were no skid marks," said Dawn, who sustained five breaks in her pelvis, a broken sacrum, concussion and gash on her head.
Veronica's injuries were worse. The crash broke both her hips, her ankle, crushed her pelvis and paralyzed the left side of her body.
The injuries to her brain, though, were so severe ICU doctors told Greg to prepare himself for the worst.
"Her brain stem was sheared. Her frontal lobe was like 'scrambled eggs.' That's what the doctors called it," said Dawn.
Mother and daughter were rushed to Memorial, where Veronica was in a coma for three weeks. When she awoke, it was into a state her family at first struggled to understand.
"A lot of us have heard of vegetative state, but I'd never heard of minimally conscious state, and that's where she went after that, where you're sometimes aware of your environment, but other times you're not," said Dawn, who every day made her way from her own hospital room to her daughter's, where she would slide in bed beside her, to snuggle and coo words of hope and encouragement.
You can do this, baby girl. We love you so, so much.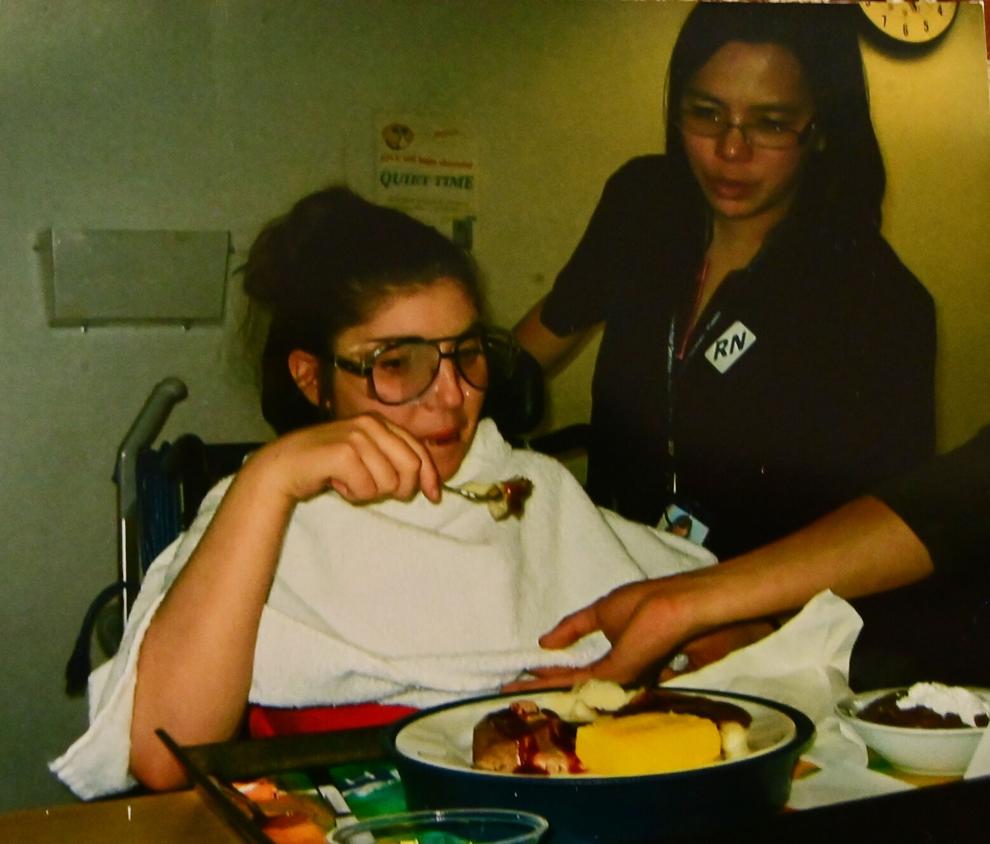 Slowly, Veronica began to emerge, into a body that had to relearn everything: how to eat, walk, and communicate. Over three months of endless, excruciating days of therapy, she progressed from hand signs of "I love you" or a snap of her fingers, to words and then phrases, delivered in a breathless, forced whisper. Leg-lifts, with an assist, in the hospital bed eventually to halting walks down the rehab center's hallway, at first with walker, then without.
"I had seen patients in similar circumstances and saw them recover, but she had a long way to go," said Dr. Nunley, who met Veronica and Dawn when both were going through rehabilitation at Memorial. "But Veronica did the work. The rest of us sat back and enjoyed watching her improve.
Brain injury patients who survive the original trauma long enough to make it to rehab typically do improve. Preparing a family for the long road that still lies ahead, after the hospital, is a much more nuanced and challenging task, Nunley said.
The person returning home might look like the loved one you've always known — and they are — but they're experiencing the world through circuitry that's been jumbled and rewired.
"So we all have thoughts and memories of our family and our friends, and all of a sudden there's a different person there. Sometimes that's pretty hard to adjust to. Sometimes you can't adjust to it," said Nunley, who is now retired but remains active in the brain injury support community. "I've had some cases, especially younger couples who were maybe engaged, not married yet, where they finally looked at the situation and said 'I can't make this change,' and they went their separate ways. And that's hard to watch."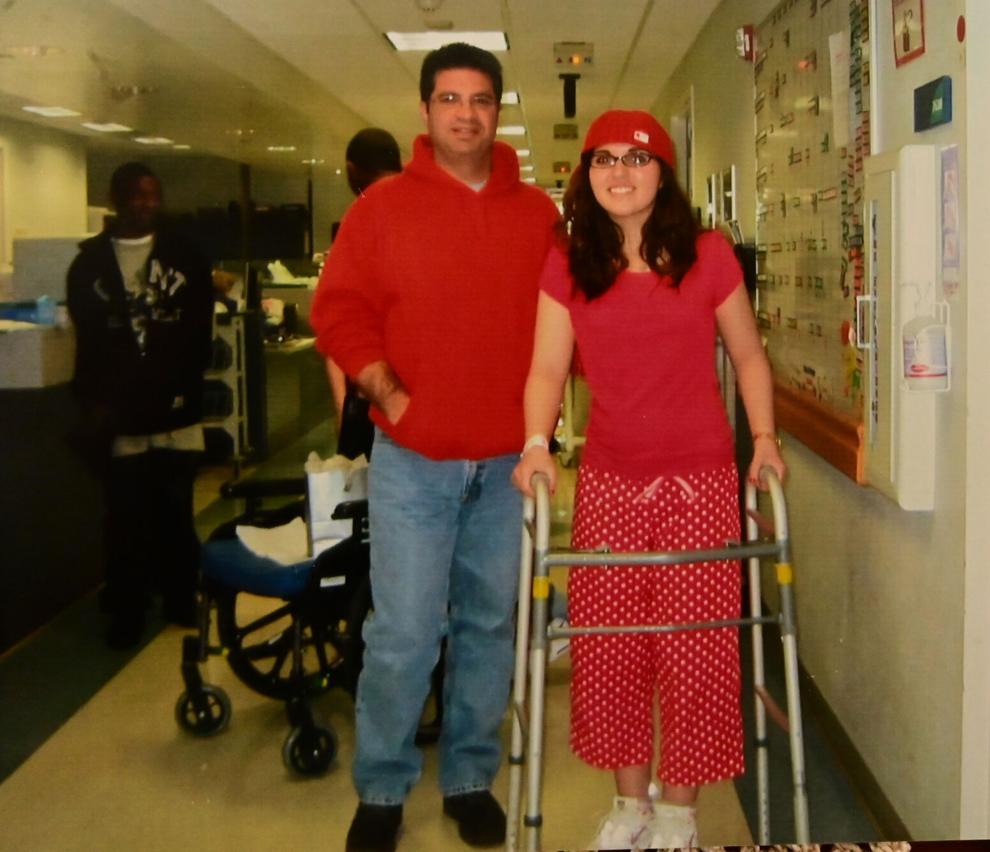 Even under the best of circumstances and outcomes — the Corbellis being such a case — the injured person is "a very, very different person."
"That becomes hard for a family, when someone who is almost an adult now is totally changed … and, in many cases, needing to be monitored in many ways like a child," Nunley said. "And I told Dawn, there's going to come a point, you're going to get upset at your daughter. Even though, at first, there was no way Dawn could ever imagine being upset at her again … ."
No words or advice could have prepared them for what was to come, though, after Veronica was discharged from the hospital on her 16th birthday, May 9, 2008.
Veronica was no longer the "bubbly, quick-witted, happy, daring, energetic, kind, funny and entertaining" teen, who would come from school and lay on top of her mom on the couch, face-to-face, to tell her all about her day.
Her language could be perverse, her behavior inappropriate and her personality abusive. She would flirt with, or even pull up her shirt, in front of strangers. 
"Imagine having to get to know your own child again, after 15 years?" said Dawn, who still had a long, personal healing journey to travel.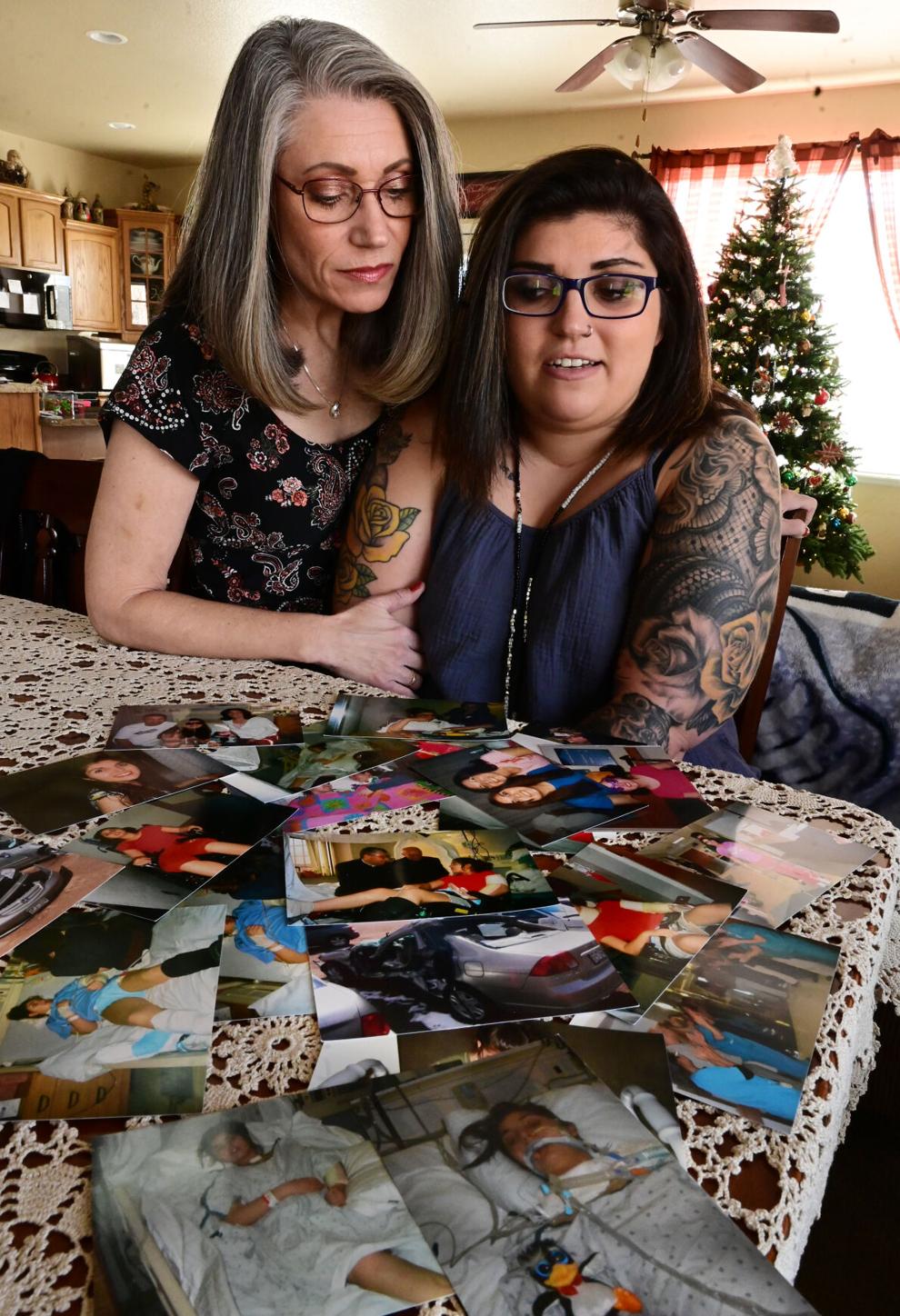 Dawn was dealing with the fallout from her own injuries, including a brain trauma that triggered a cascade of mental and psychological problems. The mother of two, who'd served in the Air Force earned a Bachelor's Degree in Applied Behavioral Science suddenly couldn't remember anything unless she wrote it down.
She started journaling every day while Veronica was in the hospital, so she wouldn't miss anything. Those entries became the notes she would use to write "A Miracle a Day, One Day at a Time," a book she self-published last year as a way to make sense of her family's story — and hopefully help others who are navigating the mostly-uncharted waters of life after a traumatic brain injury.
"Our lives had been simple, fun, easy-going, happy – a home filled with people and time spent loving and sharing with each other and so many outside our home," she wrote. "Our brain injuries made us strangers to our previous lives — to our loved ones, our friends, and most sadly, even to ourselves."
While Veronica was in the hospital, her boyfriend, friends from high school, and friends of her older sister, Kylie, stopped by regularly. The steady stream of visitors was so much that Greg had to ask school officials to make an announcement: No more visits in the ICU. She was too weak.
"Everyone was so supportive and excited to see Veronica's progress … until she got out of the hospital," Dawn wrote. "Many of our friends found the change difficult to accept."
When she first started writing the book, every paragraph left her so distraught she would abandon the pages to run to her daughter's room, climb in bed with her, and cry.
Today, she tells the story — and revisits those moments — through a smile. 
Veronica is 29. She lives at home, and likely always will, due to the many neurological complications she continues to face. Her decision-making skills are poor, and she still occasionally acts or says things that are inappropriate. She's the sweet, funny and caring girl who climbed into that car almost 14 years ago, only a different version. 
"Veronica is the best she could possibly be, and we love her so much," said Dawn, whose daughter was able to graduate on time, with her class, in 2010.
The Corbellis have made a new life, in a new home, with many new friends and a perspective that focuses on and celebrates the little victories, the everyday miracles.
Veronica loves that her mother wrote a book, especially because it might help other families. She hasn't read it, though, because she knows it will take her back to a place she's already been — in a sense, twice.
She remembers how her mom would wake her up in the morning, in tears and needing to talk about what she'd just written.
Veronica would hold her tight and whisper in her ear, reminding her that that was the past:
"Mom. I'm still here. I'm OK."