"The challenges have been unprecedented, but so have our victories."
That's how Senate President Leroy Garcia, D-Pueblo, began his last opening day speech to lead off the Colorado state Senate for the 2022 session.
He reflected on the efforts over the past two years, dealing with the pandemic, as well as other changes: cutting taxes for small business, improving schools, expanding access to childcare, investing in rural communities and improving the state workforce.
This isn't a victory lap, Garcia said. Instead, he noted the chamber convenes "under the shadow of a prolonged period of statewide grief," including shootings in Aurora, Denver and Lakewood and the devastating fire in Boulder County just two weeks ago.
It's easy to focus on what divides us, Garcia added, "rather than on the shared responsibility each of us has to make sure these tragedies" are calls to action, not just headlines.
Garcia pledged to make transformational change in 2022, with efforts to spend billions of dollars from the federal government through the American Rescue Plan Act on behavioral health and affordable housing. The 2022 Senate also will focus on help for small business, public safety, student success and more, he said.
"Our legacy will be measured not by whether or not we resolve all our problems in the next 120 days," Garcia added, but by how lawmakers use those days to pursue "a more perfect Colorado."
He also thanked first responders who have kept the state safe and healthy, as well as his two sons, his parents and friends in Pueblo who put their trust in him to represent the community. He called that the honor of a lifetime.
While the speech was light on specifics, remarks from Senate Minority Leader Chris Holbert, R-Douglas County, were focused on detailed proposals.
Holbert is also in his final year in the state Senate and told Colorado Politics recently he's eager to get back to the private sector.
In his final opening day remarks, Holbert began with addressing the Marshall fire.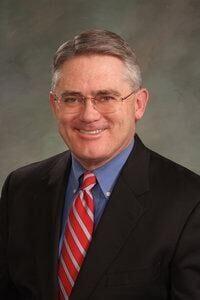 He first in spoke to the families in Marshall, Superior and Louisville, saying he was sorry for their loss. He thanked first responders for risking everything to save what was left, the American Red Cross and other organizations who contributed to the recovery, and insurance companies for working to connect residents with resources.
Holbert noted it's been 20 years since he first looked into the Senate from behind the glass partition with "a sense of wonder." At 60, he said he looks back at the wide-eyed and eager 40-year-old man and is "humbled by the honor and privilege it is to be in here."
Holbert also saluted term-limited and departing senators, including Sen. Jerry Sonnenberg, R-Sterling, who will end his legislative career after the full 16 years, four terms in the House and two in the Senate.
On the issues, Holbert said Colorado is less affordable than it was a year ago, families are less safe and students are further behind.
He blamed that on one-party control of state government.
He noted over the past two years, people have demanded immediate action from its legislature, but time after time they are met with the reality that the General Assembly is a part-time seasonal, citizen body.
Holbert said years of "reckless spending" in Washington, D.C. has driven inflation to a 30-year high, taking $3,500 out of the pockets of families, and despite billions of dollars in federal money available, Democrats are adamant that there is a structural deficit and they're hiking fees, taxes and tariffs.
Holbert also addressed the lack of affordable housing, calling for multi-family, owner-occupied housing, and greater opportunities for people "of limited means to achieve the dream" and the long-term wealth-building opportunity of home ownership.
Republicans hear the cries of those struggling under the higher cost of living, he added.
Holbert outlined some of the bill his caucus will carry in 2022. Those include:
A bill from Sen. Rob Woodward, R-Loveland, to allow struggling Coloradans to deduct rent costs from income taxes
Another from Woodward to allocate some of the state's revenue to shore up the unemployment insurance trust fund
A bill from Sen. Dennis Hisey, R-Colorado Springs, to make all food exempt from sales taxes, both in grocery stores and restaurants
Holbert also addressed the crime wave, noting more than 300 people were murdered in the state last year, and ranked second in the nation for car thefts. A bill from Sen. John Cooke, R-Greeley, will focus on grant programs to help law enforcement hire more officers.
As to education, Holbert noted that 50% of students in grades three, five and seven are not meeting grade level expectations in English and math. High school graduation rates rank 41st in the nation, and a third of those headed to college require remedial education.
Sens. Paul Lundeen, R-Monument and Barbara Kirkmeyer, R-Brighton, will sponsor a bill to pay off the 12-year old debt to K-12, known as the budget stabilization factor, in the 2022 session. Sen. Kevin Priola, R-Henderson, has a bill to allow parents to "take control of their schools and convert failing schools into public charter schools."
"We hope our colleagues across the aisle give these bill the consideration they deserve," Holbert pleaded. "Let's get to work."