The Elections Division of the Secretary of State filed a lawsuit Friday against Mesa County Clerk and Recorder Tina Peters. The lawsuit, filed with the Office of Administrative Courts, alleged Peters failed to file campaign finance reports, failed to register as a candidate for re-election and accepted donations above the state's legal limit, as she continues to solicit contributions for a re-election bid.
The lawsuit, as first reported Monday by Charles Ashby of the Grand Junction Daily Sentinel, arises from two campaign finance complaints filed against Peters by Scott Beilfuss, co-chair of the Mesa County Democratic Party. The new lawsuit combined the two complaints. 
Peters could not be reached for comment on Monday.
The Office of Administrative Courts handles campaign finance lawsuits after the Secretary of State's Office reviews those complaints.
In the lawsuit, the Secretary of State's Office claimed Peters is running for re-election, as evidenced by a website that collected campaign donations on her behalf and by statements Peters made, both publicly and on Facebook. "Ms. Peters appears to have actively solicited contributions on her candidate webpage and on a litigation support website, and accepted contributions from third parties," according to the lawsuit, filed Assistant Attorney General Emily Buckley.
The lawsuit noted that under the state constitution, "An individual becomes a candidate when they publicly announce their intent to run for office and thereafter receive a contribution or make an expenditure in support of their candidacy."
Peters has not yet filed a candidate affidavit for re-election, nor has she filed a campaign committee to collect or spend donations on her behalf, both required by law once a candidate has announced for election. The lawsuit noted the Peters website uses the same name as the one for her 2018 election bid, and the post office box accepting donations is the same one Peters used then. That website also states in multiple places that Peters is running for re-election, the lawsuit stated.
Peters uses two websites: one for a 2022 campaign bid that at one point had a donation page, and a second, for legal expenses, which is the subject of the second Beilfuss complaint, filed Sept. 24. A check of the Peters website shows the donation page has been taken down, although it was active in August. The StandWithTina website has an active donation page.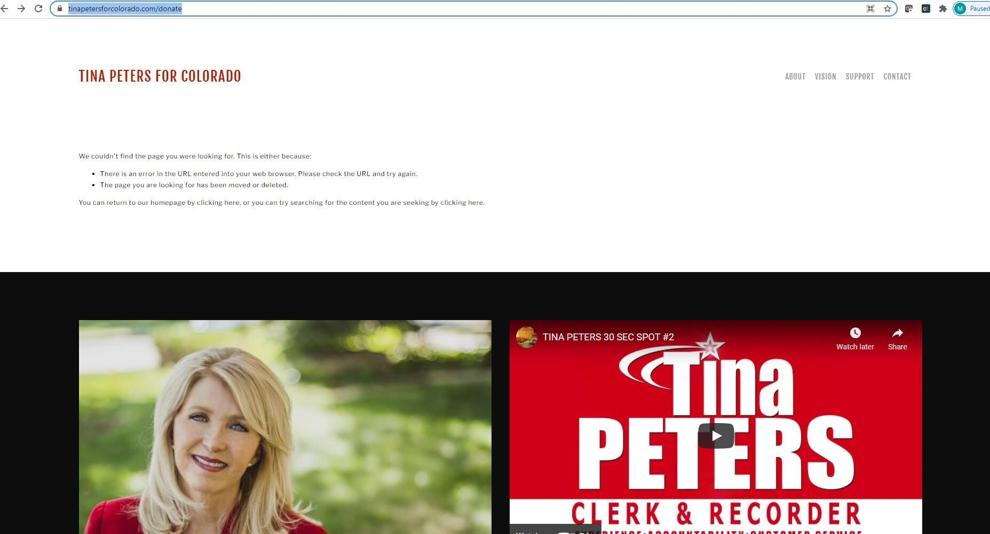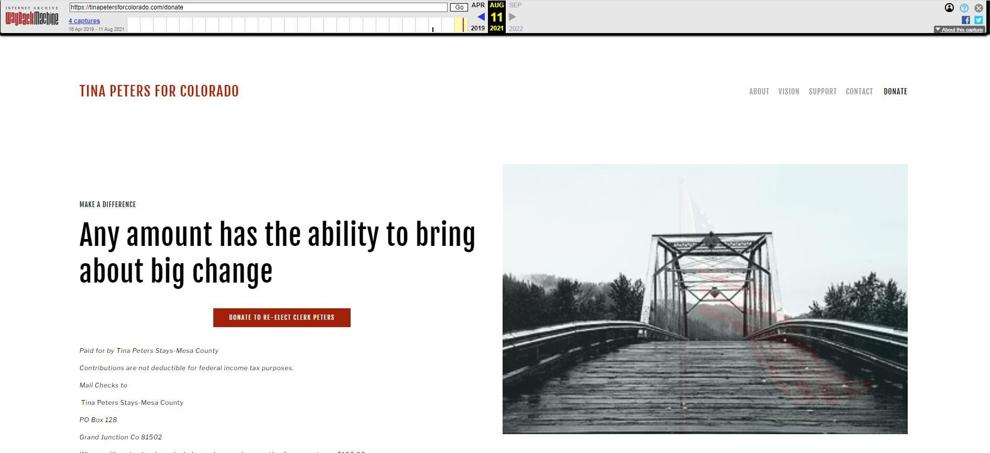 Beilfuss filed the first complaint on Aug. 16, tied to Peters' trips to South Dakota to appear at a cybersecurity symposium hosted by conspiracy theorist and MyPillow CEO Mike Lindell. Beilfuss alleged the plane trips and any other costs paid for by Lindell constitute a campaign contribution that was never reported to TRACER, the Secretary of State's campaign finance database. The lawsuit alleged that Lindell's contributions exceeded allowable limits.
The donations don't fit under Colorado's campaign finance laws, the lawsuit claimed, because they aren't payment for legal fees designed to advise a candidate on compliance with campaign finance laws or to represent a candidate who is a defendant.
Peters last filed a campaign finance report with the Secretary of State's Office on Nov. 1, 2019. The office gave her two opportunities to fix the problems alleged in the complaints, but her campaign failed to do so, according to the lawsuit. Peters terminated her 2018 campaign committee in January 2019. 
"The Campaign Enforcement Team could not conclude that Ms. Peters had cured or substantially complied with her legal obligations," the lawsuit stated.
According to the state's campaign finance manual, failing to register a candidate campaign committee could result in a fine of up to $5,000. Failure to file reports can result in a fine of $100 per report plus 5% of the activity not accurately or completely reported.
Failing to file a candidate affidavit can result in a fine of "at least $100." Contributions that exceed allowable limits can result in a fine of "at least $250 per violation and an additional fine of up to 25 percent of the amount of the prohibited activity. The Secretary of State's Office also can take into account mitigating or aggravating factors in making decisions to decrease or increase fines.
Secretary of State Jena Griswold removed Peters from overseeing the Nov. 2 election through a lawsuit. Griswold named her predecessor, Republican Wayne Williams, to run the election alongside Sheila Reiner, the Mesa County treasurer and a former Mesa County clerk and recorder, to oversee the the election for the county. Peters allegedly allowed a breach of security in the Mesa County elections office that resulted in the county having to replace its Dominion Voting Systems equipment.
Dominion is at the center of still-unsubstantiated claims that the 2020 election was stolen from President Donald Trump.
Peters is under a criminal investigation by the District Attorney of the 21st Judicial District, an investigation being conducted in conjunction with the Colorado Attorney General. She is also the subject of a complaint under preliminary review by the Colorado Independent Ethics Commission, which is scheduled to meet on Nov. 16.