Teller County will receive a share of $1 trillion infrastructure bill passed by Congress this month. With the funds, the amount of which hasn't been determined, some projects in Teller County have moved up the priority ladder.
"There is going to be a tremendous amount of additional money to the state's transportation coffers," said Teller County Commissioner Erik Stone in a report to the commissioners Nov. 18.
A project to add shoulders to US 24 will move faster than planned with the infrastructure funds, said Stone, who represents the county on transportation issues on the Pikes Peak Area Council of Governments.
In addition, the funds will be used to add pull-out areas on North Colorado 67, between Cripple Creek and Divide, along with improvements to the highway shoulders. "Those projects were originally planned for a 5- to 10-year window but are moving up to a 1- to 4-year window," Stone said.
As well, the infrastructure bill makes $1 million available for fixed-route transit projects in the western and southern edges of the county, Stone said. "These are mostly for our senior population. Those projects will happen a lot faster as well."
On the COVID-19 front, 57.1% of eligible county residents are up-to-date on their vaccines, said Sheryl Decker, county administrator. "We have administered 142 additional first doses; that's good. We had 77 new cases in the last week."
To date, 3,132 cases of COVID-19 have been reported in the county, 55% of them in Woodland Park, 8% in Cripple Creek, 15% in Divide, 20% in Florissant and 2% in Victor. Currently, there are nine residents hospitalized with the disease, and 40 people have died of COVID-19 in Teller County.
"Every loss of life here is a person who is not just dying of the flu," said Commissioner Dan Williams. "We take this very seriously, the 40 deaths in Teller County."
Stone added that 90% of those residents hospitalized with COVID-19 were unvaccinated. "Of the 40 who died, all of them were unvaccinated," Stone said. "We want to make sure we are providing actual data, facts based upon real-life outcomes here in Teller County."
In other business, the commissioners approved the application of Newmont Corp. Cripple Creek & Victor Mine to:
increase leach capacities for 2023-2031
increase the life of the mine by six years
increase process solution recovery on site by six years
extend final reclamation and closure by eight years
The commissioners approved the resolution on two conditions, that CC& V maintain compliance with state, federal and local agencies regarding mining operations and that all material representations of the mine be considered binding.
For the employee service awards, Teller County Commander Kevin Tedesco paid tribute to four officers — Detention Officers Alexander Salmons, Travis Davidson, Audra Pflug and Allen Arendt —who saved the lives of jail inmates who, at different times, were attempting suicide.
In addition, sheriff's dispatchers Shannon Gomez and Jessica Flores received certificates of appreciation for their ability to handle multiple calls a day, many of them from people in crisis.
On another note, Undersheriff Stan Bishop issued the oath of office to detention officers Marcus Woodward and Kara Wright, who were each promoted to the rank of corporal.
In other business, the commissioners approved the Emergency Operations Plan for Teller County, a project of Don Angell and Becky Frank, director and assistant of the Office of Emergency Management, respectively.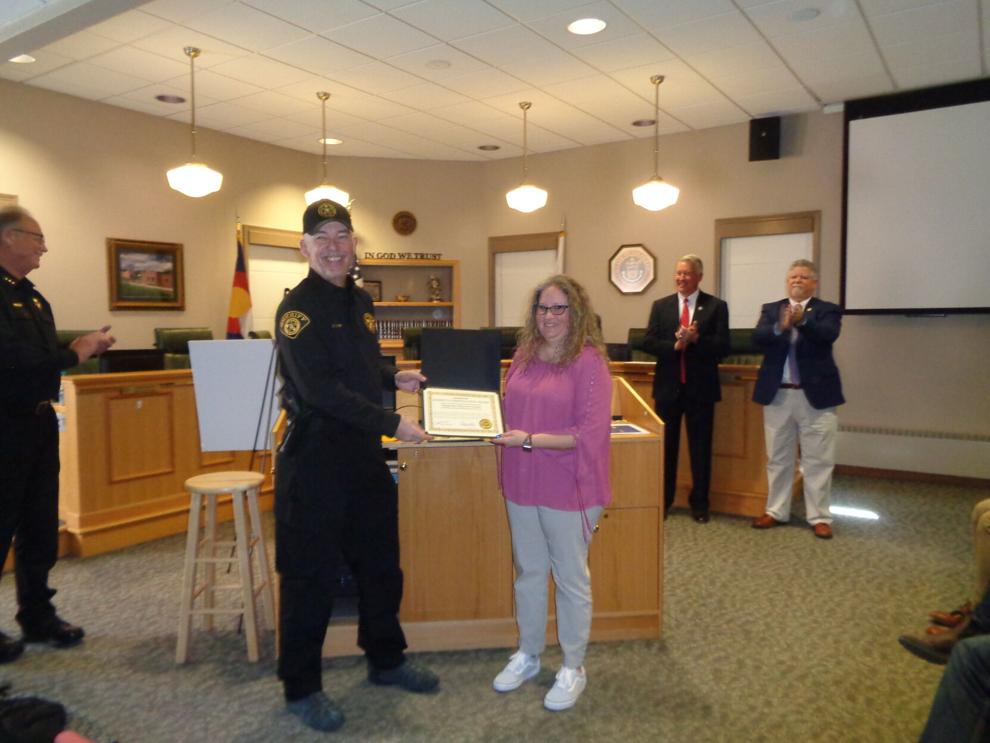 Cripple Creek Mayor Milford Ashworth reported that the police department is short-staffed on officers. "We should have 15 officers, but we have seven who are working lots of overtime," he said.