Michelangelo saw the angel in the marble and carved until he set it free.
Johnny Busby sees the bear, eagle or bigfoot in a tree stump, and whittles at it with a chainsaw until he sets it free.
"I work with pine a lot, so with pine it's just a cylinder and everything's got to fit inside that cylinder," Busby says. "You see a cylinder, and they want a bear, fox, eagle. You know what you can fit inside there, and you remove all the wood that leaves an eagle or a bear."
Mounds of soft wood shavings litter the floor of Busby's large work shed. Eight chainsaws are perched conveniently, ready for inspiration to hit or a custom order to arrive, announced by the ring of his cellphone: the hum of a chainsaw, of course. All sizes and shapes of animal carvings in various stages of completion dot the landscape. Adorable bears wear cowboy hats, belt buckles and boots; a fox sits on his hind legs submissively; a large lion made from polystyrene stands out amid all of the wood.
His work is a hot commodity these days, and it provides a decent living. It wasn't always like that, though. There was a time, more than a dozen years ago, before he was a full-time carver, when he didn't know how he'd pay the bills or feed his four kids.
"I get emotional almost every time I talk about it," Busby says. "I thought, 'What do I do?' Well, I look and I've got a chainsaw, and I've been playing with it with these little bears. ...
"We didn't lose the shirt off my back because I used what was in my hand. I hope that inspires folks because so many people look around and they don't know what to do. They don't have a job and this and that, but what do you have in your hand? What kind of talents do you have, what kind of skills, abilities do you have? Start using it. Give God the glory and see what happens."
It was around 2006, after Busby moved his family to Woodland Park from Texas, when he heard his neighbor regularly running a chainsaw. Curious, he went to investigate and found the man making little bears. "Blocky, but a cute face," recalls Busby. The neighbor would carve up to 10 of them every day, then set up shop on the weekend and reap the profits.
"He was making as much as I was making driving my trash truck," Busby says.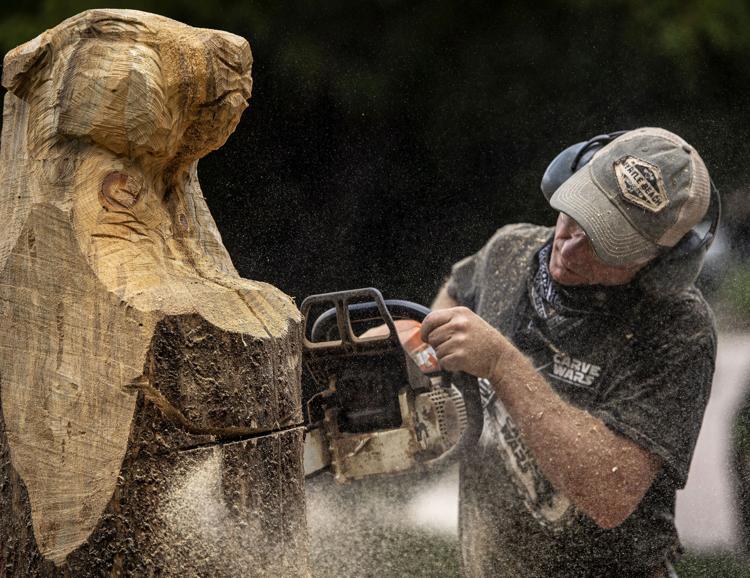 So Busby got a chainsaw, lost his job with the trash company and moved to Florissant, where dead trees populated the property he rented. He asked his landlord if he could cut them down and turn them into something. Those somethings became the bears he sold on a street corner in the tiny town. They fed his family.
A serendipitous chain of events followed. The owner of Nature of Things Chainsaw Art in Manitou Springs saw his work and wound up selling Busby's bears for the next eight years. After that shop went out of business, Busby opened Buzzsawbusby Chainsaw Arts in Woodland Park. He shuttered it in January after three years but hasn't regretted the decision.
Over the past couple of years, Busby has gravitated in a different direction with his art, making magic out of tree stumps in people's yards.
"Instead of removing the whole thing, they'll leave 7 or 8 feet, and I'll turn it into a bear or eagle, usually Colorado wildlife, but sometimes a dragon," he says. "Whatever they want, I can do."
This month he's already morphed three of Keith and Karen Hendrickson's tree stumps into art — a bear and a raccoon, three bear cubs, and an eagle — on their Woodland Park property.
"People walk by and we've gotten a lot of compliments," Karen says. "I'm glad we used the stumps instead of just cutting them off."
Busby also recently finished a second project for the city of Woodland Park. Last year, city officials had him carve a dead tree in Memorial Park into an eagle. This year, he did a second tree and crafted an owl sitting on the top of the stump, with a hole at the bottom revealing owl chicks peering out.
"We wanted indigenous to Colorado," said Rick Cirka, who works in code enforcement for the city. "He's very diligent. He's an artist. He does his job very well."
Despite having only one shot at his wood canvas, Busby's confident in his abilities to conjure up pretty much whatever a client requests. He does like to look at the tree first, but sometimes a picture will suffice.
Carving a 17-inch pine tree costs $130 per foot up to 6 feet, $175 per foot after 6 feet up to 10 feet and $225 per foot after 10 feet. The price escalates if it's something he's never carved, which means more planning time. Small pieces, such as the bears he made in the beginning of his career, are no-brainers. He can produce eight to nine of them at a time. They cost $150 to $175, depending on the size and complexity.
"It's a niche," he says. "Everybody has a niche. You've got to find it and stick with it. It'll turn into something if you stay consistent."
Contact the writer: 636-0270