Woodland Park's Brady Hankin. Bleach-blonde hair. And a Class 3A State Championship.
At this point, it's a running tradition at the Colorado boys' wrestling championships.
On Friday, Hankin, a junior at Woodland Park High School, won his third consecutive state championship, claiming the 138-pound title.
One minute and 32 seconds into the championship match, Hankin had his opponent Jamen Onesky of Faith Christian on his back. He stood up and flashed three fingers to the crowd.
One more to go, he thought not long after.
"It feels the same as the other two right now," Hankin said. "But four will be a big thing if I can pull it off. One more year, I am pumped up and I feel good."
His bout for the state championship was his quickest of the day, following a first-round win by fall in 2:51, and a win in sudden victory in the semifinal match.
"I get nervous before every match but the state finals is a whole other thing," Hankin said. "And when you can pull it off like that, definitively, it's a really nice feeling to know you have it in the bag."
Hankin's semifinal opponent, Valley's Zach Brown, entered the state tournament with one loss – to Brady Hankin.
With last week's region championship match fresh in his mind, Brown battled to the last second in an attempt to upset the then-two time defending champion.
Hankin cartwheeled from his knees for a one-point escape, leading Brown 3-1 late in the third period.
With seconds left to make a move, Brown took a shot at Hankin's right leg, and after a spinning scramble, was granted a two-point takedown to tie the match at three with seconds left in the third period.
Hankin scored a two-point takedown early in overtime for a 5-3 win in sudden victory.
Now with three state championships and a 97-8 all-time record in high school, Hankin's confidence continues to grow as he looks for a four-peat and beyond.
"I like that all the work I put in over the past 13 years is paying off and I'm able to perform every time because of all that I put in my whole life," Hankin said.
Jimmy Hustoles wins Class 3A heavyweight championship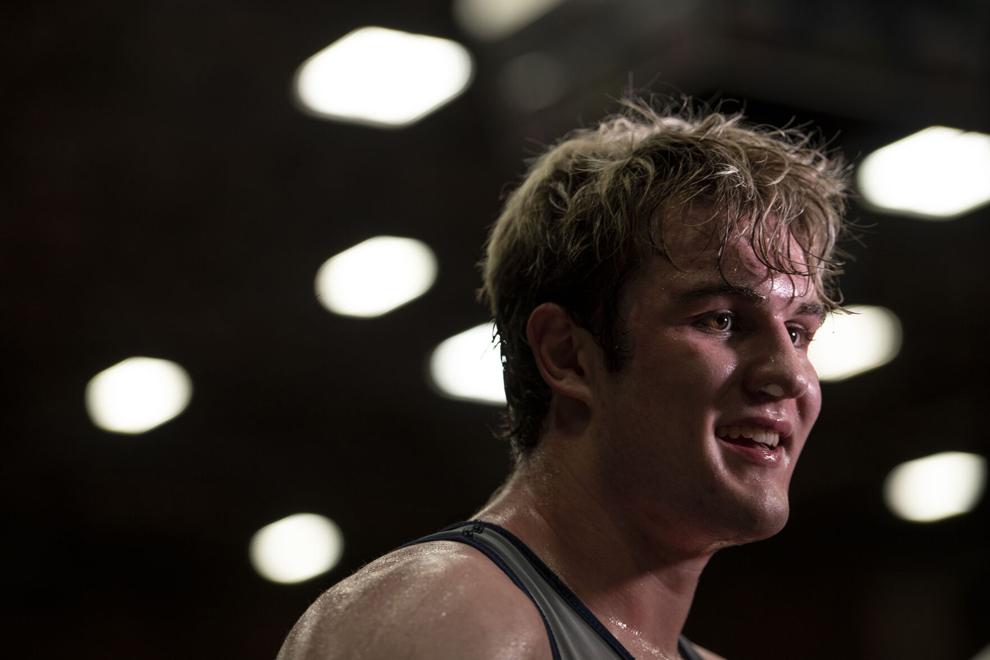 Following a third-place finish at 220 pounds a year ago, James Irwin's Jimmy Hustoles went back to the drawing board.
More strength, more weight and more conditioning were on Hustoles' offseason checklist as he prepared to advance to the heavyweight division for his senior year.
And as Hustoles completed his extra sprints every day at practice, he had one thing on his mind: A state championship.
"I received a lot of good advice in the last year, but the best was just keep pushing through," Hustoles said. "Things might suck at practice but remember what you are working towards and that helped me a lot throughout the season."
And Friday night he got to add one final 'check' as he raised his arm in victory for the Class 3A heavyweight championship.
"I was so happy," Hustoles said. "I worked 11 years for this, so it feels awesome, and I'm so happy I pulled it off."
Hustoles, who finished the season 20-0, defeated Tanner True of Eaten, handing the top seed his first loss of the season.
"I've never had an undefeated season, I've been close, but I just pulled it off now and it feels great," Hustoles said.
Unlike some wrestlers who don't like to focus on opponent's records, Hustoles said he keeps it in mind to ground him and keep him humble in matches.
"It feels great actually (to give him his first loss). Other guys in the heavyweight division were rooting for me because they were like, 'Yeah we haven't seen him lose and we want to see it happen,' so I was like 'Cool, I'll do my best.' And I went out there and did it."
Jimmy's brother Jacob placed third at 182 pounds, pinning Will Aucoin of Pagosa Springs in 3:42.
Nine Pikes Peak region wrestlers bring home medals from Class 2A and 3A championships
Colorado Springs Christian sophomore Anthony Isek placed second in 3A 106 pounds, falling in the state championship match to Mullen freshman Dale O'Blia in sudden victory.
In Class 2A, Peyton's Clint Brown settled for silver for the second-straight year. Brown, a senior, was defeated in sudden victory 2-0 by Eyan Chavez of Centauri. The match was scoreless after three rounds, and Chavez scored a takedown in extra time.
Brown's brother James placed third at 152 pounds, pinning Hayden Burr of Sedgwick/Fleming in 2:20.
At 3A 120 pounds Elizabeth's Andrew Kramer placed fourth. Sierra's Daryl Mills took sixth at 126 pounds. Manitou Springs' Wesley Reeves placed third at 195, pinning Ruben Samuelson of Basalt in 4:12. His teammate Emmett Wolfe placed sixth at 160. Tanner Eide of The Classical Academy took fourth at 220 pounds.
Contact the writer: lindsey.smith@gazette.com