Over a career spanning 50 years and most every square mile of Colorado, it would be impossible to ask John Fielder for his favorite photographs.
We asked anyway. He obliged.
We asked on the heels of History Colorado announcing Fielder's legendary lifetime of work has been donated to the public domain. The agency in the coming months will be cataloging and digitizing more than 5,000 images, to eventually be available at historycolorado.org/john-fielder-collection. Later this summer, a celebratory exhibit is expected at History Colorado Center.
Until then, we asked Fielder to recall some of his fondest shots — in hopes of providing but a glimpse into a big career and a vast, beautiful state.
Time for reflection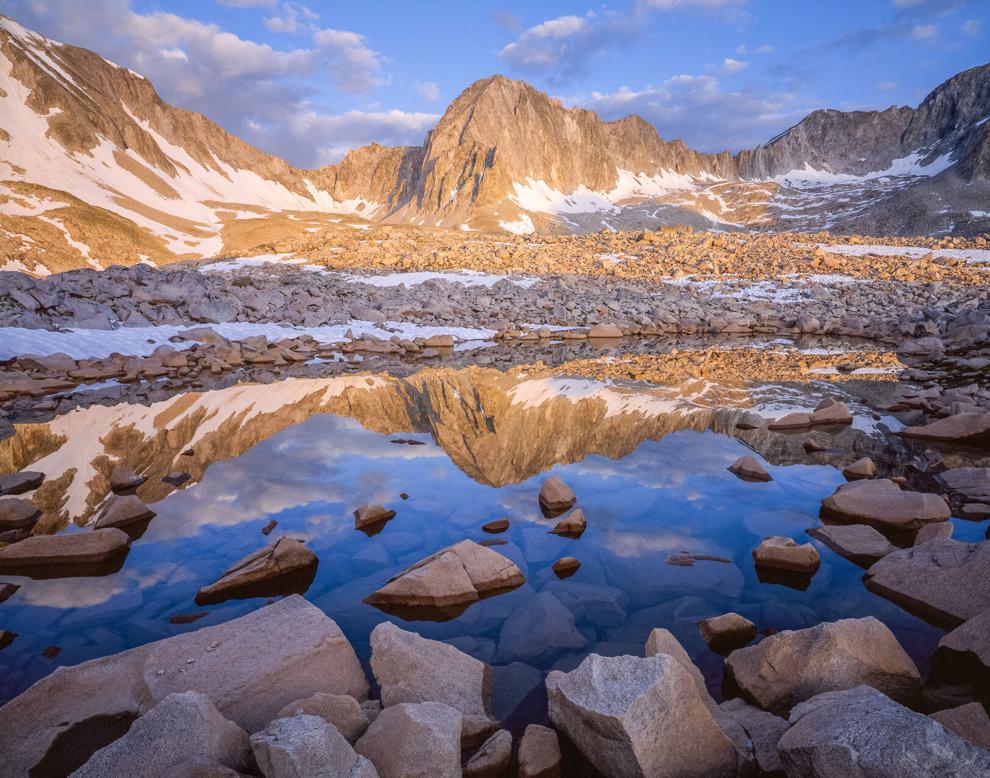 Pierre Lakes, Maroon Bells-Snowmass Wilderness. Maroon Bells is more than just that famous scene of the "bells" reflecting in Maroon Lake, an image I have never made. I prefer exploring places that very few people visit, much less photograph. I published a book, "To Walk in Wilderness," for which I photographed the other 180,000 acres beyond Maroon Lake. Pierre Lakes Basin is the most rugged location in the wilderness.
River splendor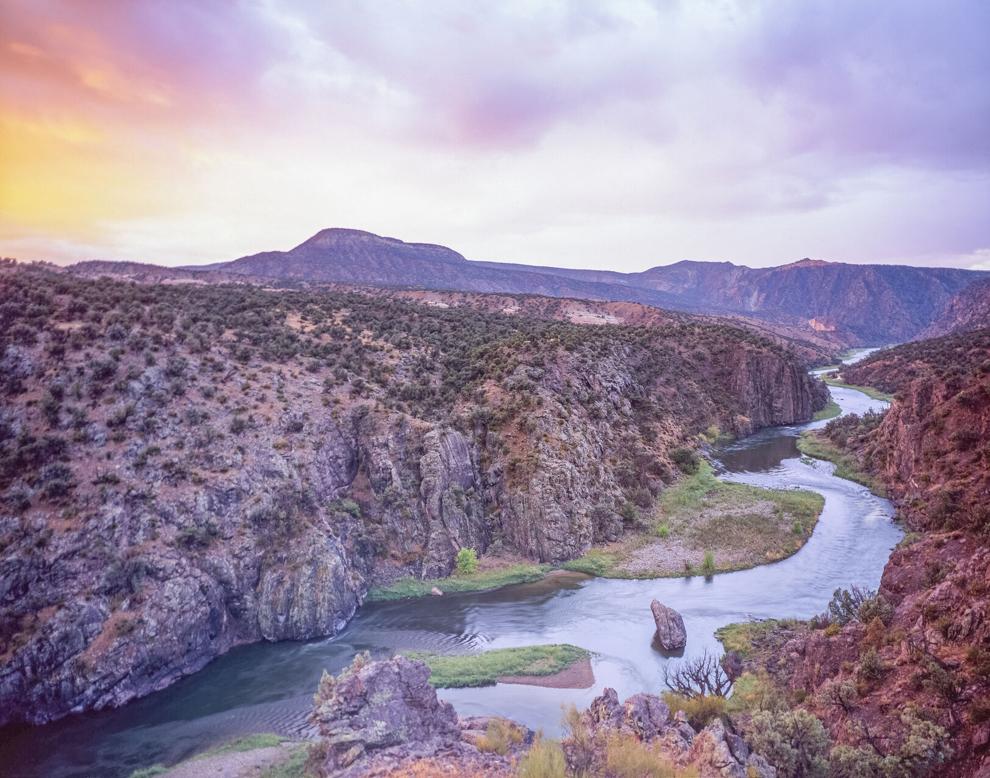 Gunnison River, Gunnison Gorge Wilderness. Almost every May I teach a photography workshop in this place. It requires a three-day rafting trip down one of Colorado's most beautiful river canyons. I take the participants on a 5-mile round trip hike to get to this overlook at sunset.
Rural remembrance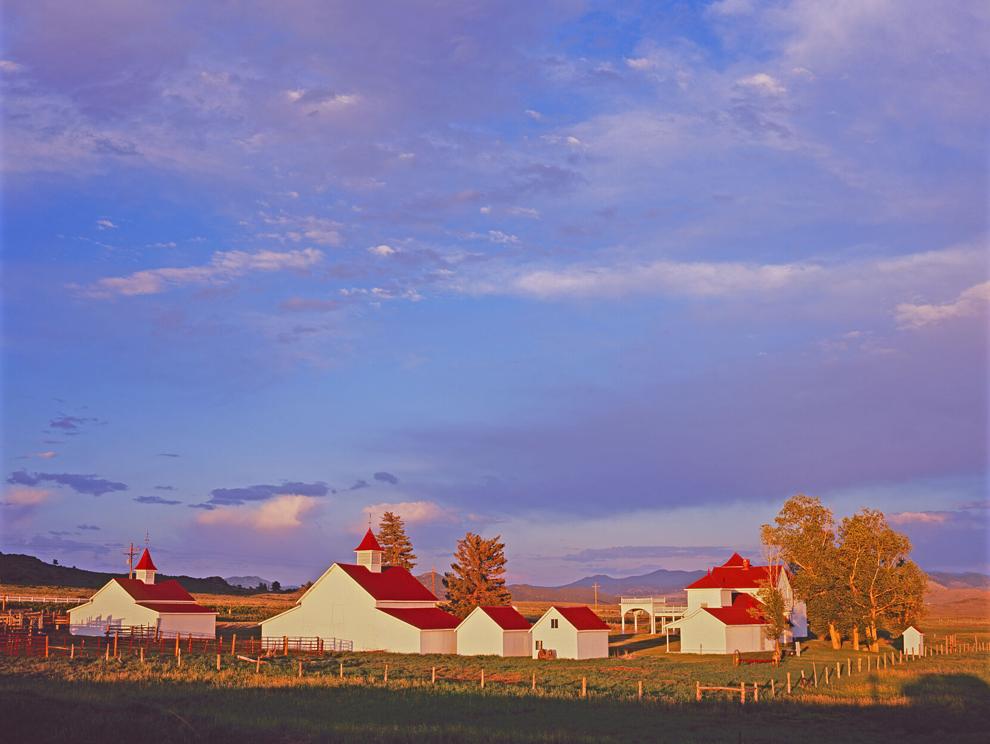 Sunrise, Historic Beckwith Ranch. This ranch in the Wet Mountain Valley was established by Elton and Edwin Beckwith, two brothers from Mount Desert Island, Maine, in 1869. They built it into one of the largest continuously operating cattle ranches in Colorado.
Unexpected moment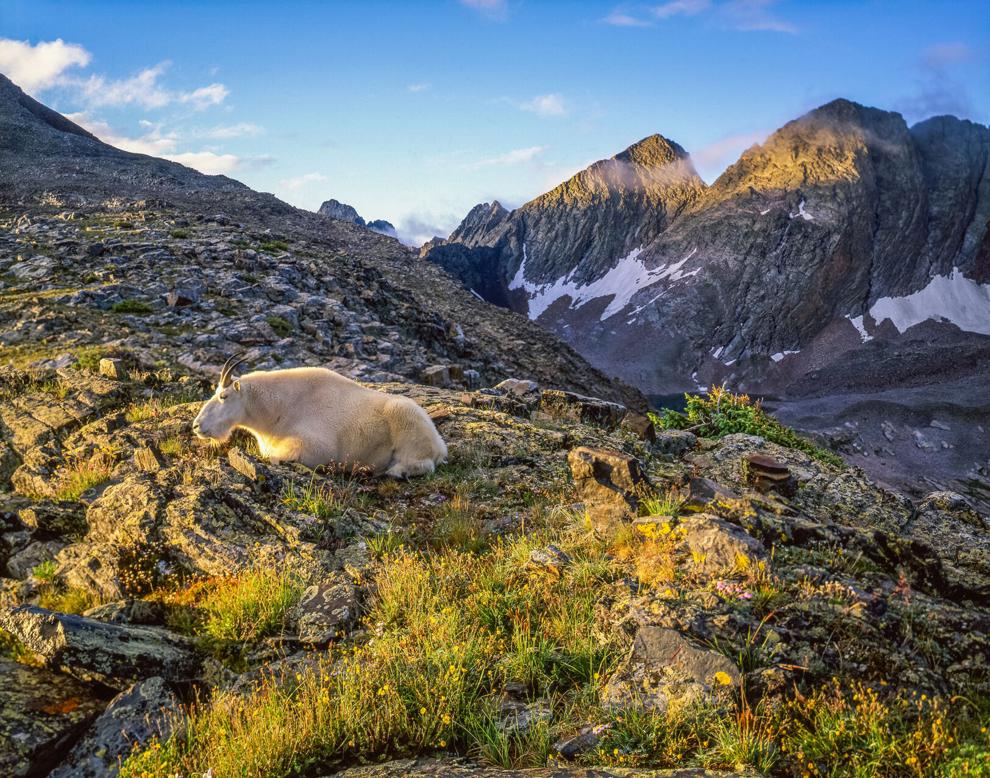 Trinity Alps, Needle Mountains, Weminuche Wilderness. This location is as far as one can get from civilization in Colorado. I had my large format camera set up on the tripod to photograph first light hitting the Trinity Alps in the background. This goat came out of nowhere from behind me and laid down in the middle of my composition.
Mountain majesty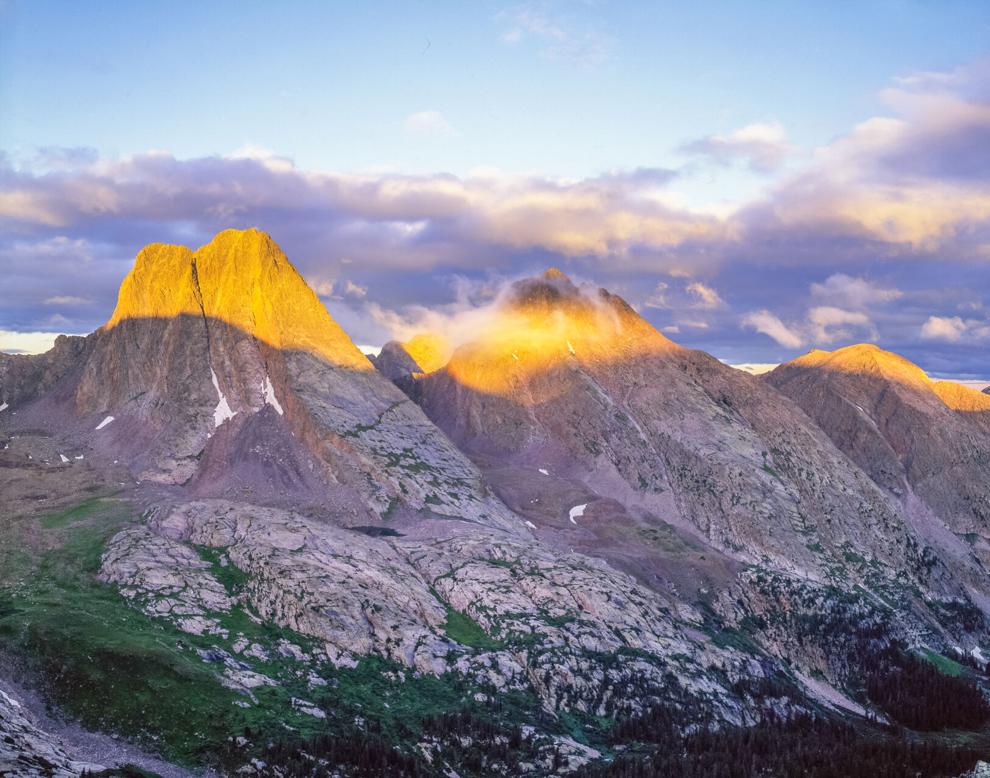 Vestal and Arrow peaks, Needle Mountains, Weminuche Wilderness. These two peaks just missed being fourteeners. They lie in the Grenadier subrange of the magnificent Needle Mountains in Colorado's largest wilderness. I made this image at sunrise from the same location as that billy goat.
Rock marvel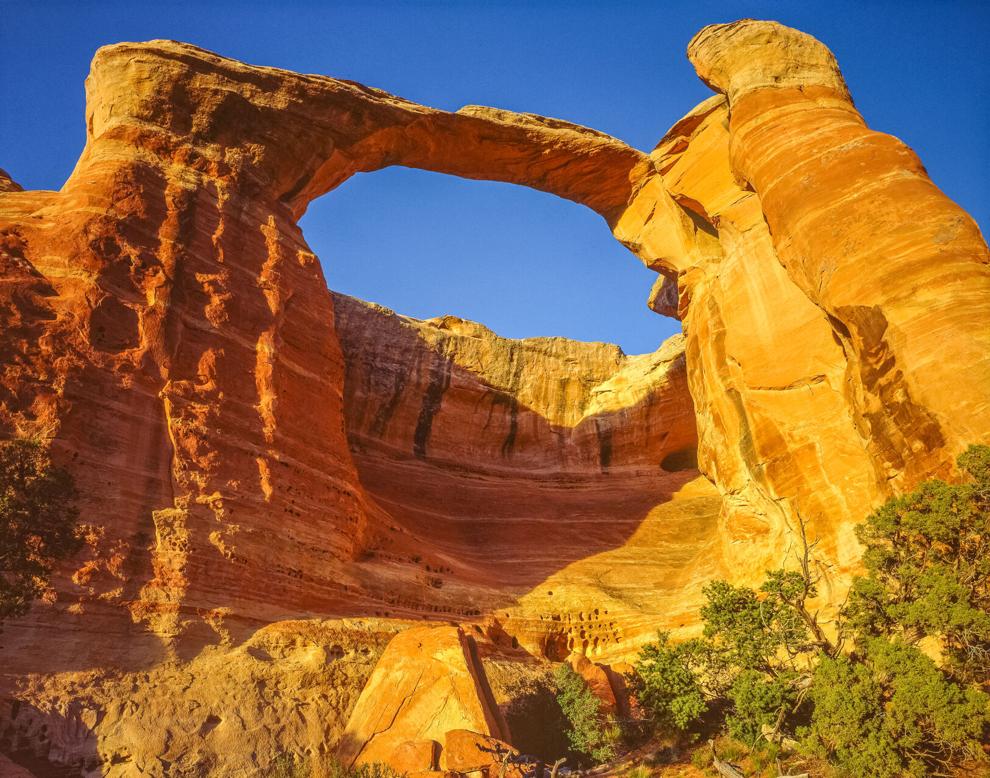 Rattlesnake Canyon, Black Ridge Canyons Wilderness. West of the Colorado National Monument near Grand Junction lies this Bureau of Land Management wilderness along the Colorado River. A rough 12-mile, four-wheel drive road gets you to the trailhead. From there it is a 14-mile round trip hike to this arch among several others.
Smelling the flowers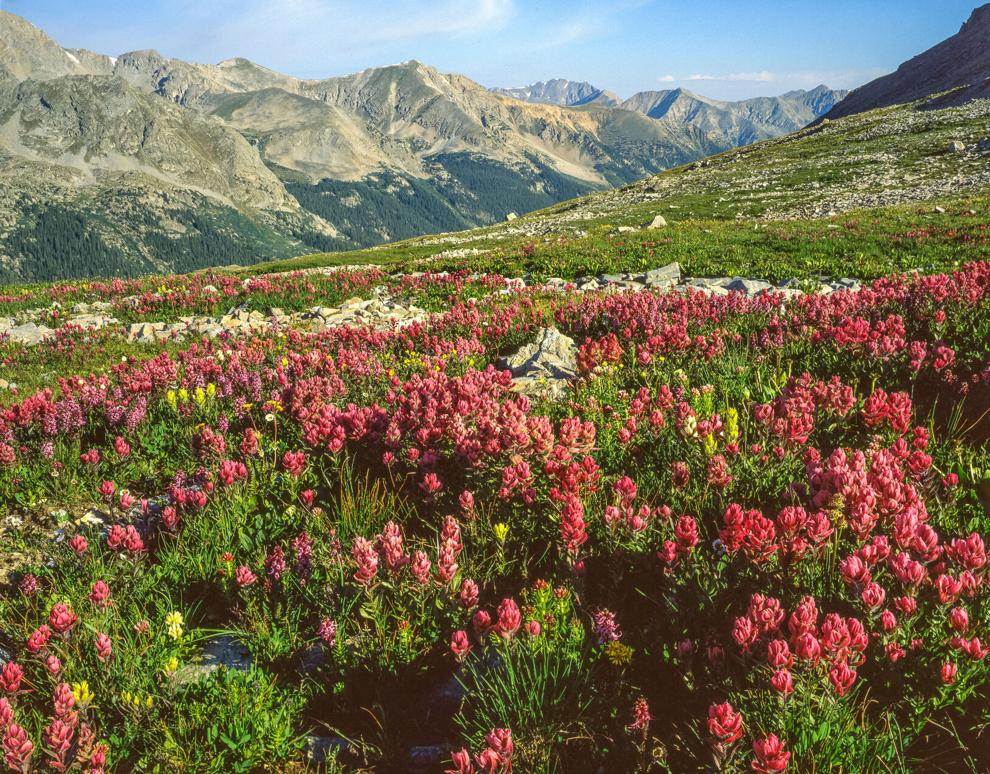 Rosy paintbrush, Missouri Basin, Collegiate Peaks Wilderness. There are several varieties of paintbrush wildflowers. Most common are the red ones we see at lower elevations. In the alpine zone above the trees we see yellow ones and these that are magenta.
Autumn grace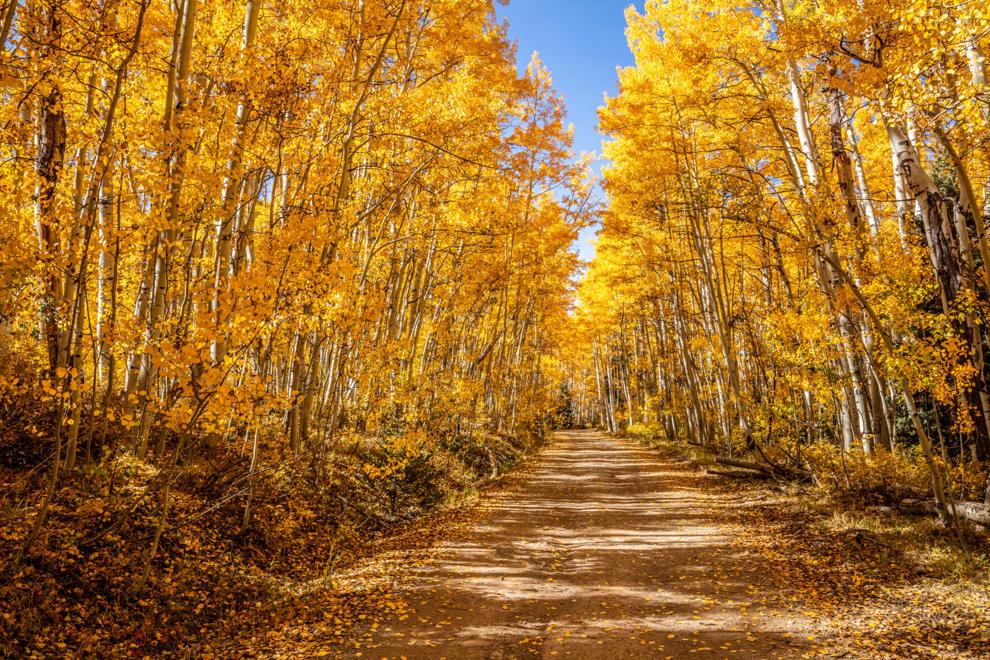 Road in the San Juan Mountains near Telluride. In summer I backpack and llama pack into wilderness. In spring and fall I drive and car camp along county and Forest Service roads. Colorado's most beautiful aspen tree forests are mostly accessible by such roads at lower elevations. One of the largest of these road networks radiates in all directions from Telluride.
Winter serenity
Town of Columbine, Routt County. Columbine, or Columbine Gold Camp, is a former gold mining community in Routt County, near Clark. Now it is an unincorporated community, historic district, and a rental cabin resort. The buildings are always buried in snow.
Wild companions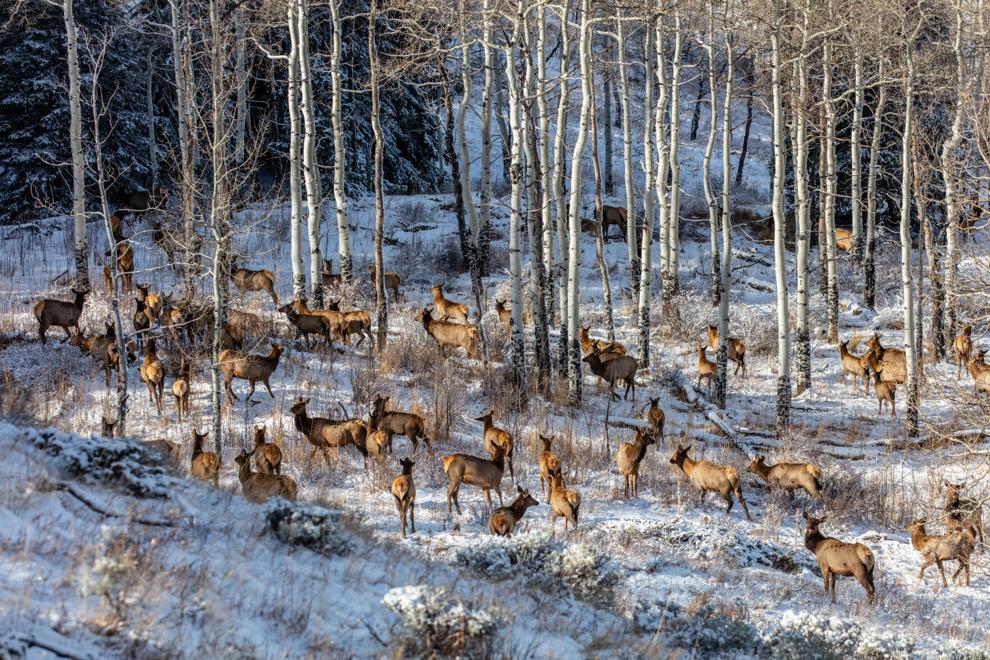 Rocky Mountain elk in the aspens, Arapaho National Forest. I live in Summit County north of Silverthorne at 9,500 feet in elevation. A herd of 200 elk migrate in and out of my property on the way to the national forest. This photograph of cow elk was made in October during the fall rut. There was a very large bull nearby.
Contact the writer: seth.boster@gazette.com