Chris Phillips refused to settle on a new name for the Sky Sox until he received confirmation via thunderbolt.
He'd know it when he heard it.
But as he sifted through 3,000 submitted names, narrowed it to five finalists and even commenced with conceptual drawings for potential logos, he felt he hadn't found a name capturing the vibe of living in the Rocky Mountains.
He verbalized that goal to his staff. And boom, the lightning bolt struck, and the team had a new name — the Rocky Mountain Vibes.
The Vibes have a s'more mascot wearing sunglasses. It's named Toasty.
"It checked all the boxes," Phillips said. "I'm proud to say I run the Rocky Mountain Vibes. That's awesome. It's fun.
"What I came to realize after a lot of this is, I didn't want to be a thing," said Phillips, who has overseen the name change and the upcoming shift from Triple-A to Rookie League in his first few months as general manager. "I didn't want to be an animal. I didn't want to be a mountain. I was like, this is feeling; it's energy and emotion."
Emojis will be found throughout the park, and fire pits might be put on the concourse for fans to roast marshmallows. The new color scheme is navy, red, gold, sky blue, tan and gray.
Monday's unveiling ends a process that pivoted from the original plan but fell within the team's parameters that ultimately, despite 3,000 submissions and online voting, this was going to be its call.
Phillips said he knew Rocky Mountain Oysters would be in the mix all along, because why not? It generated buzz and reaction, he said, but would have been a public relations nightmare to field a team named for bovine testicles.
Of the other finalists, including Lamb Chops, Throttle Jockeys and Punchy Pikas, it was Happy Campers that gained the most traction. With the Campers in mind, the team turned to minor league marketing company Brandiose, which has handled rebrands for multiple clubs. That's where it introduced a marshmallow mascot.
That evolved over dozens of iterations and ultimately arrived at Toasty, who is flashing his first two fingers in the V-shape associated with the peace sign, V for victory or, now, for Vibes.
"I want this to be the badass s'more that I want to hang out with, have a beer with," said Phillips, who wants fans to connect their connotation of Rocky Mountain Vibes, be it the mountains, altitude, fresh air, hiking, skiing, spending time with your family, whatever.
Do you like the name Rocky Mountain Vibes?
"At the end of the day, it's a minor league baseball team," Phillips said. "It's supposed to be about fun, family entertainment. Yes, we want to be goofy with it and have some fun with it."
Mayor John Suthers gave his approval after attending Monday's ceremony.
"When you go to this level in baseball, it is pure entertainment," Suthers said. "The average fan who comes out here will not know where they are in the standings. They're not going to know many of the names unless they were favorite college team players. They're here for entertainment. That needed kind of a new vitality with a new name and all that stuff. I kind of like it.
"I appreciated their creativity. I think Chris Phillips is a real creative guy, and it will be fun to watch."
The process hasn't been well-received by all. Social media comments showed little support for the five finalists, with many fans expressing — angrily in many cases — a desire to stick with the Sky Sox name. That continued on social media after the unveiling of the Vibes.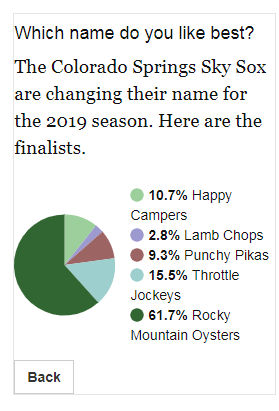 "There are people that we really respect in the community, who, when they say negative things… it's hard," team owner Doug Elmore said. "It is hard feeling like, 'Oh my gosh, are we doing the right thing? What's going on?' Then I see this. I see the s'more character. I see the 'C' with the bite out of the marshmallow and the 'S' flame. It's amazing. I just love it. The colors are unique. It helps when I see this; it helps me realize this is the right thing."
Sox the Fox will remain as a mascot. Foxes, like dogs, cannot eat chocolate. So there's little danger that a Sox and Toasty partnership would run into trouble, at least in that regard.
Phillips reiterated that the most popular names in the minors, including the El Paso Chihuahuas, were not initially embraced. Should that happen here, he's expecting the good Vibes to eventually win out.