The founder of a tiny house community in Woodland Park is thinking a bit bigger for his next project.
Pete LaBarre, who helped turn an RV park into a village for the miniature structures, is in a group of developers planning another community off Colorado 67 with 53 homes that aren't quite so little.
The proposed Village at Tamarac would have 500-square-foot homes similar to the quaint "park model" varieties that have been a hit with tiny living enthusiasts.
The developers are calling them "small houses" because the factory-built structures would stray slightly from the definition of a tiny house, which is smaller than 400 square feet and mounted on wheels.
Tiny houses have become a trend, as they're cheaper, more energy-efficient and provide people with more freedom and mobility than traditional homes.
The Village at Tamarac plan fits zoning and building codes while still giving people what they want: smaller dwellings at relatively affordable prices, LaBarre said. The home prices would start about $115,000, and owners would pay $600 to $700 a month to lease their lot, he said.
"The reality is that the housing shortage, in all price ranges, is really critical," he said. "There's a whole segment of our society that can't afford a $250,000, $300,000 home. They can't get financing. They're stuck with renting."
The median sale price for a home in Woodland Park was $375,000 in 2018, according to the Pikes Peak Association of Realtors.
LaBarre's development group, M3XP2, tried last year to get city permission to put about 80 tiny homes on 10 acres near Morning Sun Drive, across U.S. 24 from Walmart.
But because of the way city land-use rules classify tiny houses, the property needed to be rezoned from multifamily suburban to a mobile home park district. Residents of a nearby upscale neighborhood protested, fearing that their home values would decrease.
"The zoning and code haven't kept up with the quality of product that's being factory built, whether it's a tiny towable park model, a manufactured home or a modular home," LaBarre said.
No rezoning will be needed at the new site at the end of Tamarac Parkway, he said. The community would not be visible from the highway, and a wooded area and easement would separate the small houses from the few homes nearby, he said.
The village would offer one- and two-bedroom homes with seven optional layouts. The houses, manufactured by Champion Home Builders, would have 500 square feet of storage underneath, with front porches and optional back porches, LaBarre said.
The developers are set to close on the property in mid-February and then submit a site development plan to city staff for approval, he said.
They hope to break ground in the spring and begin moving in homes in July or August.
People who want tiny homes often struggle over where to put them because most communities restrict them through building and zoning codes.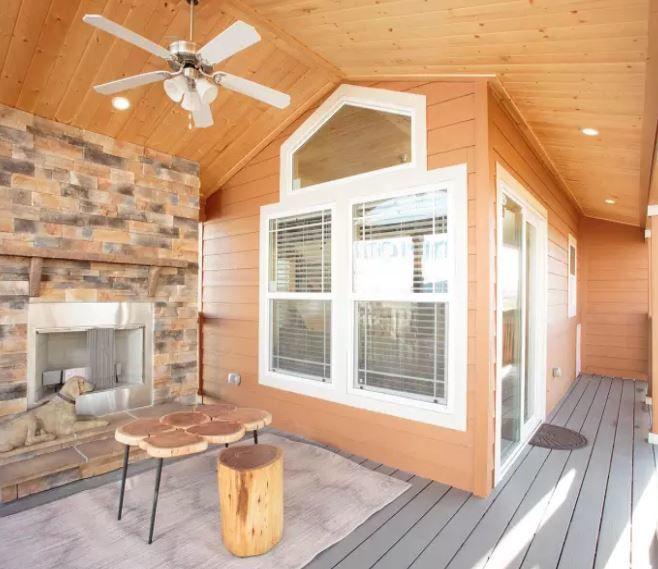 El Paso County became one of Colorado's first local governments to change its rules to accommodate tiny houses when it amended its land-use code to allow the structures in unincorporated areas.
The county since has had inquiries from people interested in establishing tiny home developments, "but no one has followed through any further," county spokesman Matt Steiner said by email.
Some of the areas proposed for the homes are served by well water and septic tanks, making the land "difficult and expensive" to develop, he said.
Peak View Park, off U.S. 24 near eastern Woodland Park, has more than 50 tiny houses, some as small as 180 square feet. LaBarre, who co-owns the park with Matt Fredell, said he often gets calls from people who want to move in, but the only two lots left are occupied by RVs.
"We just recognize the need and the demand because we've been doing it for five years now, six years," he said.
More than 30 people's names are on a wait list for when homes become available in The Village at Tamarac, LaBarre said.
Among the prospective homeowners is Maggie Donaldson, a San Diego-area resident who stumbled across Peak View Park while searching for tiny house communities online.
"They're difficult to find. A lot of them are mixed in with mobile home parks that are existing, etc. And they're not always in the most desirable areas," she said. "We were looking for something affordable in the mountains."
She said the smaller space should be more manageable as she and her husband, both in their 50s, grow older. Extra storage space and living in a neighborhood are additional pros, she said.
"I didn't want a piece of land with a tiny home," she said. "I wanted to have a sense of community."
Anyone looking for more information about The Village at Tamarac can call LaBarre at (719)-502-7431.