Whiteout is The Gazette's weekly column on all things skiing, snowboarding and snow in Colorado's high country. Each week, we'll break down snow totals, storm and avalanche forecasts, special events in the mountains and ski industry news.
Last weekend delivered a bounty of snow to areas throughout Colorado, blasting many skiers and boarders with some of their first faceshots of the season. Between Monday and Tuesday at the tail end of the storm cycle, Steamboat's summit cam recorded 9 to 12 inches of new snow.
Those in Aspen rejoiced in the opening of Aspen Highlands and Highlands Bowl, accessible only by a 720-foot bootpack to the 12,392-foot summit. The famed bowl opened midday Saturday, and a steady stream of people were hiking to the top of the bowl all day, the Aspen Times reported.
Mountains in the I-70 corridor reported modest totals from a light storm that passed through Wednesday. Arapahoe Basin, Aspen Highlands, Copper and Loveland recorded 4 inches of new snow Thursday morning, while Breckenridge and Vail reported 3, OpenSnow forecaster Joel Gratz wrote.
More snow favoring the southern mountains is in the forecast through Friday afternoon. Four to 8 inches are possible in the Telluride, Purgatory and Wolf Creek areas, while most of the central mountains in the I-70 corridor are looking at 1 to 4 inches. Flurries might linger Saturday before bluebird days Sunday, Monday and Tuesday.
Be sure to check out Breckenridge's Peak 6 chair, which opens Friday, the earliest date on record.
Free ski day
For those with Mondays off work (or who suddenly come down with the stomach flu), Monarch Mountain's annual free day is Monday. Bring a canned good or cash donation and receive a free lift ticket, valued at $89.
Canned goods are donated to the Salida Grainery and 1st Presbyterian Church food banks, and cash donations go to the Boys and Girls Club of Chaffee County.
While you're there, be sure to check out Monarch's new tubing park, which opened last week.
Backcountry beckonings
Between Nov. 28 and Wednesday, observers reported 68 avalanches to the Colorado Avalanche Information Center. After major storms, activity was relatively high, especially in the North San Juan zone, where nine avalanches were reported on northeast-facing slopes on Dec. 1.
Despite this, no backcountry recreationists have been caught in slides since Nov. 24.
"This is very good news," CAIC wrote.
Good news, indeed, and a trend we hope continues through the remainder of the season.
Avalanche danger is slowly easing as Colorado continues in its mostly dry week, though avalanche danger is moderate to considerable across the state. CAIC warned users to not let the "deceptive transition" fool them, especially in the Aspen and North San Juan zones, where wind is blowing around loose surface snow. Even modest loading can trigger a slide, CAIC wrote.
This week's photo of the week is of Chris Watters on Monarch Pass Sunday. Photo by Micah Robin.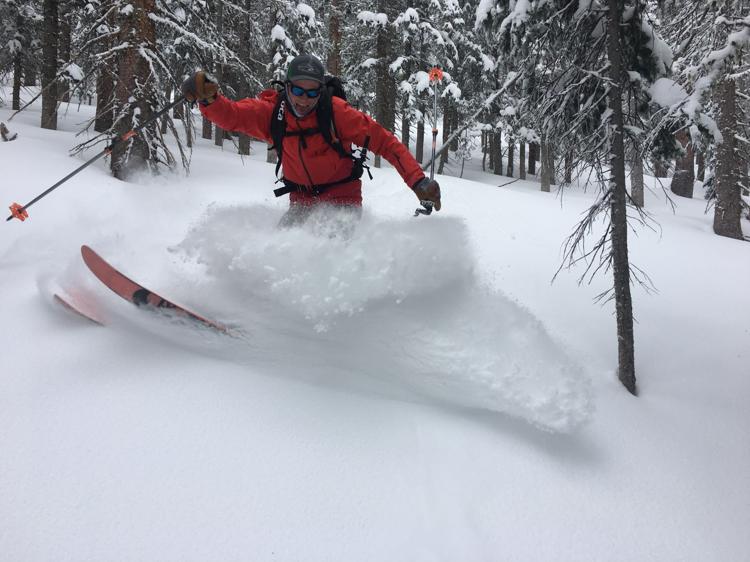 If you have a photo from your adventures skiing, snowboarding, ice climbing or another winter sport, send them to liz.forster@gazette.com.
Forecast
The next round of storms is slated for Wednesday and Thursday, with the latter bringing heavy snow to the northern and central mountains. Gratz doesn't have much information on the storm yet, given how far ahead he's tracking.
Another system is possible Dec. 15-16, which would make for a snowy Dew Tour that Saturday in Breckenridge.
Twitter: @lizmforster Phone: 636-0193