Hakan Karan walked through COVID-19's shadow of death for two weeks in late March and early April. He spent seven days on a ventilator and an additional five days in the intensive-care unit at UCHealth Memorial Hospital North. Wild hallucinations dominated his days and nights. His fever spiked at 105 degrees.
His trial left him an expert on The Virus that has transformed our lives.
So, let's listen to him.
"This is something that people need to understand and not take lightly," Karan says Friday evening as he rests in his living room in north Colorado Springs. "It is not a political thing. It is a sickness. It's not left or right, liberal or conservative. It is a virus and it doesn't care what your political affiliation is.
"People need to take it seriously. It's not a joke."
During a business trip to El Paso last week, Karan saw most Texans giving a deadly virus the respect it deserves. They wore masks. They kept safe distance.
Karan doesn't see the same wise respect shown in Colorado Springs.
"It seems," he says, "that we are more rebel."
Let's listen to Karan, alter our rebellious ways.
And wear a mask.
The Virus has robbed us of more than 140,000 Americans. And it has divided us. Want to start an argument? Ask a group about the need to wear a mask in public. Yes, this arguing is weird beyond belief. It's also our reality.
"You're not going to lose a lot of freedom," Karan says of wearing a mask. "It's 15 minutes when you go to the store. It's not going to hurt you. People have made it such a political statement now. It's not."
I last spoke with Karan in April, a few days after his release from the hospital. At the time, he required a walker to travel the few steps from his bedroom to his bathroom. Still, it was a journey too far. Halfway along his bathroom walk, he was so weary he had to use the fold-down seat on his walker to rest.
On this evening, the walker sits in his living room as a reminder of bad days and nights.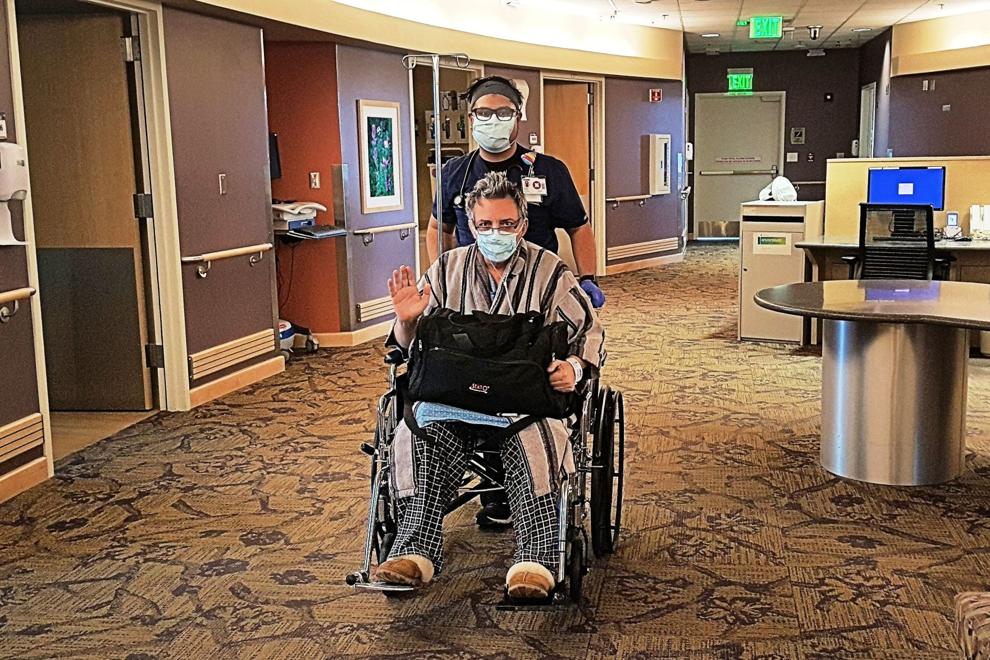 Karan is close to full strength. He returned to full-time work June 1. He's regained half of the 20 pounds he lost. He sleeps soundly, free from nightmares and strange visions.
Friday morning, Karan flew into the sprawling Dallas-Fort Worth airport for a connecting flight to Colorado. He needed to hurry from Gate 1B to Gate 18B. He wasn't thinking about his struggle with COVID-19 when he broke into a brief sprint.
He felt shortness of breath, and realized he's still pushing for full recovery.
When Karan first returned home, he scrolled his Facebook page to look for news and messages. He soon found a serious joke posted by dozens of his friends.
Karan is a devout believer in turning off all lights when he departs a room. Why, he asks, would anyone want lights left on in an empty room? (This is a good question for my wife to consider, by the way.)
At his lowest moment, the friends reasoned that leaving lights ablaze in empty room might somehow infuriate Karan — no-lights fanatic — into rallying. Friends all over the world — Qatar, Turkey, Japan, Germany — posted photos of empty rooms with lights left on.
As he scrolled the page seeing photo after photo, Karan's eyes filled with tears. So many people had showed, in a funny way, they cared.
"I lost it," Karan says.
His brush with death changed him. He once drove at high speeds along Interstate 25 on his way to Denver. He was always in a rush. No more.
"I've slowed down quite a bit," he says. "Because life is so fragile. It's not worth it."
In our hourlong conversation, Karan talks more of family and joy than of his bout with COVID-19. He's a native of Turkey who found a home in Colorado. He's a proud father and husband. He saw, in his time of trial, the kindness and generosity of neighbors and friends.
"Life is great," he says. "I love my life.
"I'm glad it wasn't my time yet."