Donald Stratton, one of five surviving sailors who was aboard the USS Arizona at Pearl Harbor, was lionized Friday as Colorado Springs paused to remember the surprise Japanese attack on the Pacific fleet on Dec. 7, 1941.
The 96-year-old, who's lived in Colorado Springs for the past decade, drew admirers from as far away as Texas who wanted a glimpse of one of the few living witnesses to that pivotal date in history.
For Stratton, it's never an easy day. Eleven hundred and seventy-seven of its crew died in the bombing and sinking of the Arizona. Stratton, like most of the 335 of the ship's surviving crew, was injured, suffering severe burns.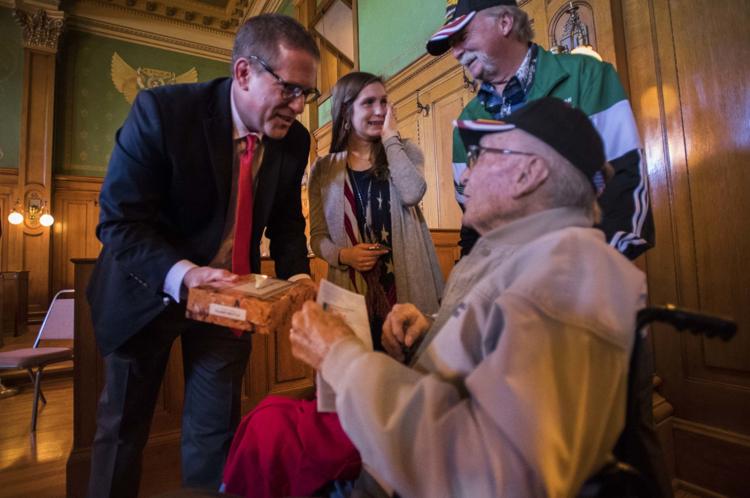 "It brings back a a lot of memories," Stratton said Friday before the Pearl Harbor ceremony at the Pioneers Museum. "A lot of them are not good memories."
Stratton usually spends Dec. 7 in Hawaii. Now in a wheelchair, the former sailor stayed home. For the first time in memory, none of the Arizona survivors were at Pearl Harbor for the anniversary.
The Colorado Springs chapter of the Navy League hosted the Colorado Springs gathering, and leaders said that Pearl Harbor is no dusty memory of of a forgotten war.
"Pearl Harbor is still a major part of the military mindset," said retired Navy Capt. Thomas Gregory.
The Japanese attack, which claimed more than 2,400 American lives, plunged America into World War II and turned what had been an isolationist nation into a global superpower.
In Colorado Springs, World War II triggered the military's move to the Pikes Peak region. Today, there are five military bases and more than 40,000 active-duty troops in and around Colorado Springs, making the military the biggest piece of the region's economy.
Retired Navy Capt. Bob Lally said Pearl Harbor is also a touchstone that reminds Americans that their freedom was secured by sacrifice.
"Today is a precious opportunity to reflect on what it means to be a patriot," he said.
Lally was a driving force behind a monument to the attack and Stratton that will be displayed next spring at the Colorado Springs Airport. At the center of the exhibit is a 4-foot girder that was once part of the Arizona's superstructure.
The rusty and twisted relic shows the force of the explosion that doomed the battleship.
Rob Schocke brought his 14-year-old daughter Brooke to the Colorado Springs ceremony from Fort Worth, Texas, for a chance to meet Stratton. He and his daughter were inspired by Stratton's courage — he had burns over more than 60 percent of his body and went through months of excruciating treatment.
The Navy offered Stratton medical retirement, but he battled successfully for the right to re-enlist and spent the rest of the war on a destroyer in the Pacific, taking part in the final battles that defeated Japan.
"We are inspired by the great gift they gave to the world," Lally said of the World War II veterans. "The gift of freedom."
Contact Tom Roeder: 636-0240 Twitter: @xroederx