A love-triangle that killed one Fort Carson soldier and put another in jail on suspicion of second-degree murder is headed for a trial in Colorado Springs.
Army Pfc. Isaiah Towns, 20, pleaded not guilty Thursday in the Nov. 17 death of Spc. Shakir D. Cook-Troynel.
A judge scheduled an Aug. 19 trial. If convicted on the top charge, Towns could be sentenced to up to 48 years in prison.
Authorities say Towns came home and heard "moans coming from the master bedroom " about 2 a.m. at the Stratus Apartment Homes at South Murray Boulevard and Airport Road on the city's southeast side.
When he went to investigate, he found his wife, Ashley Charmain Mary Pace, 27, mostly nude and Cook-Troynel standing in a closet with the door open, authorities said in an arrest affidavit.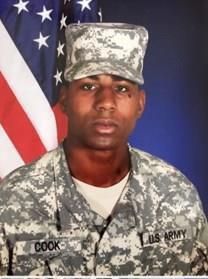 Under questioning by police, Towns said he drew his pistol intending to intimidate Cook-Troynel and "get answers." But he ended up shooting him in the torso in a burst of adrenaline as Pace yelled at him and tried to push him out of the room, authorities said. Pace admitted pushing him but said they weren't struggling at the time of the shooting.
Pace and Towns were married six weeks earlier, records show, and investigators say she told him she wanted a divorce the previous day.
Pace and the victim had a child together, police said.
Cook-Troynel of Homestead, Fla., was an Afghanistan veteran who had been in the Army since May 2015. He came to Fort Carson in February assigned to the 1st Stryker Brigade Combat Team, 4th Infantry Division. He was deployed to Afghanistan from May to July.
Towns, of Batesville, Miss., also was assigned to the combat team as a signal support systems specialist, records show. He has served in the Army for 17 months.
Towns remains in the El Paso County jail in lieu of $100,000 bond, records show.
An update on Towns' service status wasn't immediately available.