Two former corrections officers at a women's prison in Denver, now facing criminal charges, remained employed despite past personnel transgressions, prompting civil rights attorneys to blast the state's management of the facility.
The lawyers say the state's past lenient disciplines for the two officers, Joshua Hensley and Scott Mathews Jr., reveal ongoing lax standards at the Denver Women's Correctional Facility, which a 2013 federal survey found had the highest rate of sexual assaults of any prison in the nation.
Although the officers were fired after they were criminally charged, the lawyers believe the state should have acted earlier and more forcefully when the officers were investigated for past problems ranging from trying to instigate fights at the prison to displaying a handgun while drinking in a bar.
"When law enforcement investigates law enforcement, it usually works out pretty well for law enforcement," said David Lane, a Denver civil rights attorney who has a pending lawsuit against the prison. "I call internal affairs the whitewash commission. Their job is to whitewash away any and all police misconduct."
In a separate case, Lane has sued on behalf of an inmate who claims another corrections officer groped her crotch while she was wearing a recording device for corrections officials. The inmate was helping authorities by participating in a sting operation to catch the corrections officer, who had been accused in the past of sexual misconduct, according to the lawsuit. Although the officer no longer works at the facility, he was never charged criminally, the lawsuit states.
A law partner of Lane's, Mari Newman successfully sued the prison on behalf of another prisoner who alleged she was raped by still another officer who was a sergeant at the prison. Newman agreed that the recent criminal charges filed this year against additional corrections officers are a troubling sign, especially since those officers had past personnel transgressions.
"If anyone wondered what level of priority Colorado gives to keeping female inmates safe, here's your answer," Newman said.
In 2009, a federal judge ordered Sgt. LeShawn Terrell to pay Newman's client, a 34-year-old inmate, $1.3 million for raping and sexually assaulting the inmate at the prison, stating that the prison had neglected to install a zero-tolerance policy for sexual misconduct by staffers.
A Department of Corrections investigator testified during the trial that at least two staffers at the women's prison in Denver had to be "walked out" each month due to sexual misconduct. The state also agreed to pay a $250,000 settlement in the case. Terrell pleaded guilty to a misdemeanor charge of unlawful sexual misconduct and served 60 days in jail.
After the Terrell lawsuit, officials installed 200 surveillance cameras and instituted reforms.
But a report from the U.S. Department of Justice found that even after the cameras were installed, the rate of sexual assault at the prison was the highest in the nation. That survey, conducted in 2011 and 2012, found that an estimated 10.7 percent of inmates at the prison reported staffers there had sexually assaulted them or engaged in sexual misconduct. The rate of those claiming they had been physically coerced or threatened with physical force at the women's prison in Denver was 10 times higher than the national rate for 225 prisons and 338 jails surveyed, that report found.
A spokeswoman for the corrections department said changes continue to occur under the watch of a new warden at the women's prison and a new head of the corrections department.
"The DOC leadership team across our facilities and offices is focused on efforts to normalize the prison environment, increase the number of parolees who are employed, and improve the culture within the department to increase the retention of corrections professionals," said Annie Skinner, a spokeswoman for the state's corrections department. "All of these efforts work together to help increase public safety and the safety of the facilities."
But Newman pointed out that the criminal actions against Hensley and Mathews are recent.
"A prison system that turns a blind eye to guards' dangerous, abusive, and misogynistic conduct is a prison system that has no compunction about putting those in its custody at terrible risk," Newman said. "Our criminal justice system sentences people to pay a debt to society, not to be raped and abused by guards."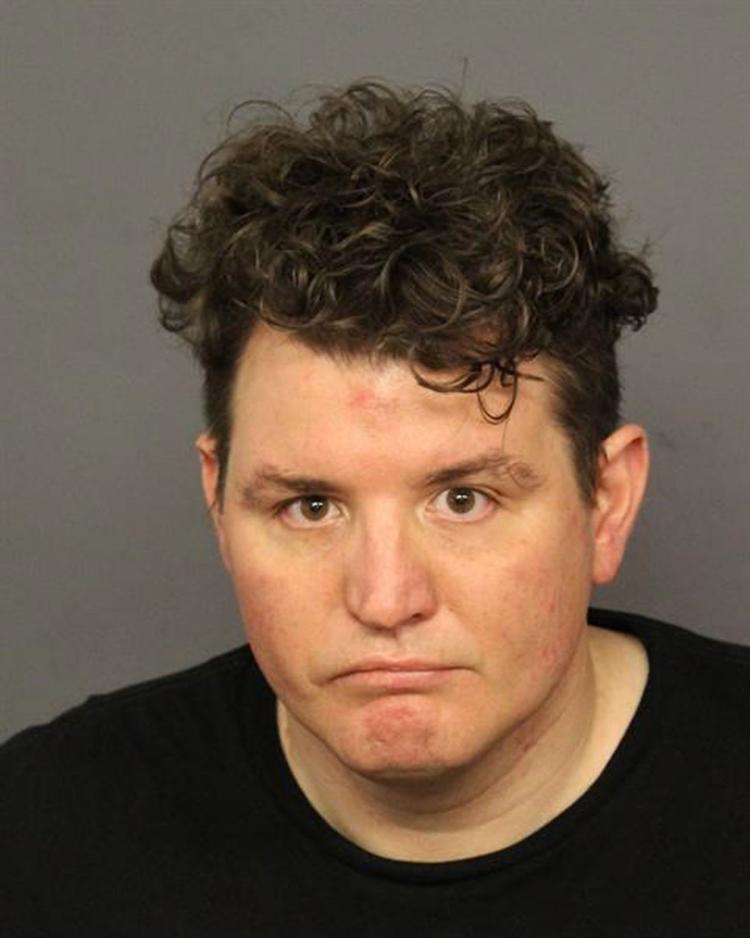 Denver authorities in July charged Hensley, now 38, with two felony counts of pimping, a felony count of stalking and a misdemeanor count of patronizing a prostitute. The arrest affidavit states Hensley pressured hundreds of women to work for him as prostitutes. His targets, according to the affidavit, included at least one former inmate he knew from his time working in the women's prison on the "med line," the area where prisoners receive their medications.
The former inmate said Hensley hired her to give him oral sex at the motel room where she was staying after her release from prison. She told police that Hensley only paid her $40 of the $60 he had agreed to pay. She said the two talked about how she recognized him as a corrections officer from her stint in the prison. Later, he started calling her cell phone, telling her she needed to use him as her pimp and ordering her to start calling him Daddy or Dr. Wolfe.
"It is possible that Hensley is using his position and his employment to recruit or identify the women that he is seeking to target for these acts," the affidavit states.
In a separate case, Arapahoe prosecutors in July charged the other corrections officer, Mathews, now 27, with felony charges of second-degree murder and menacing and a misdemeanor charge of assault. He is accused of an off-duty shooting of his neighbor, Jaharie Wheeler, 36, in a dispute over fireworks on the Fourth of July.
Hensley and Mathews had past personnel issues, a review of state records shows. The Gazette and Colorado Politics obtained the records through a Colorado Open Records Act request.
Supervisors at the women's prison found that in September of 2016 Hensley failed to do required counting of prisoners in the clinic he was guarding, and then signed a form that was incorrect on the number of prisoners leaving the clinic.
"These actions caused significant delays to the facility's operations and potentially compromised the security of the (Denver Women's Correctional Facility) clinic," Associate Warden Terry Jacques wrote in a corrective action letter.
Jacques further noted that Hensley had been repeatedly warned for poor communication skills with prisoners. Other staffers also repeatedly complained that he did a poor job of de-escalating conflict while on duty, according to the corrective action letter.
Jacques ordered Hensley to undergo additional training on counting prisoners and required him to write an essay explaining how his actions harmed the prison's mission.
In April of 2018, Associate Warden Raymond Balderaya ordered Hensley to undergo additional training, including on anger management, for another violation. He had used profanity against another staffer and threatened to assault that staffer, Balderaya found. The discipline letter shows that Hensley initially lied about the altercation during an investigation and only confessed after witnesses recounted what happened.
Many law enforcement agencies consider lying during formal investigations as a serious infraction that warrants firing. The reason is a history of lying can be used by defense lawyers to question the credibility of the officer's testimony during any subsequent trial.
The only punishment Hensley received for his actions, in that case, was a requirement that he undergo additional training in three areas.
Mathews, the corrections officer now facing a second-degree murder charge for fatally shooting a neighbor, had a past personnel history that included an incident with a gun in a bar.
Personnel records show that in January 2016 Federal Heights police were called to the Wreck Room Saloon for a report of a patron engaged in potential felony menacing with a firearm. A bartender called the police and reported that while Mathews was drinking in the bar, he continually lifted his shirt up to display his Ruger pistol, which he had a concealed permit to carry, to other patrons.
A report from Federal Heights police officer Bryan Roberts stated that Mathews was called out to the parking lot after officers responded to the bar. Officers placed Mathews in handcuffs after removing his holstered gun, the report states. Police reported Mathews took a breathalyzer test that registered his blood alcohol concentration at 0.43, a since-disputed level which would be five times the legal limit to drive under Colorado law.
The Federal Heights officers took Mathews' gun for safekeeping. Mathews and his friend then called an Uber to take them home rather than driving Mathews' car there, the police report states.
Mathews reported his interaction with the Federal Heights authorities to the prison. When prison officials investigated, the Federal Heights police officer Roberts said he mistakenly noted in his police report the blood alcohol concentration of Mathews. He said the correct level was 0.043, which would be under the legal limit for driving in Colorado.
"A decimal point makes a serious difference — hope that helps," Roberts said in an email to the prison investigator probing the situation. No punishment was imposed for Mathews' displaying the gun in the bar, according to the records.
Mathews had another personnel matter, this one at the prison. In April 2016, he was involved in a verbal altercation with another staff member, which almost resulted in a fight between two other staffers, according to personnel records.
His supervisors ordered Mathews to undergo additional training and had him write an essay for that violation.
After the criminal charges, the officers initially were placed on paid administrative leave. They have since been fired.
Contact the reporter: 303-257-2601 chris.osher@gazette.com