Life is a struggle for 18-year-old Lily Griesan, from the moment she wakes up until the moment she lays her head on a pillow.
Putting on clothes, eating, walking, speaking and writing are like mini mountains she summits every day.
Lily is still recovering from severe traumatic brain injuries she sustained after being hit by a car 12 years ago, when she was 6.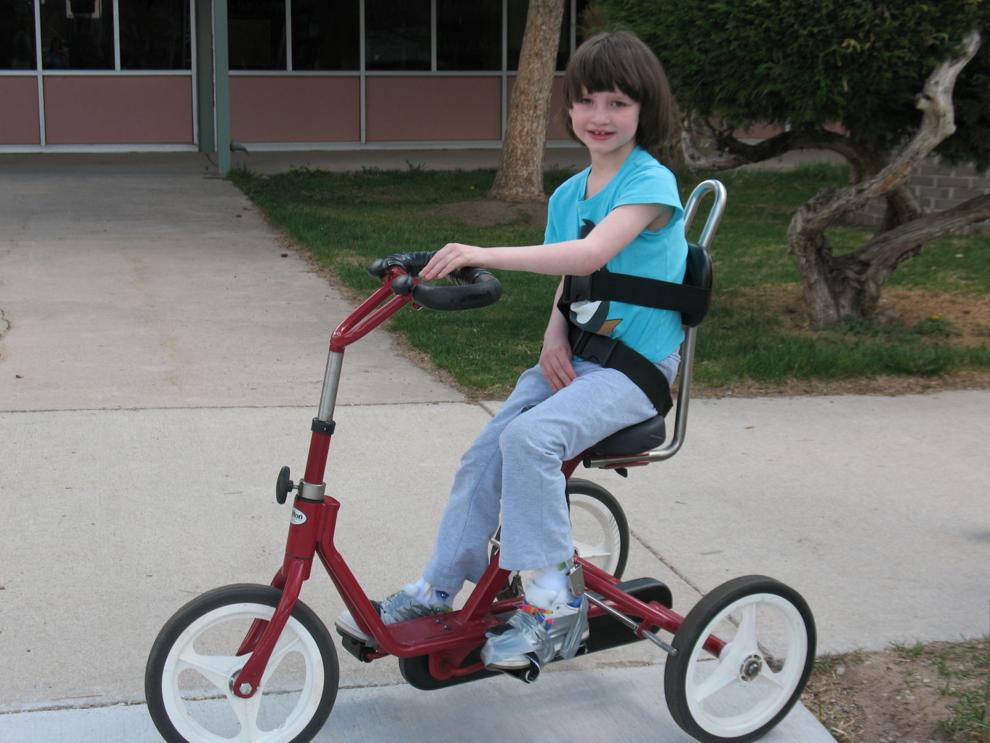 Lily and one of her four older sisters were riding their bicycles in the spring of 2008, in the alley just a few doors down from the family's Pleasant Valley home, when they heard the familiar and tempting melody of an ice cream truck.
With a goal in mind, Lily started pedaling faster toward the music. Another sister yelled for her to come back.
A 16-year-old neighbor boy with a 2-week-old driver's license in his pocket struck Lily while speeding down the alley at 50 mph.
"At the hospital, she was barely breathing," said her mom, Jean Griesan, who was out running an errand when the crash happened. "They didn't know if she was going to make it."
In addition to serious injuries to both sides of Lily's brain, her small body suffered two broken ribs, a collapsed lung, two bad breaks in her left leg and tons of road rash.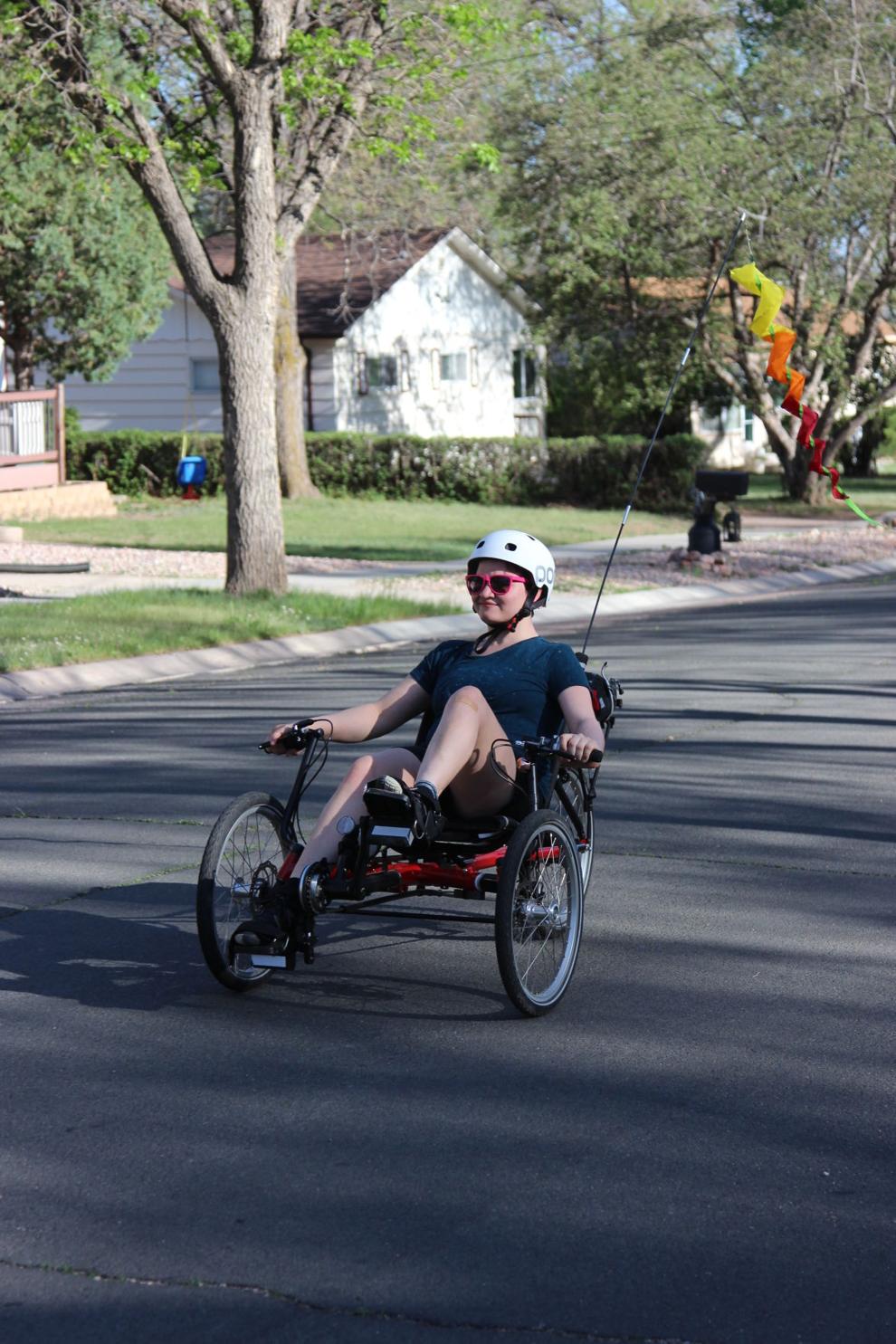 Lily spent two weeks in intensive care and seven weeks in rehabilitation at Children's Hospital Colorado in Aurora.
For five months, she was nonverbal.
But slowly, her brain remembered its job.
She continues to need various medical procedures and treatments, along with physical, occupational and speech therapy, and counseling.
There have been massage sessions, acupuncture, chiropractic care, therapeutic horseback riding, recumbent trike training and other attempts to coax her body back to normal.
Still, her balance is off so much that she falls frequently. To avoid further injury, she uses a wheelchair at school.
Her right arm has taken to shaking so wildly that she's been sitting on it to restrain the involuntary movement, which has led to nerve damage. And she's had to learn how to switch from being right-handed to left-handed.
"She's in pain a lot," her mom said.
Cognitively, Lily is only slightly behind her peers.
To her friends and classmates at Coronado High School, from which she graduated virtually last week and will be on stage during a modified in-person ceremony on June 25, she displays a "fun" and "funny" personality, as her mom describes.
"She's smart, witty and articulate," Jean said.
It takes time for Lily to form words, which can be hard for people to understand until they get used to the cadence.
"The fact she speaks slowly, she makes every word count," said Doug Gryboski, a business and technology education teacher at Coronado High who had Lily as a student in an economics class this year.
Since she was born, Lily, the younger of a fraternal-twin duo with sister Valerie, has been a "tough little kid," Jean said. She's had as much courage as the Cowardly Lion from the "Wizard of Oz" could have ever wished for.
That tenacity coupled with God's grace have helped Jean and Tom Griesen's youngest daughter and the family not only cope with the massive upheaval to their lives but also weather the challenges with love, laughter and fortitude, Jean said.
"I would be remiss to not say that God was present through the whole thing and continues to be," she said. "There have been a lot of unique things that happened and people placed in our lives for a reason."
Each family member has had to make sacrifices, said Jean, who had planned to return to work as a software engineer before Lily's care became a full-time commitment. 
Neighbors, Howbert Elementary School and the community as a whole also rallied around the family after the accident happened, with nearly $20,000 donated.
"People were very generous," Jean says. "In our case, it really has taken a village. We couldn't have made it through without all the support from people who did things that we didn't even know we needed."
An inspiration to others
The ongoing difficulties are both overt and subtle.
Any outing requires planning and potential hurdles for locating handicapped accessibility and other considerations for Lily's condition. Sometimes Lily stays home with another family member — such as last year's funeral trip for a grandfather — because the logistics seem overwhelming.
Penning her signature takes Lily not a few seconds but at least a minute or so.
A certificate of gratitude she made for a teacher that an able-bodied teen would have spent 45 minutes on took Lily some 30 hours.
"It's hard for me to watch, as her mother," Jean said.
Graduating from high school is an achievement Lily wasn't sure she could pull off.
"I had doubted I'd make it a bunch," she said.
"She's worked 10 times as hard as anybody else," her mom added.
But, "Graduating is exciting and another step to growing up," Lily said, adding that some people have told her that "adulthood sucks" and "It's just another amusement."
The young woman who writes deep, hard-hitting poetry about her experiences, with such titles as "Ode to My Younger Self," and "Race Out of Hell," also is loud, silly and lighthearted. It's a coping mechanism, Lily acknowledged.
"Her smile, sense of humor and quick wit brought joy to many staff and students at Coronado," said Kyle Yeh, a math and computer science teacher at Coronado High School.
But beneath the bubbly exterior lies depression and anxiety, Jean said, which many people don't know because Lily doesn't outwardly display her internal anguish.
"It's just grueling for her," Jean said.
Lily is an inspiration to those who know her.
She's surprised when people tell her that.
"I'm just living my normal life," she said, with a smile that no one forgets.
Coronado teacher Gryboski said he's happy to be Lily's instructor and a friend.
"I find her to be so filled with wisdom because she sees the bigger picture in everyday little things and has insights to things most of us miss," he said. "She helps me stop and put deeper thought into everything."
She inspired two of her sisters to pursue the health care field. The oldest Griesan daughter graduated this month from the University of Colorado School of Medicine in Aurora and plans to specialize in pediatric rehabilitation, largely influenced by Lily's hospital treatment and healing.
Another sister is studying to become a physician's assistant.
A drama teacher at Coronado told Lily last week, as she picked up a certificate, that when she shared in class she was struggling with deciding whether to sign a Do Not Resuscitate form now that she's 18, it led an autistic student who hasn't gotten along with Lily to understand what empathy means.
The teacher told Lily the student said, "Wow, Lily does have a lot to think about."
"She said every student has learned from you and from watching your struggles," Jean said. "Everyone's gained something."
Lily has been as brave as anyone fighting a war no one saw coming.
Lily's battle to get her body to function properly again surpassed the expectations of doctors, nurses and therapists, Jean said.
"They've been amazed at her progress."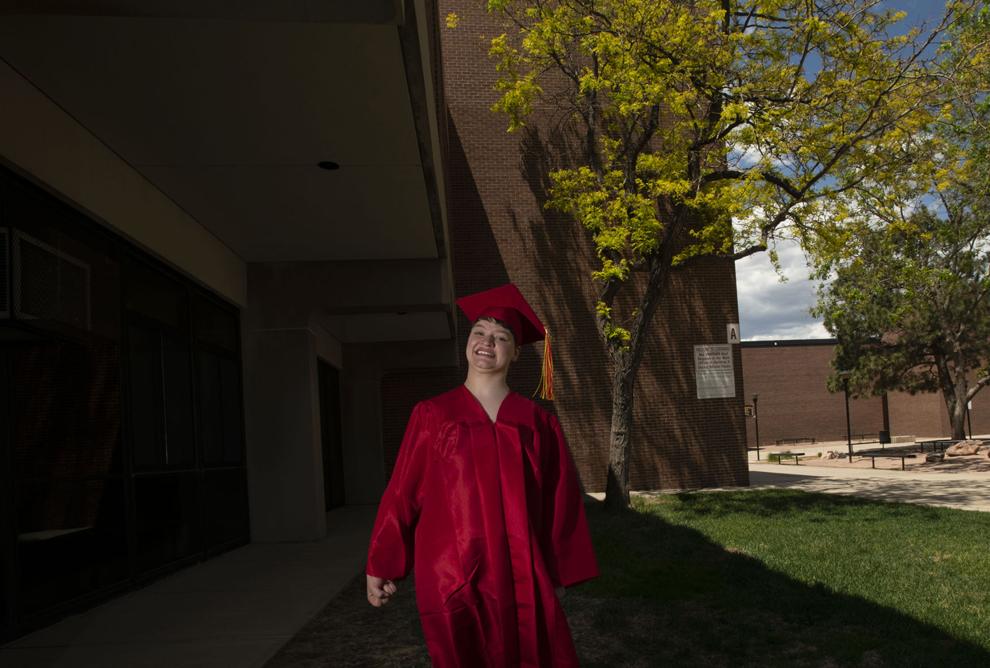 But the recovery seems unending. Lily's right leg has started to shake now, and combined with the shaking of the right arm has become nearly unbearable. In a few weeks, she will undergo a trial spinal cord procedure to try to stop the movement and relieve her chronic pain.
A legal dispute with insurance companies is still going on, after 12 years, to help pay for her ongoing care. Jean said it appears the case might be resolved soon.
As for the future, Lily dreams of owning a spa, teaching meditation classes or becoming a motivational speaker.
For now, she enrolled in a life skills transitional program Colorado Springs School District 11 offers for special-needs graduates, to learn to become more independent.
Lily's excited for the new opportunity.
"You can't help but love Lily," Jean said. "Either you're her friend, or you're going to be her friend."