When Mike Battaglia walked into the woods of the Pike National Forest on a sunny, late winter day, he pointed to the mature ponderosa pines — their needles assembled into bulbous groups, their burnt-orange bark furrowed into scaly plates and the buds of their egg-shaped cones.
Their plum branches towered over smatterings of young Douglas firs, brittle juniper bushes and dead litter. The position of their limbs — far enough from the ground to escape the reach of flames running on the forest floor — is part of why Battaglia loves these trees.
"Ponderosa pines are tough," said the Fort Collins-based U.S. Forest Service research forester. "They can handle fire and drought."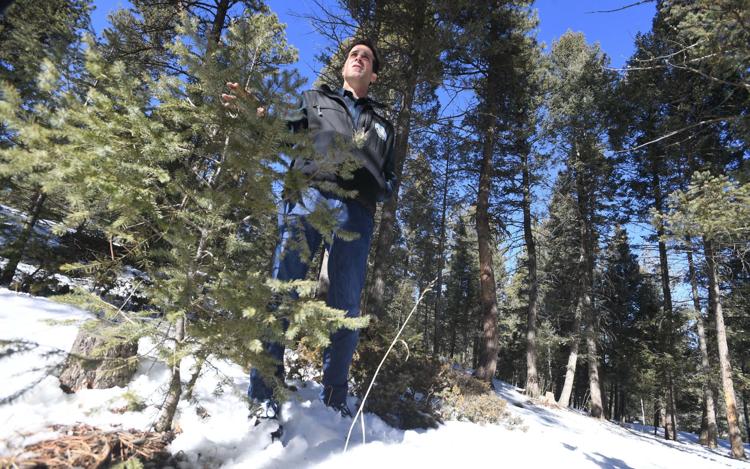 But then, he noted the saplings tall enough to prove that wildfire — natural or prescribed — has not run through the hill just south of the town of Buffalo Creek. A spot like this should burn every 20 to 40 years, Battaglia said, and it hasn't.
If a wildfire sparks here, fast-moving flames could explode out of the abundance of dry fuels. That, in turn, could hurt soil retention, watershed health, wildlife habitat and even carbon emissions.
Colorado forests have emitted more carbon dioxide — the primary greenhouse gas contributing to climate change — than they have absorbed since 1990, according to a new analysis by the nonprofit American Forests. Years spent combating the maelstrom of flames, beetle infestations, drought and other aggressors have compromised the forests' collective immune system.
Trees removed about 16 percent of atmospheric carbon released by human activities in the U.S. in 2011 and between 10 percent and 20 percent each year, the Forest Service estimates. But, as forests in the Colorado Rockies are destroyed by severe fire and massive beetle kills-offs — two well-documented harbingers of climate change — one of the Earth's prime defense mechanisms against a warming planet erodes.
"We know climate change is happening, so how do we prepare the landscape for it?" Battaglia said. He is among those setting aside despair and opting to search for solutions to save the state's vast forests.
Larger, more calamitous wildfires started to consistently hit Colorado in the 1990s, notably the 12,000-acre Buffalo Creek fire in 1996. Coloradans' ears would perk up at the mention of a new conflagration, Battaglia said. Everything changed when the Hayman fire razed more than 137,000 acres of the Pike National Forest during an anomalously dry 2002.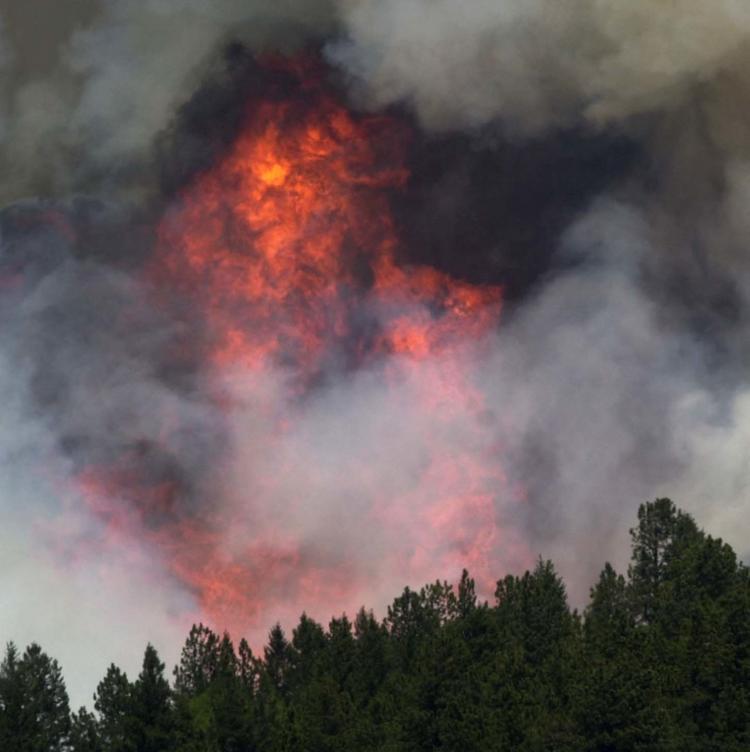 Unlike blazes of the past that burned moderately with pockets of high-severity areas, 43 percent of the Hayman fire burn area was scorched, Colorado State University researchers found. In areas with few if any surviving trees, the dominant species — ponderosa pine — struggled to regenerate at lower elevation 12 years later, according to a 2014 survey.
"The landscape was once dominated by ponderosa pine and some Douglas fir," said Marin Chambers, the paper's lead scientist and a research associate at the Colorado Forest Restoration Institute. "Now, in that same spot in a high-severity burn area, you'd see it's completely devoid of trees, except for some standing dead. But most have fallen down at this point."
The seeds of ponderosa pines, which are heavy and generally cannot disperse more than two tree heights away from their parent trees, toiled to spread and root across the blistered hillsides. Even with enough precipitation, few seeds sprouted and rooted in the singed soil, restricting the forest's range.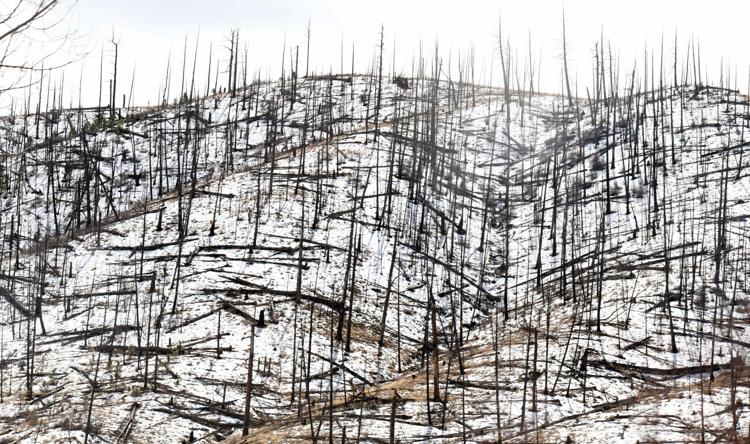 Chambers said the research, published in 2016, is an attempt to understand the future of forests, specifically how they rebound from major disturbances amidst climate change. In parts of the Hayman fire burn scar, that could mean a decadeslong absence of the conifer trees that Coloradans once wound through on hikes, bikes and horseback.
But, as Chambers' colleague Paula Fornwalt found, other flora are flourishing where the trees once grew. There, a community of native species — blue grama, hairy golden aster, various sedges — as well as less common plants like mullein have found a home.
"We can talk about fire (like the Hayman) being catastrophic for trees," Fornwalt said, "but the same language can't be applied to understory, which seems to be pretty resilient. Not only that, it seems to thrive."
Scientists also found American three-toed woodpeckers nesting in the recently killed and dying trees where they could forage for wood-boring and bark beetles. Though less common where trees have vanished, the black and white bird found ideal habitat in moderately burned areas.
The collage of ecological research complicates the narrative that wildfire is exclusively a predator, consuming every living creature in its path. Though a landscape may not resemble how modern Coloradans remember it, life will return.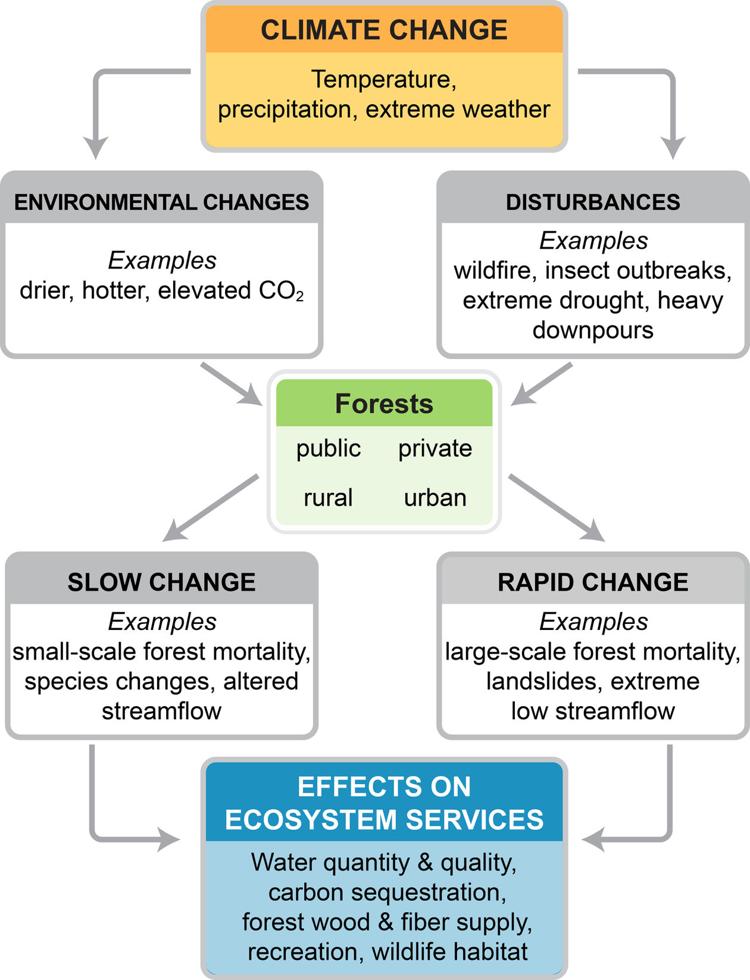 "In my mind, we should think about the ecosystem as a whole and recognize that some areas are doing OK and some aren't doing so well," Fornwalt said. "It's analogous to thinking about your health: Maybe your blood pressure is high, but your weight is good and cholesterol are good. We're holistic and paint a picture that way to avoid blanket statements."
But, it's the loss of the forest and its ability to capture carbon that frightens David Cleaves.
With more sound forest management, trees could sequester enough carbon emissions to offset between $125.5 billion and more than $1.5 trillion in costs in the U.S., the Forest Service estimates. These totals are based on the avoided social costs of carbon emissions, including the destruction of property from flooding and other natural disasters, reduced agricultural yields from drought and exacerbation of health problems like asthma and other respiratory issues.
Cleaves, the former climate change adviser to the chief of the Forest Service, believes that restoring forest health is as much of a "key strategic asset" to the fight against warming as economic solutions, including a carbon tax and cap-and-trade programs.
"Our central mission is to help mainstream forests as solutions to climate change, both from the greenhouse gas management side and the side of adaptation to climate change," Cleaves said.
But the viability of this goal was in question after Cleaves and American Forests analyzed the forestry inventory data for Intermountain West states to determine the carbon stored in live, dead standing and fallen trees, understory, forest litter and the soil. Colorado — as well as Wyoming, Utah, Nevada, Montana and Arizona — had "flipped over from a solution to actually part of the problem" at various intervals since 1990. Idaho and New Mexico were the only states to remain carbon sinks.
"We've taken it for granted that our forests are capturing and offsetting greenhouse gases from other sources in the rest of the economy," he said.
During a wildfire, the combustion of trees is an immediate carbon source, one that residents far and near can see and sometimes feel in the air. Historically, the regrowth of the forest compensates for this source in the long term. But, as Chambers' research and that of others show, regeneration in high-severity burn areas after vast wildfires is tough, especially in a water-sparse state like Colorado.
Then, there are the bugs. The bark beetle population swelled radically in Colorado in 2018, especially in the southwest corner. Spruce beetle attacked 178,000 acres of Engelmann spruce. Although that's fewer than the 260,000 acres in 2017 and the 250,000 in 2016, about one-third of the acres chewed up last year were in previously unaffected areas. The roundheaded pine beetle in southwest Colorado more than doubled its presence to 27,000 acres, up from 11,000 acres in 2017, mostly in Dolores County.
Largely to blame were the state's second-worst drought in 124 years and record-breaking heat, said Dan West, an entomologist with the Colorado State Forest Service.
"It doesn't mean forest managers are doing a bad job; it just means that bugs and fire and drought are doing a good job," Cleaves said.
Last year, 502 wildfires ran across more than 475,000 acres in Colorado. The state government and Forest Service spent $40.1 million and $120.3 million, respectively, on suppression. For the Forest Service, that's nearly three times more than the $42 million it doled out for wildfire suppression during the 2017 fire season in Colorado.
The blazes emptied more than just the government's wallet. Near Durango, the 416 fire ravaged the local summer recreation economy. In La Veta, the Spring Creek fire obliterated more than 200 structures and swept across 108,000 acres, making it the third-largest wildfire in Colorado history.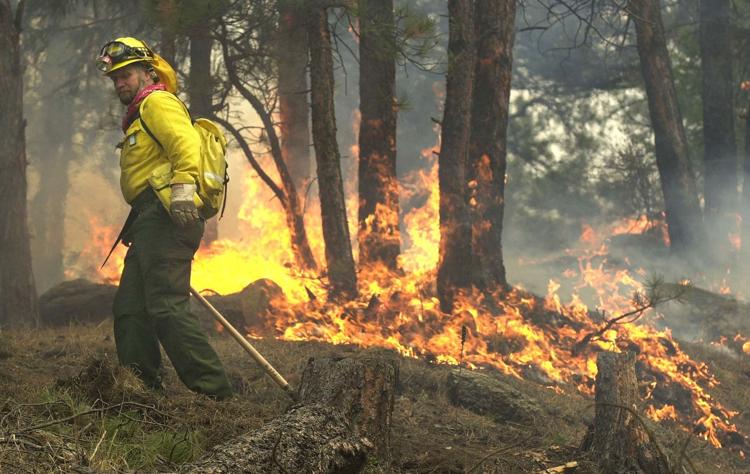 And fire could get worse.
By the middle of the century, the annual acreage burned in the West could expand by two to six times, according to an analysis in the federal government's 2018 Fourth National Climate Assessment. Estimates made in 2017 show that about 2.9 million Coloradans are in the line of fire.
The length of the fire season — which some have now dubbed the "fire year" — increased 18.7 percent between 1979 and 2013, an article published in 2015 in Nature Communications shows. The study also found that terrestrial carbon uptake was lower during years with longer-than-average fire weather seasons.
More volatile snowpack, alongside drought and heat, will also amplify wildfire frequency and intensity, said Mike Lester, director of the state's Forest Service. Though Colorado's snowpack was 126 percent of median by mid-April this year, the snowpack was a mere 68 percent of median by April 1, 2018. It was one of seven years since 2000 that the snowpack peaked notably below average, compared with only one year between 1984 and 1999, federal snowpack data shows.
"If the snowpack doesn't stay into the spring and early summer, the fire season is longer, and weather events and drought are also more extreme," he said. "That's the way it's going to be, so we're trying to get out in front of people to try to tell them how important the forest is.
"I have no ability to make climate go back to normal," Lester said. "But I can make the forest healthy as a contribution to (climate change mitigation)."
Deep in the mountains just northeast of Pagosa Springs, Mike Battaglia may have a piece of the solution to forest health in a changing climate in Colorado. There, the research forester has mapped about 500 acres between 7,000 and 8,000 feet elevation of a thick conglomerate of ponderosa pine, Douglas fir, white fir, aspen and shrubby Gambel oak.
In his eyes, each tree and each species are an opportunity.
He could haul away the drought and fire susceptible white firs; group the ponderosa pines in small, spaced out clusters that mimic how they may have been paired 200 years ago; and, eventually, ignite prescribed fires that torch some trees but nourish others.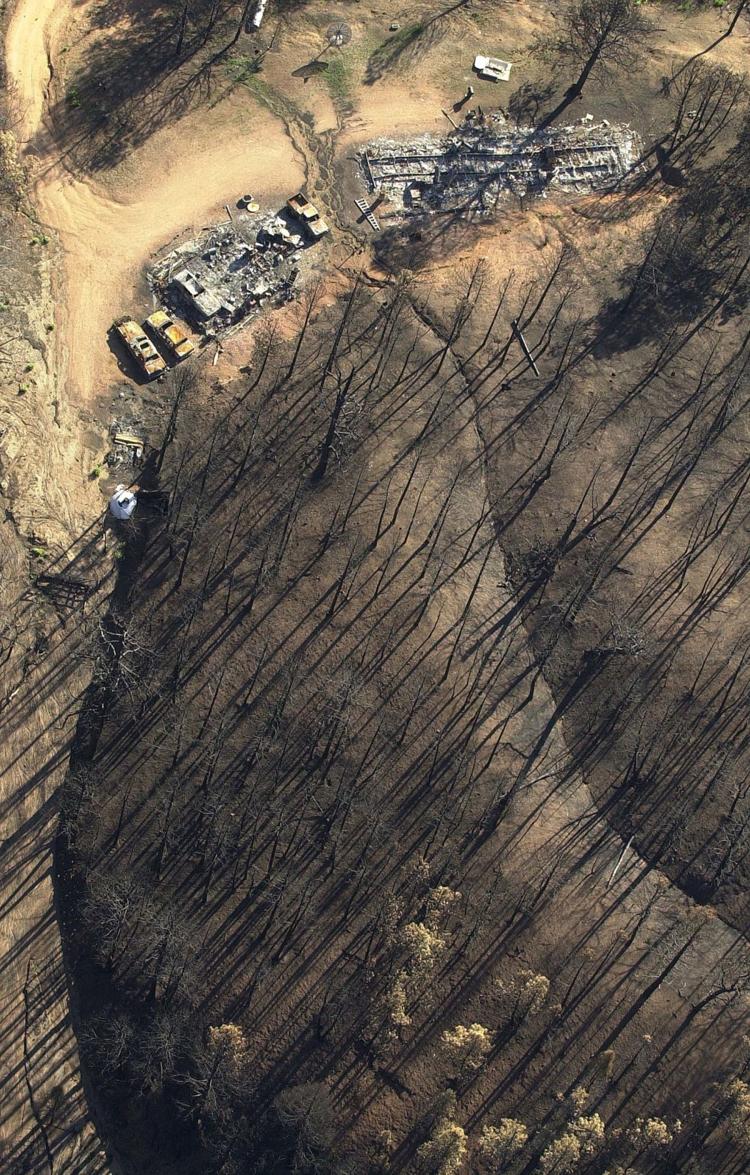 This plot is his laboratory, one where he and his colleagues will manipulate the physical makeup of the landscape as it cycles through wildfire, beetles, drought, record low and high snowfall and other natural events during the next 20-plus years. The goal: create a forest that is resistant to change, resilient to disturbances and prepared to transition to the unknown future climate.
"My job is to maximize multiple use and get the ecosystem processes back while still producing timber, and also providing for wildlife habitat, watershed health, understory plants and other parts of the environment," said Battaglia, who hopes to start treatments this summer. "That's why I went into this field. I want to do the right thing and make sure everyone does the right thing for the forest."
Battaglia is not alone in his quest for restored forest equilibrium, either. His project is one of five experiments across the country that are exploring how humans can manufacture more robust forests in Georgia, Minnesota, Montana and New Hampshire.
"With forest management, we need to work with what we have and anticipate what it might be in 50 years," said Linda Nagle, who leads the national project and is a forestry professor at Colorado State University. "And that's different than 50 years ago when we didn't think conditions would change. … This change is so rapid, too."
"If we aren't proactive to anticipate those changes quickly, we may lose the values in the forest that we've taken for granted for so long," she said.
Colorado's proactivity may be restricted compared with the others that forest managers are working to restore because of an emaciated timber market. Between 1982 and 2012 the number of sawmills producing lumber in the state declined from 84 to 31, the Forest Service found. Fewer broad feet can be processed in-state, and the wood that stays within Colorado's borders often has to travel farther once it's chopped down.
With no market, the transport costs — and the emissions released during the haul — exceed the payoff for the product and disincentivize contractors from signing onto the project.
"The biggest cost to that now is that we don't have the infrastructure and, where we do, it's too far away," Battaglia said.
But, in Minnesota, where the timber market is thriving, the San Juan site's sister project has so far generated about $1 million in wood byproduct sales, Nagle said. Just another thread to weave into the story of restoring forest health in Colorado.
"It's really complex here," Nagle said. "The solution isn't simple."
Someday, the Colorado wilderness may not resemble the thick belts of trees in peoples' backyards across the Western Slope and Front Range, she said. Maybe they will have metamorphosed into a hillside of shrubs like the areas of the Hayman burn scar. Maybe they'll even contain species not native to Colorado but more adapted to this new environment.
That reality forces us to re-imagine what our environment can and should look like.
As Marin Chambers put it, "There are a lot of interesting ecological impacts of the change from forested landscape to a prolonged nonforest landscape or an ecotype conversion. But I have a lot of questions to put back on the public. What do (they) want and desire and need out of these landscapes?"
Those questions invite the public to be proactive in a challenge that is of global scale with hyperlocal implications.
The answers will determine the future of our forests and whether, when Battaglia is retired walking through the woods, he can still find that sweet smell of butterscotch wafting from the ponderosa pines that he has come to love so much.
Twitter: @lizmforster Phone: 636-0193