The state health department is using its authority to indefinitely shutter a Castle Rock restaurant that was open this weekend for dine-in service, defying a public health order, Colorado Gov. Jared Polis announced Monday.
The restaurant, C&C Breakfast & Korean Kitchen, caused an immediate health hazard by doing so, Polis said during a news conference. The department is using its authority under the state's Food Protection Act to shutter the eatery until it is "no longer a threat to public health and hazards are removed," he said. He also said the restaurant's license would be suspended "indefinitely" and "probably for 30 days."
WATCH: Owner of Castle Rock restaurant explains decision to open restaurant 
Polis said it was "unfortunate" that the restaurant and its employees "will have to suffer the economic loss of a prolonged closure." Images posted online showed the restaurant open for Mother's Day with a large crowd and no social distancing. 
"I love my mom far too much to visit a restaurant operating illegally just to take a selfie with omelettes and mimosa," he said, adding that Coloradans are "better than that."
He also said Coloradans are better than statements being made that those who ate at open restaurants this weekend "deserve" to get the virus.
"We're walking a tightrope between protecting our health and protecting our economy," he said, adding that it's difficult enough to walk that tightrope when people are "shaking the rope" with their ideological views.
Restaurant owner Jesse Arellano, in an interview with Gazette news partner KKTV, said customers came from places other than Castle Rock, including on Monday.
"People are even coming from Pueblo and Security, so they can celebrate freedom because this is what freedom feels like," he said. "We're fighting for our constitutional rights. ... All of us are Americans, no matter what you believe or feel. This is the land of the free and the home of the brave."
Colorado Springs resident Robert Taylor, who has been a regular at the restaurant for four years, said there was a "jubilant atmosphere" at the cafe Monday.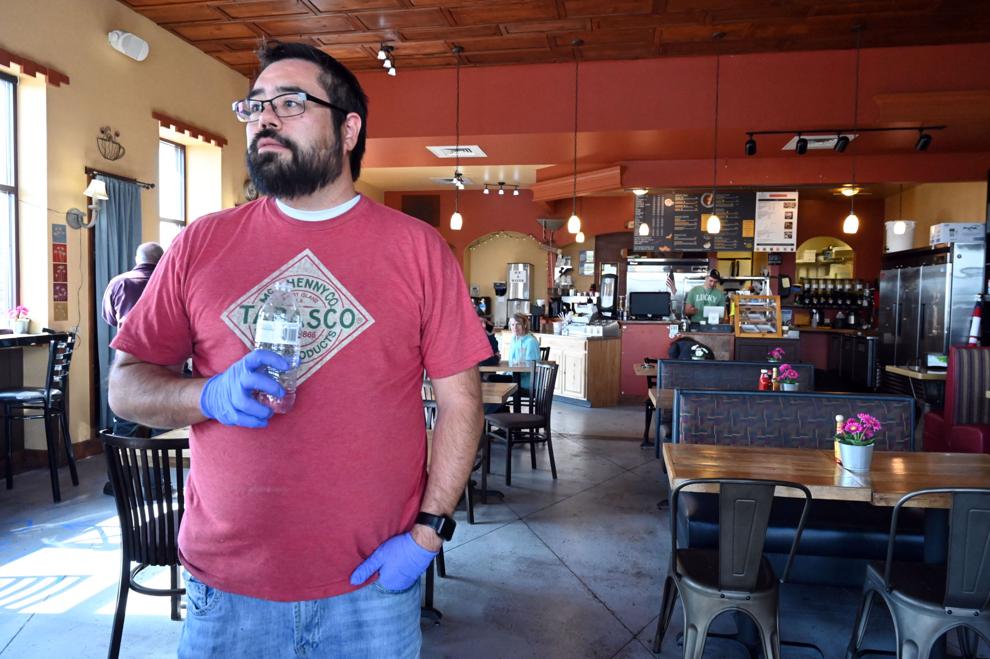 "We talked with Jesse and we prayed with him today," Taylor said. "In fact, all the customers that were in there, about 15 of us, we just gathered and circled up and prayed."
Polis ordered restaurants and bars in the state closed for dine-in service to help reduce the spread of COVID-19. No date has been set for allowing more than take-out or delivery service, though the governor is eyeing late May as a potential date that restaurants may be allowed to re-open for dine-in service, depending on data.
He said Monday he hopes to announce a decision on May 25 as to how restaurants can "continue to exist in these challenging times."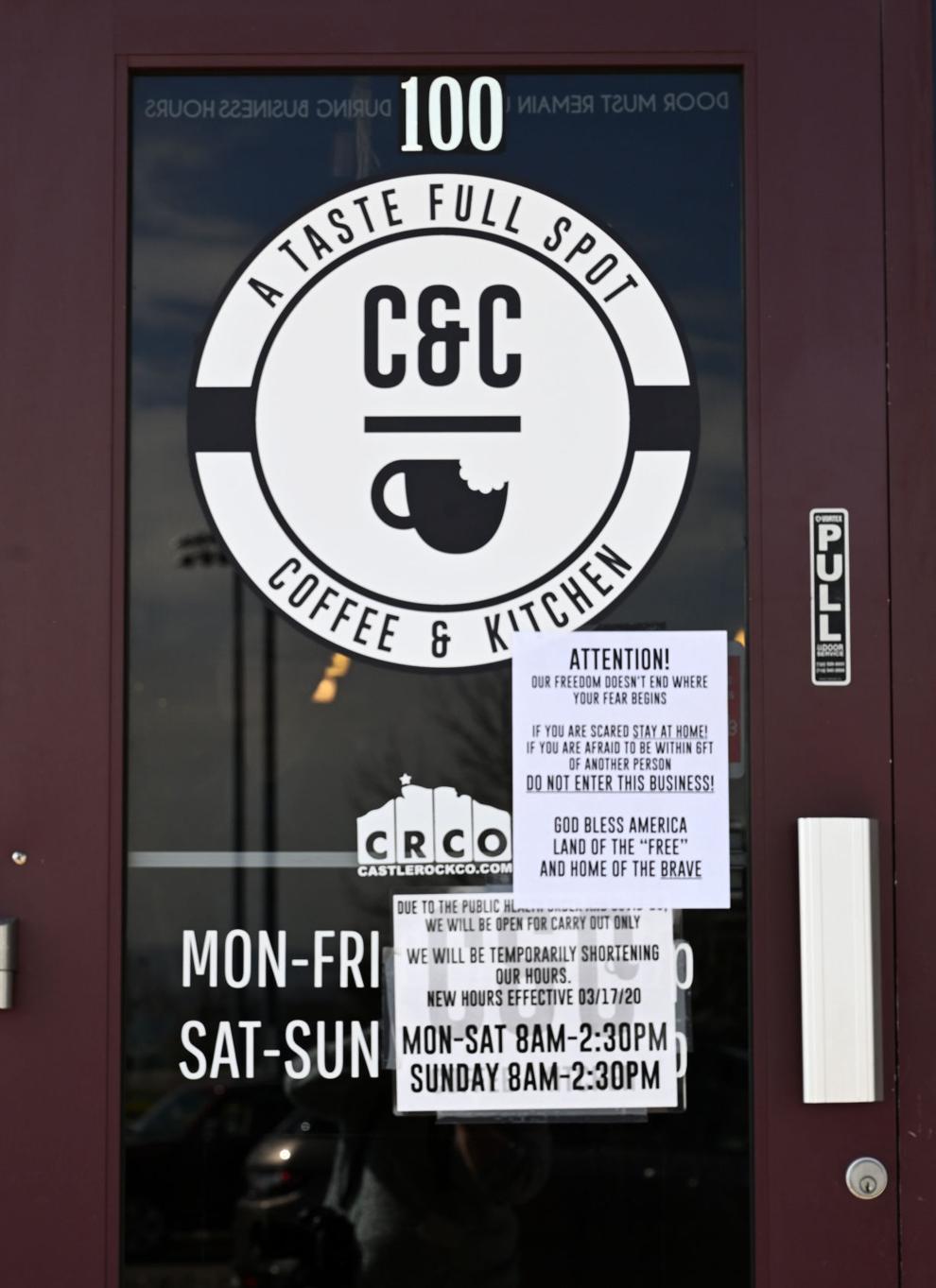 If 40 or 50 restaurants opened for dine-in like C&C did, "at least a couple of those" would likely have coronavirus outbreaks, Polis said. "And it would go to tens or dozens of people in that kind of packed-in, illegal environment."   
Polis called death from coronavirus "particularly agonizing, painful and lonely," and encouraged Coloradans considering eating at dine-in restaurants to read stories of those who survived, or from loved ones of those who did not.
There are "priceless lives we can still save" and we can emerge "sooner rather than later, with more lives intact from this pandemic" if Coloradans act responsibly, he added. 
Residents "don't have to agree with every law — I don't," Polis said. "... But we all believe in the rule of law and need to follow the laws and work through legitimate channels to challenge those laws.
The governor said he does not think that criminal cases should be pursued against restaurants that defy the public health order and open for dine-in service, "but it's up to the local sheriff and DA." 
When asked whether public health would shutter other restaurants open for dine-in service during the public health order, a spokesman for the governor said only that "the governor is disappointed when businesses break the law and subject themselves to legal penalties."
Counties typically lead on enforcement actions, according to state health officials. If the state chooses to also take action, that doesn't preclude the county from doing so, they said. Typically the state will get involved when there has been no county action to suspend/close a violating facility, or when there are willful, flagrant violations. 
A spokeswoman for El Paso County Public Health said Monday she had no updates on Karen's Kitchen, Stephanie's Bar and Grill, and Western Omelette 3, Calhan restaurants that opened for dine-in service last week in defiance of the public health order for restaurants to remain closed for dine-in service.
Cease and desist orders had not been delivered, a department spokeswoman said Friday.
Josh Bowsher, a manager at Karen's Kitchen, said Monday business had been "massive" and was helping to make up for the losses the restaurant took in March and April.
A call to Western Omelette 3 was not returned.
"To survive as a business, I encourage all small businesses to follow [C&C's] example," Taylor said, "and to follow the example of Western Omelette and Karen's [Kitchen] out in Calhan and to follow the example of the pizza place in Parker. More small businesses need to be standing on constitutional rights just to take care of their family and operate a business and we're through the worst of what has happened. Other states have opened up and Colorado should open, too."
When asked if Taylor will go to the C&C cafe Tuesday, he replied "oh, we're going there tomorrow - he'll be open."
At the time of the interview with KKTV, Arellano said he hadn't yet read the order from Tri County Health Department to determine if he will open Tuesday.
Nearby, in Teller County, a sports bar and grill is allowing customers to consume food on its premises, though the owner argues they're consuming it off-premise, a county administrator said.
The county has had "several communications" with Russ' Place, but "they aren't strictly abiding by the public health order and that's unfortunate," said Sheryl Decker. "It puts public health in the middle of it. We really wish we weren't in this place, but that's where we are."
A final notice was sent Friday to the eatery that was "pretty stern," she said. She wasn't sure what was next, but if the process is still underway when restaurants are allowed to re-open for dine-in service, "hypothetically, I would recommend to our county that ... we just move on," she said.
Calls to Russ' Place were not returned.
In other coronavirus-related news Monday:
- Polis said he will travel to Washington Wednesday to talk with President Donald Trump "with some trepidation," as he'll be flying commercially. "It's important for him to hear what's going on on the ground," Polis said of the president. There was "really no way I could say no" to advancing the needs of the people of Colorado. Read more. 
- The state reported 19,899 confirmed positives cases of coronavirus in Colorado, Polis said, adding that the actual number is likely two to four times that. The number of deaths from COVID-19 reached 981.
- The daily growth rate of coronavirus cases continues to decrease, Polis said, with the latest growth rate, 0.9%, marking the first time the state has seen a daily growth rate below 1%. The growth rate for daily hospitalizations is 0.1%, he said. But he cautioned that despite the lower rates, the virus continues to spread.
- There has been a limited allocation of the medication Remdesivir for Colorado, Polis said. "If it continues to be clinically promising, we hope supplies continue to increase,"  It's promising but "not a game-changer or a cure," Polis said.
- Camping can resume unless a host county isn't ready, Polis said. "We are one of the few states that have kept our state parks open during this entire crisis," Polis said. Opening showers, yurts and cabins will be phased in after the opening of camp sites, he added. Read more. 
- Polis said he hopes to announce when summer camps, including day camps, might be open on May 25 for June. "We plan to give as accurate as a picture of June as we can in late May," he said.
- Polis addressed those who downplay the virus by comparing it to the cold or flu, saying, "None of those require one in 10 people to be hospitalized." The difference between the cold/flu and coronavirus is "stark," he said.
- The state has been in the Safer at Home phase of tackling the pandemic for two weeks, meaning "in the next week we're just starting to see the very first people who became infected as restrictions are loosened," Polis said, noting the data will help determine actions for the future. "We don't want another wave to set us back from our goals, from being able to go back to work, to school, to summer camp, all those important things."