SUMMIT COUNTY • Chicken suits, bikinis and a hot dog onesie. This wasn't your typical holiday gathering. It was a party eight years in the making.
Everyone was invited. And, for a while Thursday morning, it looked like everyone might show up.
Arapahoe Basin Ski Area welcomed skiers and riders for one last day on the slopes, and thousands accepted the offer. When A-Basin's parking lots filled, drivers simply lined U.S. 6 in available spots from just outside Keystone to the top of Loveland Pass. Some even hitchhiked to the base.
"The atmosphere is beyond anything I've ever seen," skier Bianca Oprea said.
The crowds weren't coming for the pristine conditions, as snow that had covered the mountain for eight months now was reduced to mostly slush. They weren't coming for peace and solitude, either. Wait times to get on the lift grew to as long as 45 minutes.
No, the attraction this day came only in the form of skiing on the Fourth of July — something that hadn't been possible in Colorado since 2011.
"Our season was supposed to end early June, and we extended it several times," Katherine Fuller, the ski area's communications director, said. "Once we get to late June, everyone's really hoping that we can make it. But, you know, it's dependent on Mother Nature and how warm it gets and how much it rains and it's not 100% our call. We do what we can."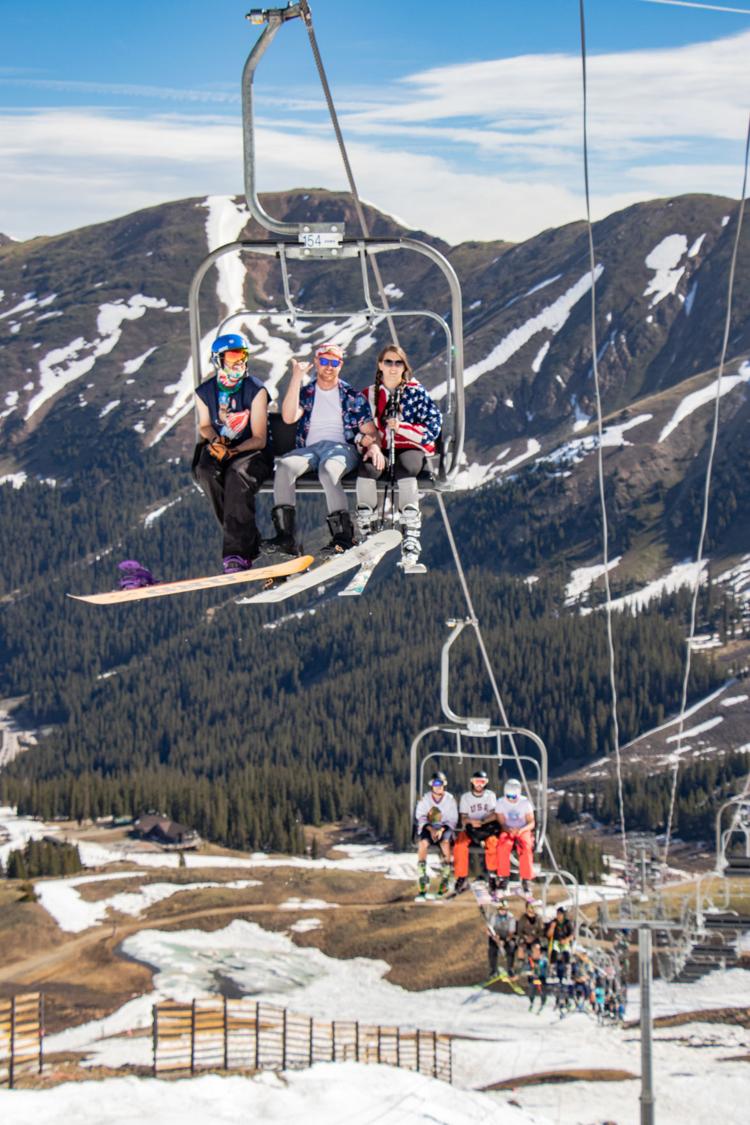 A-Basin's season is easily the longest in the state. Lifts began running daily Oct. 19 last year, and the ski area boasted a whopping 260 days of skiing and riding. It benefits from an elevation that ranges from 10,700 feet to 13,000 feet. The front side of the mountain also faces north, a plus when it comes to receiving and maintaining snowfall.
"A lot of it is managing snow," Fuller said. "We manage water runoff, moving snow around and really taking care of the mountain to make sure that we keep the snow in all the best places.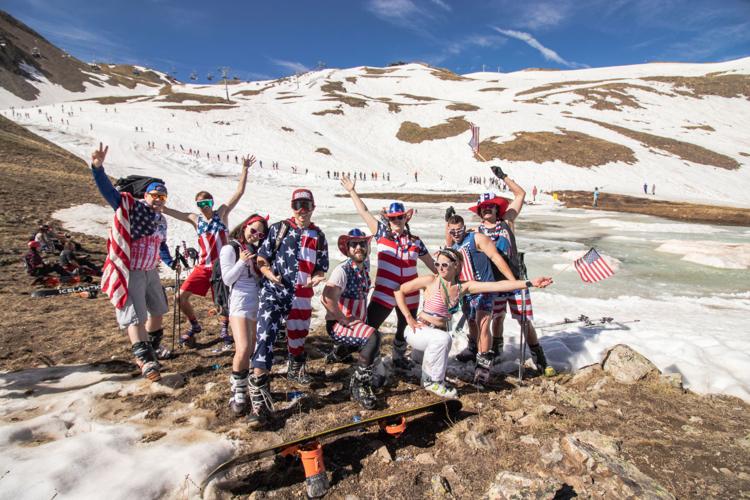 "While we didn't have a record snowfall here — it was barely above average — we had a lot of really cold nights and so that's why we are able to keep going."
When A-Basin announced that it was extending its season to July 4th, Laney Miller decided he couldn't pass on the rare opportunity. So at 1 a.m. Sunday, he booked a cheap flight out of Memphis, Tenn.
Miller was among the mass of revelers Thursday. Many wore red, white and blue. Some carried Old Glory. One played a saxophone. All seemed to bask in the sunshine of one final day of skiing and riding.
"Look at this," Corey Hansen said. "Where else in the world can you go snowboarding on the Fourth of July? I'm going to go wakeboarding tomorrow morning and I'm thinkin', 'Where else can you do both of those things back to back?'"
(Credit: Arapahoe Basin / Ian Zinner) 
In 2019, thanks to A-Basin, the answer was Colorado.
While the ski area will be decidedly quieter in the coming weeks, another season, one in which A-Basin won't be connected with the Epic Pass after breaking ties with Vail Resorts, is just around the corner.
"Honestly, I'm excited," Fuller said. "Snow is what we do."