SUMMIT COUNTY • Natalie Wedell has never played on ice sheets like the ones in Silverthorne during the 10th annual Pabst Pond Hockey Tournament.
Yes, she was raised maneuvering the puck on sub-zero days on Minnesota lakes, considered by some to be the mecca of American hockey. And yes, she spent four years racing down the ice of top-tier collegiate rinks with Yale emblazoned on the front of her jersey.
But, until entering the Pabst tournament for the first time five years ago, the 28-year-old Colorado resident never laced her skates underneath towering mountains like those of Summit County where skiers rode up high-speed lifts and snowshoers wove through conifers protected by wilderness designations.
"It's a really fun party with your friends in the mountains for two days playing as much hockey as you want," Wedell said. "It brings me back to a purer version of the game that is fun, creative and without worries."
Wedell's squad — Victorious Secret — is one of eight women's teams competing in this weekend's tournament. Though only a fraction of the more than 200 men's, women's and co-ed teams registered, they're all part of a changing landscape for women's hockey happening across the country.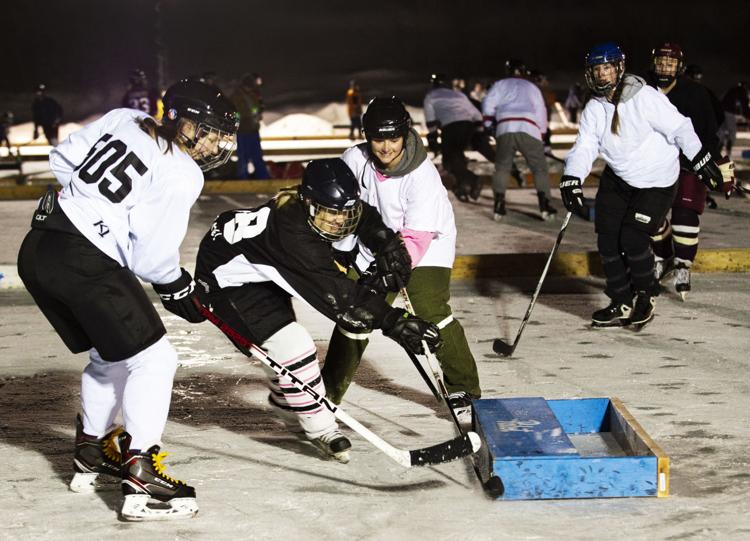 In most discussions about the success of women's hockey, people point to the USA women's team winning their second gold medal ever at the 2018 Olympics in PyeongChang, South Korea, after a shootout against Canada that captivated the world.
The men placed seventh in a lackluster performance.
The women's rivalry against Canada was reignited Tuesday in the first of a three-game series in 2019, all of which will be broadcast on the NHL Network. Canada came out on top Tuesday 4-3.
Kendall Coyne Shoefield and Brianna Decker, both of whom play professionally and on the national team, became the first two female athletes to participate in NHL All-Star Game weekend this January. Shoefield competed in the fastest skater competition, and Decker demonstrated the sequence for the passing competition.
Decker recorded a faster time than the NHL participants, and Shoefield placed seventh against the NHL's fastest skaters.
"It was great for them to have chance to showcase skills on a national stage and give the women's skills visibility outside of Olympics," Wedell said. "They're practicing and working all year-round ... and it's good for kids to have important role models in the (hockey) community."
The power of visibility 💪 🎥 @CatherineCTV pic.twitter.com/pRQ47lSDG3

— NBC Sports (@NBCSports) February 11, 2019
Amelia Steinkraus, the captain of the MinneSorta Nice team, said such exposure also displays the finesse involved in women's hockey.
"It's not the cliche things people think about in hockey, the aggressive rugged parts," Steinkraus said, referring to the rule against body checking in women's play. "Because you're not always having to think about checking or being checked, you are thinking about stick handling, skating hard and fast, and the flow of the game."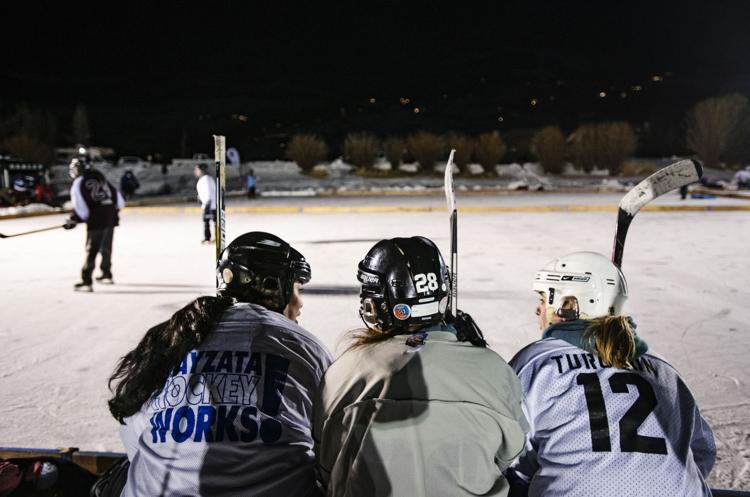 Steinkraus's teammate Alison Turgeon agreed: "Out there, you're more apt to try something that is new. If you screw up, who cares."
For newbies like Brittany McKee and her Giggly Bastards teammate Danielle Castle, it's about the encouragement they have found on the ice and in the locker room.
One of McKee's first memories when she started on a team in the Denver Women's Hockey League was how intimidated she felt the first time she suited up. She searched for where on her socks she should wrap her tape and fumbled with the Velcro straps on her shoulder pads. Eventually, she peered at her more experienced teammates looking for someone to mimic.
"It's scary and intimidating to start a new sport at 28," McKee said. "But the women I've played with have all been welcoming and ready to teach me the ropes. There's a lot of camaraderie in that." 
Castle, who is five years older, knew she found her place among her Denver team when McKee switched on Whitney Houston's "Dance with Somebody" in their small locker room at the Apex Field House in Arvada.
"Everyone got up dancing and singing," Castle said. "I knew Brit and I would be friends after that."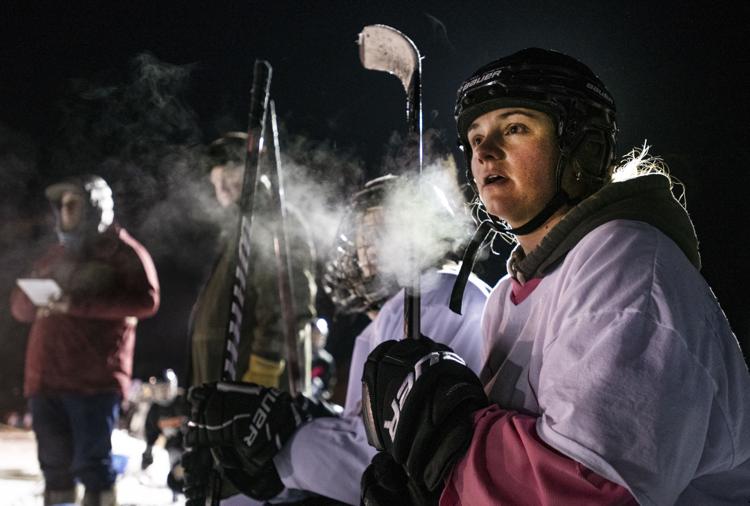 Memories like that, ones that build sisterhood, are what Wedell said she missed during her early years playing hockey on boy's teams.
"Being the only girl on a boy's team, you miss out on some stuff — sleepovers, different kinds of friends, things like that," she said. "As soon as I could join a girl's team, I took it."
From that first team at age 10 until the end of high school, Wedell played with the same teammates. They celebrated together when a teammate elevated the puck in the air for the first time during a shooting drill in fourth grade, and when they qualified for the state tournament — "the pinnacle of hockey in Minnesota" — in eighth grade.
It's also how Wedell and her sister, Lauren, spent thousands of hours together. During the summer, the pair shoot 10,000 pucks at pots and pans they hung in the corners of a net in their backyard while jamming to '90s boy bands on their boombox.
As soon as the temperature dropped below freezing, they'd spend every moment they could on the pond.
When they arrived, everyone — boys, girls, teenagers, adults, little kids — would toss their sticks in a pile on the ice and split into two teams. No one kept score, called offsides or avoided passing to a less talented player. If someone needed to warm up, they could run to the nearest house for a hot chocolate. If they forgot their hats, someone would toss them an extra hockey sock to yank over their ears.
"You're out there because you want to play hockey," Wedell said.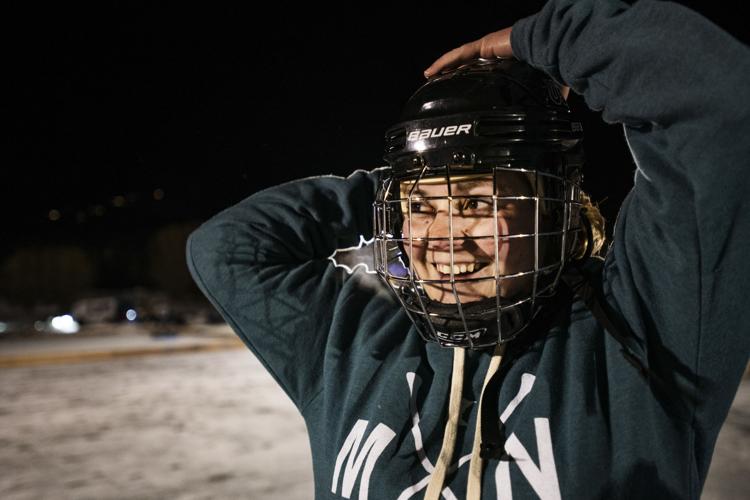 Being outside is about the freedom, said Turgeon.
"You don't have a practice schedule on the pond or a designated game time," she said. "You can go play whenever you wanted. And in Minnesota, even that one hour of practice on the rink isn't enough. We wanted more, and that's what pond hockey was for."
The Pabst tournament evokes the memories of when the seed of hockey was planted in the hearts of Wedell, Turgeon and Steinkraus, especially now that Wedell and Turgeon's sisters lace up along side them in Colorado.
"This brings me back to that part of the game that's fun, creative and without worries," Wedell said. "And I've never played on a sheet of ice like that — in the mountains, under the lights and with 15 other games going on around you."
The players on Victorious Secret and MinneSorta Nice will tell you they're out there to have fun and play hockey, as they put it. But watching them swerve around their opponents and whiz shots into the goal, you know they want to win.
Victorious Secret has claimed first place the past four years, but Wedell admits the competition in the women's division has becoming more fierce every year.
Days before the tournament, she said MinneSorta Nice had given her team "a run for their money" in past years. Friday afternoon, Steinkraus half-jokingly called the two rivals.
With snow falling and wind whipping, MinneSorta Nice came out on top Saturday against Victorious Secret 10-6.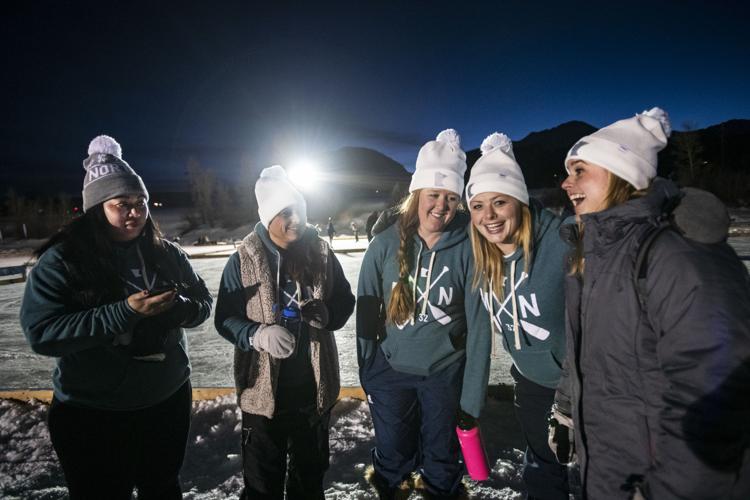 Winning isn't the Giggly Bastard's specialty. By Saturday afternoon, they had lost all three of their games, including the one against Wedell.
During their first game against the Jalepeño Hotties, they scored on themselves trying to defend against an attacking player.
"That's a little rough," McKee said just after the goal. "But at least we scored something!"
Seconds later, McKee jumped off the bench and over the 6-inch tall barrier surrounding the rink. She nabbed the puck from the opposition and pushed it up ice, her jersey-turned-cape billowing in the crisp air.
From about 4 feet away, she threw the puck toward the goal, but it ricocheted off the corner and into the hands of one of the Jalepeño Hotties.
McKee scored a goal a couple minutes later, the last of the Giggly Bastard's two goals in a 24-2 defeat.
"Losing is a bit painful for the athlete in me," she said back on the bench after her last 45-second shift. "But, man, am I excited to be out here."