The day that Colorado Springs police shot and killed her father, Angelyna Reed was worried about him.
Joshua Vigil still was reeling July 23 from the death in April of his aunt, who was found brutally beaten inside her apartment in Mexico. The father of five also missed his grandmother. She had been like a mother to him and had died in 2003, his 18-year-old daughter said.
"Everything just hit him. He did need help," Reed said.
Vigil, 38, wanted to go to where he had grown up, he said, on Monterey Road in southeast Colorado Springs. Reed, her older sister, Brittni, and their mother, Stefani, all met him there.
He had a gun with him, which he placed on the hood of his 2011 red and black Mustang as the women led him to Monterey Park. He argued with Brittni, but appeared to calm down, Reed said.
Police officers were on the way, responding to a report of a suspicious man with a gun in the 2200 block of Monterey Road.
"He will not injure you. I know him," Reed said she told the officers when they arrived at the park.
Her dad jumped into his Mustang and drove away.
The officers didn't chase after him, staying with Vigil's daughters and wife and bringing them to the police station, Reed said.
Hours later, Reed was in a hospital after having a panic attack and multiple stress-induced seizures. She was told that her father was dead.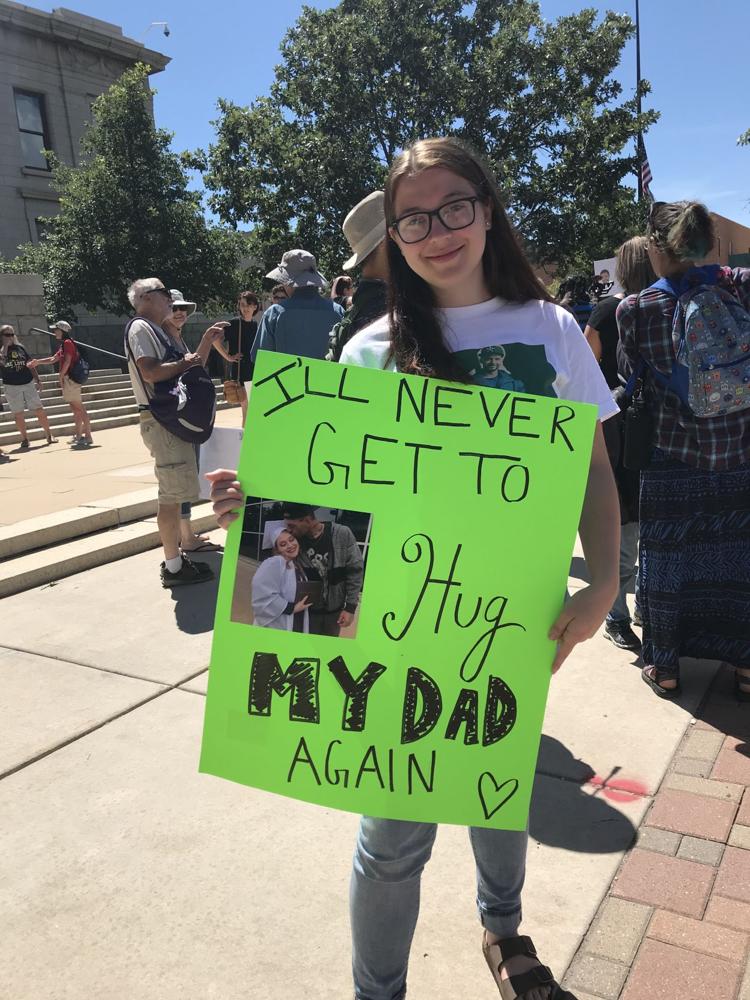 Police said at least one officer fired at Vigil after they found him and his wrecked Mustang near the Fountain Garden Apartments, 3165 E. Fountain Blvd. Vigil died later in a hospital.
On Friday, one month after Vigil's death, 13 of his relatives protested in front of the Police Operations Center to demand the release of body-camera footage from three officers involved: Lucas Aragon, Cole Jones and Sgt. Mark Keller.
"Mental illness is not a crime," the protesters chanted Friday.
As is typical when deadly force is used by a law enforcement officer, the shooting is investigated by a neutral agency to avoid conflicts of interest. Shootings involving Colorado Springs police officers are investigated by the El Paso County Sheriff's Office in most cases.
Stefani Vigil said she spoke to a lead detective at the Sheriff's Office about the death of her husband, but he would not reveal much, citing the ongoing investigation.
Limited information has been released to the public, as well.
In a statement, the Sheriff's Office said officers were called to the 2200 block of Monterey Road around 5:50 p.m. in response to a "suspicious male walking with a gun."
After they approached Vigil, he got into a car and fled, the Sheriff's Office reported. Officers didn't chase him. A short time later, three officers found Vigil in the 3100 block of East Fountain Boulevard where "at least one officer shot at the suspect," the statement said.
Police have not released the body-camera footage, despite a public records request from The Gazette. Per Colorado Open Records Act and the Colorado Criminal Justice Records Act, the department is required to either fulfill the request or provide a written explanation for the denial within three business days.
Without body-camera footage, it's unclear what happened in the moments before Vigil's death. In statements, police did not say he reached for a gun and Vigil's family did not see the shooting.
Brittni Reed, who saw her father's body at the El Paso County Coroner's Office, said she counted at least 17 bullet wounds to her father's head, back, chest, foot and legs.
"Seventeen times is murder," Vigil's relatives shouted Friday afternoon.
Though Vigil's autopsy is not complete, El Paso County Coroner Dr. Leon Kelly said Vigil was shot multiple times.
Vigil's family's demand for answers comes at the same time as community protests for an independent investigation into the police shooting of 19-year-old De'Von Bailey. In that case, police released body-camera footage from Officer Blake Evenson and Sgt. Alan Van't Land 13 days after the shooting.
The footage shows the 19-year-old being questioned by the officers about a reported armed robbery before dropping his arms, turning and running away. Bailey died after being shot four times in the back and elbow.
Angelyna Reed said her father was an outgoing and friendly person, who liked to camp, go fishing and listen to country music.
"Every child in our family absolutely loved and adored him," she said of her father who was born at Fort Carson and grew up in Colorado Springs. "This was such a tragedy that he was taken away from us so soon.
"When he was younger, he had mental problems. I'm not sure what type of help he did need, but they could have helped him. Instead, they chose to kill him."
According to the Colorado Springs Police Department's use of force policy, officers "should consider using de-escalation techniques to avoid or minimize force when it is reasonable, safe, and appropriate to do so." The policy states that officers should not place themselves or others in danger "by delaying the use of less-lethal or even deadly force when warranted."
The use of deadly force is authorized "when the officer reasonably believes it is necessary," the policy states.
At an Aug. 5 protest over Bailey's killing, Angelyna Reed marched from City Hall to the Police Operations Center holding a sign that read, "I'll never get to hug my dad again."
"I just want to be heard. I want this to stop happening. People should not... go without their loved ones — their father, son, brother, friend — just because police shoot and get away with it," she said.
Vigil's shooting death is still under investigation, Sheriff's Office spokeswoman Jacqueline Kirby said. The findings will be turned over to the 4th Judicial District Attorney's Office, which will determine if the shooting was justified and if the officers will face criminal charges.
Vigil, whose criminal history included guilty pleas to felony menacing and third-degree assault in 2003, was the fourth of five people shot and killed by Colorado Springs police this year. District Attorney Dan May has ruled two of the shootings justified; the other three remain under investigation.
Nationwide, it's rare for police to face trial for shooting deaths, and even more rare to be prosecuted.
There are a lot of reasons to explain why police rarely face criminal charges, said David Rudovsky, a civil rights lawyer in Philadelphia. For one, the law allows police to use deadly force when a suspect poses an imminent threat or risk to the officers.
"To prosecute these cases, you need almost indisputable evidence, (including) video and neutral witnesses, that no one could ever believe that the suspect caused the belief (of a threat)," he said.
Even when the evidence is presented to a grand jury, it's uncommon for officers to be charged, he said.
"Things are changing in this country, but the attitude of many people is that police are here to protect us," he said. "They have dangerous jobs. We authorize them to use deadly force if necessary unless there is overwhelming proof than an officer has used deadly force in circumstances in which there was not risk to him or others."
Reach Olivia at olivia.prentzel@gazette.com. Twitter: @oliviaprentzel