More than 100 years ago, Carey Pelto's house on West Pikes Peak Avenue was ordered from a Sears, Roebuck and Co. catalog — an early version of what would become a nationwide phenomena.
The pale yellow, two-story house in Old Colorado City, purchased by John M. Clear just after the turn of the 20th century, is possibly the first Sears kit home built in the country.
Standing in his kitchen on Friday afternoon, Pelto unfolded a packet of yellowing, faded paperwork labeled in capital letters, "SPECIFICATIONS AND BILL OF MATERIALS FOR MODERN HOME," with a list of each item purchased and its corresponding code from the Sears catalog. Including materials and labor, the house was expected to cost $2,771.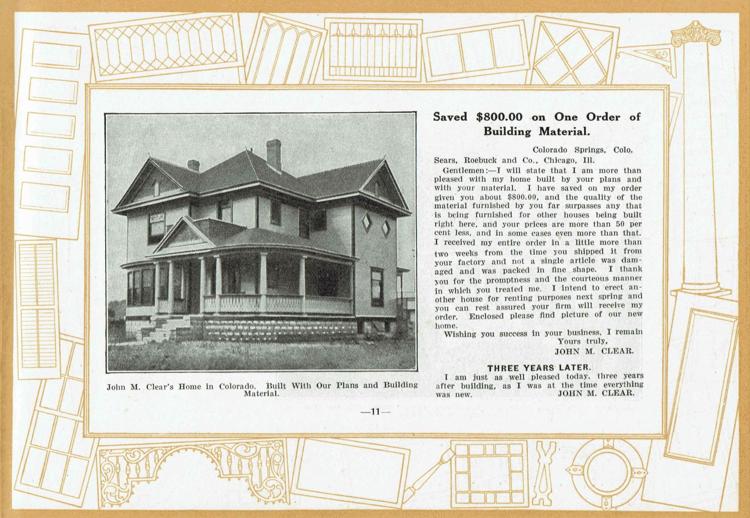 Sears wasn't the first company to sell kit homes, but it was the most prolific.
"Entire homes would arrive by railroad, from precut lumber, to carved staircases, down to the nails and varnish," says a Sears website documenting the company's history. "Families picked out their houses according to their needs, tastes, and pocketbooks. Sears provided all the materials and instructions, and for many years the financing, for homeowners to build their own houses."
Sears filed for Chapter 11 bankruptcy protection last week, buckling under its massive debt load and staggering losses, raising questions about whether a smaller version of the company that once dominated the American retail landscape can remain viable, or whether the iconic brand will be forced out of business.
Sears, which started as a mail order catalog in the 1880s, has been on a slow march toward extinction as it lagged far behind its peers and incurred massive losses over the years.
But its two Colorado Springs stores — at Chapel Hills Mall and Broadmoor Towne Center — are staying open for now; neither was on the list of unprofitable stores being closed this year. Sears' presence in the city goes back nearly a century to 1928 when it opened its first store on Tejon Street downtown.
Since then, it's become part of NORAD lore, giving birth to its Santa tracking on Christmas Eve by inadvertently running an ad for kids to call Santa with the telephone number for the joint U.S.-Canada command. The commanding officer who answered played along, pretending the caller had reached Santa's nerve center at the North Pole. Or so the story goes.
And there's the house that Clear ordered and assembled.
Pelto didn't know the house's history when he bought it in 2016. But he soon found a stash of original documents and artifacts — including samples of building materials with Clear's name and an invoice number stamped on them — preserved in a drawer.
"It's a tribute to the people who lived here before that they kept this stuff around," Pelto said.
Pelto, an emergency room doctor, began researching kit homes online. He had help from his next-door neighbors, who used to own the house and had extensively researched its origin.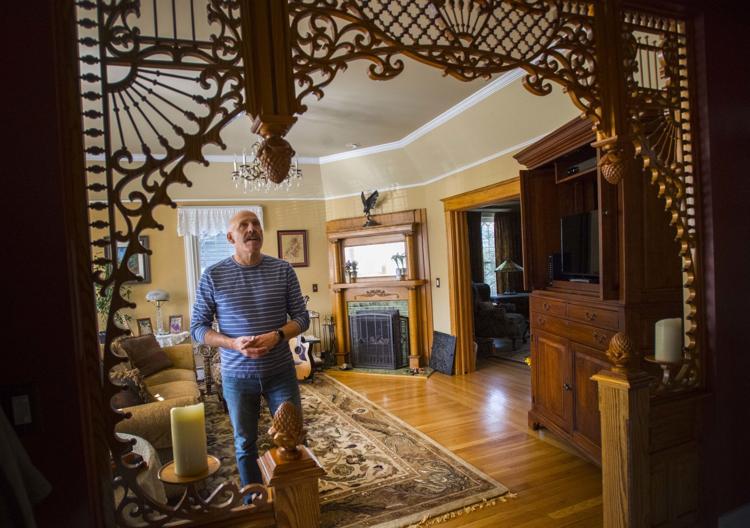 He found references to a man named John Clear of Colorado Springs buying the country's first Sears kit house, but the date the house was built appears to predate the time Sears kit homes were first produced.
"It would make sense — the story about this being a test kit home kind of fits," Pelto said. His research indicates that Clear likely worked for a railroad company.
El Paso County assessor's records say the house was built in 1908, but according to Pelto, the deed says 1910.
Regardless, Sears' archives website and enthusiasts online appear to confirm the story that it could be the company's first kit home.
More than 100,000 homes were sold from 1908 to 1940 through the mail-order Modern Homes program, the Sears website says. The first specialty catalog for houses, the "Book of Modern Homes and Building Plans," was issued in 1908, featuring 22 styles ranging from $650 to $2,500. The first bill of materials was sold for a complete Modern Home in 1909.
Rachel Shoemaker, who runs Oklahoma Houses By Mail, a blog about kit homes, said she believes the West Pikes Peak Avenue house was one of the earliest —possibly even the first.
Shoemaker wrote on the blog that while reading through a Sears merchandise catalog from the fall of 1911 or spring 1912, she came across a testimonial from John M. Clear of Colorado Springs in the building materials and home plans section.
"I am just as well pleased today, three years after building, as I was at the time everything was new," Clear wrote in the testimonial provided by Shoemaker. Clear said building the house using Sears' catalog had saved him $800.
"I will state that I am more than pleased with my home built by my plans and your material," the testimonial says. " … the quality of the material furnished by you far surpasses any that is being furnished for other houses being built right here, and your prices are fully 50 per cent lower. I received my entire order in a little more than two weeks from the time you shipped it from your factory and not a single article was damaged and was packed in fine shape."
Clear enclosed a photo of his home, which appears to be the house Pelto lives in now.
Many of the house's fixtures, appliances and decorative features have been carefully preserved or restored, Pelto said.
At some point, some original pieces, including intricate woodwork in the entrance to the living room, were torn out, he said. A subsequent owner found the woodwork stuffed in a crawlspace and reinstalled it.
But much remains unchanged, from the wood floors to stained glass windows. The stove is original but has been reconfigured with a new gas stovetop.
"All the antiques in the house have been passed down in my family for years, so I had a lot of antiques to put into it," Pelto said. He said he loves history, "so it just seemed like a natural fit."
The Associated Press contributed to this report.