Colorado Parks and Wildlife reintroduced 4,500 rare Hayden Creek cutthroat trout into Cottonwood Creek near Westcliffe last week in an effort to re-establish the species in the state.
The only known population of Hayden Creek cutthroat trout was nearly wiped out by the Hayden Creek fire in 2016. But Parks and Wildlife rescued 158 of the trout from Hayden Creek and took them to a hatchery near Crested Butte, where they spawned the following spring.
Not one survivor of the species was found in Hayden Creek after the fire.
But on July 1, the state agency made the first effort to reintroduce the fish into the wild.
"Our mission is to perpetuate the wildlife resources of Colorado," said Parks and Wildlife spokesman Bill Vogrin. "Perpetuating doesn't mean keeping them in a hatchery anywhere; it means reintroducing them into the landscape."
Along with agency staff and 40 volunteers, three mules helped carry the fish, held in storage tanks pumped with oxygen from pressurized steel canisters. The mules were essential, as the 6-mile trek up the creek was too rugged for vehicles.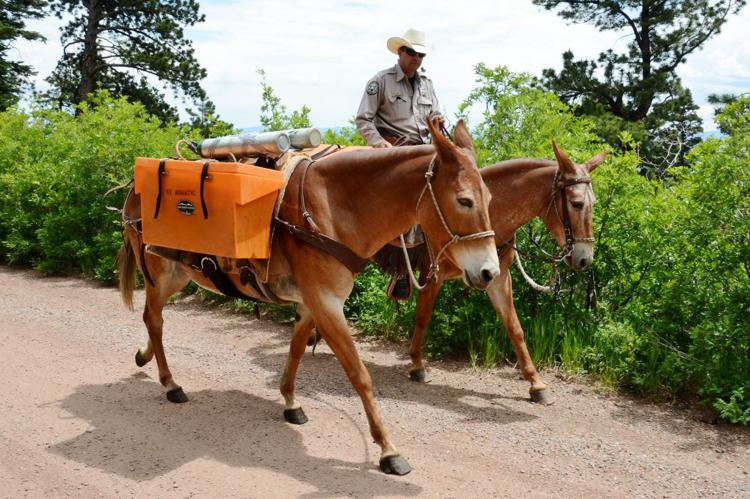 "There's a long tradition in Colorado Parks and Wildlife of using mules and horses to transport fish," Vogrin said.
Hayden Creek cutthroat trout are the only known fish whose genetics match those of specimens collected from Twin Lakes by early explorers, Parks and Wildlife said in a news release.
The species' rarity and historical significance made it a prime target for reintroduction, but Parks and Wildlife conducts similar operations for other species too.
This week, agency staff and volunteers will hike into the Collegiate Peaks near Buena Vista to treat state-endangered Boreal toad tadpoles with an antibacterial bath and then stock them in the Browns Creek breeding site.
"We're pretty proud, and hope the public is also proud, of the boots on the ground — in this case, it's waders on the ground — conservation work we do," Vogrin said. "We have biologists going all over the state doing this all the time."